1.

brief introduction

Touhou Mother is an RPG Maker 2000 game created by S-tele, Although at first glance it may seem like a mediocre game, I have to say that I am quite surprised by how well.

I played this game from start to finish (2 times) And I think I can get my own review. Keep in mind that I will analyze this game as an earthbound fan and not as a touhou fan, and another thing, I do not like the RPGs games, earthbound is the only exception.


2.

graphics

Graphically looks good, The characters fit perfectly into the earthbound atmosphere, all characters including enemies look good. Almost everything is seen with a game if SNES.

Many of the background also look good, but, the game lacks "distorted background" Many of the backgrounds are small boxes that connect to each other and move diagonally.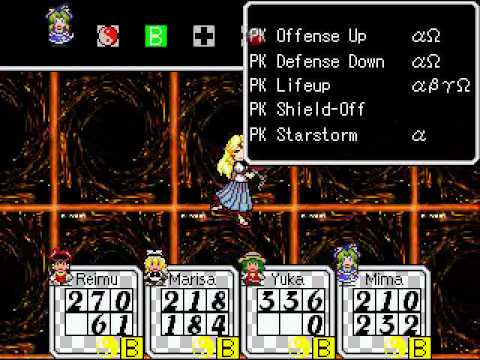 Yuu-gi-oni, note the undistorted background

A rather interesting detail is that the graphics are not the originals, I was search the original graphics but I can not find them, I've only been able to find a few screenshots that prove their existence, Well, you can say that thanks to God they changed the graphics, They look much better!

Original graphics, strange, right?
3.
presentation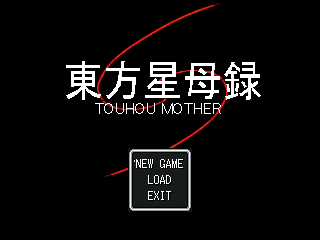 Touhou Mother title screen

The game starts with a screen menu that is exactly the same as the first touhou, The game makes you 2 questions, After a short cutscene start the game
Because it is a parody of earthbound/mother a lot of humor.
The game has many references to touhou as of earthbound, but it is not limited there, the game has references to metroid, kirby, donkey kong, And more!
Until it has memorable earthbound/mother scenes like the meteorite, the white box or hallucinogenic mushrooms


Battle under the effects of hallucinogenic mushrooms

The game also has moments of tension, like when you control sanae completely unarmed and you must flee
Or the final "battle", which is simply not a battle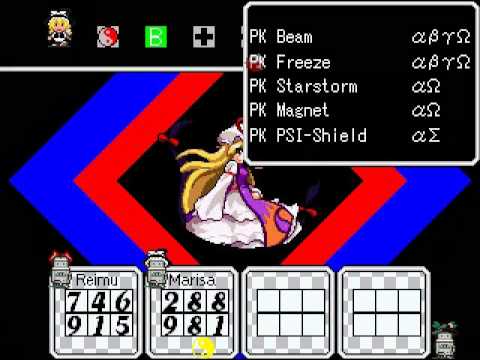 Maybe one of the stranger battles
4.

Sound

The whole soundtrack is composed of songs in MIDI format, all the songs have loops and is not abruptly cut.

You may think that the chosen format causes you to have lower quality music, It is true that everything depends on personal tastes, I personally liked it, it gives a retro style, similar to game boy advance.

Although it is true that there are some songs that can be improved For example the song "New Age Retro Hippie" sounds very noisy, Or the song "septette for dead princess" sounds just strange.

If you are really exquiente with the sound quality, you can download BassMidi or VirtualMIDISynth, Get some soundfont (My favorite is chromium) and enjoy the audio with quality CD


5.

Gameplay

Like every RPG, you control the protagonists Reimu, Marisa, Yuuka and Mima (Which curiously is the cast of playable characters in TH: 05) you travel the world, Battles per turn, cutscenes, and gain experience, You know, the typical RPG thing
Each of the characters has its own characteristics

Reimu is the generic heroine
Marisa is the weak of the group but with many magical powers
Yuuka is the strongest (and slowest) group and she hasn't PK powers
Mima is the most powerful of the group, having the best attack PK

Not super innovative but a solid experience


6.

not everything is perfect

Something that may disappoint some is that this game does not have the sound battle combos system from mother 3, This could be answered by saying that this game is based on earthbound SNES.
Something I also noticed is that it is not possible to use items in battle, the question is why? Not even yuuka can use items
Another problem I see is the lack of strategy, In earthbound, PK powers had side effects on the enemy, Here all PK powers are equal, obviously if it requires more PK to execute is more stronger.
Also, there are no side effects on you, It is true that in battle there are side effects, but after finishing the battle, it disappears, In earthbound, there were a lot of side effects, some quite curious, Here there is none of that.
There is a side effect that makes you unable to use PK powers, But because it is not possible to use items in-battle, you can not heal! The only way to heal (in-battle) is by using PK power, And only reimu has that power, so if she is affected by that side effect you're f

ucke

d


7.

conclusion

It's a good game, it's not perfect, But pretty good to be done by a fan, In addition you have to keep in mind that it was made in RPG maker (usually considered bad)
If you ever want to play it, do it!