What we have here?
- Overused old models and textures (n*****g n*w), but polish and HDficated
- New hand rigs from RE:CB mod for CS:GO
- Full replacement - sounds, models and VGUI
- More classic-style origins
- Bonuses
- Full support for various mods:
CSGO's Buy Menu For CS1.6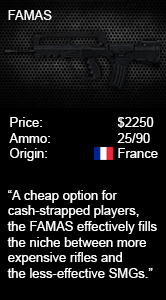 CS:GO Arm Switcher
CS:GO Weapon Inspect Plugin

Weapon list
famas - FA-MAS G2
galil - Stg. 58
m249 - M60
mp5 - MP5A2

bonus:
knife - Martinni flip knife
p.s.
this will be full replacement, like as fusion pack.