1.
Preface
1.1.

Quality Check

Before submitting a map, ensure of this following:


Is there a similar map in the GameBanana community?
Is your map submission worth to be in the GameBanana community?
--> Is it low effort?
--> Is it low quality?
--> Is it stable enough?
--> Is it something that you messed around, or just a small, insignificant tweak?

Or try to follow this checklist guide. //https://gamebanana.com/wikis/514


1.2.

Topic Ahead

Continuing, this is a simple map submission guide. Other upcoming guides may have similar properties, and steps, however, this is specifically tailored for maps.

I'll be focusing and summarising the important four tab pages, and for this, I'm focusing on the first tab page, which is the Map 'Main' page. It contains the following in order:


The map title of your submission
Category of where this map submission belongs to
The body, or simply a long description of what your map is
A catchy phrase for your map
What kind of feedback your users want to hear when posting

For the guide, I'll be using my own map submissions, as well as various third-party submissions as various templates. Let's begin filling out the first tab page.


2.
Map Title - Give A Name



First of all, give your map submission a title. Usually, the map title is usually what the map is all about, here are some few examples:


Dust 2 Extended

City Street's Arena

WWE Ring

Remember, to check for spelling errors and no shouting (all caps).


3.

Category - Making The Map Section Neat and Tidy

Moving to the Category section, the first category is categorising which game do you want this map submission to go to.

I recommend that you use the search feature in order to find your game. You do not need to type the full title of that game as you may not know the correct full title of that game.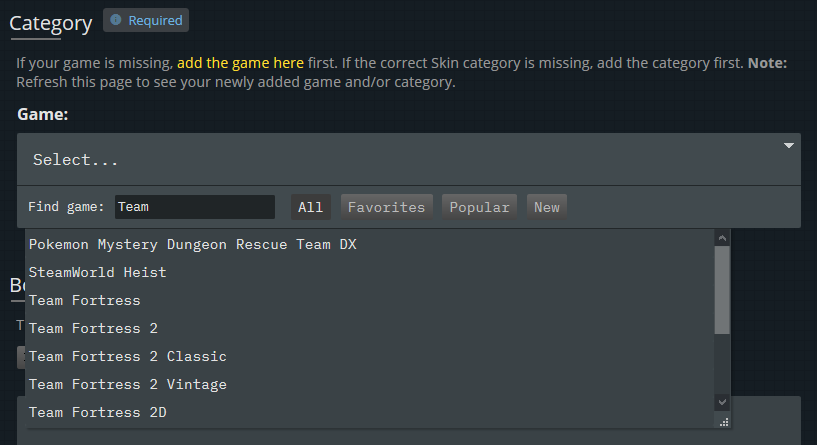 While the image above shows it's for Skin, it is also applies to Map submission.

Similarly, instead of

Counter Strike Global Offensive

, or

Counter-Strike Global Offensive

, or

Counter-Strike:Global Offensive

, which all are wrong, just type:

Global Offensive

.

As you can see, typing just the word 'Team', narrows the search to game titles containing 'team'.

Once selected that game, the Skin Category appears! This is a sub-category within the game map category. So it is like this:

Team Fortress 2 > Map > 'sub-map'

.

Like the Game Category, I recommend you to search through first, before adding a new category. Instead of searching down the list drop box, open a new tab, go to that game map section and starts searching.

If you aren't sure if your map requires a new category, please use the

Others/Misc

.


4.

Body - Description of The Map Submission


Next, we are moving to the 'Body' section, which is the description of this map. You can type anything that you want in this description, however, I strongly suggest that it is related to the map submission.

I recommend that you have these in your 'body':


Why did you create this map (what made you come up with this idea)
What is the map about
Other notes that the users should be aware of (optional)
Specifications (optional)

Using my Sanctuary (DM) submission, I can break down the body of it (even though it's just one paragraph):


Loosely based on Overwatch Nepal Sanctum. - Idea
This is the DM version of the map. - About
Since this is DM in nature, it's recommended that the max number of players to 12, any higher, instant death spawn. - Specification

I strongly recommend that you do not use these types description or something very similar:


This is my first map, please comment!

My first map, hope you enjoy!

I made this map, because why not?

Those descriptions contain nothing very helpful and useful to users viewing and/or downloading it.


5.

Subtitle - Punch Line

The Subtitle is similar to the quote on a movie poster. It's optional, but if your map submission is featured on the front page (or the game's front page), this subtitle will appear and may attract users to view and/or download it.

A sample of a map submission featured on the GameBanana/Game's homepage:




The subtitle is the:

gears everywhere

.

It's optional, thus, if your skin is featured, it will be just 'Map Title - A Skin for Game X'.


6.

Map Version - An Indication

This is rather optional, as this is usually used if the map submission is a stable work-in-progress.

It's limited up to five characters, so if you have '

Beta 10

', you can reduce it to '

B10

'.


7.

Comment Instruction - Directions for Users' Feedback


Filling out the comment instructions if you want users to construct a proper feedback for you.

This is useful if your map submission is an early work-in-progress or redirect users to use the 'bug report' feature instead of commenting it below.

Although I never used this before, I believe I can come up with some useful suggestions:


For bug reports, go to the Bug Tab and fill out the bug report

Is the environment light sufficient enough?

Should I use a different colour/tiles/sprite for the stage?

Should I use third-party assets instead of stock assets?

I strongly recommend that you don't use these:


Comment please!

This is my very first map, comment!

They aren't useful, and/or too generic.