GameBanana offers many ways with which anyone can earn points to spend on unlocks to make the site's experience better, receive free games using the BananaExchange program, as a tool to donate and thank other users, etc...
With some options offering more points at once than others, some being immediately more obvious than others and some having a better pay-off for what you are doing than others, it's likely at least some of them may go unnoticed by brand new users until a few months or maybe years go by, or they find out about them by pure chance.
That is why this Wiki goes through all the possible ways to earn points on the site in the most detailed and clear way possible, so it can be referred to new members that may have doubts about the system or wants to learn it more profoundly.

Here are all the methods:

1. Submissions:

---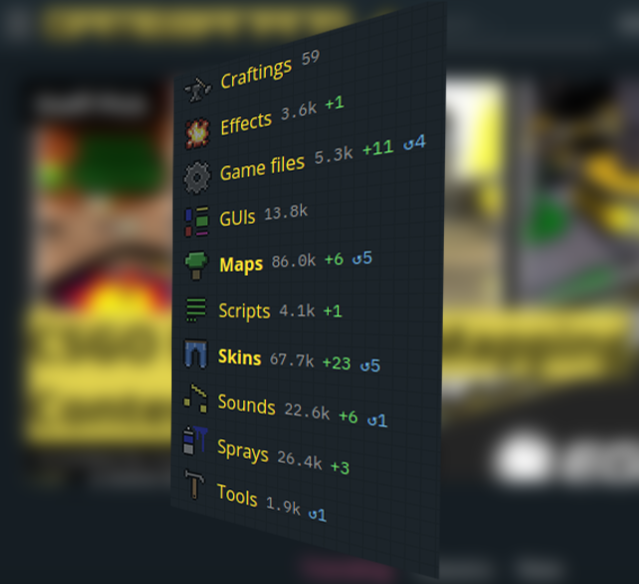 Being the most obvious one, submitting just about anything that has to do with skins, sounds, maps, etc will get you

+25

points, however not all submission types are equal and in some of them the pay-off can be up to

+50

instead of the expected

+25

while others will offer even less.
For a list of all the submission types with their respective submission earnings, please check tom's Points Chart Wiki page.

There is however a bit more when it comes to submissions as the quality of what you're submitting can increase the total amount of profit in the next ways:

1.2. Featured submission(s):





If one of your submissions gets enough likes, manages to impress the community enough, gathers attention from people, or has an exceptional quality it is a contender to be placed on the featured submissions window at the homepage, where you will receive additional points.
This varies on how much your submission is awarded, as for instance, when it becomes featured as "Today's Pick" the pay-off will be

+50

points, if it lasts as featured for the next day it'll become the "Best of Yesterday" which is an additional

+100

points and lastly, a submission that becomes the "Best of the Banana" will get an extra

+200

points.




You also get a few neat stars on the submission based on the feature type to boast at other users for your achievements as a modder.

Although a nice way to get rewarded for hard work and sheer dedication, competition always ensues, making it a tough spot to reach!

1.3. Getting "Thanked":





From time to time your submissions may catch the attention of someone who enjoys what you've put forward a little too much, maybe what you did is something the needed or wanted to see but couldn't bring themselves to ask for it, maybe they are grateful for your hard work and dedication, or maybe they're just some very kind-hearted folks.
Whatever the case, on every submission there is the option to "Thank" you (or for you to "Thank" someone), which will give you (or them) as little as

+5

points or as much as

+1000

points, all dependent on how much the thanking user (or you) decides to give away!
And remember, do not ask for points through the "Thanks" system, that's what the "Donations Module" on a user's profile is for!

2. Logins and Perks:

---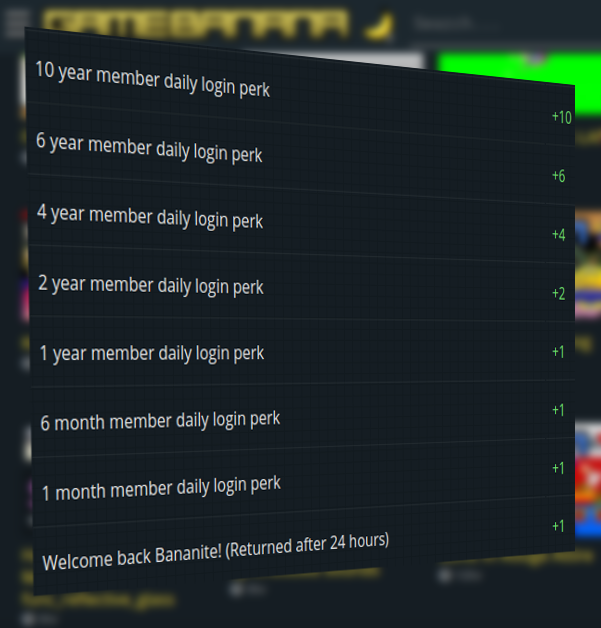 Login-in every 24 hours is a guaranteed

+1

point every time, making it worth your while to come back every day to visit at the very least.
Remaining in the site however has a greater reward as there are several "Perks" (or Medals) that work somewhat similarly to "achievements" which can boost and help you earn that little extra every time you come back:

2.1. X year member:





Bananites that manage to stay on the site long enough can get higher/rarer perks which will increase their amount of login points based on the respective account age. This are called "X Years a Member" awards.
They go from the lowest being awarded after your account has reached 1 month of age, up to the current maximum which is 10 years of account age, each one offering more and more daily login points!
The first three awards (1 month, 6 months and 1 year) will grant

+1

point each combined with the default daily login earnings, thus making it

+2

points per login, once you get to 2 years, you'll get an additional

+2

points per login and so on~. An even greater feature is that they can essentially stack on top of another, for instance if your account has 6 years of age the daily login, 1 month, 6 months,1 year, 2 years, 4 years and 6 years perks will stack up, meaning that for every 24 hours you login there will be a total of

+16

points waiting!

Turns out getting old isn't all that bad after all, huh?

3. Community and posts:

---


Not everyone was born to brainstorm the best ideas or handle game modding software like a paid professional game developer and that's perfectly understandable!
That is why the site offers the ability to gain a few extra points by simply being part of the community and not behaving like a child whose mother won't buy him Lego.

If your shining traits lay on your great personality, observational skills, or an odd taste on writing long walls of text, this way of earning points will surely sound the most appealing as it can still be as profitable as submitting your life away!

These methods are:

3.1. Exemplary posts/awards:




You can read about this bit of the Wiki on tom's Exemplary Feedback page, but just for content reasons, it'll also be explained here (albeit somewhat differently).

This is easily one of the most tempting ones for those who wish to wholeheartedly become a leading example for the rest, and offer their time to help those in need, or just to help someone improve their submissions!
Having been created as a means to promote good behavior and helpful feedback among the community, Exemplary Posts are not necessarily awarded to those who write the longest posts, but rather the ones that have done their best to help someone who required it in a clear manner, neat formatting, and with all the information required.
Alternatively, it is also awarded to posts that give well thought-out and detailed feedback (or reviews) to any sort of submission that could be improved upon, for the sake of making GB a site that offers quality over quantity!

Once you receive an "Exemplary Post" perk, it will grant you

+1

point for every post you make on a submission (It does not work when you post on someone's profile, or on threads).
Depending on how many posts have been exemplified, it can also "level up", giving an extra point for every post to level, thus making it

+2

per post...

+3

per post... etc...

If you have some difficulties understanding the concept of being a good user, and becoming helpful to the community, make sure to read Will2k's "The Art of Being Helpful" (and also the Part II) article as well!

Now go out there and be a good example!

3.2. Bounty hunts: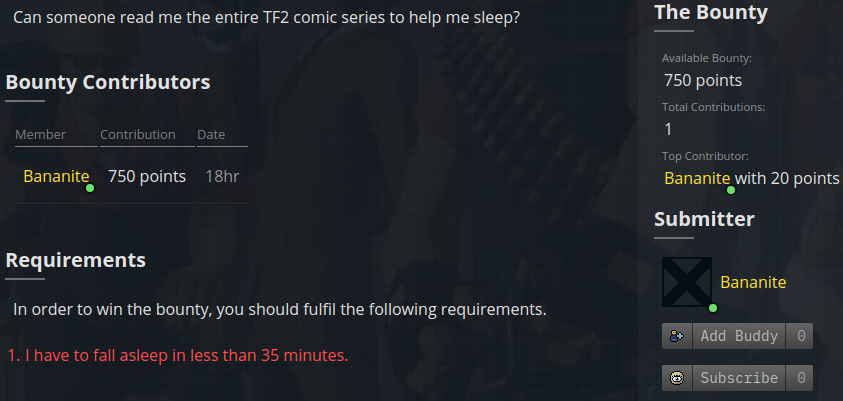 Some people lack the skills in a certain modding aspect, or maybe they don't have enough time in their lives to fulfill their own wishes, that's why there are what's known as "Requests"!
The requirements of every request can vary greatly, though all of them have a bounty system in common with points set by the requester or even some other users in order to reward the "bounty hunter" that successfully delivers on what's being requested!
The minimum amount you can get from a bounty is

+20

points, however if the request is of a bigger scale, the bounty may be higher than that.
If you can find a well-paid bounty you may end up getting a very neat profit if you are willing to sacrifice your time filling what's requested!
There are bounties that end up reaching

+5.000

points from time to time, so make sure you keep your eyes open, and sharpen up those modding skills!

3.3. Donations: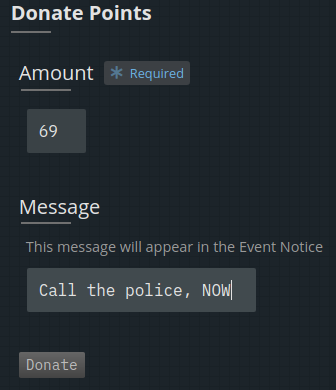 Kind users and bananites that love to share or give things to others can use the "Donate Points" module that can be onto the profile in order to begin receiving free points if someone is willing to send you some!
The module has to be placed in order to begin receiving donations as there is no other way to receive them as far as it's known.
Remember: Do not use the "Thanks" system on submissions as a replacement to the Donations Module, and don't try abusing the donations system by asking for them constantly!

3.4. Subscribers:





If your submissions quality is always above expectations or if you're someone legitimately interesting who would entertain anyone by just simply writing or posting, people may pick up an interest and subscribe to you!

If they do, you will receive

+25

points, and so on for every subscriber you get.
Nice as it sounds, this won't turn up to be as profitable unless you milk your creativity and ability to create mods to the max and gather what can be called an "audience".


---

And that is every way GameBanana offers points to it's users, it's a site full of opportunities for such!
There is no better way to get them than to make the best of everything and keep active in the community through all it's aspects, as any type of hard work is always rewarded (more or less)!

Nonetheless, always keep in mind that these systems can be exploited even on "accident", which may count as some type or another of "rule breaking". Make sure you go through the Site Rules whenever in doubt, and if you still are unsure of certain things contact an Admin to ensure you stay trouble free!