A quick guide through the powers and responsibilities for Game Managers. For a more indepth list of things you may be checking for your role as a Game Manager, please check the Game Manager Common Actions wiki.


1.

Game Page

On your specific game homepage, you will now have some extra options.





These allow access to the Modlog, ModTalk as well as the games setting page.



1.1.

Identity

The place to edit the games name, abbreviation, icon and banner. Please note the banner here is for the image that shows in the right column on the game page, not the large image in the header.


1.2.

Welcome Message

A text area that shows at the top of the right column on the game page. This is an ideal place to link to things like discord channels, subreddits etc. This should be kept fairly short and to the point. If you are unsure, check other popular game sections for examples.


1.3.

Available Sections

This allows you to disable certain sections for the game. For example a lot of games don't have a need for a Sprays section and so can be turned off. To do so, hold CTRL and select all the sections needed for the game. Please be careful with this tool and don't be too overzealous with it, only disable sections that have zero use for the specific game.


1.4.

Rules

A rule box that shows in the right column on the game page. This allows you to add game specific community rules. Rules should ideally be run by the admin team first to check them before being added to this section.


1.5.

Official Attributes

This allows you to set specific attributes for you game that will show up on submissions add/edit forms when they are set for your game. For example for maps in Smash 4, there is an attribute for 'Wifi Safe'. If you are unsure whether you need official attributes, talk to an admin first.


1.6.

Additional Details

Lots of details that will show up in the right column on the game page. Only fill in the relevant settings.


1.7.

Uberstyle

The place to set the large header image for the game. The image needs to be 1200 x 300 px. The image should ideally avoid having any text on it and be relatively simple to avoid it being too distracting.


1.8.

Add Contest

The place to add game manager run contests. Please always contact the admins before adding a contests to discuss it first. This wiki covers contests in more detail.


1.9.

Add News

The place where game managers can add news articles related to their specific game.


1.10.

Withheld

This is a very useful tool that lists all currently withheld submissions in your game section. Worth a regular visit to monitor it.


2.

Modlog

The Modlog is an important tool for Game Managers. It logs everything that happens in your game section. From it you can track withholds, flags, trashes etc. Learning how to properly navigate it is an important skill for Game Managers. The filter button at the top of the modlog allows you to filter by numerous methods, including by type, priority ( 1 is most severe, 5 is least ), action, notes, performerID and the date.

Categories and even submission have their own modlogs that can be accessed in the same way by clicking on the modlog button under the admin tab on the specific page. This allows for checking issues in specific sections.


3.

Withholding

Withholding is one of the main roles of a Game Manager. You should be checking your section for submissions that break the rules and withholding them when appropriate.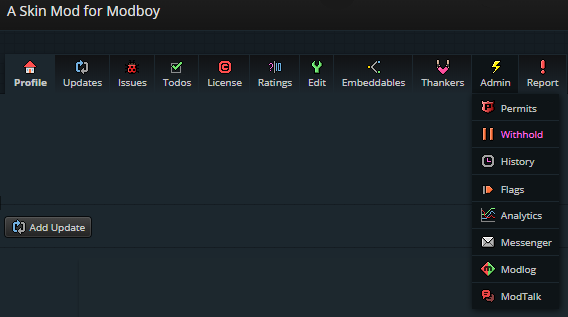 When you go to withhold a submission, you want the withhold message to be clear and helpful. List the issues with the submission and then explain how they can fix it. For example if a submission is missing ingame screenshots, you could withhold with "At least 2 ingame screenshots are required, please add some more.".

Once withheld, the user now has a chance to fix the submission. If they do they should respond on the withhold page. Although it is worth noting not everyone does reply, so we track submissions that are edited while withheld in the modlog so those submissions can be caught.




Once the user responds, you should check the submission to see if the issue is fixed. If it is, simply type a message in the left side box ( just "Fixed." is fine ) and hit the unwithhold button. If the issue isn't fixed, respond to the user explaining the issue again. If a user repeatedly fails to fix a submission or repeatedly adds submissions that need withhold, contact an admin to help deal with the user.


4.

Editing

Game Managers can also edit submissions, but generally this should only be used for fixing minor issues. Please don't misuse it, as everything is logged anyways. Editing should be used for say minor things, like a user misspells someones name in the credits, or they put their skin in the Dr Mario category when it should be in the Mario cat, small things like that that don't justify withholding the submission.


5.

Trashing

Junior Game Managers cannot trash submissions and must contact an admin or moderator to get submissions trashed. The best way to do that is in the GameBanana Discord channel.

Junior Game Managers may be promoted to Senior Game Managers after a while if they prove themselves to be active and trustful. Senior Game Managers can trash submissions.


6.

Categories

Game Managers can add icons and organise categories including setting super categories. If you need to mass add categories, it's best to contact an admin as they have access to a tool that can mass add them for you.


7.

Navigator Quick Links

As a Game Manager you now have access to the Quick Links navigator on the left side of your page. This contains useful links to help you navigate while performing your roles.