Welcome to tpskjarhead's guide to becoming a better and more respectful online gamer. In this guide I will be teaching you some very simple rules on how to be a more enjoyable player to those around you. Now come with me, and together we can make you into a proper gamer. Now as we all know, being a gamer has a lot of this :
and also a lot of this: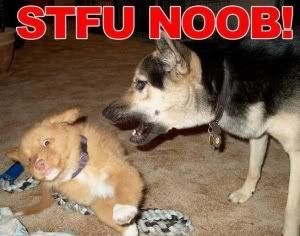 but why? All because he got one of these?

There is no reason for us band of brothers, us gamers in arms to be yelling and fighting all the time. Instead we should be encouraging each other, and applauding each others successes. The first step! What you want to do: First we must learn to ways of being a proper gamer. When you join a game (New server or a regular server that you go to a lot) it is always polite to say to your fellow gamers, "Hello!", or "Hi all!". This will let the others in the server know that you are here to have some fun. It also makes people aware of your presence and that you come in peace. What not to do: The video above is of a young child talking "shit" online. As you notice he gets no respect and all members of the server dislike him. Now that you know what not to do after joining a server, let us go over names. Online Naming Screen names or "gamer tags" can tell you a lot about a person. If someone have a name like x1337x or xTeH_n00b_PwneRx they either: A:Suck B:Hack C:Are full of themselves D:Are a new player For example, say I join a CS:S (Counter-Strike: Source) server and my name is x1337_SaUcEx, I begin to play and suddenly find myself with a KDR (Kill to Death Ratio) of 2-11. Meaning I only have 2 kills and have been killed 11 times, people will begin to say things such as, "Haha, you suck over cooked chicken testicles x1337x!" Things like this can really bring down the following: A:Self Esteem B:Online Reputation C:Confidence in ones abilities to perform D:Online etiquette To avoid this potential train wreck pick a more appropriate name, such as: -Bavarian Apple Pie -Dancing Monkey or even -ihasachocolatebar All of the names above don't give off the impression that you feel you are, "1337", but can also make others "lol" as they say. Lets all be honest with ourselves, would you wanted to be massacred by a guy named Bavarian Apple Pie? I know I wouldn't. Now that we have gotten the basics out of the way, let us move onto something a little more difficult, proper typing etiquette and grammar. Now this is a very large step for most gamers because typing is a challenging task. Not all servers enjoy the rowdy crowd of the online world, so to adapt we must learn to use "substitution words". EX1 "Hey dude fuck you and your fucking bullshit hacks you no skilled donkey raping mother fucker!"
Watch your mouth! There are young ears here! /ban hammer Don't let this be you! Now let us take our example and use our super-de-duper substitution words! Proper EX1 "Excuse me (insert name here) I wish to call shinanigans on that last shot. I don't believe you knew exactly where I was when you turned that corner looking the other way, then instantly spun around and got me with a
." Ah, much better! Now we don't have to worry about those virgin ears! :D Another thing about gamers is, 70% of us can't type for doop-doop. EX1 "Lyke d00d u wana come 2 my houz and has a prty?" "Sur dood, can i bring teh booze!?" No, no, no, this is all wrong! As you can see there are lots of grammatical errors, spelling errors, and things that just don't make any sense. Lets take a look at someone who can properly type on the internet. EX2 "Hello dude, do you want to come to my house and have a party?" "Sure dude, can I bring the booze!?" Now that is much better! Typing properly is not only a good way to show that you are mature, it also makes you easier to understand. I hope you all enjoyed our little time together learning the proper way to be a gamer. Tune in for future tutorials on how to survive in the online world! -tpskjarhead PS: Since this is rather long so if I made a mistake (I'm almost sure I did) please let me know! Thanks! :D <3