This tutorial shows you how to find and open BF2142 Default skin's ready for editing, and what programs to use to do this.
Programs Needed
Adobe Photoshop
BF2142 (obviously)
Firstly you need to install the Nvidia photoshop-plugin if you haven't already done so. Okay once it's installed we can get started. Locating the correct directory The BF2142 Default skins are located here: C:\Program Files\Electronic Arts\Battlefield 2142\mods\bf2142\Objects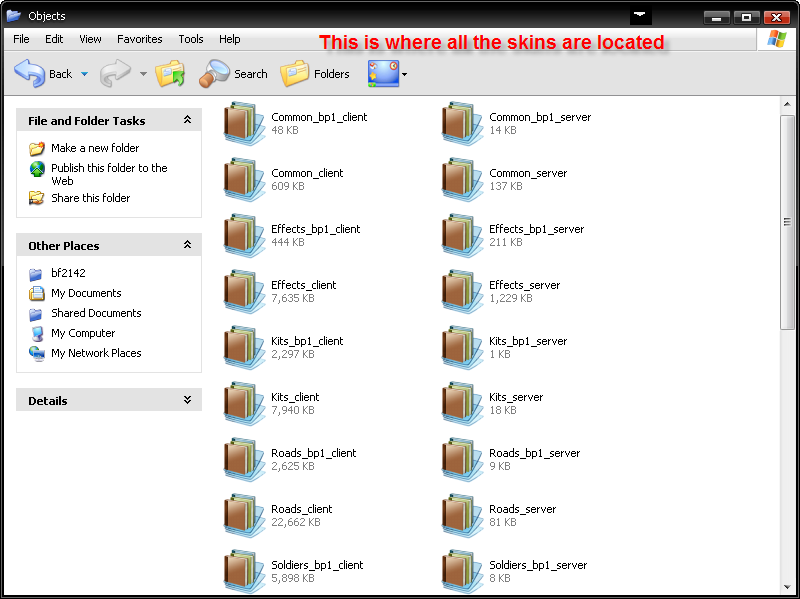 Click for enlarged. Next make a new folder and call it "Backup" This is so that we have a backup of the original files incase we mess it up.
Click for enlarged. All the skins in the game are Located in the "objects" folder where we made the new folder called "backup" This next bit is up to you. Find a ".rar" Folder that you want they are all named so you should be able to identify which one you want. When you have found the one you want Copy the ".rar" file to the "backup" file we made.
Click for enlarged. Okay now Open the .rar file you chose and locate the file you want to skin. Extract it to your backup folder. Then open it in photoshop and edit it how you wish. Remember to save the file in the backup folder keeping the existing name.
Click for enlarged. Now putting the file into the game. When you have edited and saved the file in your backup folder. Locate it Copy the file and go back to your "objects" folder. Then we need to locate the original .rar file from which you took the skin and add it to the archive over-writing the original. Therefore putting it in-game. Thankyou for reading I hope i helped! -Slayerer