Making Flashing Images

Ok, so this tutorial was requested by Myke because I just did this the first time yesterday for Myke and I did it right, so he was asking me how I did it, and he suggested I should make a tut for it, so here I am, please don't stop reading just because this I've only done this a couple times, I learn fast on photoshop.

Well the first thing you need to know is…

What Is A Flashing Image?

A flashing image is not literally just an image flashing. It is a quick white flash on the image, making it look sexy. For both the avatar and signature, and sometimes uPics. An example of a "flashing image" would be like so:
As you can see, the image "flashes" a white layer very quickly. Ok, so let's get started. Oh and by the way, this tutorial may be very slow, but it will help all those new guys.

Making It

Step One: Open a image you want to flash.(File > Open or Ctrl + 0) Now, you should have your image open in front of you. I'll be using the fallout productions2 banner.
Ok, so now, let's add the . Now make a new layer (Shift + Ctrl + N), then press "U" so were in the shape mode, if it's any other shape then a square, right click on it, and click the square. Like so:
Step Two: Now make a square all the way around your image, like so.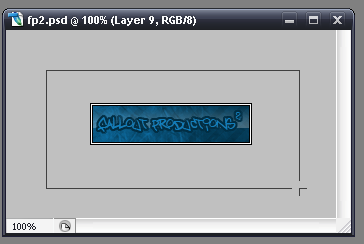 Now once you made it, your image should be completely white, like so.
Step Three: Ok so we have our flash, but something missing, it's too white, so how do we fade it? Well, click on the layer you made the white square on. Probably named Shape 1. Here's a picture:
Ok, so once you click on it, do you see Opacity? It should be 100%, now make it 35%, that's what I used. Like so: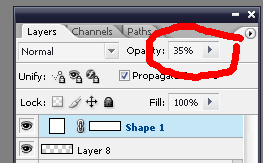 Now you see that your image is there, but has a light coding on it. Well this is our flash. Were not done yet though, we need to animate it now. This is the FUN stuff.

Animating It

Step Four: Ok so open the animation bar. (Windows > Animation) Should look like so: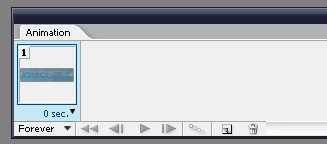 Now, click on the Eye on the layer that we put the white square on.
So then your image looks like…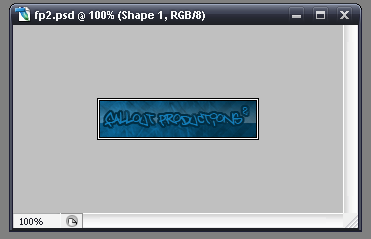 Normal, no white square, but Why? because this is what it looks like at the beginning of the animation, it just sits there. Step Five: Make a new layer on the Animation Bar NOT the Layers. Look below. GOOD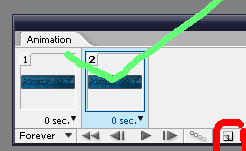 BAD
Now you should have Two(2) frames on the Animation Bar. Now make sure frame Two(2) is highlighted, then click where the Eye was (It should be empty space on the layers) and now our white cote is there again. Picture:
Now this is frame One:
Frame Two:
Step Six: Next thing is we are going to make it flash very quickly from normal image to white coding. Now at the Animation Bar there is a tween button, like this:
, but before you press it, click on frame one, hold Ctrl and click on frame two. Now both frames are highlighted like so.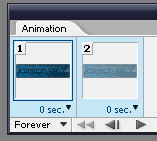 . Now we press that Tween button. You should get a window that pop up. Have them as these settings:
The settings are:
Tween With: Selection
Frames To Add: 1
Layers: "All Layers"
Parameters: All Check Off
Now after all this, you should have 3 frames, first one, just image, second flash comes in a bit, and third, white square is at 35%, if you used that. Only thing left to do is to make the flash fade out, and save it. Step Seven: Now we do the same thing as before. Click on frame 3 and click on the new layer button for the Animation Bar. You should have Four(4) frames all together now. Now on frame Four(4) check off the eye again so the white coding is gone. Picture: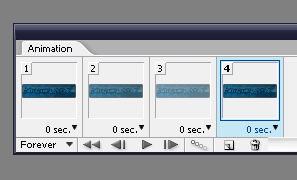 Now click on the fourth frame and hold Ctrl and click on the third frame. Press the tween button, and same settings as above. You should have this, if you play it:
If you ask me, it's too fast, so let's slow it down a bit. Step Eight: Now see an little arrow beside the 0 sec on the first frame? Well click that. A menu should pop up, I use 2 seconds which is 2.0 on the menu. Now play it. At the end of it all, it should been something like so:

Now you ask, but ice, how do I save my gif so that it moves? Now, to do this, simply go to File > Save For Web button, this is only for gifs and you just click save after that and done, you can go check out your picture where ever you saved it to test it out.

Thank you everyone for reading my tutorial!

Tutorial Made By IcE-CoLD