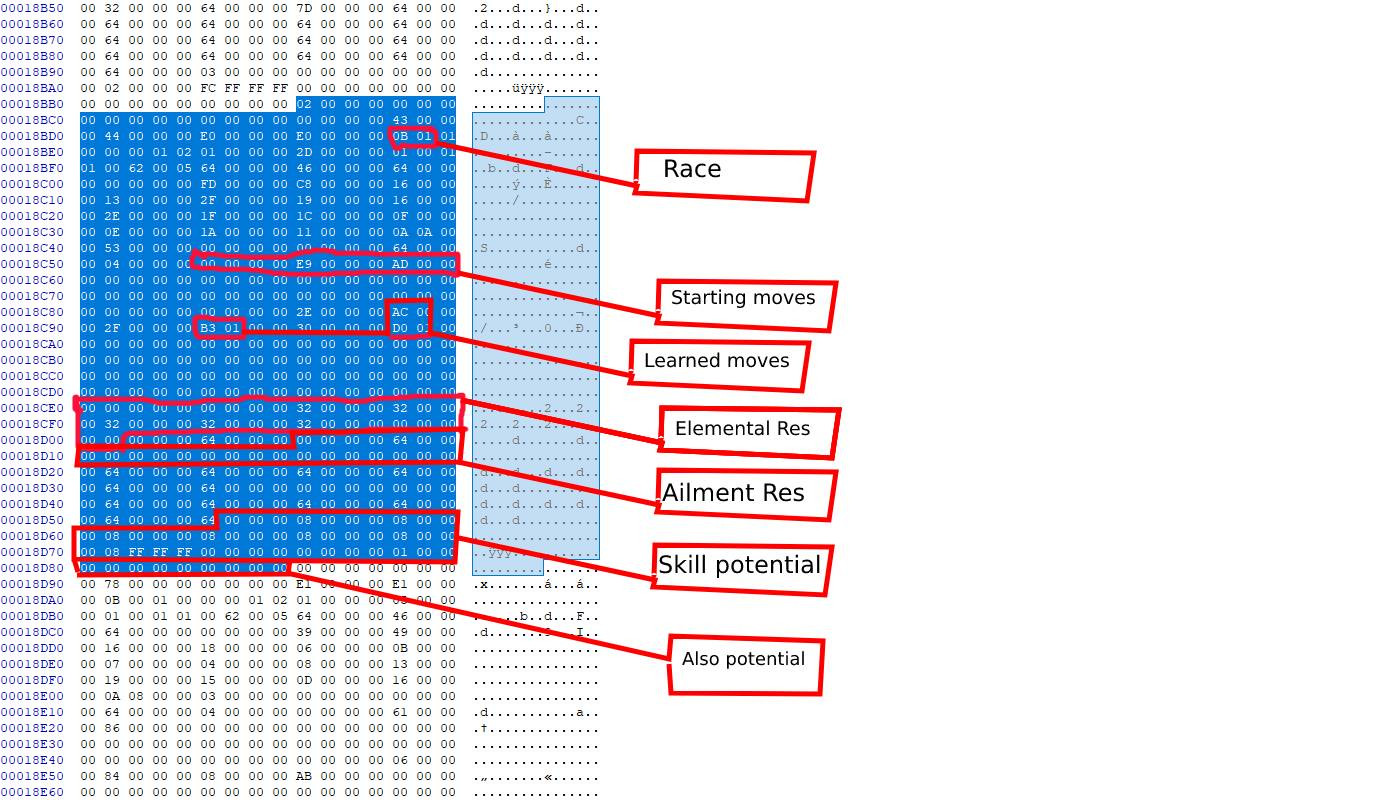 (Please excuse my poor work on this picture here I did this in kind of a hurry.)

So after unpacking the rom in the directory you would want to go through the folders Project>Content>Blueprints>Gamedata>BinTable>Devil and then select the file NKMBaseTable.exp and open it in whatever hex editing program you want to use. From there find whatever individual demon you want to edit, the one I edited was Yoshitsune. (How I found him was kind of dumb cause I just searched the reverse hex for Hassou Tobi and then made sure the other moves listed in there matched. I did the same thing to Lilim and Metatron and had no issue finding them this way. I'm sure there's a better way to do it but I got no clue and as far as I could tell I didn't ever see their reversed hex in these chunks.)

The first block I had circled is the race. I do not know the reversed Hex for each race but I changed Yoshitsune's to a fiend so that one is 0B 01.

The next one is the starting moves. Yoshitsune only has two starting moves which are Hassou Tobi (E9) and Pierce Armor (AD) I assume moving three bytes past Pierce Armor (AD) will bring you to the third move slot to edit and since I haven't tested enough I don't know if you can add more then three starting moves.

Now learned moves. I don't know how these are divided up it's actually kinda weird cause they're not in succession however as far as I know most demons learn two to three moves anyways so just replacing the values to whatever is fine. In this case the learned moves are default Puncture punch (AC), Retaliate (B3 01), and last Restore (D0 01). So just swap the reversed hex for whatever move you wanna replace it with on that.

Okay the part people are waiting for how to make demons invincible. Elemental Res. So on a lot of this file you'll see a giant block of 64s the start of that is the resistances and each one is three apart so it goes Phys skip three bytes Fire skip another three bytes etc, etc. Unless you set the value to drain then it's skip two cause you used the following byte. The values for each level of resistance goes this (00) for null, (32) for Res, (64) for normal, (E8 03) for Drain, (E7 03) for repel, and last (7D) for weak. (Note there's a 64 between where ailments starts and where elements end. I believe that 64 is for almighty I just didn't mess with it as it was not what I wanted to do.)

Now we start Ailments. For ailments it's the same exact thing as elements except now you can only pick between normal (64), resist (32), and null (00). I set all the ailments on Yoshitsune to null except one. I skipped on that one ailment which is why there's a 64 on there after the first null just for testing. (Note in the picture that I uploaded Yoshi has nulls all six ailments I had already changed it to that at the time of making this post and deleted the file I had before and am too lazy to do it again.)

Skill potentials are the easiest part at least for a positive value I haven't bothered figuring out negative values yet but for positive 01-09 and 00 for nothing that's all for that. Again three bytes spacing each starting value off. (Note the three FF FF FF I think caused him to have a negative nine potential in dark so I guess that what it is for -9 but I can't really say anything else on it.)

Alright so that's everything I got so far hope it helps people in the future.