Note: This tutorial will assume you are already a little familiar with Aemulus mod manager and mod compendium as well how to install and play games through OPL. As a result, i will only cover relevant information as this is long enough already, i also won't be able to provide visual examples on the console side of things, as i don't own a capture device or even a decent camera.

1.

Prerequisites

PC Side
Imgburn (for building the iso)
Aemulus package manager (for building mods)
Mod compendium (for repacking CVMs)
Pnach converter (For converting pnach code into RAW format)
Mastercode Finder (for getting the mastercode from the elf)
OPL manager (optional)

Console side
Soft-modded PS2 (FMCB Memory card) or Hard-modded (modchip)
OPL (v0.9 or higher)
uLaunchElf (PS2 file browser)


2.

Compatibility

Mod compatibility with PS2 might be different then PS3/4 do to the fact that the PS2 is the actual system P3Fes was made for as well the fact that it isn't being emulated like on PS4 and all models of PS3. (The phat model uses hardware emulation like phat model PS2's use for PS1 games) So to be safe i played through most of fes with most of the CEP (Community Enhancement Pack) as well as testing other mods for bugs or crashes. so here is a personal list i made.


3.

Creating a modded ISO

Gather the mods you wish to use into aemulus, enable them and click "build".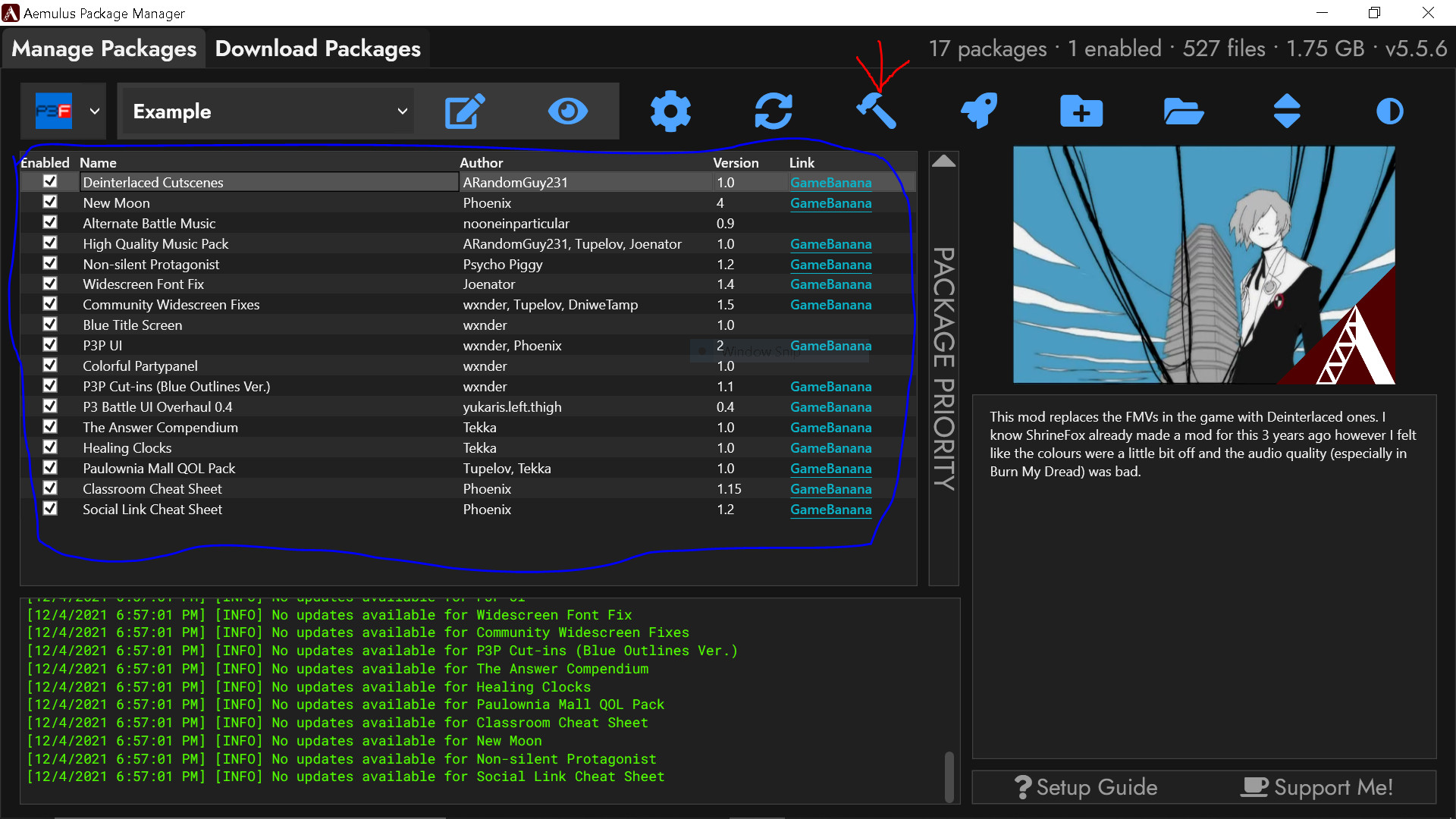 Once built, open mod compendium and click "new" to create a mod folder,
 then go to aemulus' output directory and move the built mod files into your mod folder in mod compendium.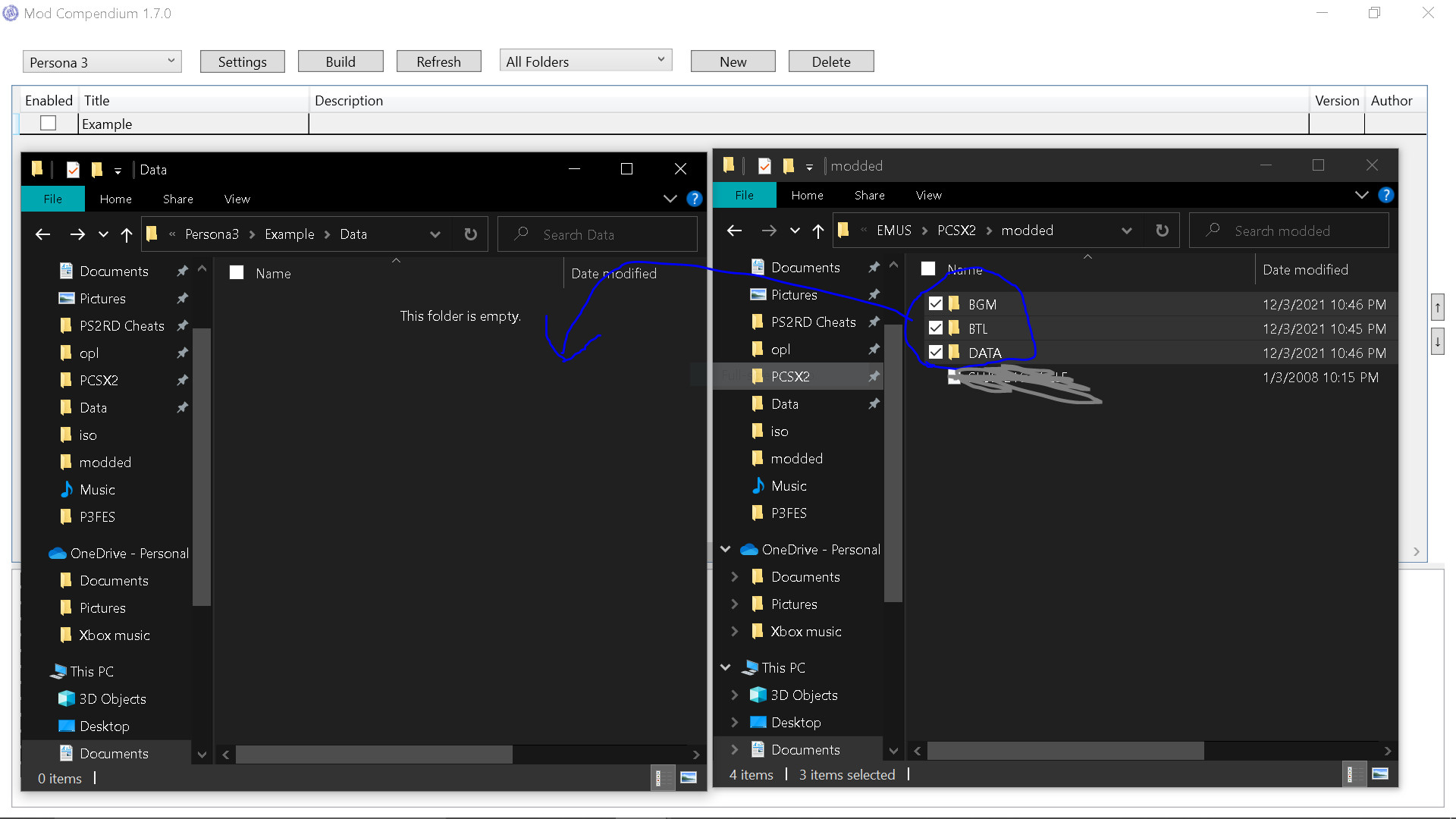 Make sure hostfs mode is turned off in mod compendium.




Then click "build" in mod compendium, Once built you should see the mod files are now cvm files, if they aren't, again make sure hostfs mode is off.Open the unmodded iso and extract the System.cnf file and the LIB31 folder from the root of the iso and place them in the same folder as the modded cvm files.

Once that is done, open imgburn and select "create image from files/folders".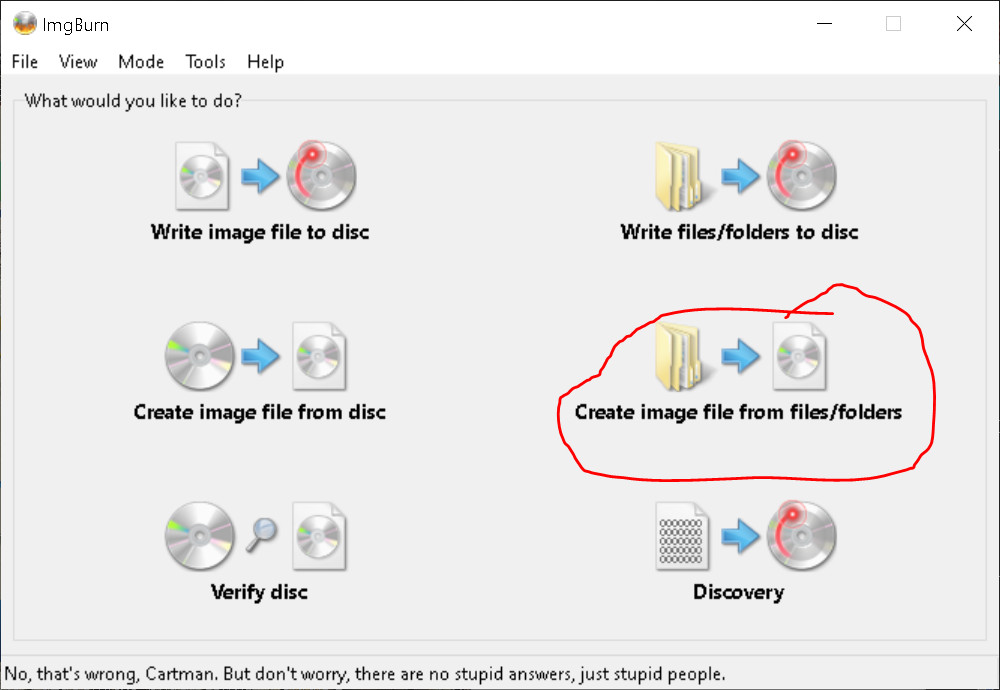 Drag and drop the files into the box and click the icon to create the iso, name it and save it where you want it.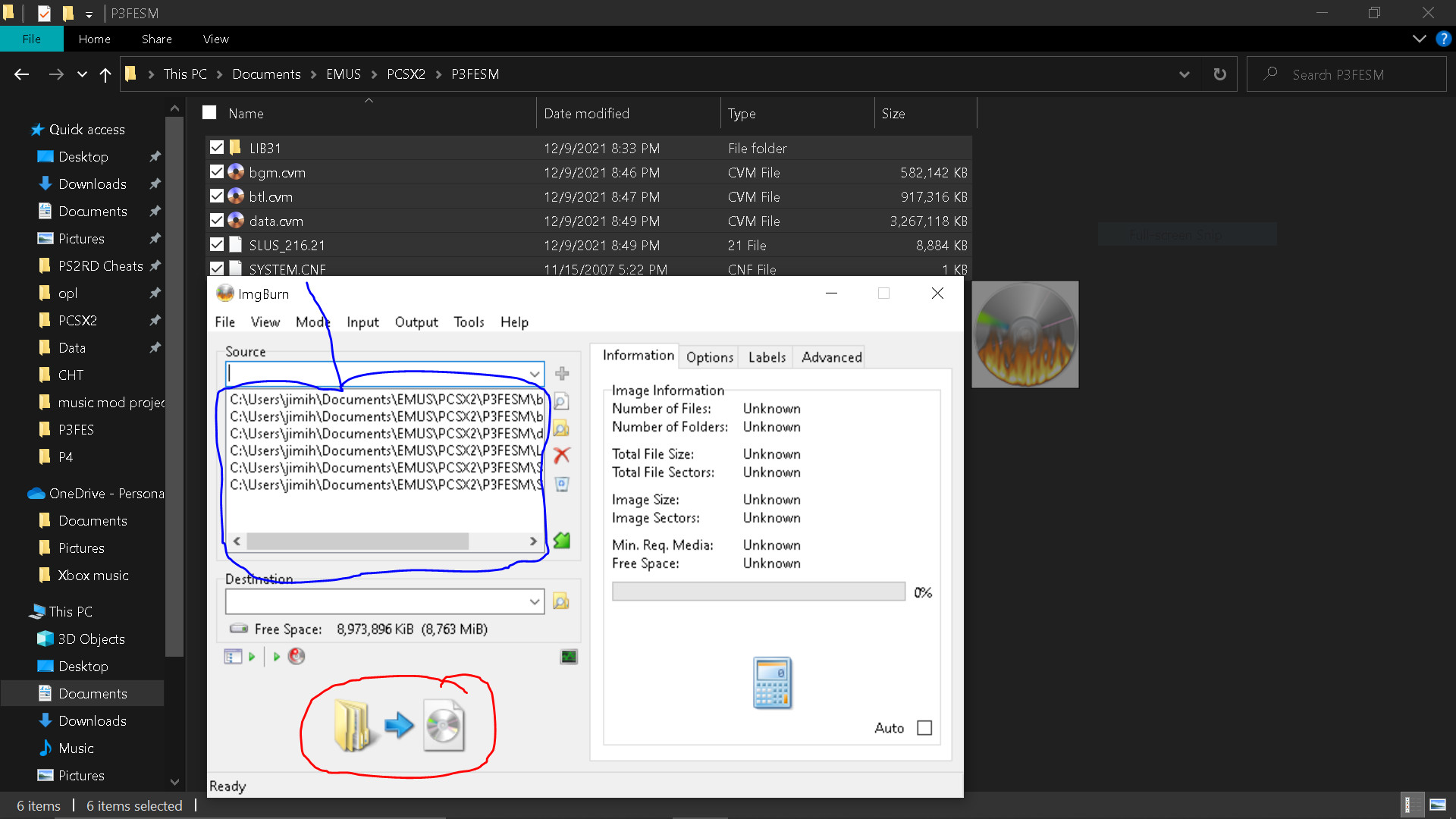 It should ask you if you want to confirm the volume label, just click "no" and it shoul start building the iso.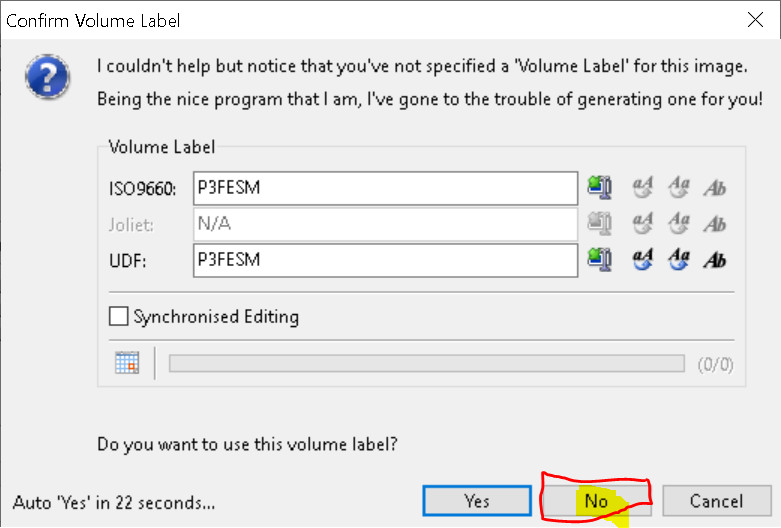 Btw, you can (in theory) follow this first step for modding on PS3/4 however i only own a soft-modded PS2 and unmodded PS4, so you're on your own from here.


4.

Testing your iso

Now test your Iso in Pcsx2, make sure it boots, loads into the game, enter and exit battle and then see if it freezes when entering the fusion menu and when talking to npcs. if you know how to Use OPL SMB then you have a more convenient way to test it on the console itself.


5.

About cheats and patches.


Don't use PS2 patch engine, the game will freeze when entering the fusion menu or battle, it will work with a unmodded game. Alternatively, you can use PS2patchelf, which you have to build, however it is recommended
to use OPL's own cheat engine called PS2RD as it applies patches when you run the game similarly to PCSX2 instead of applying them to the elf file, which OPL doesn't like a lot of the time. creating the cheat file for PS2RD is a tedious process, so if you want to skip that part, you can download this pre-set file i made. 


6.

Creating the .CHT file

Cheats and patches need to be in raw format. thankfully converting them is easy with Pnach converter, just drag and drop it in and hit convert, it should look like this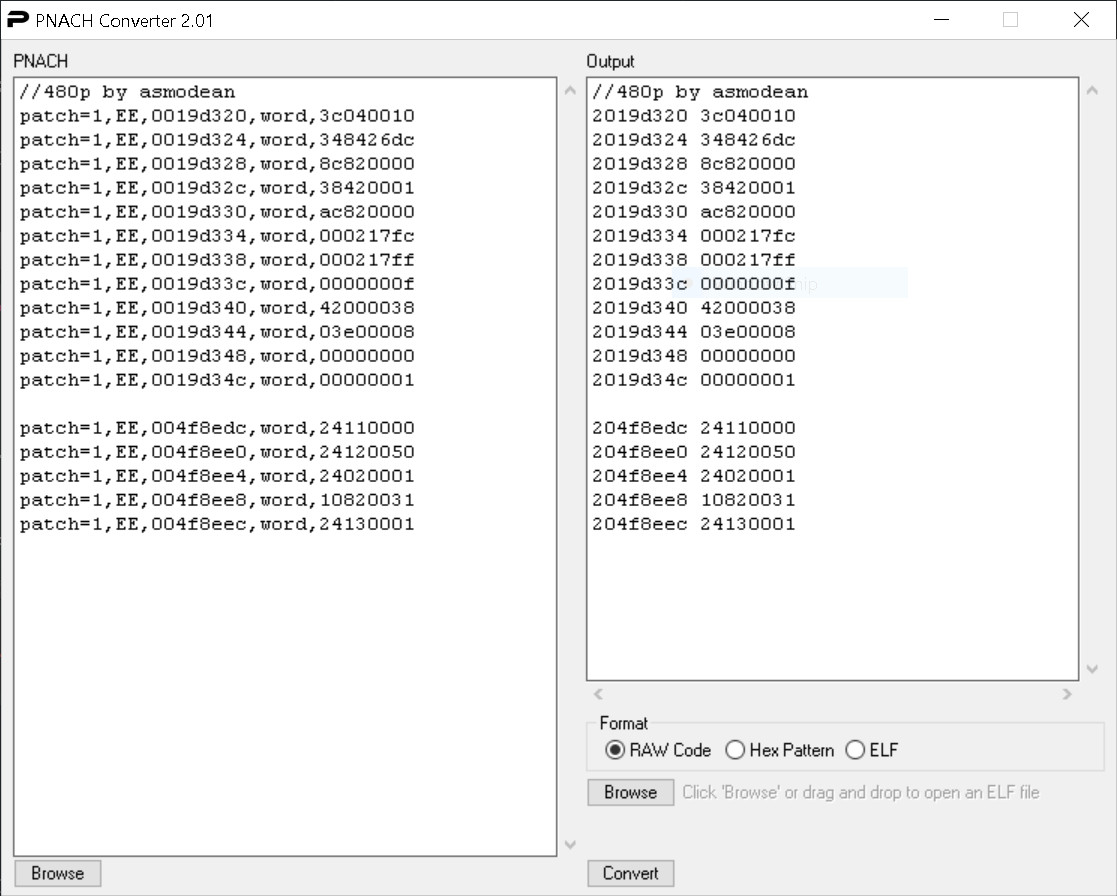 If it gives a "malformed pnach entry" Error like this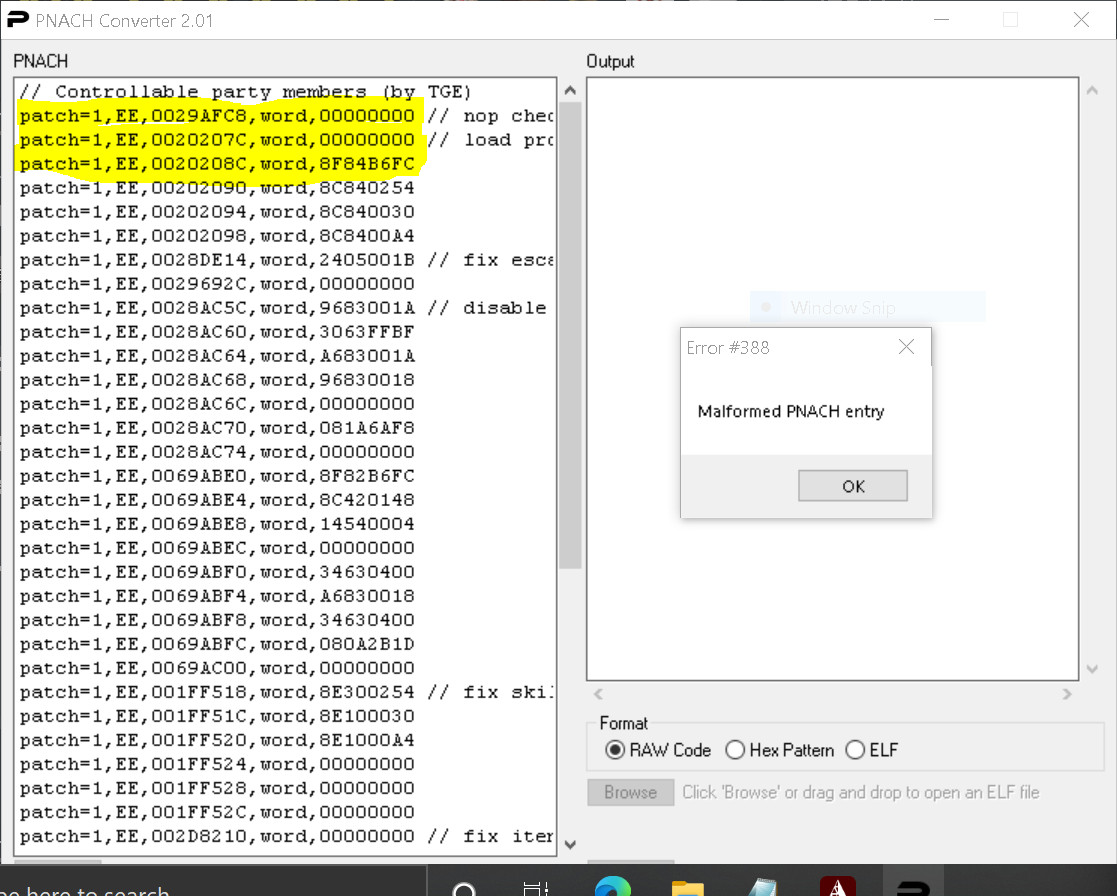 Then just delete anything that isn't part of the code and if that doesn't work then idk.

All cheats and patches must be in a single file with a .cht file extension instead of pnach, it also needs to be named as the game's id. this is what it should look like: SLUS_216.21.CHT

You will need the master code in the file as well, you can get it by using mastercode finder, just drop the elf file into it and it'll give you the code.
It will also give you the CRC.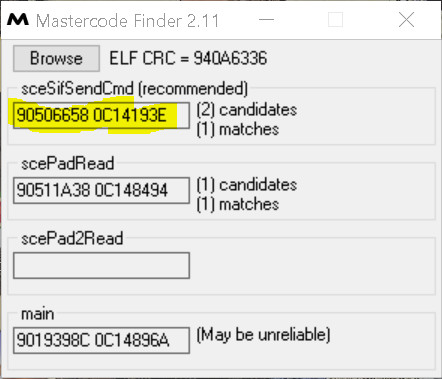 Last of all, make sure to leave an empty line at the bottom of your file, otherwise OPL won't load the code there.

In the end it should look like this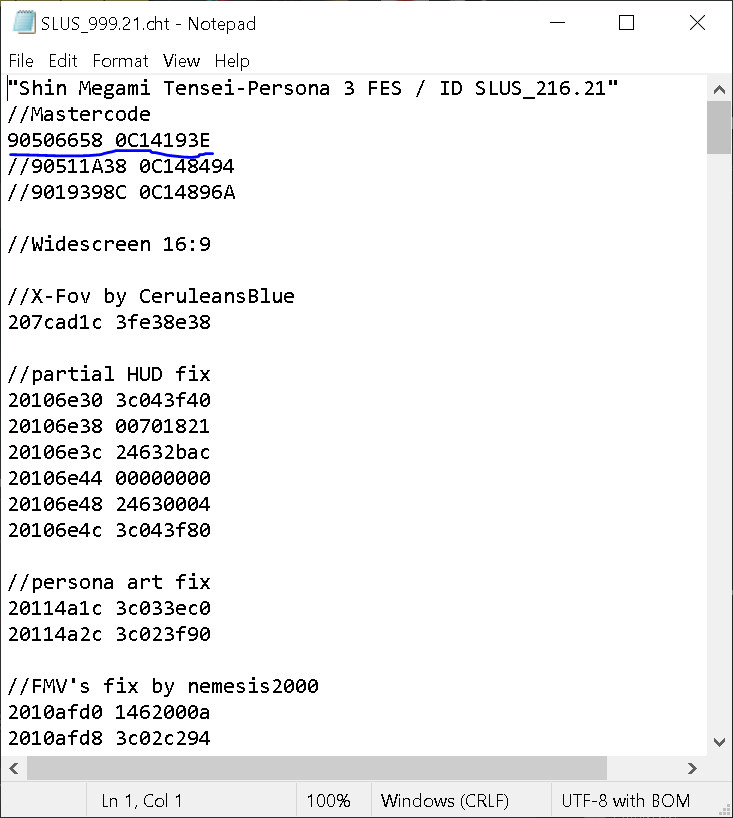 7.

Using cheats

Make sure your file is in the CHT folder on the same device as the iso otherwise OPL won't load it. to activate cheats, go to your game in OPL and press triangle to enter game settings, go to cheat settings and enable PS2RD cheat engine, set it to "per-game" and "auto select cheats".

Also, if you're using the widescreen font fix mod, make sure to delete the font fix code in the cheat. It looks like this: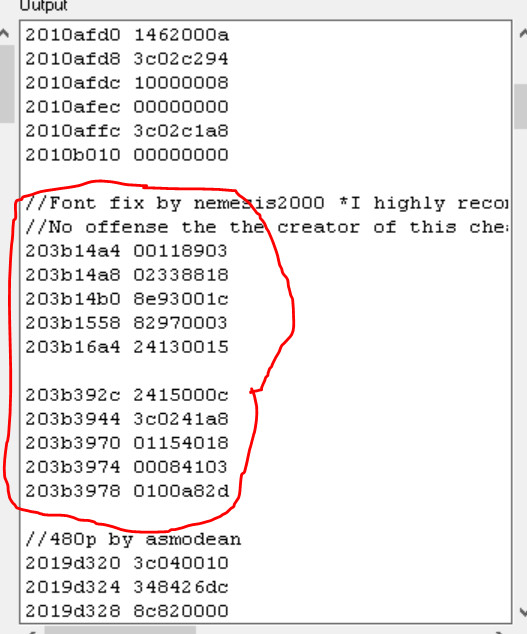 If you're playing off of HDD you can use uLaunchElf to transfer the file from a FAT32 formatted usb device. Usb is "mass". HDD is hdd0 and file path is: hdd0/+OPL/CHT


8.

 (Optional) having both ummodded and modded isos on HDD


You only need to do this if you wish to have both ISOs on the hdd. why? because OPL can't tell the difference between them due to them having the same game id, so it will end using the wrong elf for the other. Thankfully you can work around this by changing the game's id in OPL manager. assuming you already have it set up, drop the modded iso into the DVD folder and open OPL manager, it should appear in the bad named iso tab, if not, change the iso naming format by opening the settings and changing it temporarily, then select your iso and click "change" next to the game id and change it to "SLUS_999.21".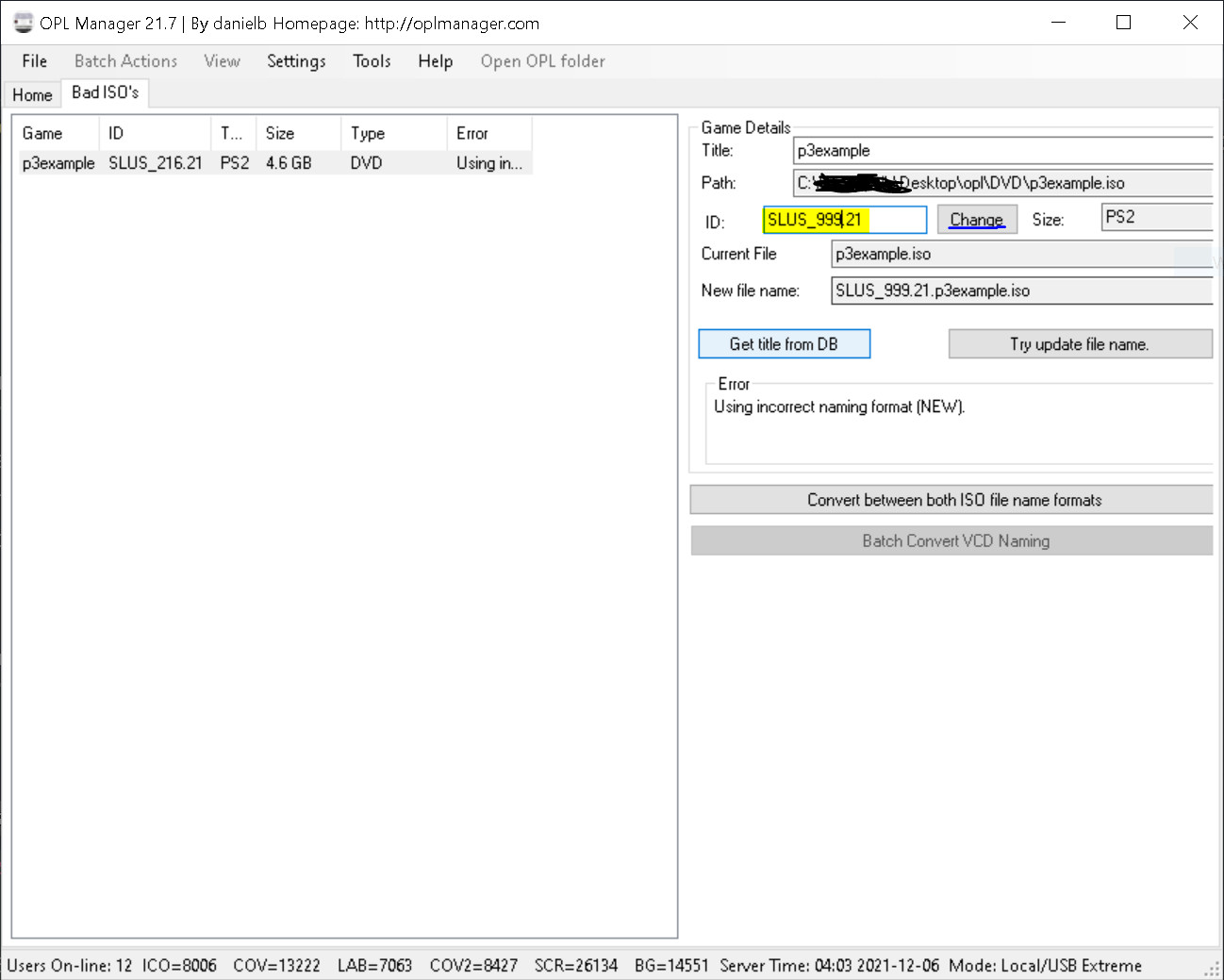 You then need to either open the game's config file in OPL manager and add
this line to it: $Altstartup=SLUS_216.21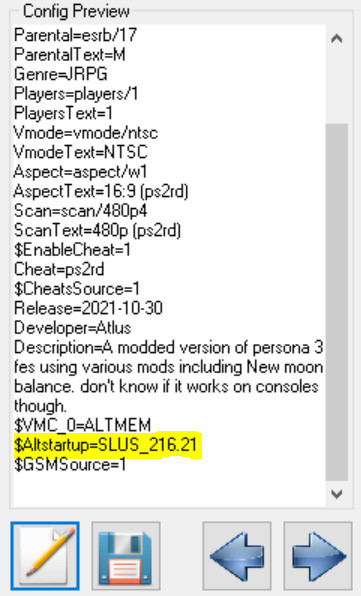 Or open the game settings in OPL on your ps2 and put "SLUS_216.21" in the custom elf option and save the settings. Please note you only have to do this for hdd, not usb and not (afaik) smb.


9.

Extras

I don't know where to put this stuff so I'm writing it here.


If you are using the widescreen patch the screen may be off center or cut-off, turn on GSM in game settings, set it to per-game and HDTV480p (if you aren't using the progressive scan patch, then set it to NTSC) then adjust the V-position and H-position accordingly.
while playing off a usb is a surprisingly decent way to play, adding mods that increase the game size overall will increase loading times slightly and cause minor stutters in battle.
If playing off usb with instant persona switching, try not to switch personas to quickly too often as the game might not load it fast enough, causing it to crash.
Mods that require Hostfs will obviously not work, as well as mods that add their own files instead overwriting pre-existing files will not work.
If playing off hdd with VMC on, the game will suffer from emulator like slowdown, as in audio slowing down and clipping, in the save screen.
you can transfer saves between PS2 and PCSX2 with the help of mymc.gui and uLaunchElf. this is helpful for when you need to use party skill editor, as the pnach it creates can't be converted to raw with pnach converter.
There is a version of OPL for backwards compatible PS3s, but as i said before i don't own a PS3, so i don't know if works the the same as the PS2's version. But if it does then you can (in theory) use this tutorial for that as well.