Throughout the 80s, into the 90s, well into the 2000s and is still going on, pixel art remains one of the most commonly used ways of designing a video game. It is so exciting, that when a few pixels here and there come together, how fantastic results you can achieve. Either you want to make yourself a nice video game, or someone who likes pixel art and wants to start out, this tutorial is for you.

In this tutorial we'll cover how to texture and shade, and we'll be using these techniques to bring out a character of our own to life. What's more fun about this, that those who are just starting up and don't want to invest in expensive tools like photoshop, or couldn't stand the complexity of the said softwares, you can simply make your pixel art using Ms Paint. How cool is that?

Now, without any further babble, grab that mouse, set up your easel, prime your canvas up, pick up that pencil tool, and off we go!

Step - 1 : The outline

So, before any colors could be filled into our character, we'll be needing a definitive outline, a frame that will hold onto all the colors for us, as well give our character a distinct shape. You can make one yourself, or if you find it difficult to do so, you can find yourself a few templates online. Also, what's even more better, if you're good at sketching, you can draw one on paper, snap a photo of it, and trace over it. If all them don't work for you, then download the template I've made below. Now, I don't want to teach you how to copy and trace, so feel free to modify it in any way you'll prefer. So here is our template that we'll we working with today: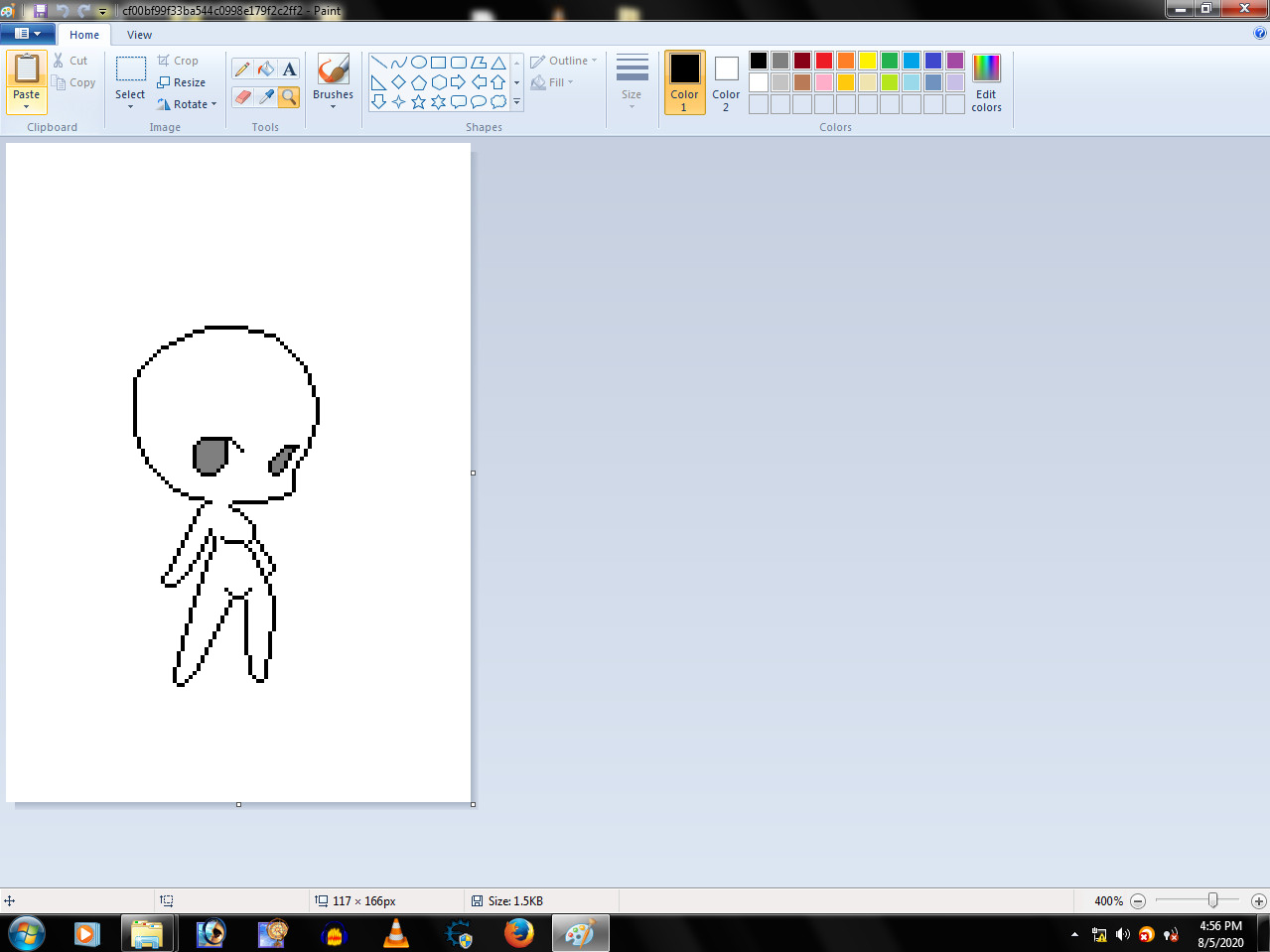 We'll be drawing a female character. In order to define a female body, remember, there's a rule that as you move lower, her body will become smaller, and then it'll become larger at her hips. For male body, The chest is kept wider, while at the hips, it'll get smaller, to get a distinct V shape. Keep that in mind.

Before we drop in some colors, let's give our cute lil' baldy some adorable hair. Using the pencil tool paired with the black color, choose a hairstyle that you like and draw on a free style outline of how the hair should look like. Choose whatever hairstyle you'll like to use on her.
After you're done, you're work should look somewhat like this: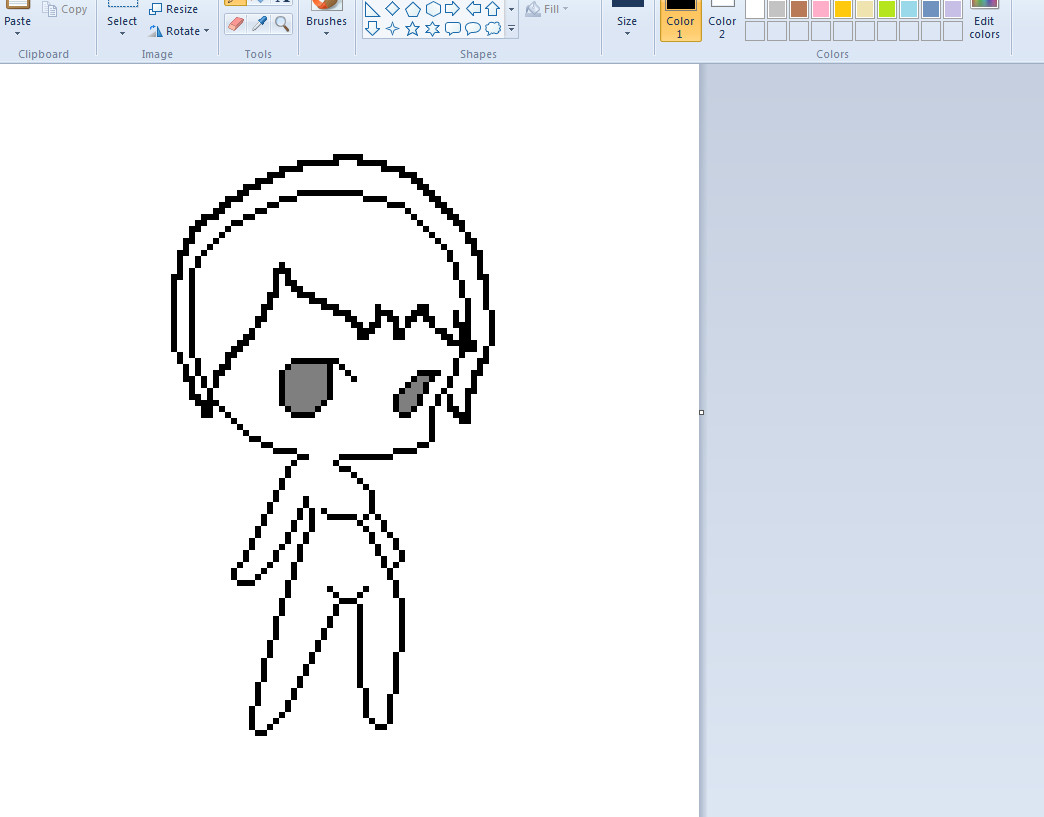 Now, now. Don't you worry. It's looking quite lumpy and unpolished, but in this following step, we'll be using the eraser to clean it out a bit. Now, use the eraser tool to remove any excess pixels. This includes the ones that makes them look like tetris blocks, as well as the outline of her head, which will be now hidden under that puff of hair. The finished product will be like this:




Pretty neat, don't you think? Now, we won't be using an outline to draw out her clothes or her facial features. We'll be using the colors directly in order to achieve that. Now with the outline outta the way, we can now dive in and texture our character.

Step - 2: Texturing

Now, select the paint bucket tool, and decide on what your chibi's hair color and skin tone will be like. Choose whatever you want, whatever suits your style, what ever suits your preferences. Once you've decided, use the paint bucket tool to fill in some color into her.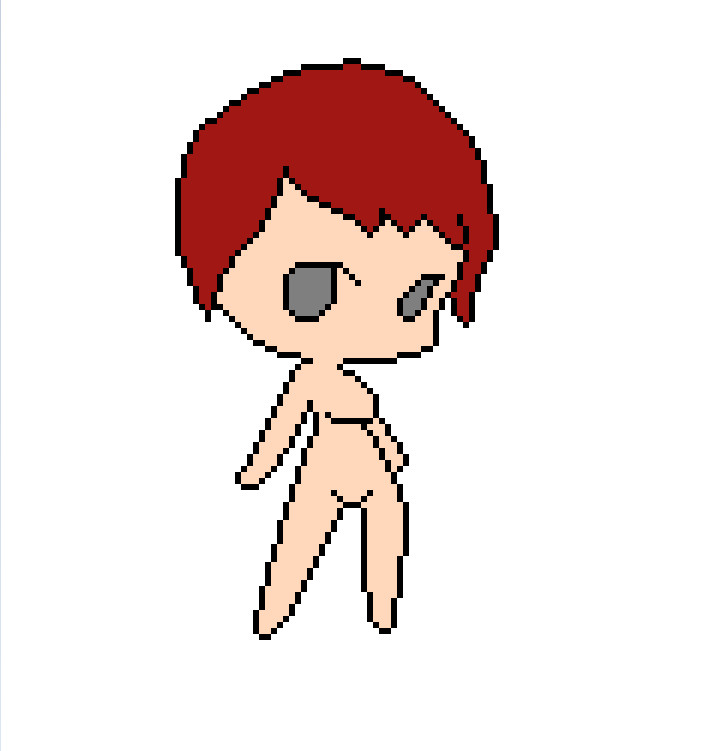 Great, isn't it? now, let's put on some clothes on her. It's too cold outside, don't want our lil' chibi to freeze out like this. Decide on what you want to put on her. For me, I'll go with a cute pink crop top and daisy dukes.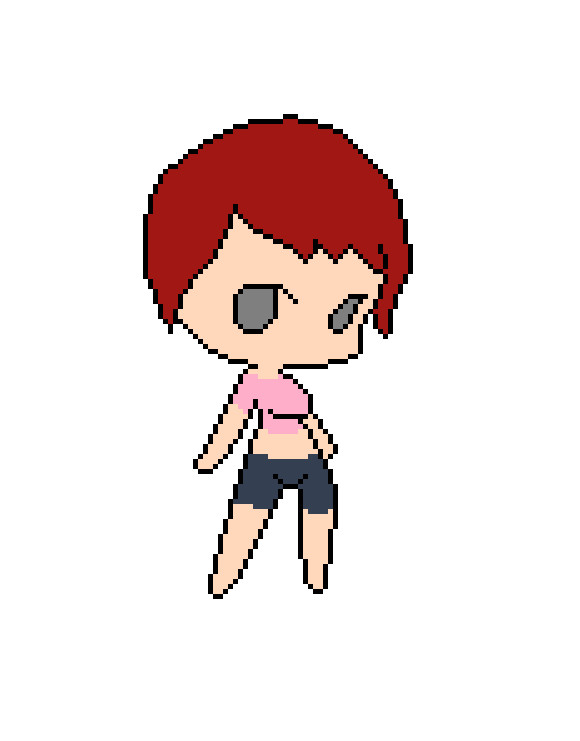 Now here we have her, in her basic shape and color. Once you're done, its time to darken out the colors a bit and use them to add shading to her skin, her hair and her clothing. First of all you need to decide where the light is coming from. Here's the rule of the lightning; If the lightning is coming from the ceiling, her head will have a lighter shade, however, as we progress down, she'll be having a darker shade.
So, now select the color you've selected for her skin, and using the "Edit Colors" window, tone it down a few shades. Use this color to darken out some of her skin at her edges. Remember, do not darken in the direction from where the light is shining, or this will cause us trouble, and we'll end up doing a pillow shading on our character, which we don't want to.

Repeat this step for her hair and her clothing, and the results should be like this: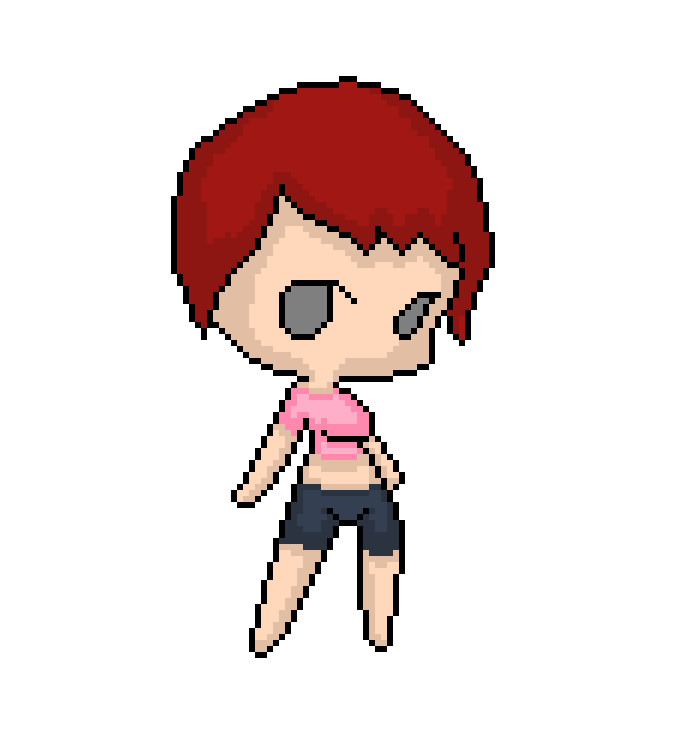 Now, she does have some definitive shading, but she still looks flat; really flat. Well, we're going to repeat the last step once more, but this time, we'll use a even more darker shade, but instead of using it in great amounts as we did it here, we'll be using it quite sparingly. Here what she'll look like if you do it correctly.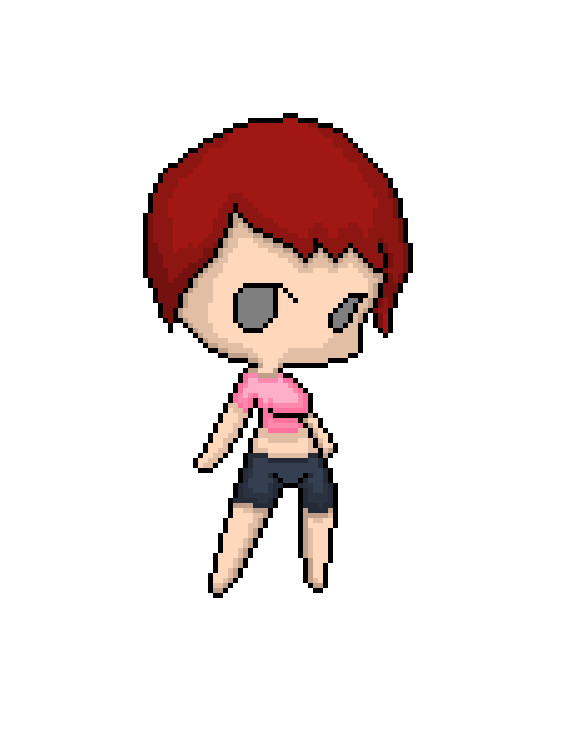 Now! for the last two steps. See that black outline around her? well, it has been serving us quite well until now, but it's time for it's demise. The outline will be fine if you're going for a cell-shaded sprite, but for this one, that's gotta go. Erase it? No, No, absolutely not! instead, we'll be replacing it with an even darker tone of the color you've used in the previous step. Here's how it goes.

This is our color table. We'll use her skin as an example. The first color you dropped in using the paint bucket tool, we'll call it tone 1. For the first shading, you used tone 2. For the third one, you've used tone 3. Now, select the tone three and make it considerably darker. Darken it enough that it'll stand out on it's own, but not too dark that'll make her look like a cookie cutter. Repeat this step for her hair and her clothing, and your results should be like this.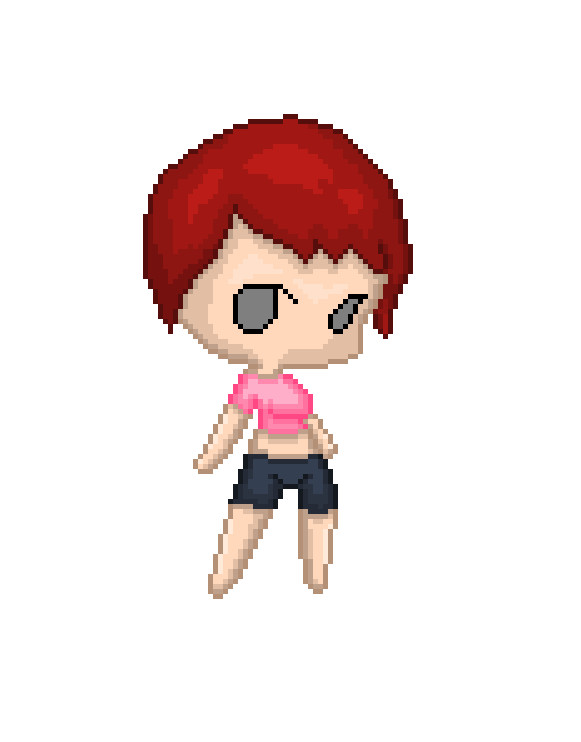 Look, look how less flat she looks now. She stands out quite well. But, but... what are those lighter patches in her skin and her hair? well, those are the light spots. You can tone your color brighter and add those in the directions were you think the light will be shining on her from. Once we're done here, let's move to the final step:

Now, using the same principal, texture her eyes out. I guess I'll go with the blue. You choose whatever you want them to be. Draw out her mouth and her nose, annddd... we're done!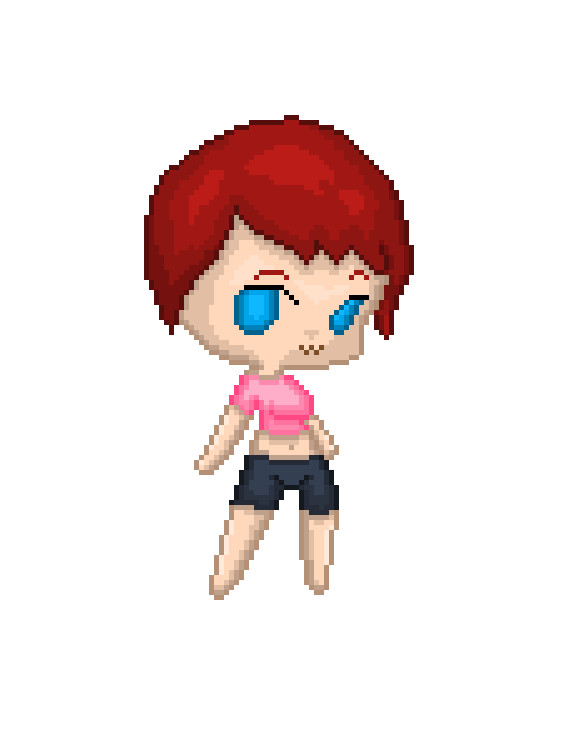 If you've been following the steps correctly, then congratulations! you've just designed you're very first pixel art character!

I know, this tutorial won't be flawless. It does have it's own flaws. So if there's something you didn't understand, and/or you have any questions, please, don't refrain from commenting and asking below. I'll be glad and happy to help. Until next time, see you, God Bless.