Making re-textures to design something how you want in P4G, or to even just do it for fun it a bit troublesome if you don't know what you're doing. This guide is going to walk you through on where to find the most common textures you'll use, and the settings you need to export them.


1.

Before Getting Started

You need either Photoshop (recommended) or Paint.net
You need NR2_Unpacker to unpack your .pacs and get textures
To save .dds in photoshop use this Nvidia Plugin
Amicitia to open non dds files


2.

Where to look for textures


First extract the .pac using NR2_Unpacker, to see how use this guide.


Excluding various UI elements. The location of textures are very self-explanatory, textures are held inside the tex2 folder within various pacs. Models actually come with textures baked into them, however, the .dds overwrite them, allowing you to edit them easily.

The most notable ons to edit are in data00003, with the

player, persona, and npc folders.





Player

: Has the battle textures in them (outfits used during battle in tv world)



Persona

: Self Explanatory



Npc

folders: Hold various textures of npcs, main characters, and some static objects.

Otherwise they will be in various .bins and .arcs scattered throughout the .pacs which you'll need to open with amicitia.


3.
Opening and Editing the Textures
3.1.

Opening non .DDS files



To open certain .bins, .arcs, or various other files you can just drag them onto amicitia and export.

3.2.

Opening .DDS


Now obviously, to open .dds, you just open them in photoshop. To edit them, however, is a bit trickier. While the textures are so old they are very forgiving if you mess up on the edges of colors or details, there are still some key rules to follow.


3.3.

PAINt Bucket isn't a good idea

While slapping the paint bucket tool on an entire texture or selection sounds like a good idea. You lose key details when doing so.



That's Orpheus's face. Let's say, I want his face blue.




So, I decide to make the whole texture blue, because what could go wrong?




This is Orpheus before Paint Bucket.




This is him after. You have created a monster, look at him, he's sad now.

Now if you really want to use paint bucket. In photoshop there's a neat trick you can do to be lazy.


3.4.
Stubborn People's Guide to Photoshop Paint Bucket


First make your selection, like so.




Then add a new layer.




And paint bucket the layer. Now, before you say, "Wait, but he said not to paint bucket." Read through the next part.




Go to the tab in layers that says "normal" and change it to "color.




Now, you have your color (most of the time), and you have your details. Although keep in mind this is the lazy man's way to quickly edit stuff, most of the time in lengthier/higher quality edits you will be doing different methods not covered in this guide.




And now Orpheus is blue, jammin out, and still has his details.


3.5.

Finding unknown parts of textures


Do you see a part of a texture that you have 0 idea what it is? Color it Pink! Or any bright color really. The important thing is making it a color that is drastically different from the rest of the model, so you can look at the model and identify what that part of the texture corresponds to on the model.


4.

Saving the texture

When you export or save your edited texture, you can't just export as any old dds or png.


4.1.

Saving Your Texture In Photoshop


After downloading and setting up your Nvidia plugin linked earlier. Save your edited texture with these settings.


4.2.

Saving Your Texture in Paint.Net


In Paint.Net export your texture using these settings.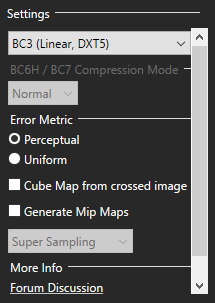 5.

Conclusion

That's basically everything you need to know to get started on editing P4G textures. Keep in mind that your first few times might not be great, it'll take a bit to learn, but you will learn which is important.

Have fun editing your textures!

Also, for the next couple weeks we are hosting a Recolor/Texture Edit contest in the Modding discord. First place winner gets a month of nitro!