Last time, I wrote down a tutorial on how to rename the weapons in the VGUI menus. However, there is still one thing that we're missing here, aren't we? Think. Can't? Well, if you guessed it you get a prize. If not, the old-styled menus.

Some people are nostalgic while others might prefer the Old-Styled menus over the fancy VGUI menus. This process will have you change the weapon's name more than just once, different file, but the process is just as simple as the first one. Ready? Alright, enough beatin' round the bush, let's dive in.

Step -1: Files

   This time around, we'll be editing a file different than Cs_english.txt. Go to your game's directory, into the cstrike folder, and look for the text file titled "titles.txt." After you've came across the said file, open it, and let's get to dirty business.

Step - 2: Editing

    Once you're into the file, you'll notice that the text is quite different from the cs_english.txt. What the heck is all this stuff? Well, simply put, here's how the mechanism works;

cs_english.txt stores all string values for the said weapon into one line. Like, you don't need to edit the weapon's name for terrorists, for CTS, etc. All you need to rename is one string.

In titles.txt, however, each both CTs and Ts have different strings. And yet, another two for them for the Assassination maps. To give you a visual definition of what I meant, take a look below;




So, to simply put, if there's a weapon that both CTs and Ts share, e.g, the AWP, you'll need to rename the weapon four times in these four different menus. With this technical stuff out of the way, here's how you're going to rename the weapons.

We want to rename, let's say for example, Galil. We all know that the in-game name of the gun is IDF Defender. We'll like to call it "Tiny AK". First, press the ctrl+F to bring out the search box. Type in, t_buyrifle and press enter.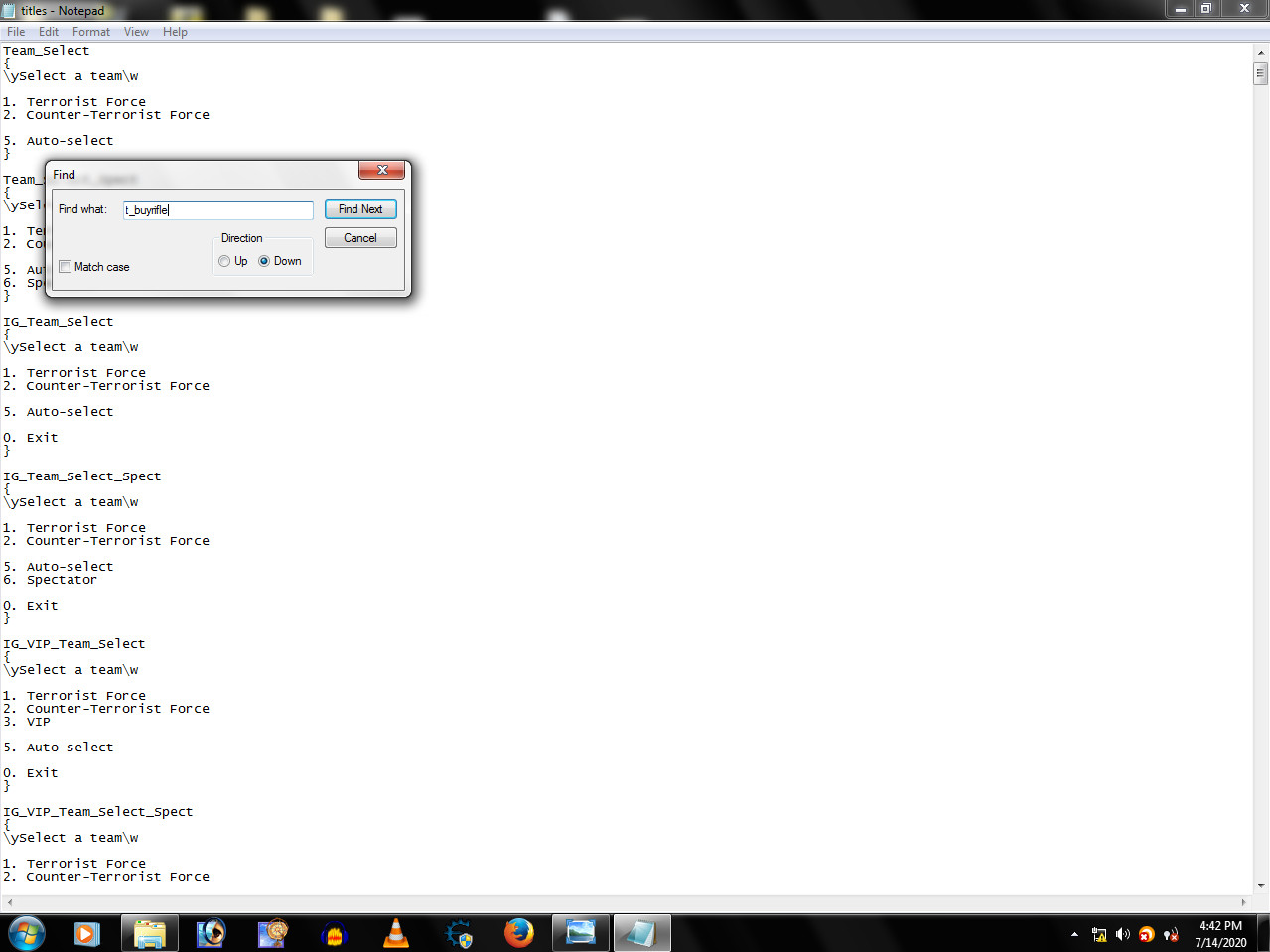 You'll be brought to the terrorist's rifle menu. Find this line under "T_BuyRifle";

\w1. IDF Defender\y\R2000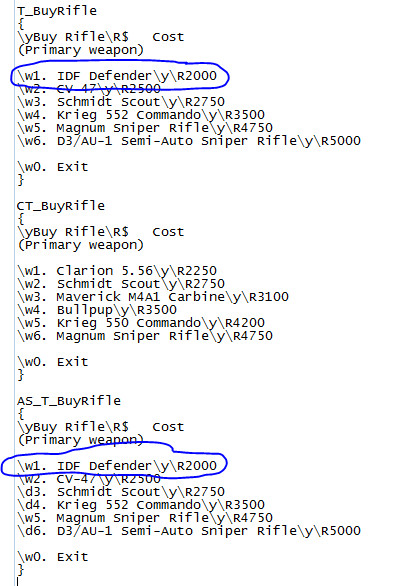 Do not mess around with \w.1 or \y\. Simply replace the words IDF Defender with Tiny AK. 

Wait, we aren't done yet. 

Scroll down until you come across a menu named AS_T_BuyRifle. This is a specific menu that is used for the AS maps. Repeating the process, replace IDF Defender with Tiny AK. Once you've done that, save and boot the game up. See through the menu, and you'll see that the menu now refers Galil as Tiny AK.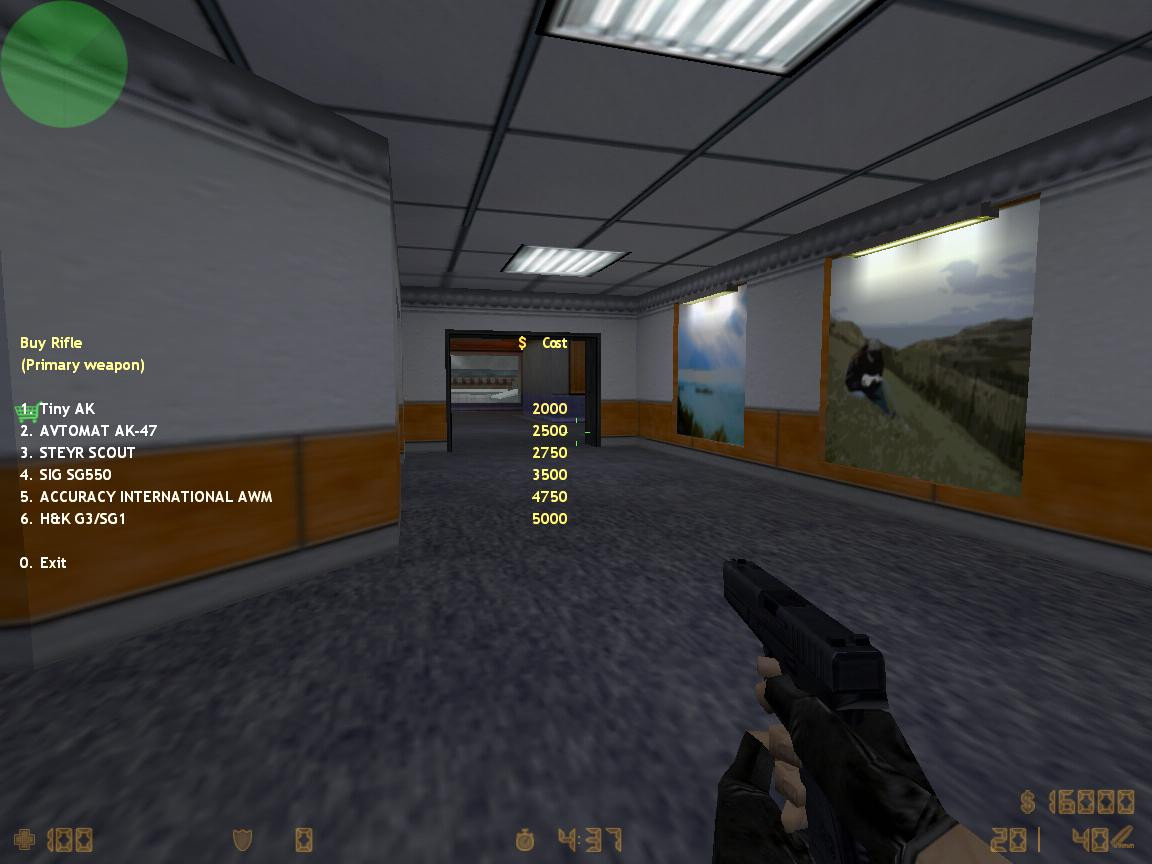 A simple, but quite useful process if you want to make your skin look native to counter-strike, instead of a third party mod. This could also be applied to the CS CZ, as just as before, this file contains much more other than just weapon names. Factions names are stored into this file too, so for example, you can rename Elite Crew to thin man or anything you'll like.