I've been watching old gamebana tutorials and I've noticed that many

at that time they used func_wall to prevent what would be cutouts or faces that each object creates on the map.

Well this tutorial will be useful for those who want to optimize their maps to 1000.

This is done at the request of some users, which is useful to have a small guide on the func_detail due to its enormous utility.


What is func_detail?

The function was added in 2011 by a third party at the source, which works very similar to the engine source.

It is an entity applicable to solids (brush) included in the VHLT compilation tool. It is based on the existing entity in the games with Source engine.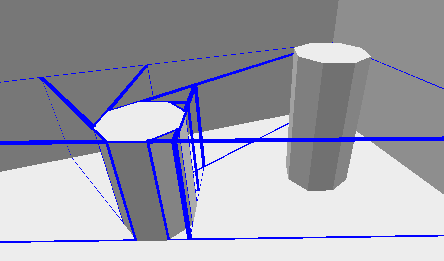 Requirements:

- Vluzcans ZHTL v34
- Have the zhlt.fgd that comes included in the VHE (or editor you use) along with your favorite .fgd.


What does?

Well ... The solid that has this entity is not going to cut other surfaces (worldbrush) resulting in less wPoly, but with an illumination as if it were a common and ordinary solid. At the moment it does not sound special, that could already be done with func_wall, but the best part is that it is not really an entity! When compiled, it happens simply as a solid, but does not cut other faces (except for other func_detail).

As a limitation, it can not be used with water, sky, or to seal the map (walls that hit the void).


How do I use it?

In principle it is as simple as selecting the solid and putting the entity func_detail as you would with any other.




Now tap see what we can do with that attributes:

* Detail Level: With this attribute we mark the level of detail. Solids with higher levels of detail will not cut others with a lower level.

This is useful when we have func_detail that touch each other.

Example: A solid with level 3 will not cut to another of level 2, and neither of these two will cut to one of level 1.




Of course this is not to abuse and do many levels, as it is counterproductive to make the bsp process to compile inefficient and generate a final file with more weight.

* Lower level to chop others: This is to lower your level to cut others. I do not know its function / difference with respect to detail level.

* Raise its level to get chopped: As its name says, it is to raise its level so that they cut it. I also do not know its function / difference with respect to detail level.

* Priority when face overlap: As its name says, priority when faces overlap. With this, what you do is define the face that has priority when two or more solids overlap.




* Detail Level of cliphulls: I do not know its function exactly ...

* Passable: Allows solido to be transferable.

A detail to take into account is when one of the faces that touches the solid has null. In these cases, making a differentiation in the detail level is unnecessary since the face that is supposed to be cut directly does not exist.



(Yes, that yellow texture is NULL).

For more detail or depth of the topic: https://developer.valvesoftware.com/wiki/Func_detail



Sources:


https://www.msremake.com/threads/vhlts-func_detail...

https://forums.svencoop.com/showthread.php/38059-A...

https://forums.svencoop.com/showthread.php/40983-D...

https://forums.svencoop.com/showthread.php/42174-V...



If you want to clarify something or have something that contributes to the tutorial, please let us know by the comments.