This tutorial is based off of the Mario Kart 8 custom track tutorial as it goes over BFRES and KCL already. Credits to KillzXGaming for the original tutorial. Some parts have been deleted or heavily modified to fit what we can do for splatoon. This tutorial covers only simple stages with flat colors and no decor geometry.

REMINDER THAT YOUR STAGE, IF ANY POINT IS BELOW THE ORIGIN IS NOT INKABLE.

Modeling Program

Uwizard.woomy (can be found on my server)

Wexos toolbox(Can be found on my server)

4th dimension(Can be found on my server)

Splat3d0.2 (can be found on the internet tough to install may want to ask for help in #help)

Splatoon models are located in vol:/content/model. The files in this stage have the .bfres extension. These .bfres files contain all models, textures, animations and other necessary data for the stage to appear in-game as it does.

Object data for stages is NOT stored inside of the .bfres files. Instead, this data is stored inside of the static.pack file located in vol:/content/pack. Inside of the pack, there is a folder called 'map'. Inside of this folder are multiple files that bear the .szs extension. These files can be unpacked using (Uwizard Woomy) to reveal a new file that bears the .byaml extension. This file contains all the object data for the stage it is tied to, and can be edited using (The4thdimension and Splat3d)

Now that we have gone through some files and how to edit them, it is time to make our own stage! Next up will be the modeling part!

Before you start making a model, it is important to know that the stage has a vert limit of 15.000. The file size of custom stages cannot be bigger than the file size of the original stage either. Any patch of turf below another patch of turf will not be inkable. Any point below 0 will not be inkable, walls are not inkable no matter what collision you put on them (replace them with ramps)

There are multiple programs which can be used to make stage models. Recommended programs are:

- Blender

- 3DS Max

It is important that you separate all the textures by type: Wall, floor and décor. This can be done by separating by object. Once this has been done, the model can be exported with the .dae extension. This can be done by Selecting export with your modeling program of choice.

After the stage has been exported, the stage can be opened in Wexos Toolbox. This tool can import the file bearing the .dae extension. However, compatibility may vary. Following is a list of accepted formats from each modeling tool and their compatibility:

Blender: .DAE (Sometimes unstable! May not work!)

3DS Max: .OBJ, .DAE

Sketchup ???? Run through blender first.

You are familiar with brawlbox, this tool is somewhat similar.

First of all, you will need to Open the stage that will be used as a base. It is advised to make a back-up as well. This can be done by Copying all files you modify into a separate folder and storing that folder in safe place. Then open the szs file you'll be porting over with Wexos tool box. (a stage to base your imports on is in my discord https://discord.gg/J6x4XxM)

Before you start, it is recommended to look at the selector option. All materials need to have their own map. (Maps are textures that combine to make the reflectivity, depth, and color of a texture) Following is a list of all materials and their meaning:

- Alb: the main texture

- Nrm: a Normal Map for a bump effect. Makes your texture appear less flat.

- Spm: the shininess of your texture

- Emm: the Emission texture which controls brightness or glow. Great for signs or panels.(Not mandatory)

- Bake: the lighting and shadow effects.

Some materials may not have all the maps you need. In this case, it is best to keep looking for a better map. Adding or removing maps on an existing material is not possible.

Now let's open the output.bfres you exported earlier.

open the materials' folder .


Now to export a material simply right click and export the material from the original stage.

To replace the old model with the new one just right click the stage model and select replace.

Then select the .dae format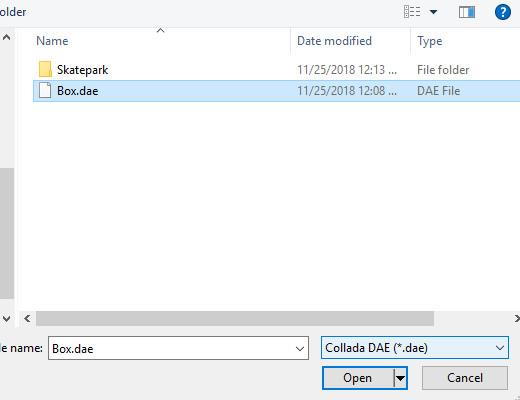 Select your dae file you exported and then a settings box should appear.

These are the settings I use.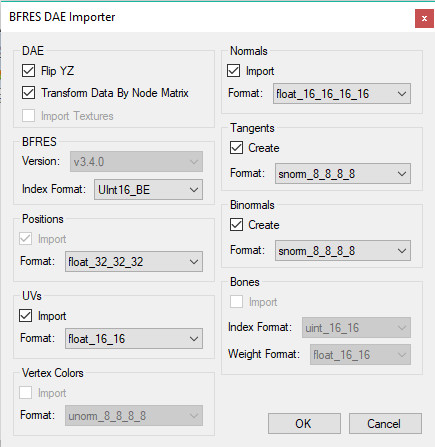 Then press OK.

Now your model will replace the original model.

(You can right click on your model and preview it! This is useful for looking at texture mapping and if the model looks fine.)

Now replace all the materials In your model with materials from the original model

There are a wide array of formats a texture can have. Following is a list containing some of these types:

- T_BC3_UNORM or T_BC3_SRGB: For transparent textures (and second bake map)

- T_BC1_UNORM or T_BC1_SRGB: For most textures not transparent (also first bake map)

- T_BC4_UNORM or T_BC4_SRGB: for black and white textures

- T_BC5_UNORM or T_BC5_SRGB: for normal maps (recommend UNORM, SRGB can be too shiny or weird at times)

These types of images are often not used, but are available if needed:

- TCS_R8_G8_B8_A8_SRGB: High quality textures. This type should only be used with smaller/few textures due to the size these textures can be. When used too much, it could crash the game due to the size limits.

- TC_R5_G5_B5_A1_UNORM: A bit smaller than TCS_R8_G8_B8_A8_SRGB

- T_BC2_UNORM or T_BC2_SRGB: slightly smaller than BC3 and supports transparency.

SRGB may have a slightly better color range. Whatever comes out best for you in the previewer

Keep in mind that higher file sizes are tied to a higher risk of crashing the game. Try to keep the size of the textures as close as the size of the original textures if possible.

UV maps Are done prior to importing to Wexos toolbox

Simply replace the textures in wexos toolbox in the textures folder with the textures you used on your model.

The this part will focus on how to import and apply premade textures into your project.

Go to the textures tab.

Right click the textures section like you did model and click import (Or replace if you are replacing textures).

You have many options to choose from. I often use .PNG.

Refer to the previous section for what to set this to.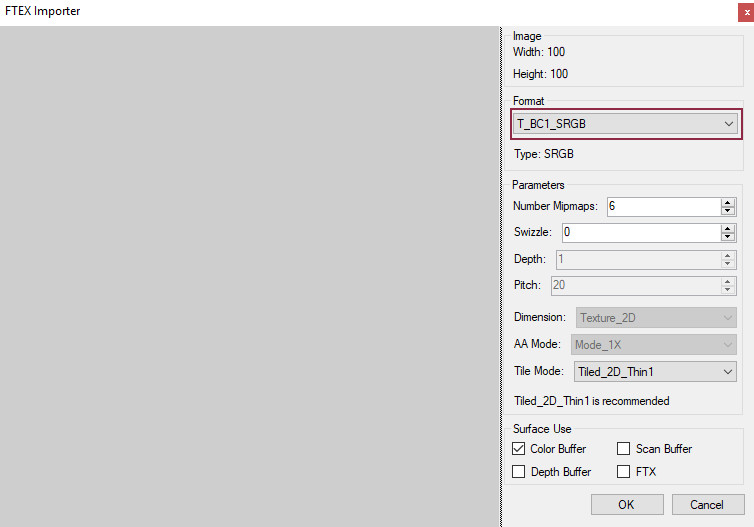 For saving bake maps set the mipmap amount to 0.

Now that is done our texture is now added!

To apply all you need to do is go to the materials and add it to the selector as note in the materials section(not needed for replacements)

(Culling is a technique used to make a certain part of a model not viewable from a particular viewpoint.


You can remove this if you need to see both faces/sides of a model by setting this to both faces.

For most objects like roads on the ground or one sided walls, I suggest keeping this to front.

Save the output bfres over the one you exported earlier.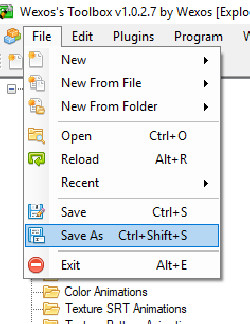 Splatoon has collision done with a KCL file. This is basically a simplified model that has materials for specific properties such as metal being not inkable or a piece of wood being inkable. These also can have invisible walls to prevent out of bounds.

For Inkable collision types, the game seperates them by wall and floors, and there is also non-inkable types (plus grates for passing through in squid form). Here is a list of some that are very useful and in hex format:

0040: Inkable (Floors)

0080: Inkable (Walls)

0009: Inkable (Ceiling? Maybe)

0012: Uninkable Metal

4007: Grates (Pass through as squid, can stand on as a kid)

Export your stage model from Wexos toolbox as an obj

Go to the Cafe KCL option. Select it then open your .obj.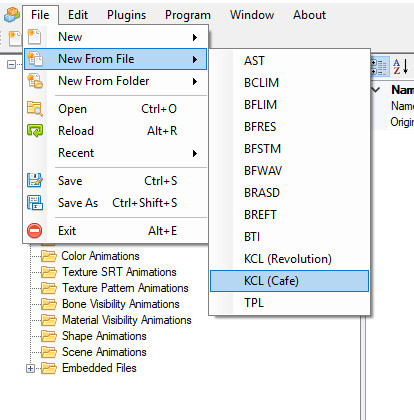 You will get a box on objects.

Now you type in the collision types.

Press OK once you are sure.

Then File - Save As and then save as a KCL over the KCL you exported earlier)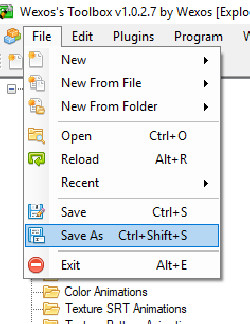 Now download and open Uwizard.Woomy. Press the tab "Archive Manager" and press the "Pack and Compress SARC.SZS" button. This will open a file explorer window. From here, you will need to select the folder containing your map (the file with the .bfres extension) and the collision data (the file with the .klc extension) and the paint.params(the third file). Press the "Select Folder" button and a new file explorer window will pop up. In this window, select the location you want to save your map to and press the "Save" button. This will save the edited stage as a file with the .szs extension.

When replacing the object data, do the above and replace the original object data file in the extracted .pack file with your new object data file. Then open up Uwizard.Woomy again and change the value in the dropdown box to 2000. Then press the "Pack .PACK (Adjustable Padding)" button. A new file explorer window will open. Select the static.pack folder and press the "Select Folder" button. Once you do this, another file explorer window will pop up. Select the location you want to save the file to and press the "Save" button. This will create a new static.pack with your new object data in it and save it on the selected location.

(COMING SOON)

Q: My mod crashes from the Fld szs

A: This error can have multiple causes. Please read the following solutions and make sure your stage matches all the requirements:

-Make sure it is Yaz0 compressed with 2000 padding (use Uwizard.Woomy to pack with padding.)

-Check errors in wexos toolbox with Edit-Check

-Make sure you are only using materials from one stage used as a base! Any other ones will crash.

-Make sure you have everything with materials

-Only use a few TCS_R8_G8_B8_A8_SRGB textures. Any more can crash! If you really need to add more try lowering the resolution of the texture. BC1 or BC3 is also best for most transparent textures due to smaller size!

Q: My mod crashes from the KCL (collision)

A: Make sure your KCL is under 65535 polys/verts.

Q: Will Splatoon 2 be moddable?

A: The file formats are fairly similar, KCL is already editable and BYAML is getting there too so I can imagine it will once the bfres format is fully rebuilt and the switch is fully hacked.

KillzXgaming for the original tutorial- https://gamebanana.com/tuts/12637

Kalomaze for the original Tutorial https://gamebanana.com/tuts/12637

Blue on discord for help with formatting, his server- https://discord.gg/grMSxZf
My server An invite https://discord.gg/J6x4XxM