1.

INTRODUCTION

Greetings Ladies and Gentlemen! Today I'm going to be taking you through the process I use to take all of the screenshots that appear in my submissions. I've discovered that most people haven't found the sweet spot when taking screenshots for their submissions. Fortunately, I've taken it upon myself to share with the masses my methods for taking clean screenshots that clearly demonstrate the mods within them.


2.

THINGS NOT TO DO!

You should no

t

take screenshots in the

loadout menu

unless necessary.


Do not

use a picture of the textures as a screenshot.


Do not

take your screenshots on

low graphics

.


Do not

take screenshots that

don't have your skin visible

in them.


Do not

obstruct your screenshots in any manner unless totally necessary to point out a detail.


3.
Procedure for taking a screenshot
3.1.

Enabling & Opening the console

When taking a screenshot, you will need to input a few console commands. If you don't have the developer console enabled, it can be turned on in your keyboard settings by clicking on "Advanced" and checking the box next to "Enable developer console".




From there, you can press the tilde key(~) above the tab key on your keyboard. On some laptop keyboards, it will be to the left of the enter/return key.


3.2.

Loading a map

For the purpose of procuring our screenshots we are going to create a local listen server. To do this we are going to open the console and input the "map" command. When we do this we will put the word map and then the name of the map we're going to use to take our screenshots. In this case we're going to use 2fort so the console input will go as follows;

map ctf_2fort


3.3.

Removing the Hud & Viewmodel

To clean your screen of unnecessary elements to take your screenshots, you will need to input a few console commands. First, you should enable cheats to allow you to change the variables you need to edit by inputting the following into the console;

sv_cheats 1

Next, if the screenshot isn't for anything in the hud, disable it.

cl_drawhud 0

Finally, If the screenshot isn't for anything in your hands, disable the viewmodel. (I.E. Spray screenshots)

r_drawviewmodel 0


3.4.

Saving the screenshots

There are a multitude of ways to save your screenshots, but we're just going over the most straightforward way in this tutorial. First, look at your keyboard. There should be a button 3 keys above the arrow keys, labeled anywhere between "Print Screen" and "PrtSc". On certain keyboard layouts or laptops, this key will generally be above backspace, or as one of the 'function' keys. press that key and it will take a picture of all your displays and copy it to your clipboard. Once that's done, immediately open your graphical editing software and paste the clipboard as a new image. If you have multiple displays, you'll have to crop the display that has your game on it. Do this for all your screenshots. Once that's done you should have several images/layers in your graphical editing software's workspace. It's worth noting that not all graphical editing software will support more than one image open at a time. If this is the case, save each image before importing the next one. Save all of these images in a folder associated with your mod so you can easily find them again later when submitting your mod.


4.
How to take screenshots for Skins
4.1.

Finding a map to use for your screenshots

Just like with sprays, the first step in taking a screenshot will be to find a TF2 map. Although, with skins its important that the map fits the TF2 artstyle. This is even more important with skins than sprays because skins usually are meant to fit in with the TF2 artstyle, where sprays aren't always inline with the style. This means using maps like cp_orange are out of the question completely. Again, using "itemtest" is acceptable, but I generally stray away from it due to how dull the environment looks. My recommendation would be using "ctf_2fort" because it fits the aesthetic of TF2, and the area outside each main spawn room is ideal for screenshots.


4.2.

Finding a suitable area to show your skin

The area you show your skin has a huge impact on how it's perceived. All of your screenshots should be taken in a well lit area that doesn't have oversaturated light or intense shadows. Environmental ambient light from the sun works really well for this, but the lighting in most rooms of a valve made map will work just as well. Also take into consideration how your skin will interact with the environment. If it glows in the dark you should take a screenshot in the dark to show that. If it reflects its environment using "env_cubemap" you should show that by showing it in a variety of environments.


4.3.

Firstperson View screenshots

When taking screenshots of a skin that is visible in the firstperson view of the player, you should always take a few utilizing inspect animations to show as much of the skin as possible. As a rule of thumb, I take 4-5 screenshots of the weapon. One of them being in the idle animation, and the rest taken during the inspect animation at different frames. In this example, I'm using a Blackbox outside the main spawn area for RED team on "ctf_2fort".


4.4.

Thirdperson View screenshots

When taking screenshots of a skin that is visible in the firstperson view of the player, it's almost always visible from thirdperson as well. There are exceptions to that rule, however; a few of them being the Spy's Invis Watch and any arm textures for firstperson models.

Any methods used to take thirdperson screenshots can also be utilized to showcase a mod for the class itself or cosmetic items.


4.4.1.

Method 1 - Player Self Portrait

When taking a screenshot of yourself in thirdperson, there are important things to note. By default, the thirdperson camera is super far away from your weapons. This can make it difficult to see your item from thirdperson. The best way to work around this involves inputting console commands, so make sure you've enabled your console and set "sv_cheats 1". Input these commands in this order:

cam_idealdistup -60
thirdperson

Once you've done that you will notice the camera is level with your feet. Back up towards a wall and it will raise your camera higher up and closer to your chest. Once you feel its close enough to your player, open the console again and then input this command.

thirdperson_mayamode

Once that's done, turn your player towards the camera and stand at an angle where your item is clearly visible. Be sure to take screenshots from multiple angles on the weapon by turning your player to a different direction.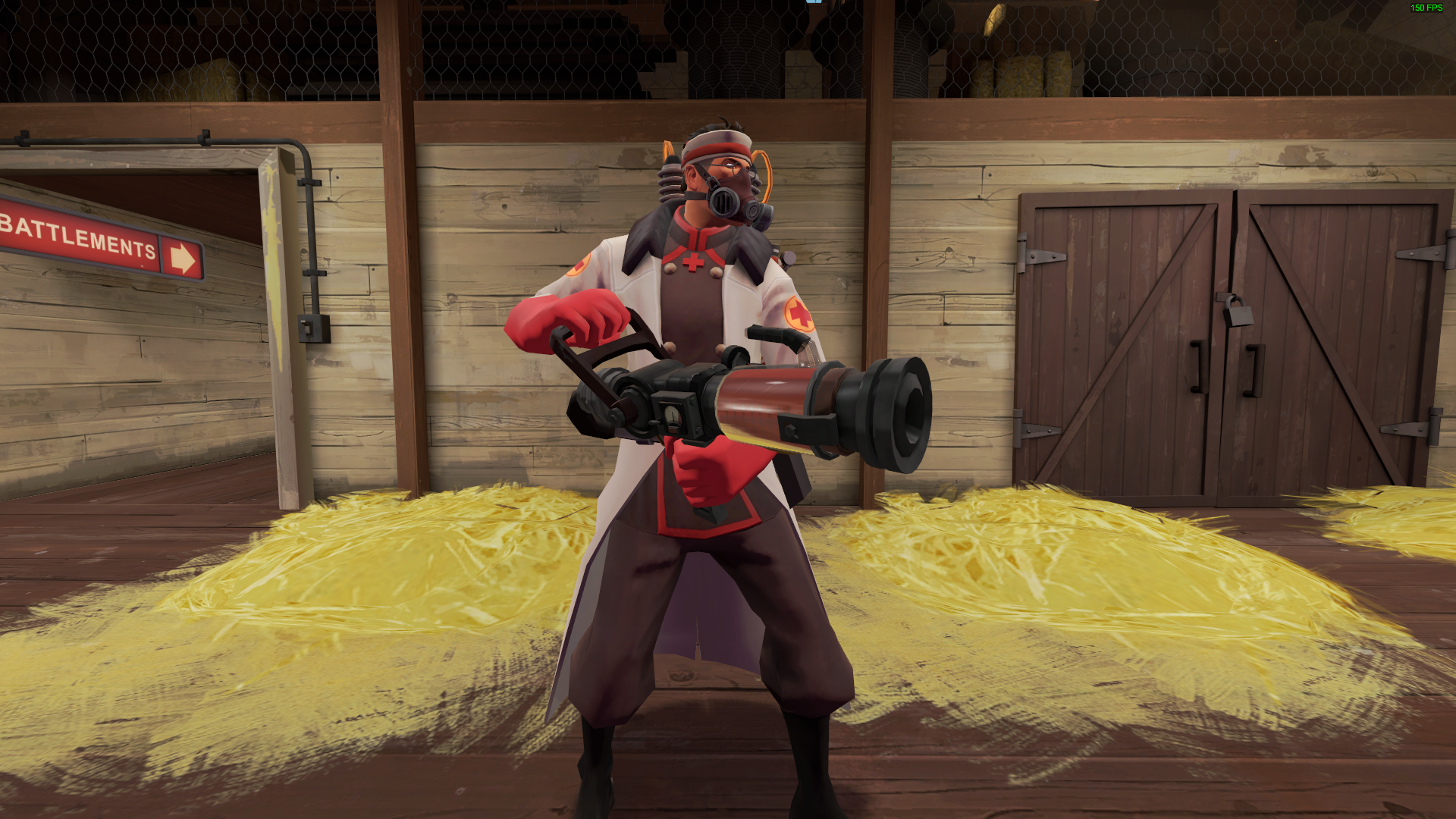 4.4.2.

Method 2 - Bot Portrait

When taking a screenshot of a bot, you first need to ensure the bot is the proper class and is wielding the proper weapon. To ensure this, we are going to utilize a tool called "itemtest". Open your console and input the following command;

itemtest

This should open up a menu. Check the box for the class you want to test the item on and then click the "Add" button next to weapon. This will open up a smaller window. In this window, click on the drop down box and find the weapon you need. After doing so, click "OK". Now make sure at the top right in the Bot controls panel you check the "Auto-add" box. After all this is done, click "Apply Test Items" at the bottom of the screen.

If you go to RED spawn there should be a bot standing in the spawn room holding the item you specified. You can then use him to take your screenshots. It's worth noting any bots that already existed before you used the itemtest menu will also adhere to the parameters you entered into the menu, unless they are the incorrect class.


5.
How to take screenshots for sprays
5.1.

Finding a map to use for your screenshots

Usually, the first step in taking a screenshot for a spray will be to find a TF2 map with a variety of surface colors. The reason this is important, is because the majority of the time somebody sees a spray, it's always on a different surface than before. Using "itemtest" is acceptable, but I generally stray away from it due to the lack of variety in surface colors in that map. My recommendation would be using "ctf_2fort" because it fits the aesthetic of TF2 perfectly, and there are a variety of dark and light surfaces to showcase your spray on.


5.2.

Finding a suitable surface to show your sprays

The surface upon which you show your spray is usually more important for sprays that are transparent. The reason for this is the edges of your spray could contain white pixels, and if it does; showing it on a bright surface could conceal those mistakes from your viewers. By showing your spray in a variety of environments, it then guarantees the quality of your spray thus making it more appealing to potential downloaders. So it's best to take a screenshot on 3 different surfaces with varying levels of brightness.


5.2.1.
Screenshot one should be on a relatively bright color.
5.2.2.
Screenshot two should be on a medium bright color.
5.2.3.
Screenshot three should be on a dark color.


It's worth noting that you should take pictures of sprays on a wall, not a ceiling or a floor.


6.
Useful tips and tricks
6.1.

Field of View

When taking a screenshot of anything you can give the screenshot a more cinematic and close up feeling by utilizing the "fov" command. I.E. "fov 30" is where most of my screenshots are taken that are of something that aren't actively in the hands of my viewmodel, Like sprays or bot portraits.


6.2.

Slow Motion

When trying to capture a specific frame of an inspect animation that is passing too quickly you can use "host_timescale" to slow down the game. I use "host_timescale 0.2" to capture any animation that is passing to quickly to screencap normally.


6.3.

Canceling Waiting for Players

To skip the 10 second period at the beginning of each map that respawns you at 0 use the command "mp_waitingforplayers_cancel 1".


6.4.

Lowering Respawn Time

Use "mp_respawnwavetime 0" to reduce respawn times.


6.5.

Changing Team Without Suicide

By using the "r_skin" command you can change the active skin from any model's skin family. When "r_skin" is set to "0" all models will use their default skin. When using "r_skin 1" All models will use their second skin, for weapons and players that second skin will be blue team. That's how I change my team without moving when taking screenshots. You can also use this to change to any skin. "2" and "3" will use a players Uber texture, and so on and so forth.


6.6.

Using Australiums Without Owning Them

When using "r_skin" Skin "9" and "10" are usually the Australium Variant of Items. By using this command you can preview Aussie weapons without owning any.


6.7.

Fixing Broken Thirdperson

If you accidentally kill yourself or taunt while using "thirdperson_mayamode" it will break your thirdperson. To fix this simply return to firstperson, type "thirdperson" in the console again, then type "thirdperson_mayamode" twice to turn it off and on again to fix it.


6.8.

Camera Position Commands Not Working

All "cam_idealdist" commands only work if you input them while in firstperson and then go into thirdperson after the fact. It wasn't always this way, but that's how it is now.


7.

CONCLUSION

This concludes my guide on how to take high quality screenshots. If you feel there's something here I didn't cover, please leave a comment below and I'll get back to you as soon as I can.