This is a repost of a guide by a user named jjbredesen on GBATemp. I did not write this tutorial. If you brick your switch or damage it in any way while using this tutorial, I, & the author of this tutorial, are not liable for it. Be cautious & careful while modding your switch.

You may also have to use the payloads from this thread on gbatemp if the links do not work.

---

Welcome to Switch hacking 101!

The goal of this thread is to prepare users for CFW / HB in a safe manner, to avoid bricks and bans and keep all the information end users should need in one place with simple and easy to understand language.

Please note that Homebrew is in its early days, and thus several things might not work on the FW you are currently on, check back here often for updates.

So, you want to hack your Switch? Then let's get started.

Note: This is for running the HB launcher through Hekate, Atmosphere has not been released. The guide will be updated once Atmosphere is ready for the end user.

-----------------------------------

Introduction to FW and blocking updates:

First, figure out what FW you are on, to do this go to settings and scroll down to system.




Under system update you will see "Current system version: x.x.x" this is the FW you are currently on.

If the number is between 1.0.0 and 4.1.0 you will want to block updates, why?

On newer FW Nintendo can patch certain loopholes that let us run Homebrew, for you to get the best experience staying on lower FW is always better. Currently the versions mentioned above have a softmod exploit. Softmod means that the hack only requires software modifications, later FW 5.x require a minor hardmod, this will be explained further in the relevant section.

Blocking updates is easy, follow this guide: https://switch.hacks.guide/blocking-updates

Come back when you are done.

-----------------------------------

The Homebrew launcher.

Now that you know what FW you have we can start to look at how you can hack your Switch.

Before we get into what you can do, you will need to access the Homebrew Launcher. The Homebrew launcher is a "home menu" for homebrew apps.




Method 1: Fusee Gelee, getting into the Homebrew launcher (4.x and 5.x)

We will be using a method that works on all FW, this is the "hardmod" you heard about earlier. Right now, this only works on 4.x and 5.x FW, but will work with others very soon.

See the other methods in this guide for other FW.

The hardmod is known as Fusee Gelee, discovered by the Reswitched team.

Before you continue you will need the following items:

- micro sd card (32GB minimum, but you will want a 64GB or larger card in the future)

- A computer

- A screwdriver / paperclip / needle or something else small made of metal

- USB A to USB C cable, this would be the same cable as your phone charger (Android) or the Switch Pro controller charger

-----------------------------------

This is where the fun begins. As always modifying your console can damage it, so make sure to follow this guide in detail. I am not responsible if you damage your Switch.

To begin, you will need to download a few things on your computer.

TegraRcmSmash by @rajkosto with GUI by @eliboa

https://github.com/eliboa/TegraRcmGUI/releases/tag/1.3.0

This program will allow you to execute payloads on the Switch, payloads are special .bin files that contain different hacks.

Download the .zip and extract it to a folder on your Desktop.




Your computer will also need drivers that will work with Switch, we will get back to this later, but for now download and install this program: https://zadig.akeo.ie/

-----------------------------------

Now that we can run payloads, we will need a payload that let's us run the Homebrew launcher. In this case we will be using a payload called Hekate by nwert.

Download the sdfiles for the FW you have.

4.x

https://github.com/nx-python/hekate-ipl-4x/releases

5.x

https://github.com/Jan4V/hekate-ipl-50x/releases/tag/v1.0.0

Then download this .bin file

You will have 2 files.

A .zip file and a .bin file.

Insert your micro sd card in your computer. Now open the .zip (sdfiles) and extract the content to the root of your sd card.

Keep the .bin on your desktop for now.

-----------------------------------

Homebrew Appstore:

You will also want the Homebrew Appstore by @vgmoose and @pwsincd , so can easily download and update homebrew apps from your Switch, think of it as a Eshop for homebrew.




Download:

https://github.com/vgmoose/appstorenx/releases

On the root of your SD card make a folder called "switch"

Place the Appstore folder from the zip in the Switch folder (sd:/switch/appstore/)

You can now remove the sd card and put in back in the Switch!

-----------------------------------

RCM mode

To run payloads in Switch we need to boot it into a special recovery mode.

Doing this is relatively simple but can require some time to get working.

1. Turn off your Switch by holder power and then choosing shutdown.

2. Remove the joycon

Now you should find the needle / screwdriver / pin / paperclip.

On the right joy con rail, at the bottom you will be able to see ten tiny pins used to connect the joy con in handheld mode. To boot into RCM pin 10 needs to be grounded.

What this means is that pin 10 must connect to pin 9, 7 or 1 OR a screw on the rail. To do this you can bend a paperclip like the picture below or look at other methods people have used in the following thread: https://gbatemp.net/threads/the-ultimate-list-of-mods-to-enter-rcm.502145/




Once you feel like you have grounded pin 10 we can move on.

Place the pin / needle etc. in the rail grounding pin 10. Now turn on your switch while holding volume +.

If you have successfully grounded pin 10 nothing should happen, the screen should not even turn on, if this is the case you have successfully booted into RCM mode.

Now connect the Switch to your computer using the USB C to USB A cable. Windows should make a sound saying a APX device is connected.

-----------------------------------

Installing the drivers:

As I mentioned above we will need drivers to use Switch with our computer.

You should have downloaded the program Zadig earlier.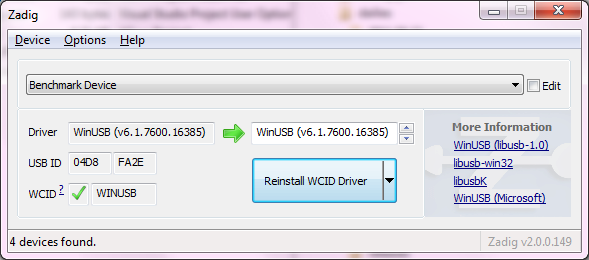 If your Switch is connected to the computer it should show up as APX in Zadig, select it in the top dropdown menu.

For the driver type, cycle the arrows until you see libusbK (v3.0.7.0) in the text box (IMPORTANT!)

Click the big Install Driver button.

Congrats, you are now ready to run payloads on Switch!

-----------------------------------

Making a backup:

Before doing anything else on Switch, it is important that you make a backup of your system memory. This will allow you to restore it if you make any mistakes in the future.

Now that drivers are installed and your Switch is in RCM mode, you can open TegraRCMSmash GUI.

In the program select the payload.bin file you downloaded earlier and click "inject payload" button.

Your Switch screen should now turn on with a small menu like the picture below:




You can use the volume buttons to navigate the menu and the power button to select things.

Now go to tools…




Now select Dump Emmc Rawnand.

This will take some time, but once you are done you will have a backup for your entire NAND on the SD card. Copy the backup from the SD card to your computer for safe keeping.

-----------------------------------

Booting Hekate and using the Homebrew menu.

Now that you have a backup you are safe to use any homebrew you want! Not all apps are updated for all FW, but they are being worked on.

If you have turned off your Switch and placed your backup on the PC, you need to boot back into RCM. (bridge pin 10, and hold down volume + while booting) connect your Switch back to the PC and run the payload again from TegraRCMSmash.




This time, chose launch and then CFW

Your Switch will now boot into the OS!

When you open the Album the homebrew menu should launch instead!

You are now free to download any homebrew apps you want from the Appstore.

Note: You will need to run the payload every time you want to replace the Album with the homebrew launcher.

Not all Homebrew works on 4.x and 5.x, you can find a list of working homebrew here, this information could however be outdated when you read this, so you can always try them on the appstore: https://gbatemp.net/threads/a-list-of-all-the-homebrew-that-currently-works-with-5-0-2.503515/

-----------------------------------

Getting into Hekate "on the go"

By now you hopefully understand the basics of how to run a payload on your Switch, and should be able to repeat the steps above without any issues.

If that is the case, and you own a Android phone you can also use the app NXloader to run payloads from your phone, instead of TegraRCM Smash, you can download the app here: https://github.com/DavidBuchanan314/NXLoader/releases

Download the .apk file from github and install it on your android device. Copy the payload.bin file from your PC to the phone.

If you have a USB C to USB C cable you can now also run the payload from your phone!

-----------------------------------

Guide for 1.0.0-3.0.0

If you want to use the HB menu on 1.0.0-2.3.0 follow this guide (advanced): https://switch.hacks.guide/homebrew-launcher-(pegaswitch)

If you want to use the HB Menu on 3.0.0 follow this guide (easy): https://switch.hacks.guide/homebrew-launcher-(installer)