Introduction
This is a tutorial to guide newcomers who recently purchased ArmA 3, to have better understanding on the function of ArmA 3 Launcher for starter.
ArmA 3 Launcher
Few years back, players of ArmA 3 will depend on using a third-party tool to do any initialisation commands. From performance tweak, switching on mods, changing the profile to even switching on development logs and join in your favourite server at a glimpse. The recent patch allows user to use the new ArmA 3 Launcher, that covers pretty much most of the needs for newcomers to experienced players in the initialisation stage into the game.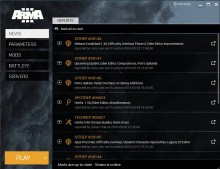 1. News
When you start up the game through Steam for the first time, you will be greeted with a News section on the ArmA 3 Launcher. Here, you can keep up to date with the change-logs on any updates onto the game itself, and any announcements related to the game will also appear in this section. The plus sign on the left side of the post is to expand the content of the selected post, and minus sign is to collapse the contents you have expanded. At the right end side of the post is for you to open the selected post on your Internet browser.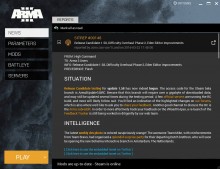 2. Parameters
In this section, you will be greeted with two different tabs, Basic and Advanced. Basically Parameters is here to allow you to input from basic initialising commands to very specific commands; memory allocation, assigning number of threads and et cetera.
2.1. Basic
If you have a predefined mods set-up for a certain server you connected to, you will be changing this setting over here. The option will appear when you already saved a preset on the Mods section, in which I will cover on section

3. Mods

.




This to allow you to disable splash screens on start-up of ArmA 3, to reduce the time for you to get into the game.




This to disables world intros in the main menu permanently.


Self-explanatory, to displays ArmA windowed instead of full screen.


This is a start-up option allowing you to choose your character profile.




For editors, it is for you to jumps straight into the scenario editor when the game finishes loading.



2.2. Advanced
In this Advanced tab, it is recommended for you to stay away for starter, because some changes within this section may cause game to crashes or in a worst case scenario, hardware failure. I will cover in details on the next tutorial.
3. Mods
When we talk about ArmA series, we must talk about mods.
"A mod or modification is the alteration of content from a video game in order to make it operate in a manner different from its original version. Mods can be created for any genre of game but are especially popular in first-person shooters, role-playing games and real-time strategy games." -Wikipedia
There are two ways to get the mods from, one is from Steam Workshop, and another is from any external sources than Steam Workshop.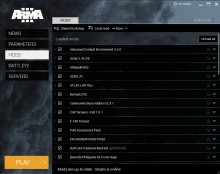 3.1. Steam Workshop
Installing mods from Steam Workshop is easy. You can browse the mods available by pressing the Steam Workshop at the top of the ArmA 3 Launcher, or by clicking here. Simply click on the Subscribe button on the mods you would like to enable into your game, and it should be appearing into your launcher.
3.2. Local Mod
Enabling the mods from outside of Steam Workshop is a piece of cake. A piece of difficult cake. But thanks to the developers constantly working on the game, and with the introduction of the ArmA 3 Launcher, the effort to enable mods outside of Steam Workshop got lessen these days.
All you need to do is to create a dedicated folder that will store every mods you downloaded, and inside the folder you need to put the mods folder that starts with an alias, "@", example show below.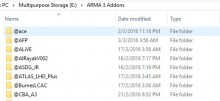 Once you get settled down with the folders, all you have to do is to let the game locate your external mods. This can be done by clicking Local mod at the top of the Arma 3 Launcher, then select the parent folder of the mods (for reference, I select ARMA 3 Addons based on the figure given above) and the launcher should be detecting all the mods you have placed inside the folder. Should any issue arise (mods does not load up), you might need to re-read the instruction given by the developer or contact them directly.
4. BattEye
BattlEye is an anti-cheat software to prevent the use of cheats when playing multiplayer session in this game. It is best to leave the settings untouched, since practically most of the server enabled the BattlEye service to prevent hackers and cheaters joining into the game.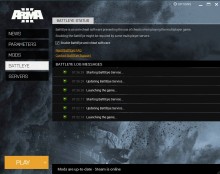 BattlEye Log Messages is there for you to see if there is any issue on launching the game together with the BattlEye service. Error code will be produced in that same section, and all you have to do is to look-up for the error code on your favourite search provider, Bing.
5. Servers
You can select whichever server available within the list, and hop into selected server with ease. Also, selecting the server will briefly explain you on what mods are required to be enabled, type of scenario loaded in, current server status, ping, and the number of players available within the server.
5.1. Favourites
Self-explanatory, list of servers in this section are based on your selection of server you tagged them as favourite during browsing the server list on any tab (Recent, Friends, Internet) in the Server section.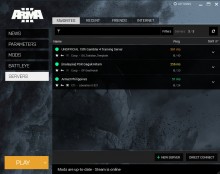 5.2. Recent
This tab will list out every server you joined previously.
5.3. Friends
Any friends within your Steam's friend list who are playing any joinable multiplayer session will appear on this list.
forever alone
5.4. Internet
Allows you to browse through all the server available on the Internet.