NOTE: Now i know how to insert pictures into text, don't worry, my trees tutorial won't be boring when i release that mega-tutorial.
People have met this problem a lot of times... and they always tried to solve it, but some people just can't get it, yet it's very simple.
Making a map with simulation of cloudy weather (LIGHTING ONLY).
So, the sun light is covered by clouds, so the shadows are supposed to be very blurry, but while on a sunny day, you can see that shadows are razor sharp, at least at close distance towards the object the light is projected on
(if an object which casts shadows is closer to another object, it will have sharper shadows).
So how to do this? Simply put:
Step 1: Place the light_spot (set "Is sky" to YES) , or light_environment.
Step 2: Go into the entity's properties (Alt-Enter), and in "Pitch, Yaw, Roll" set this: 30-120 (this means something between these values), 0, 0. (Last picture)
(Once a false assumption, corrected by Lord Canistra)
OLD THEORY (stupid to me now) : Light reflects off the SKY brushes, that is, the, umm, bounce lights... i don't remember the text i deleted it.
In short, the original light source is partially missing and we only have ambient occlusion left by the light entity's blah blah blah, and when the RAD calculates the light, it will make the shadows very, very blurry (look at picture number 2).
I also noticed on a WiP of mine (indoors map), that when the fading part is reached at a light spot (not sky), it begins to act just like if you set the light environment to face upwards, again, blurry shadows. I think it's caused by the lack of intensity of the light, caused by the big distance of the object from the light source, but i'm not sure.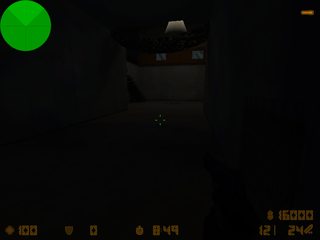 You'll notice it sooner or later.
(Optional) Step 3: Insert in the "Custom Appearance" field: ddd or fff or ggg or your own value.
That is how much bright the light will be, you can make the light behave like a candle (dddccbabccddd=bright,slight dim, dim, slight dim, bright), but only do this if you want to really add more darkness to your map, and the 4th value in "Brightness" is just there to control the major brightness, and the details are up to the "Custom Appearance".
blurry shadows with light_environment
Well, i did some trial and error, but it's there.
It is very good for night maps, but i'll get into that later.
Step 1. Place a light environment entity
Step 2. Go into it's properties.
Now, this is where it gets a little bit complicated. The parameter Shade is used to define the color of shadows, and because of the fact that the entire map will be in a shadow, we'll need to set it's color.
Step 3. Adjust Shade to your will:
If it's quite cloudy, set it to grey, with a bit of pure blue.
Set the Shade to: 115 140 180 200, and you can adjust it to your own values if you'd like to.
The 4th value, again, sets how bright the shadows will be, a bit strange to be honest, but if you set it to 100 or something, the map will be darker.
So let's see the result:
Step 4. And of course, set Pitch to 90.
Night lighting (a bit weird name, simply just like clouds but at night).
Step 1: Place the light_spot entity (light_environment uses the Shade parameter to define shadows in night maps).
Step 2: Go into it's properties, set "Is sky" to YES.
Step 3: Copy these specific properties: Pictures 5 & 6
Brightness: ???, ???, ???, <50
(first 3 values can be adapted to your own values, make them nightly, but the 4th value MUST be under 50, in order to be dark enough).
Pitch Yaw Roll: 30-120, ???, 0
(1st value must go between, 2nd value whatever, 3rd doesn't work on lights).
Step 4: Just like Step 3 in situation #1.
It will give additional darkness, but it is not neccesary, as it will give you a very dark map, so avoid this, unless you set the 4th value in "Brightness" to 100 or something.
This tutorial is quite useful if you want to make, let's say, Gotham City in Counter-Strike. Because it's quite cloudy. I also made an example replica of a city: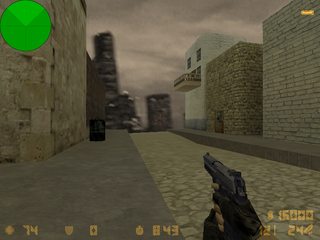 Additional notes:
You can also set the Pitch to 0 degrees, and that is an OK value for maps set in at around 6:00 AM (dawn) and if they're cloudy. Experiment! You may get crazy things you have never seen. And use light spot, as it's more flexible than light environment, at least i use it.
If you want the RMF, here you go: cs_cloudylighting