# Translations You can also find this tutorial in the following languages: - [Russian](http://gamebanana.com/tuts/11909) - Spanish (coming soon) # Contents - [Introduction](#introduction) - [Author Groups](#author-groups) - [Author Names and Roles](#author-names-roles) - [Things to Keep in Mind](#final-thaughts) # Introduction (back to index) Crediting authors is important on GameBanana, and bad credits are probably the #1 reason why Skins get withhold. Avoiding this is really simple: Make sure you credit everyone involved in your submission.

However, making your credits clean and easy to understand is also something you should always try to do. In this tutorial I will provide **guidelines on how to keep your credits clear and organized**. # Author Groups (back to index) Ok, first of all, when you submit a skin, you will find a credits form that looks something like this: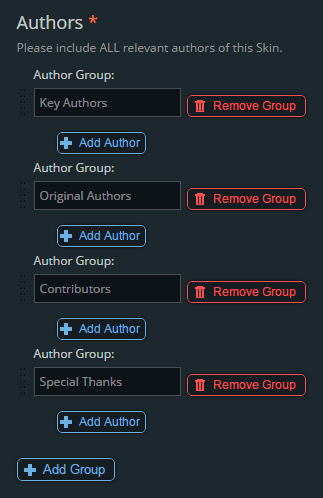 You will see four empty **Author Groups** here. These can be renamed or changed in any way but they are a very good starting point. Of course, you don't have to use them all either. For example, it's fine if your submission only needs Key Authors. - **Key Authors:** Refers to people that worked on this Skin release. This would include, for example, compiling the skin. Any work that was done **for this particular submission**. - **Original Authors:** Refers to people that worked on parts of the skin that weren't originally done for this release. This can include models and textures that were already done by someone else and that you used in the skin. For example, a weapon, flashlight, silencer, etc. that you choose to use on your submission, would be credited in Original Authors. Also, If you're porting content from one game to another you should, add the developer here. - **Contributors:** If there are other people that contributed to the submission but their role doesn't fit the previous categories, you can always put them in contributors. - **Special Thanks:** This one should be self explanatory. Is there anyone that helped you with a bug, or that taught you how to do something to get this submission done? Did you follow someone's tutorial to make the submission? Did you get a lot of feedback from someone in particular while making your submission? This would be a good place to thank them. As mentioned above, these groups can be replaced, but you should only use your own Author Groups if you have a good reason to do so and if it will make credits better. # Author Names and Roles (back to index) Each time you press the **Add Author** button, a new row will appear with two input fields, one for the **Author Name** and another for their role contribution.

In **Author Name** you just need to type the author's nickname on GameBanana. As you type, you'll see their nick appear in a list, when it does click it. This will make sure their name in the credits links to their GameBanana Profile, and shows their avatar. If they don't have a GameBanana account just type their name or nickname normally. As for the **Role or Contribution** field, again this is self explanatory, just type what they did, but try to keep it short andd descriptive. For example, if you want to credit someone for doing the silencer you used in your skin, you can type "Silencer Model, Silencer Texture" in their Role field. If someone else made changes or fixes to the silencer texture then you would add in their role "Silencer Texture Edits". If you break roles into specific tasks and try to distinguish between modelling, texturing, animation, etc. it will be easier to see exactly what each person did when looking at the credits. Below is an example of what I mean.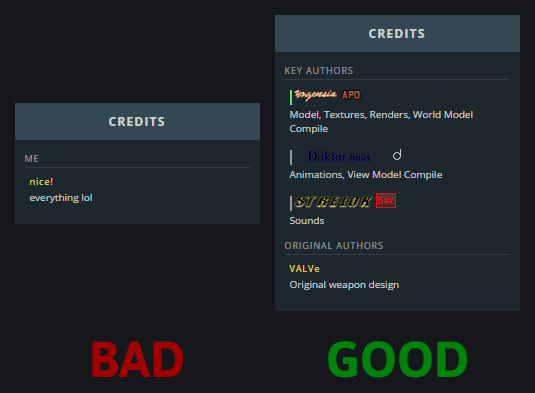 # Things to Keep in Mind (back to index) - Clear and complete credits show your appreciation to those that have contributed and made your submission possible and/or better. - The reason GameBanana is so strict on credits is because we want everyone who deserves credit for creating something to have it. - Giving credit doesn't exempt you from asking for permission. **Always make sure have permission to use other people's work**. If necessary get in touch with them. If the author doesn't reply back and the License of their work explicitly allows it, you may still use their work, as long as you respect the original author's wishes as best as you can. - Most people really like to see their models, textures, animations, etc. used in other skins (specially if they made a model release for that purpose) and will be happy to hear from you and see you care enough to ask for their permission, so don't be shy!