Introduction ============ The GoldSrc engine can be a poor one when it comes to dynamic brushwork as you'll find errors everywhere you go if you use too much vertex manipulation. I've figured out ways to do certain brushes without too many errors, which will be shown in this tutorial. These include: - "de_dust"-like arches that can be rotated other than 90 degrees - pipes with rounded corners - interesting cliff-faces I've marked this tutorial as "Intermediate", because you should already have a fluent knowledge of how Hammer Editor works and perhaps have made your first map or two. 1) Rotatable Arch ================= Well as the title suggests, its an arched doorway that can be rotated at other angles than just 90. Saying this, some weird angles may not work, but if you stick with nice numbers like 30, 45, 60 you should be fine (Not as if you'd really need other angles anyway). Step 1 ====== First of all, you want to brush out a bunch of blocks adjacent to each other - See image:
As you can see the blocks increase in size by 16 as they get closer to the center. Doing this allows you to create a nice arch shape. You can also see a space between the ground and some of the center blocks. This is where the curvature will begin. Step 2 ====== Now you want clip all the blocks diagonally like this: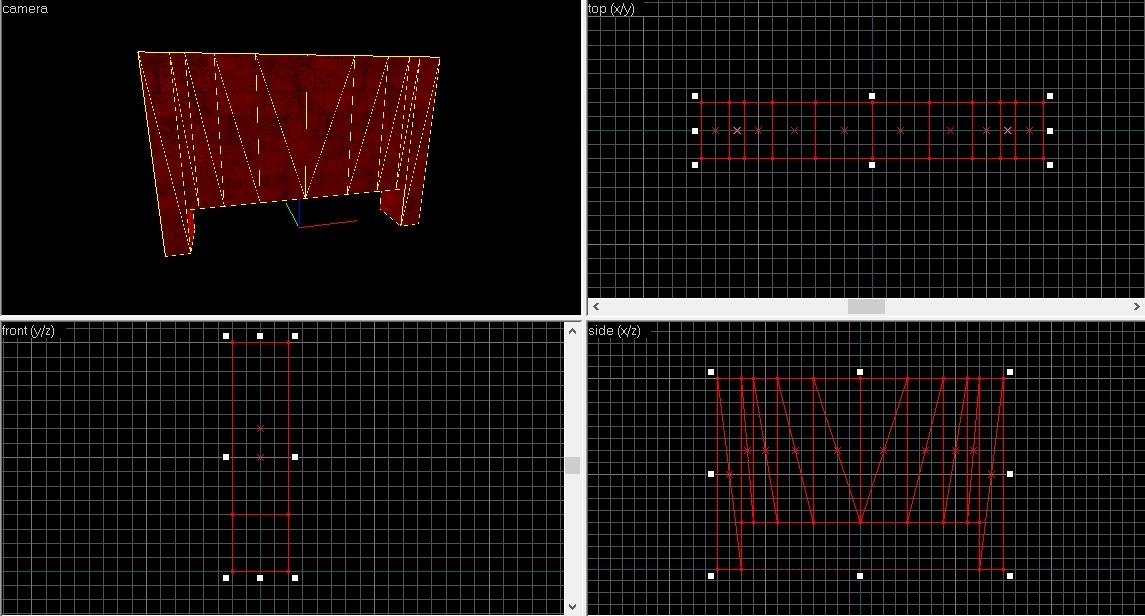 Doesn't matter which diagonal you choose, just as long as it cuts straight from one corner to another. Step 3 ====== Now use vertex manipulation to create your arch shape. Make sure that all the vertical sides stay at 90 degrees to the ground (only the horizontal sides should be shifted in angle):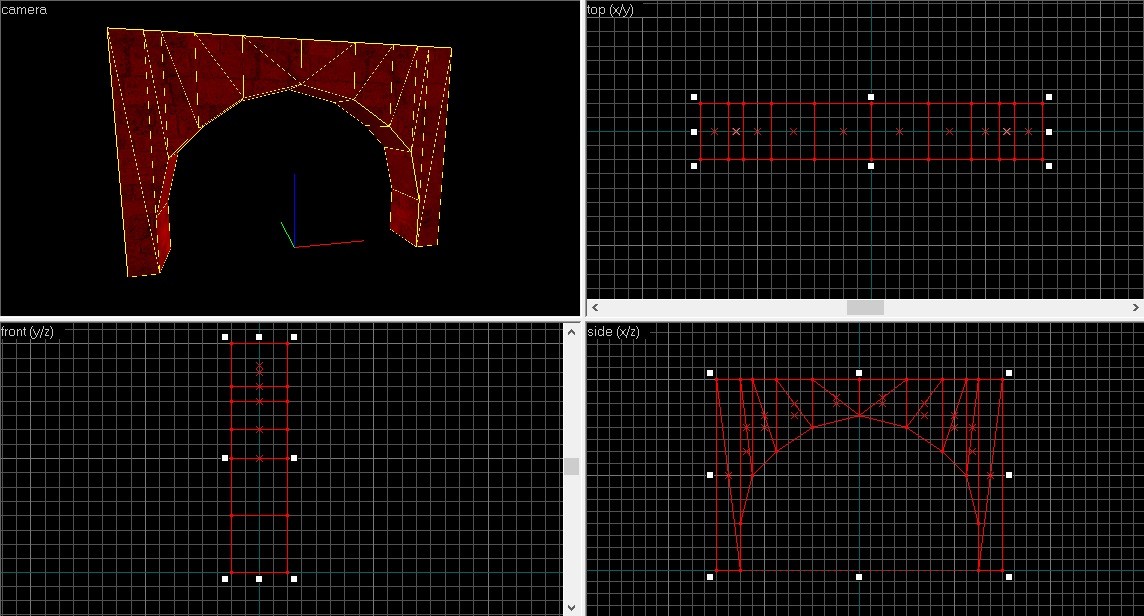 Step 4 ====== Your arch is ready to go now! Use the transformation tool to rotate the brushes rather than the quick rotation tool as it'll stop bad brushwork from being formed in the compiled map. Here it is at 45 degrees with no errors!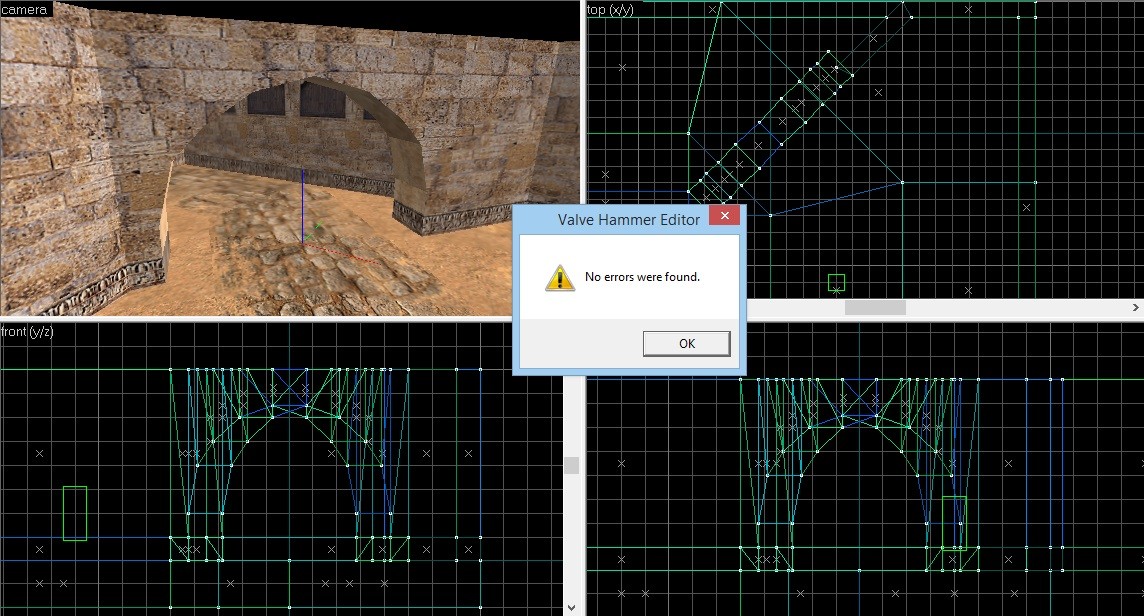 **TIP:** Remember to nullify the entire arch and only paint the faces that will be seen. This will reduce compile times **significantly**. 2) Curved pipe corners ====================== I've noticed it can be really tricky to get nice curved cylinders without either errors, or misshaped brushwork after compiling - or both! But I've found that this technique works quite well as long as you don't pick odd angles / sizes of cylinder. Step 1 ====== First of all, create 4 cylinders, 2 horizontal and 2 vertical. Like this: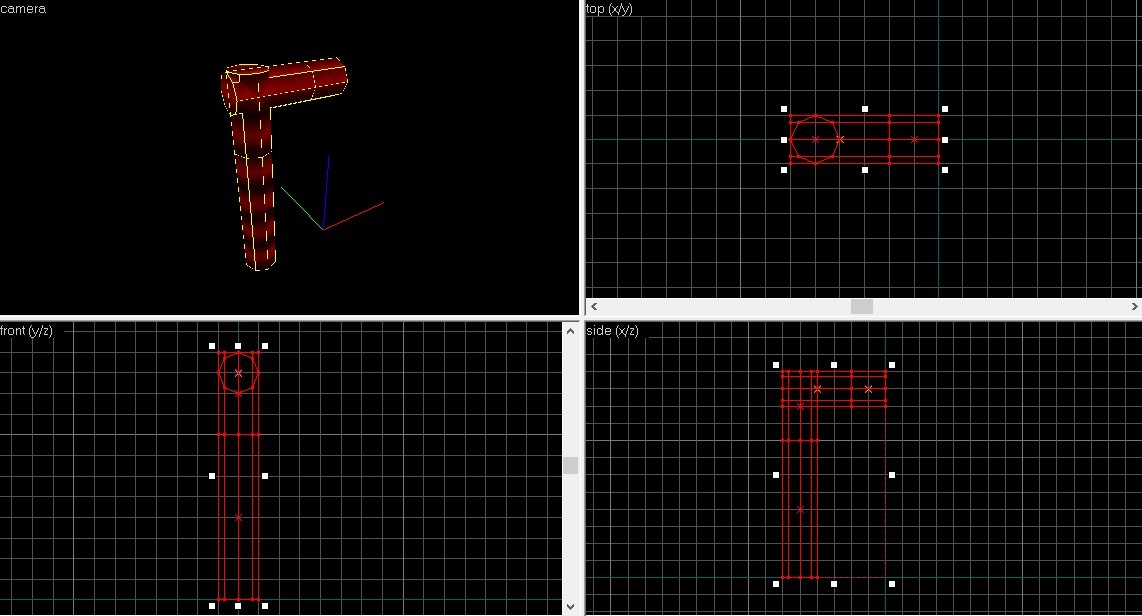 Step 2 ====== Next, use vertex manipulation to skew the two pipes nearest to each other. The result should be like so: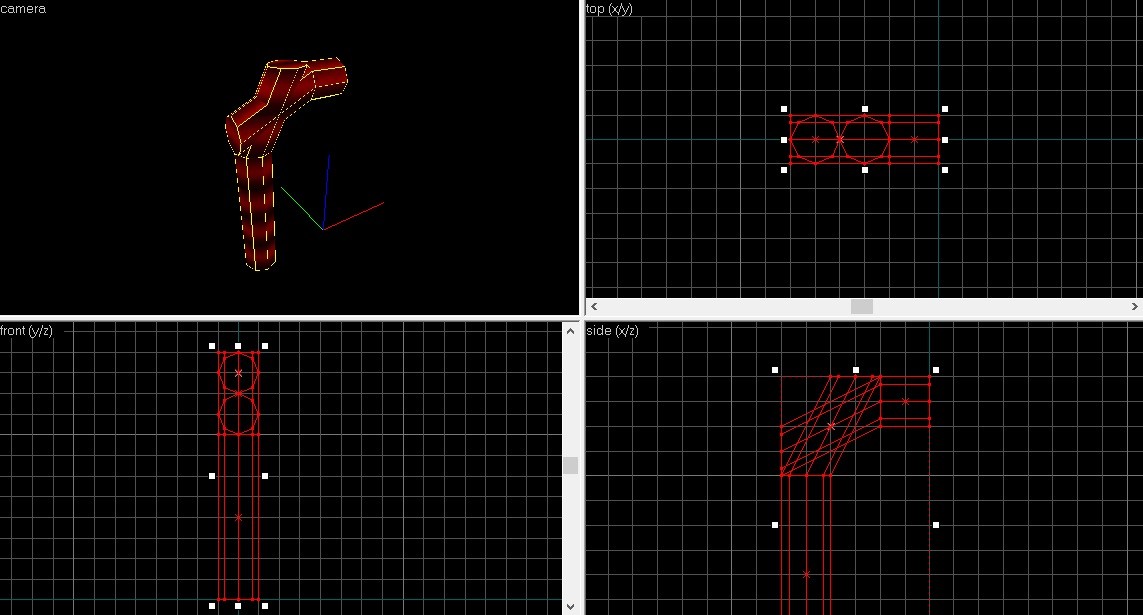 Step 3 ====== Finally, clip each of the closest cylinders so that they connect at a 45 degree angle in the center. See image: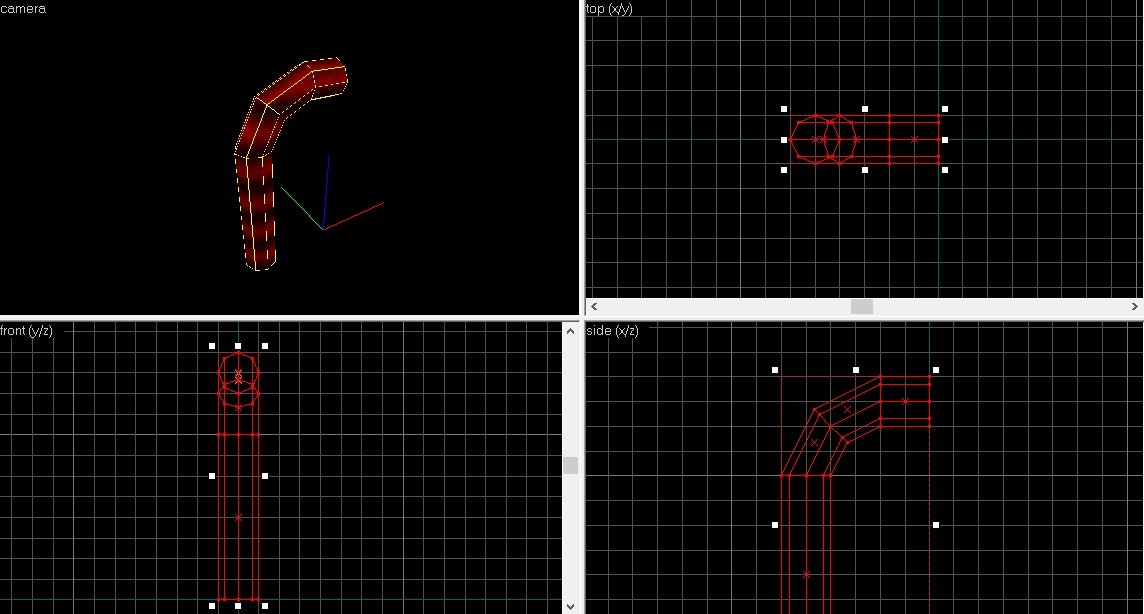 You can see now that a nice little curve has developed. Step 4 ====== Now simply texture the pipe, and nullify any hidden sides and you're gold!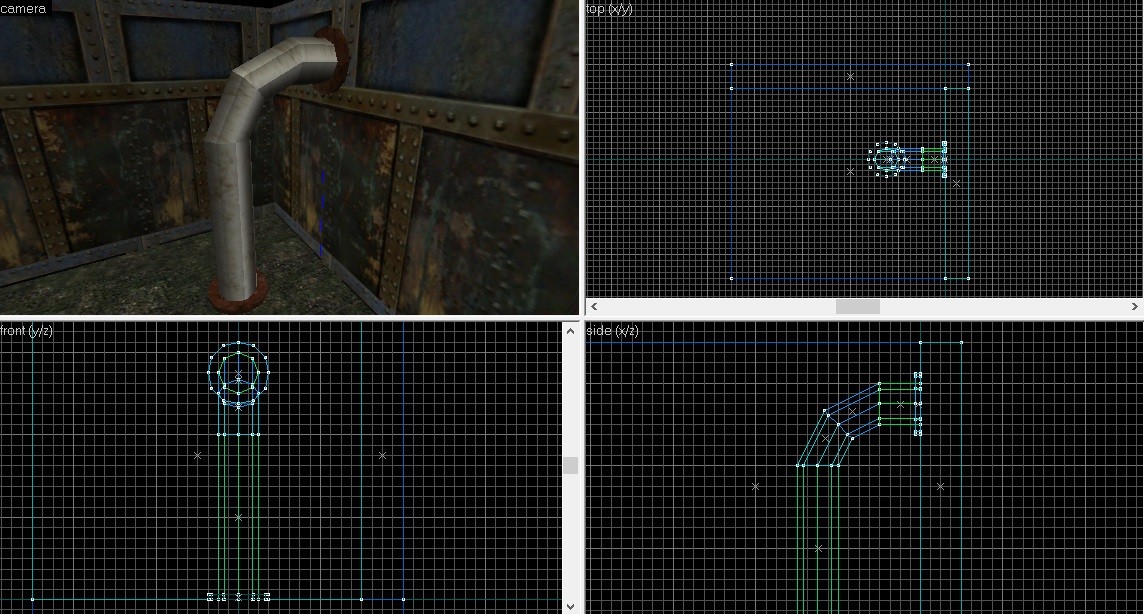 **Note:** Rotating the brushwork at odd angles will cause errors. Generally you can't rotate cylinders except for at 90 degrees or some nice numbers. 3) Interesting Cliffs ===================== Another issue when using the GoldSrc engine is realistic terrain. I've got 2 techniques that would make for interesting cliff-faces, the first works like this. Step 1 ====== This works similar to the rotatable arch. Create a bunch of blocks that have been diagonally clipped, looking like this: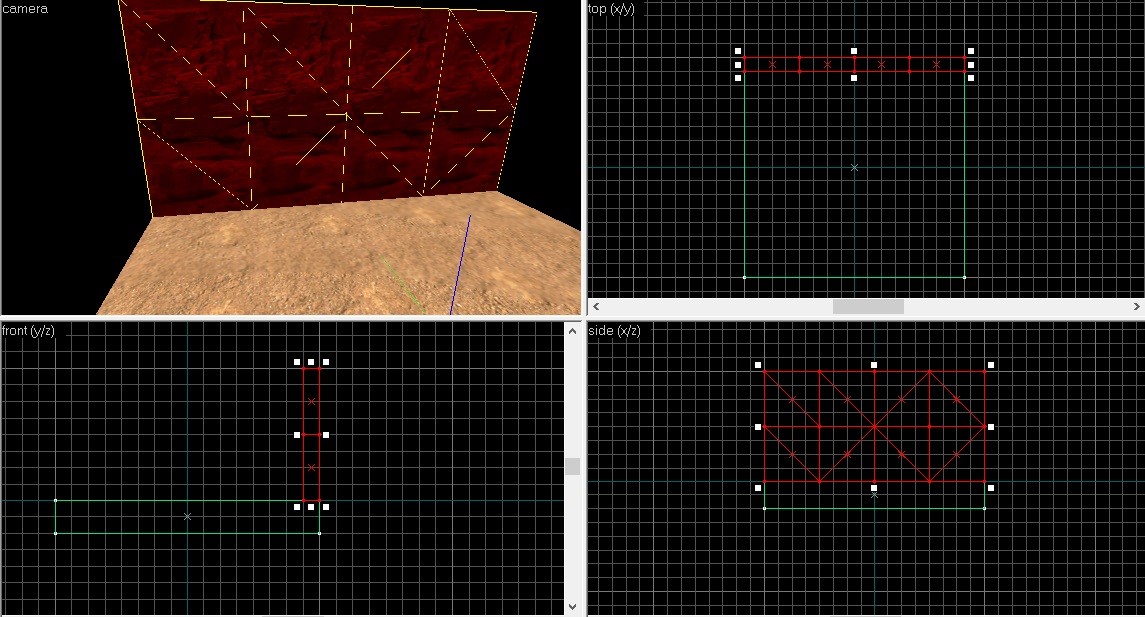 You can randomize the direction of the diagonals so the brushes look more interesting after manipulation. Step 2 ====== Now simply use vertex manipulation and pull on random vertexes (or chosen) and play around until you have a nice looking cliff shape.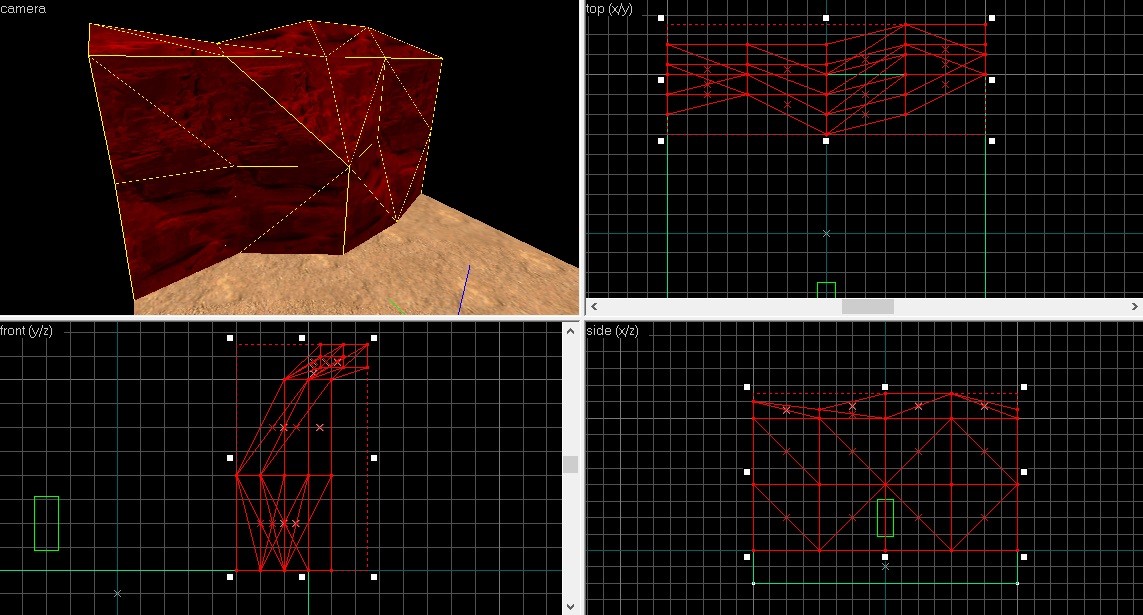 I've added additional brushes at the top of the cliff to make it look rigid and have less of an edge. Step 3 ====== Now this is where the second technique comes in. Basically, you must brush out a block, half inside the cliff, and half hanging out. Then, clip it on all the faces perhaps up to 8 times until it seems rounded and rocky. Now it seems as if there are nearby lying boulders and rocks: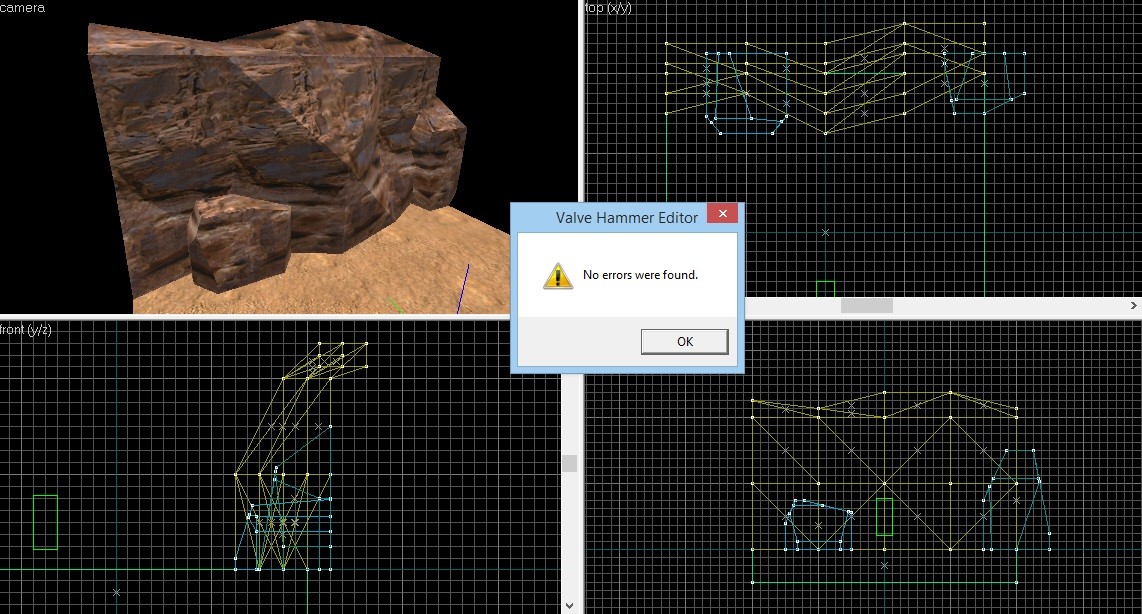 Step 4 ====== And that's it! Again remember to nullify everything you can't see, because all the techniques used in the tutorial do produce these. Here's an image of the finished rock face in-game: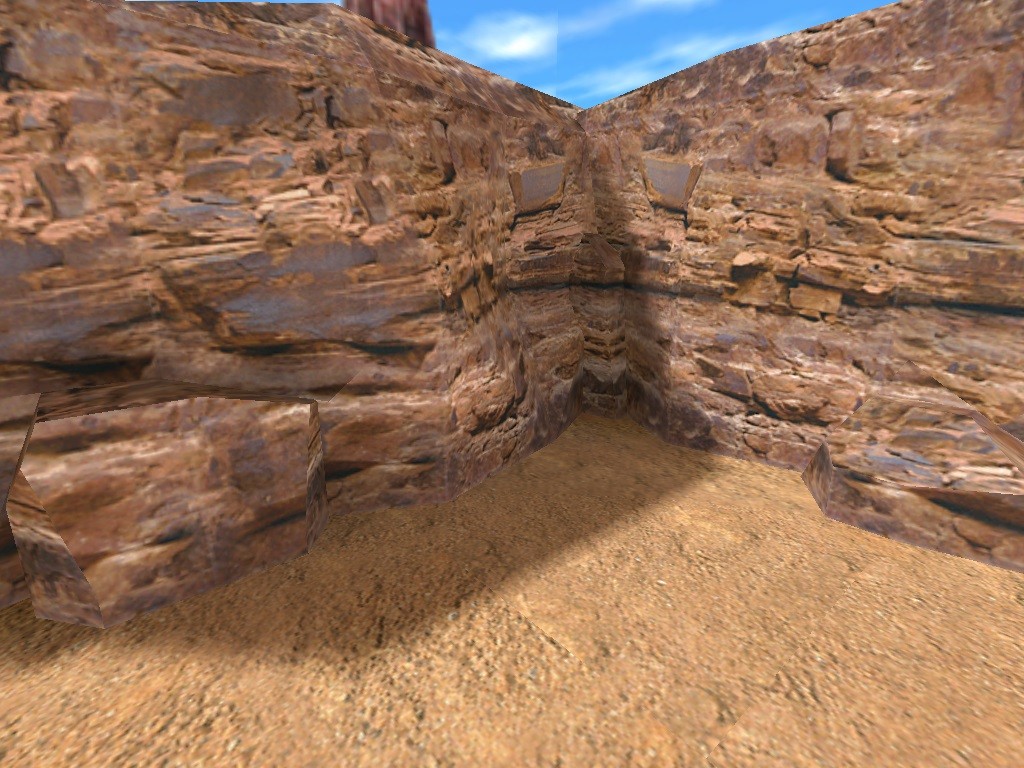 Conclusion ========== I hope this tutorial was of use to you whether you are just starting out with Hammer, or have made many a map with it. I would also love to hear about your techniques for doing similar things with brushes in Hammer. Please also let me know if you find problems when trying to follow my examples. Have a nice day! _-Glock18_