Adding Custom tattoo's in San Andreas
To follow the tutorial, you'll need:

- San Andreas GXT Editor
- TXD Workshop

Making the Tattoo
=================

There are 2 ways to make a tattoo(if you already have an image-tattoo):

- Create a new .txd file with TXDWorkshop.
- Or simply edit this one.

In this tutorial, I'll explain the second way since it's easier.

- Open "tattoo.txd" file with TXD Worskhop and you'll see a totally black image. If you click on "Alpha/Mask", you'll see the tattoo.
- Click on Export and save it as a .bmp file (or any other).
- Now, open your Photo Editing software and edit the image the way you want.

NOTE: Everything that's white colored (in your tattoo image) will be shown on CJ.

- After you finished the editing, save the image as .bmp (or .tga if you want).
- Import the image in the .txd file (Make sure that Alpha/Mask is selected when you import the image).
- Click on File->Save As->yourtattooname.txd (Name the .txd like you want) and click on Save.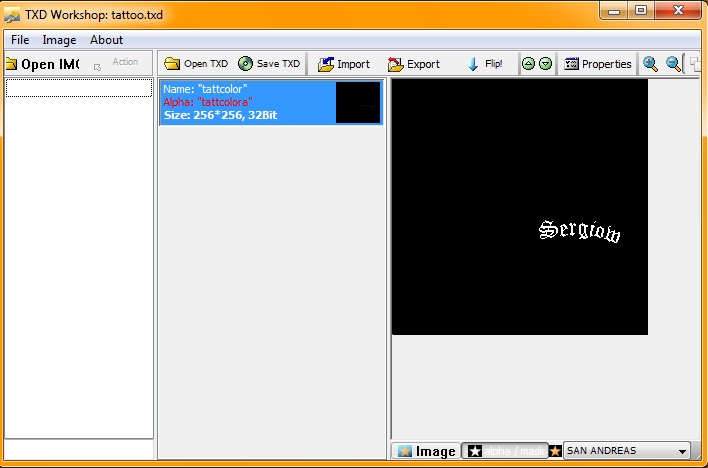 Editing GTA San Andreas' data files
===================================

- Go to C:\Program Files\Rockstar Games\GTA San Andreas\data and open shopping.dat file with Notepad.
- Find the line 508 (that's the line where Tattoos are placed).

Theese are the codes for where the tattoos will be shown:

# - = no type
# 4 = left upper arm
# 5 = left lower arm
# 6 = right upper arm
# 7 = right lower arm
# 8 = back top
# 9 = left chest
# 10 = right chest
# 11 = stomach
# 12 = lower back

- Create a new line below and put the following in it:

Sergiow SERGIOW 8 - respect 9 sexy 9 500

Sergiow = Name of the saved .txd file
SERGIOW = Tattoo name (You'll need to remember this)
8 = Back top (where the tattoo will be placed on CJ - See Above)
respect 9 sexy 9 = Respect
500 = Price

- Now, find line 1035 (it should be named "Section tattoo # Tattoo shop")
- There are 3 sections of tattoos and here you will be able to choose where your tattoo will be avalilable.
(Section 1 = Los Santos, Section 2 = San Fierro, Section 3 = Las Venturas)
- Choose one (or all) section and write the following in it:

item Sergiow

Editing the tattoo's name
=========================

- Open your GXT Edtior.
- Find and open "american.gxt" from GTA San Andreas\text folder.
- Click on Entry->Add
- Now, it'll ask for a name. Here you will put "SERGIOW" (from Step 2)
- On the right side, type anything you want (that'll be the name of your Tattoo in game).

Finishing the Tutorial
======================

- Open GTA San Andreas\models\txd\LD_TATT.txd file with TXD Workshop
- MAKE A LITTLE IMAGE OF YOUR TATTOO (64x64).
- Click on Image->New and import your picture.
- Save the .txd file.

**Play the Game!**
------------------