I use func door rotating for this tutorial. Note : Since this is an "Advanced" level tutorial i assume you already know how to make things transparent and such stuff .. So first make your crane,i recommend making it just like mine to first see how it works and then use your own creativity to make yours.
Select the part that is going to rotate except the glass and make a clone of it. (shift and then drag it somewhere nearby).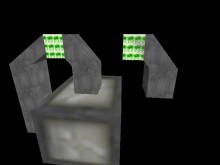 Select the 2 bottom parts of the clone and apply the clip texture.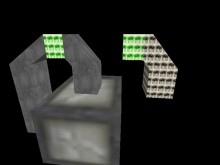 Well then,let's make these things move shall we? Select the first rotating part and make it a func_door_rotating,name it crane.Check the flags x axis and toggle. Select the clone and put it inside the other brush.
While it's selected,hold down control and select the glass as well.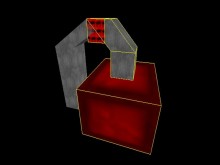 Now make these a func_door_rotating as well but this time make it transparent.Obviously you're going to name it crane just like the other one so they move together. Now make a button so you can use it and you're ready to go,have fun :]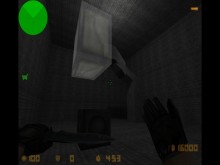 If something goes wrong don't hesitate to drop a comment.