Normal Map Tips and Tricks
On this tutorial I will learn you some handy Tips and Tricks you can do with a normal map
For this tutorial you will need:
Photoshop
A normal map to work with
First of all you should open up your Normal Map "Baked or from Height Map) for this tutorial I will take a baked normal map from a boot.
Now that you opened your Normal map we can start with the first part of this tutorial:
Merging/Blending Normal Maps
If we take our Baked Normal Map from our boot we can see its missing some detail like a leather pattern as they are leather boots.
So we need to search for a proper leather pattern and turn it into a normal map:
Now that we got our normal map we need to overlay this on our Baked Normal map, though this is not as easy as you might think to get this right without having to edit the whole normal map at the very end.
If we would just overlay our newly generated normal map from the leather pattern on top of the baked normal we would get problems with our coloring and our blue channel, here is an example what most people do and what should actually be avoided: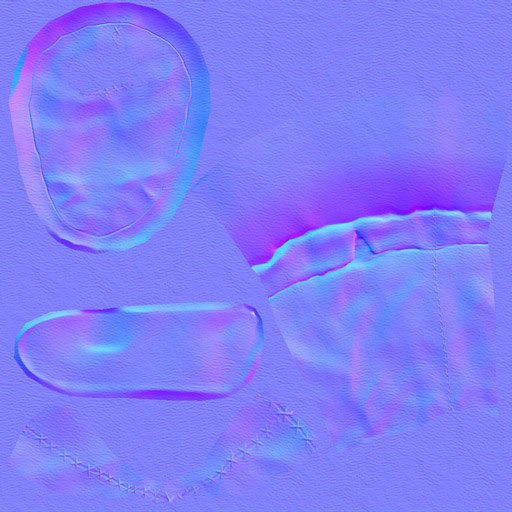 If you got an eye of detail and color you will notice some of the purple and the green has been changed by overlay the same blue normal color on top of another normal map.
This can however be fixed by changing some levels with the Normal Map that you want to overlay. Select the Normal Map and hit the following keys on your keyboard "CRTL + L" This will pop up the level menu.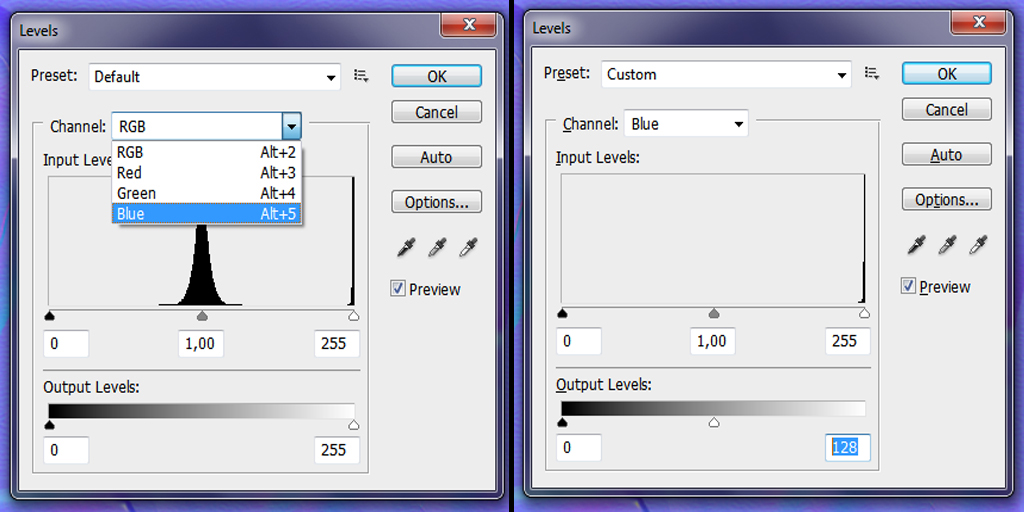 When the menu is open switch your Channel to "Blue" than go down to the bottom level slider and take the white and put it exact in the middle or write the number "128" down.
After doing this and pressing oke your normal map will look gray when you take the color picker and point at the gray you will see its the neutral gray "RGB: 128128128" or in other words 50% gray.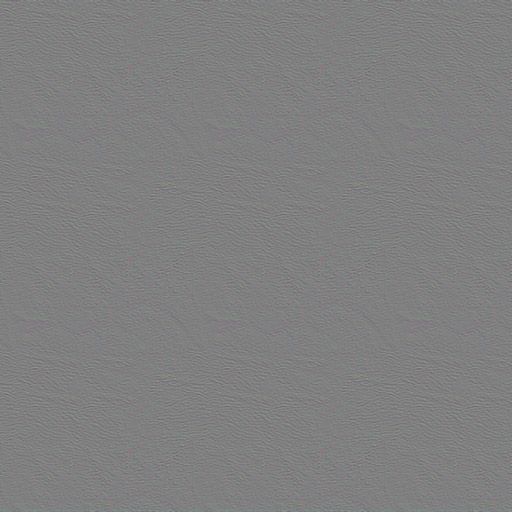 This gray can be overlaid to everything not only normal maps and will not change the brightness or darkness of the main image. Therefor now having turned the normal map in a 128 gray map you can easily put this on the overlay stand and have no worries of color loss of your main Normal Map.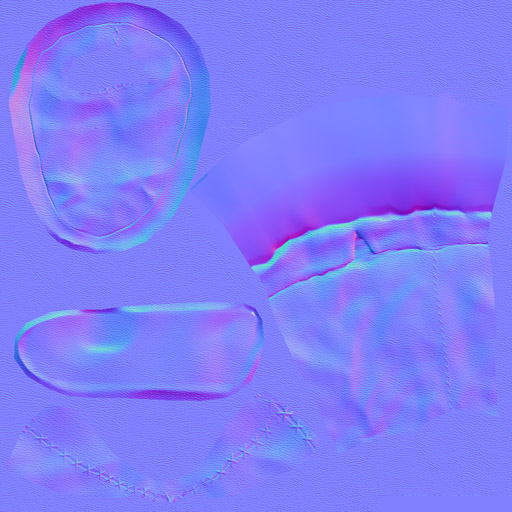 Now that you know how to properly overlay a Normal map onto each other we can start the second pat of this tutorial concerning the use of converting a Normal Map in another type of map that we can use for our Diffuse Map.
Converting a Normal Map in to a Cavity Map
This part of the tutorial will guide you in how we can use the Xnormal Plugin for Photoshop to our advantage with our Diffuse Map.
Now that we got our final merged Normal Map we are going to use Xnormal "Normal2Cravity" option to make a good highlight overlay for our Diffuse Map.
When you get the new window popped up from Xnormal you will have to change some settings to your favor and experiment to your liking to get the best resolutes for you. But for this tutorial I will use these settings: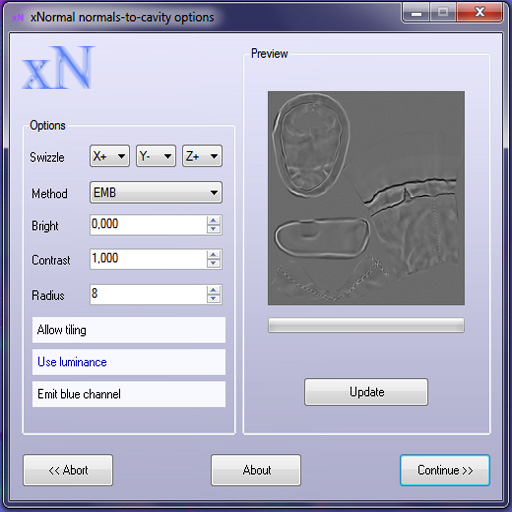 The only changes I did here is set the Middle Swizzle option to "Y-" and changed the Method to EMB, the preview wont automatically update so make sure you hit update to see how the final image will look like. Than hit continue and the normal map will change to this dark grayish map what we call and EMB Cavity Map.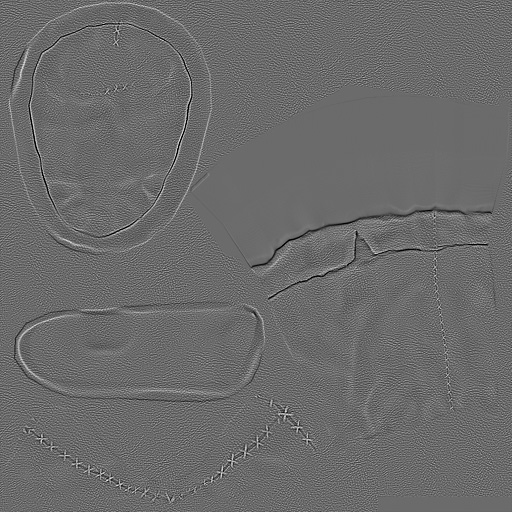 Now this EMB Cavity Map we can overlay on to our diffuse to give the pattern more detail and give it a nice edging, this method is extremely good with cleaned up baked normals. This map combined with a proper AO map will give great results.
Though be warned as the EMB Cavity Map with default settings is a bit darker than the neutral gray the map will cause the diffuse map to get slightly darker though giving it more contrast to my point of view.
If this is a problem though you can also add +14 brightness with the HUE/Saturation "CRTL+U" this will make it very close to 50% gray so you can also normally overlay it without changinge the brightness or darkness to much.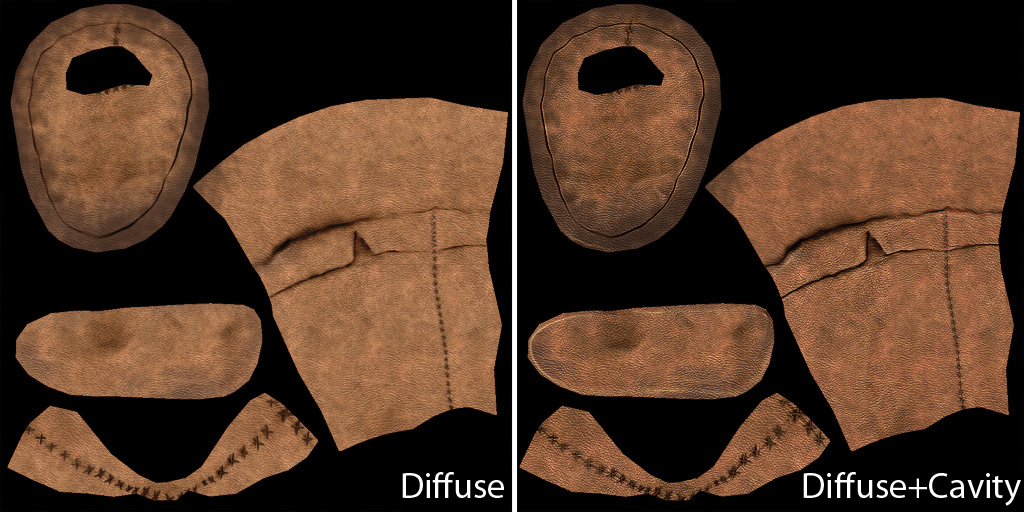 This technique can be very effective on some Diffuse Maps, but we are not done yet out of the Normal Map we can make another very interesting map that really can pop up the perspective of depth and height.
Converting a Normal Map in to a Highlight Map
The technique that I'm now going to explain struck me when I was a sleep, I'm not sure others already using this technique but its very effective to make something look more 3D on a 2D texture.
To start you take the Normal Map and open up your HUE/Saturation Menu "CRTL+U"
You require to Desaturated the whole map se set the Saturation to -100 so it becomes a light gray map, though as we want to overlay this map we require to to change the darkness of the gray map to the neutral gray.
Therefor you require to change the Lightness to exactly "-33" anything higher or lower will not be the neutral gray for a desaturated Normal Map. After pressing OK your Normal Map should look like this:
Now as we would overlay this the brightness nor darkness should not change making only the shadows and the highlights created by the Normal Map appear on the diffuse. Duplicating the same Highlight Map is recommended to give more shadow to some area's, with this you need to experiment your self.
The Highlight Map combined with the EMB Cavity Map can make your Diffuse Texture so much better. Here is an example of both combined:

Final Note's
These Normal Map Tips and Tricks can be mostly always used to give your Diffuse Map more boost. Make sure that you make your Normal Maps proper before using any of these 2 techniques. And even if you are not going to convert your Normal Map into some other map you still require to overlay them properly.
Hopefully this Tutorial could give you some more knowledge what you all can do with a Normal Map. Thanks for reading this tutorial.