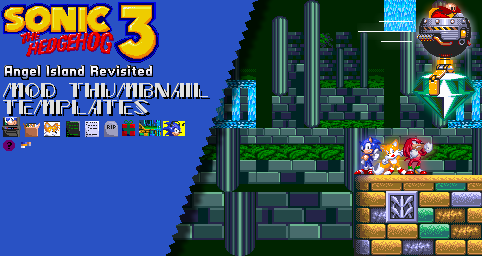 Link

Ever tire of making thumbnails for your mods? Want them to look good? Well here I have your answer! I've created a Mod Thumbnail Template for any future mods, that look decent and reflect various classic games from Sonic.

Seeing as how people here use mainly 2 programs I made a .ase (Aseprite Version) and .xcf (GIMP version)

The templates available are Sonic 2, 3, Sonic 3D Blast, CD, and Mania with the fonts for the respective games title cards included.

The Backgrounds for the Sonic 3 and Sonic and Knuckles Levels,Title Screens, and Menus are included aswell.
Icons:



Above are Icons that are included in the template they will tell some things about your Mod here is what they are meant to tell in order from Left to Right:

S3K - Mod is both a AIR and S3K mod.
Mod Box - Modpack
Tails - Sprite Mod
CMD- Rawdata Mod
Script - Script Mod
RIP - Castaway/Scrapped Mod
Present- Mod Request.
HCZ- Level Mod
S2ST- Sound Mod
?- Modding Question
Colors- Palette Mod

Enjoy the New Templates! I can't wait to see how you all use them for your mods I hope to see some creative thumbnails using these.