1.

Introduction

Hello. With Reloaded II on the loose and Sonic Heroes (both game and mods) are dying, it was idealized by Sewer56 to create this thread to help people that are struggling with the loading screens, hex editing the game to have a Widescreen version (or using a dll file), replacing the mods directly on the retail version probably without a backup and many other things that can harm your gameplay in a different yet difficult way.
Please read the requirements and the readme's you will find on the Mods and/or Tools! They are important to guide you of how to use the mod correctly, without any issues. Also note that this thread will be updated with restorations from other ports/same Windows port or mods for a better experience, so it's up to you download/enable them or not.


2.
Requirements
A copy of Sonic Heroes, with the .exe file from the No-CD crack by Reloaded. (MD5 Checksum: 23c3fb873c614e15dae1f362e7a15831)


You require this because SafeDisc, the DRM distributed with Sonic Heroes in most regions has been blacklisted by Microsoft, due to exposing security vulnerabilities.
Most mods modifying game code target this executable specifically, they will not work on others.
If you own the "Sonic PC Collection", you already have this executable. SEGA distributed a 3rd party crack in their own release.
We will NOT give you a direct link for the download or force you to download via piracy. Question the download on the 'Questions' section will go against the Site Rules, number 1.4 - Warez. Please support the game by buying it in a local store or in an online store. It is your responsibility downloading the game for free.

Reloaded II


The current solution for loading Sonic Heroes mods.
Has mods available which bring Heroes up to standards of a modern game, from widescreen mods to XInput controller support.
If a mod on Sonic Heroes' GameBanana page doesn't have a Reloaded II download please check here: https://gamebanana.com/gamefiles/10624, all mods were ported to Reloaded II.
You'll probably use it sooner or later.
3.

Mods/Tools

Heroes Graphics Essentials, created and submitted by Sewer and Punk Muzzarino


Graphics Essentials is a great mod for widescreen resolution, Fast Stage Load and Other Features where you can find in the link ahead. (if you didn't notice, is the Yellow name saying "Heroes Graphi... you get the point.)

Controller Hook/Input Mod, created and submitted by Sewer

The best mod to input/adjust the controls you always wanted to input/adjust.

CRI FileSystem Hook, created and submitted by Sewer


Improves boot times
Helps with file redirection
Allows for editing files while game is running.

Definitive Character Visual Overhaul, submitted by Luna-Alex


It's about time! High quality textures, accurate colors, complete model fixes, no gloss, and more on this mod with the contribution of many other great hackers!

Widescreen Revamp, created and submitted by Raphael Drew Boltman


We have it, boys. the widescreen! This GUI mod was made for you so you dont have to see those black bars on the sides. It supports until 21:9 resolution and it can be useful for your gameplay on YouTube. Or just to be cool and to enjoy the game in a Full Widescreen/Cinematic view.

Sonic Heroes AI Enhanced HD Textures, being created and submitted by iChris4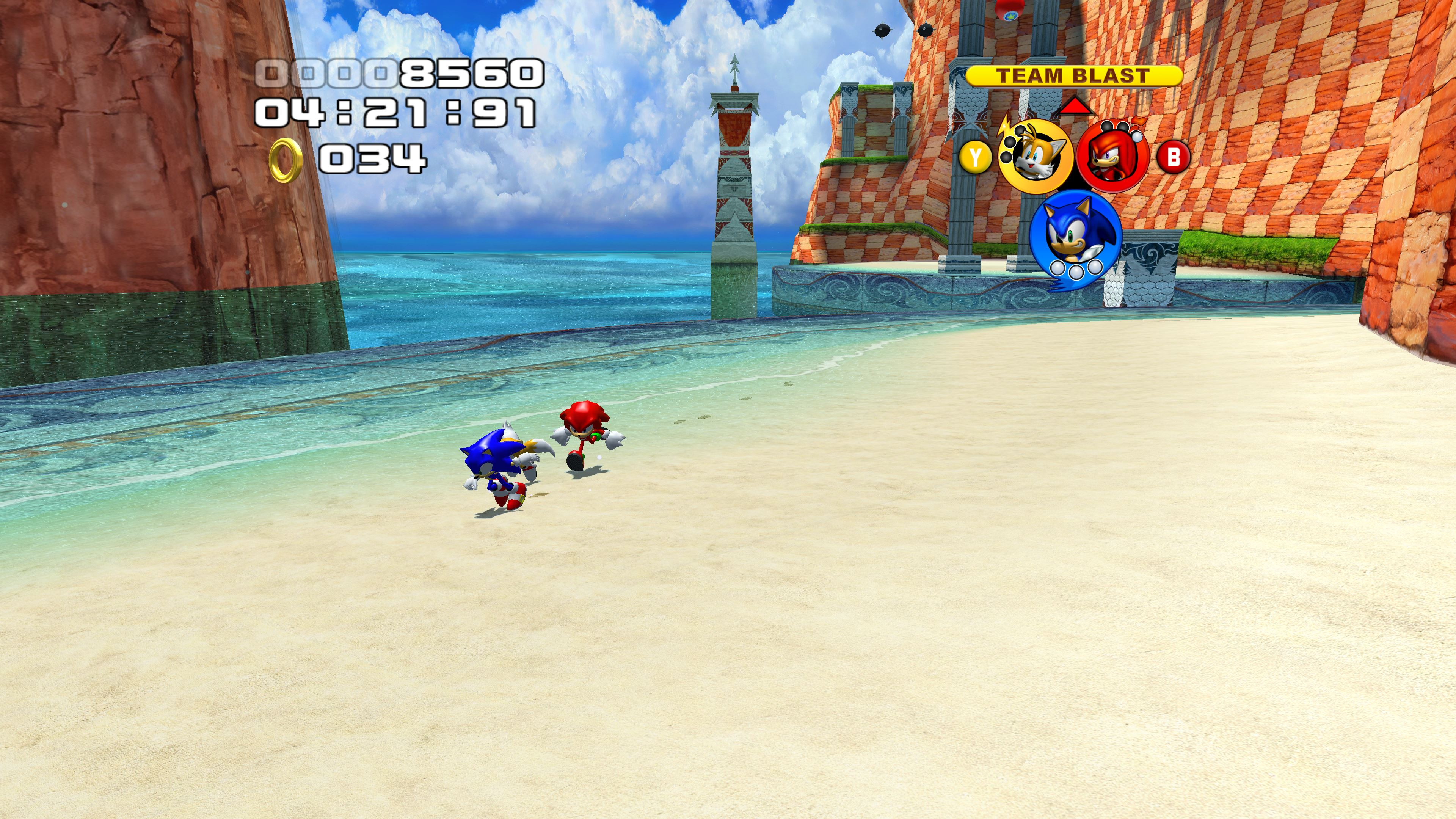 Here's the power of Topaz Gigapixel! Most of the textures here were upsaled and ported to the game. Although it's still in work in progress, you can play it and enjoy it.

Espio's Shuriken Effect Texture Restored, created and submitted by Hirai


Admit it: You never realise Espio had this effect when throwing his Shuriken.

Here's some extra tools you can download too:

Debug Boot, created and submitted by Sewer


An advanced tool that allows you to run the game straight into a stage, or debug menu.

Free Camera, created and submitted by Sewer


Mess with you camera around with this mod to create great views and thumbnails.

Discord Rich Presence, created and submitted by Sewer


Flex on the GameCube players, as is your legal right to do so.


---

Here on GameBanana, we receive a bunch of cool and hard-working mods. The Game Manager of the Sonic Heroes and Shadow the Hedgehog game corners (and probably other Game Managers from other game corners) is monthly recommending mods through the Manager Pick function, along with the Featured mods.

---
4.

Special Thanks

A huge thanks to Sewer, once again, to idealize the idea of creating this thread, Reloaded II and everyone working on mods and tools to improve the game(s).
For more information about Modding Sonic Heroes (and Shadow the Hedgehog), Sonic Heroes Modding: Getting Started
For additional help, join our Discord server, not yet dead: Heroes & Shadow Hacking Central.