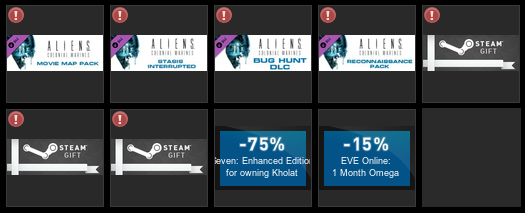 I'm giving away some Steam items (gifts and coupons) for free. The following items are:


Aliens: Colonial Marines - Movie Map Pack 
Aliens: Colonial Marines: Stasis Interrupted 
Aliens: Colonial Marines - Bug Hunt DLC 
Aliens: Colonial Marines - Reconnaissance Pack 
Tom Clancy's Rainbow Six Siege - Beta Gift (

3x

)
75% OFF Seven: Enhanced Edition for owning Khola (

EXPIRES IN 01/06/2019

)
15% OFF EVE Online: 1 Month Omega (

EXPIRES IN 02/06/2019

) 
The Vast Loneliness (

STEAM BACKGROUND

- Click here to see)

If you want any of those, leave a comment below with the name of the item. Then add me on

Steam

(I must know your Steam nickname first so I can know who you are here and what you asked)

You may choose only one or two depending by the item at first request since we're letting others to see and get it too. If nobody shows up in time for the coupons, you may take it. If nobody takes everything in one week, you may also have it all.

GIFTS PS: This is a restricted gift which can only be redeemed in these countries: Belize, Costa Rica, El Salvador, Guatemala, Honduras, Nicaragua, Panama, Bahamas, Ecuador, Colombia, Venezuela, Peru, Chile, Uruguay, Paraguay, Argentina, Bolivia, Guyana, Suriname, Brazil, Mexico

Have a great weekend.