**Steam Workshop Version** 
http://steamcommunity.com/sharedfiles/filedetails/?id=127328627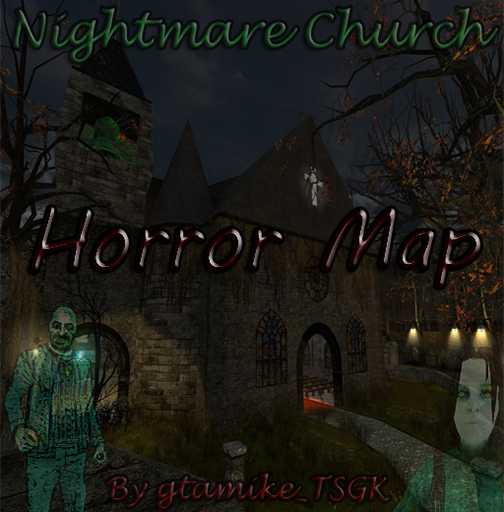 GM Nightmare Church RC25 (V2.5) - Horror Map (Apr 2018)



Look around and explorer the Horror in this detailed map!

Oh and yes there's jump scares. (no story or puzzles)

There's a few things in the map that will try to scare you. >:)

Keep an eye out for secrets/hidden things as I added lots.

Let me know what you think in the comments and don't forget to rate the map. :)

Have Fun!

You need to extract the compressed file (Right Click Unzip) to decompress/get the map.bsp

Place the map in the maps folder

C:\Program Files\Steam\steamapps\Your-Steam-Name-Here\garrysmod\garrysmod\maps

Gmod - Nightmare_Church - Videos (playlist) - Spoilers!!!!!

http://www.youtube.com/playlist?list=PLgSd4b0ED7lviIxeIFm713XVgiNZGuZUs&feature=view_all


---


FAQs - Any map Crash is Clientside only (Something wrong with your gmod)

If you get a Crash on map load try this below before commenting.

1) - Temporarily renaming your "models" or "material" folders as they might be conflicting with the map in some way.

C:\Program Files\Steam\steamapps\Your-Steam-Name-Here\garrysmod\garrysmod

2) - On the Garry's Mod Menu click "Addons" then "Disable All" and then

"Enable" only the "GM_Nightmare_Church" Addon and load up the map.

3) - If above don't work Validate Garrys Mod from your steam game list. (Verify Steam Game Cache) ? http://pastebin.com/mTiutdSK

4) - In your Garry's Mod folder rename the folder called "cfg" to "cfg_old" and "Turn Off Cloud Save" for Garry's Mod. ? http://pastebin.com/qynpRGmw

5) - Still not working?

DirectX launch options. (Try -dxlevel 95) if that didn't work change setting back to "-dxlevel 98"

? http://support.steampowered.com/kb_article.php?ref=1040-JWMT-2947

6) - Update graphics card drivers.

7) - Try on another computer or run the map in "Half Life 2: Deathmatch" Or "HL2:EP2"


8) - Last option Reinstall Gmod.
Extra Map TAGS

Nightmare Church, Nightmare_Church, Garrysmod Horror, Halloween, Zombie, Scary, Zombies, dm_ob_nightmare_church_rc1, Horror Map, Source Engine, HL2, HL2DM, Gmod, Garry's Mod, Evil Dead, The Ring, Nightmare Gmod, jump scare, jump scares, Ghost, haunted, haunted church, gtamikes, gtamike_TSGK, fear, father grigori, father grigori's church, father_grigori's_church, EightballSliver, gmod horror maps, gmod_horror_maps, ghosts, demons, gmod horror map, scary gmod map, garry's mod horror map, garry's mod scary map, gm_nightmare_church_rc2, gm_nightmare_church, nightmare church gmod, gm_nightmare_church_rc3, gm_nightmare_church_rc24, gm_nightmare_church_rc5, gm_nightmare_church_rc6 , nightmare_church_2014, "top 10 gmod horror maps" Hide and Seek gmod "Hide and Seek" gm_nightmare_church_rc7, gm_nightmare_church_rc8, gm_nightmare_church_rc9, gm_nightmare_church_rc10, GM_Nightmare_Church_HD "top 10 gmod horror maps", top 10 gmod horror maps, nightmare_church_gmod, fun map, explore map, as good as five nights at freddy's, HQ map, mu_nightmare_church_b1, mu_nightmare_church_final, gtamikes-maps, Gm_nightmare_church_rc10, map, Silent Hill, Outlast, scp 173, Containment Breach, scary map, gm_nightmare_church_rc25, Slender Man, 


READ ME (Longer Read in Zip File)
Place all the folders in the garrysmod folder. (after you have unziped)
Depending where you have Garry's Mod Installed.
E.G. (example)
C:\Program Files\Steam\SteamApps\Steam-User-Name-Here\garrysmod\garrysmod
or
C:\Program Files\Steam\SteamApps\common\garrysmod\garrysmod
Map Made By gtamike_TSGK
Nightmare Church Youtube Horror PlayList
Join the Official Group Nightmare Church for news on updates.
Map Review

CaptainTerror wrote: Probably the most resourceful use of hl2 assets to pull off some really neat tricks and scares i've ever seen done, this map is in my top-5 of all time. GREAT WORK!


AlcyToronto wrote: What a beautiful map! Immersive and exciting, truly frightening. And with a framerate really good for such a map, so detailed! Congratulations on your idea, construction, and optimization.


SScagnetti wrote: I like it! The map has a horror feeling without being all dark and stuff. Like literally. You can see everything and there is color to it.


DeadCat wrote: OMG THIS IS THE BEST HORROR MAP I HAVE EVER PLAYED... Mainly because there are screamers but there is no story that you have to follow, it is just a free roam map and the story pieces together slowly and please make more.


QMD wrote: Ah man, I love that head cut at the piano lol. Plenty of cool scary surprise and everything has been meticulously placed with love and passion in this map, a real pleasure experience and full immersion.

Well done Mr. gtamike_TSGK ! Cheers

"#NightmareChurch"


Enjoy and don't forget to Rate the map. :)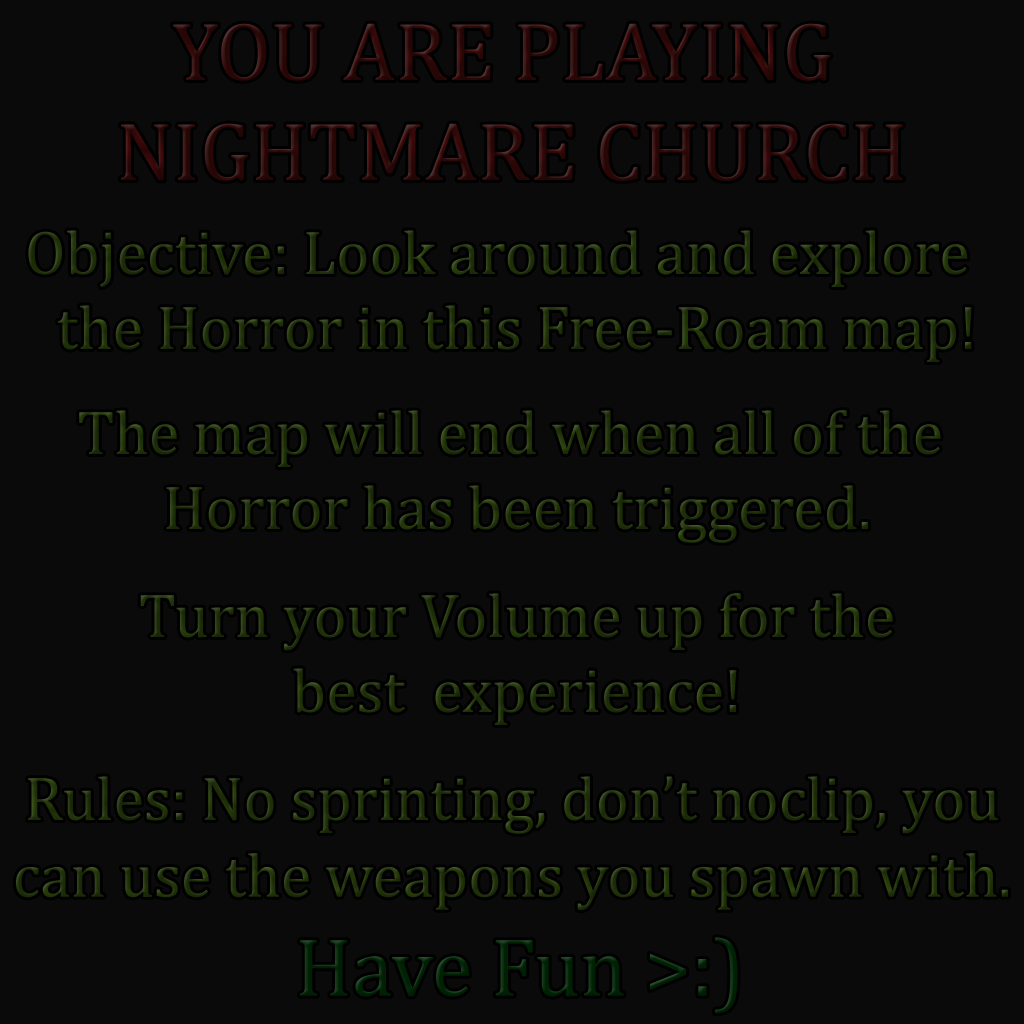 ---

---