1.

Introduction

In Persona 4 Golden, there are a number of descriptions and "info" boxes that I feel either don't tell you anything useful, or present information in an unhelpfully abstract way. This mod aims to correct that.

I strongly recommend pairing this mod with Pixelguin's "Slim Font" since it fixes the issues with overlapping characters that's present in the normal text and makes it a lot more legible on modern displays.

If my work has made your P4G experience more enjoyable, please consider showing your appreciation at my Ko-fi page.


---
2.
Features
2.1.
Item Descriptions
2.1.1.

Skill Cards

The skill card "info" you can display in your item list is practically useless; the descriptions simply reiterate the name of the skill and tell you little else.

This mod adds detailed descriptions to every skill card in the game, so you can know instantly what a skill does before you teach it to your Persona.

Skill card description

BEFORE:





Skill card description

AFTER:



2.1.2.

Key Items

Keys for unlocking doors are obtained in various dungeons throughout the game. There are a couple of instances however, like in the 6th dungeon (

Secret Laboratory

) when it's not clear where they can be used. As a result, you can end up having to mindlessly backtrack and check random doors.

To address this, I've added spoiler-free "labels" and "inscriptions" with floor names that help point players in the right direction.


2.1.3.

Gems

Gems (also referred to as "jewels") are can be most commonly obtained from two places: enemies upon defeat and "the lady in white". These gems can be used to purchase items from the Shiroku Pub, but tracking down the type you need can be difficult with so little information presented to the player.

As of v2.9, I've added general location information for every gem in the game to make your searches a little easier.


2.1.4.

Seedlings

You can now see the yield of a seedling and what the effect will be of the item gained before you plant it.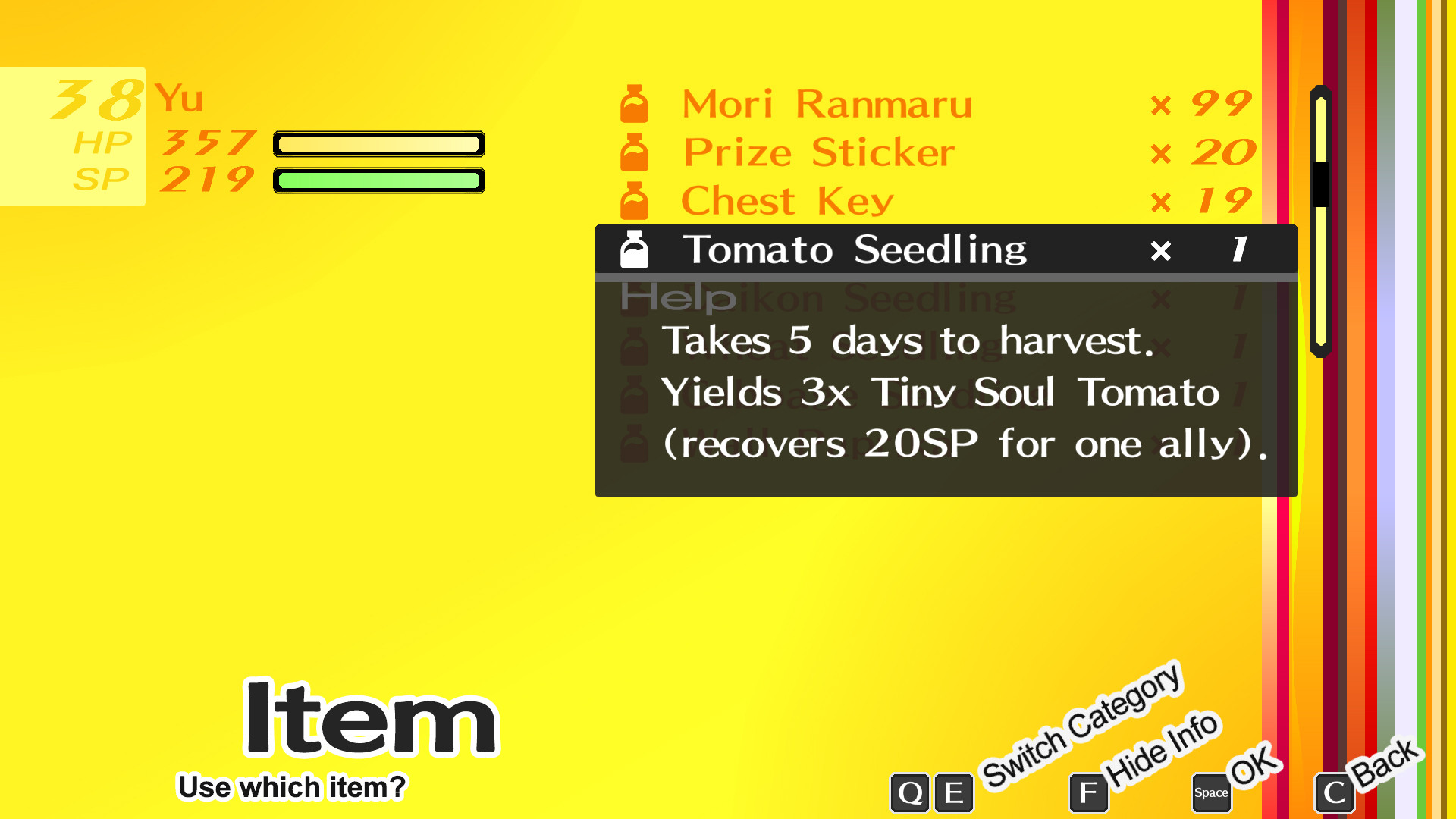 ---
2.2.

"Auto-" Skill Descriptions

But that's not all! Additionally, this mod updates all of the "Auto-" skill descriptions (Persona/Compendium views) with details of their effects.

Unlike the normal versions of Rakukaja, Marakukaja etc., the "Auto-" versions do not have detailed descriptions. Just like the skill cards, their descriptions do little more than reiterate the name of the skill, so I've updated those too:

"Auto-" skill description

BEFORE:



"Auto-" skill description
AFTER:
---
2.3.

Quest Descriptions

Quests are the one part of Persona 4 Golden that I have the most mixed-feelings towards.
Often, the objectives they ask you to complete can feel like chores without a guide. When you consider what's being asked of the player for the prizes they're awarded, it's easy to understand why many simply don't bother completing them.

My aim in rewriting the Quest descriptions was to make them more reasonable and less tedious without making them a simple "cheat-sheet" or spoiling story plot-points, all while retaining the style of the original text:

Quests that need you to "acquire" a particular item now tell you which enemy drops them and roughly where they can be found. Locations containing names have been obscured to avoid possible spoilers. E.g. "

Yukiko's

Castle 3F" is simply, "Castle 3F".
Quests that can be missed or left incomplete if you don't finish them by a particular date now tell you the latest date they can be completed by.
Quests that require a particular level of Social Stat (Knowledge, Courage etc.) to complete are now detailed appropriately.
Quests with infamously abstract objectives like 67 ("Dazzle Me With Paw Gloves") and 37 ("Pining for Stylish Formalwear") have had their descriptions entirely, carefully rewritten.
Hermit (Fox) quests generally give you a clearer idea of what you need to do.
Quest description
BEFORE:
Quest description
AFTER:
---
2.4.

S. Link Descriptions

With so many social links in Persona 4, I often found myself forgetting who was available where on my first play-through and would end-up running around the map to check. To help address this, I've replaced the short bios in each profile with something more useful: the character's general locations.

These (spoiler-free) descriptions tell you where you can usually find your social links on each day of the week!

I've also detailed social stat requirements in dynamic social link descriptions where appropriate (e.g. when Justice rank X requires a particular level of understanding to progress), and made it easier to keep track of the Jester social link.