0. Introduction & acknowledgements
1. How to install
2. New crouch style with sit & rest
3. Questions & Answers
4. Compatibility with other mods
5. Notes & other mods
6. DIY mod integration
7. Disclaimer
INTRODUCTION & ACKNOWLEDGMENTS
---

This mod brings a big overhaul over the player most common animations: idles, walk, run, talk, some defence and attack stances… I created it after properly learning how to replace and work with existing game animations, and the result is this mod, that changes or alters in some way more than

50 different animations and settings

, in order to be all of them more girly, as seen on most of the female NPC in the game.

Version 7 "Anniversary Edition" finally adds

almost 40 new animation

s taken from the game and edited to better match the whole mod: idles while drawing/holding/hidding weapons, paraglider and squat moves and recovering from exhaustion animations. It also adds new styles of walking, running, talking and selfie poses. Please read section

2. How to install

for more details.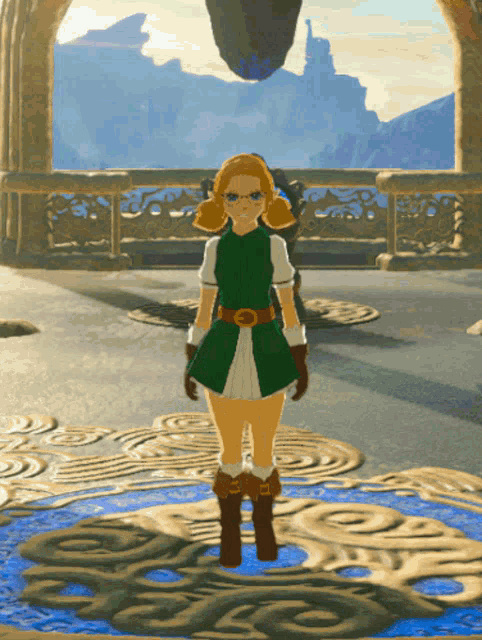 : Before v7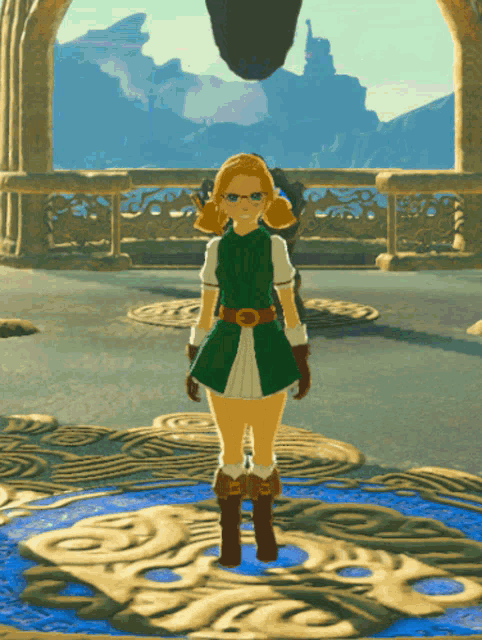 : After v7

I developed it mainly for use with Linkle mod, but as long as it's loaded in the last place on BCML (meaning it will be the last mod CEMU will load in memory) it should work over any other player replacement mod, or even over the default Link! That's why this time Linkle mod is not a requirement at all.


None of this would have been possible without the invaluable help of Amiibolad (one of the key authors of Zelda's Ballad mod who kindly shared his knowledge), the collaboration of Sockpoppet (who added and hand-picked some of the animations, tested a lot of beta versions, and brought some great ideas), and the great job of t3nk3y porting and testing the whole mod on Switch. Also, without Linkle mod I would never ended learning and modding the game, so it was responsible for putting everything in motion.

To all of them, thanks!
To all of you, thanks for the comments, feedback & support!


Ko-Fi: https://ko-fi.com/i2mods
You can support my works by buying me a coffee :)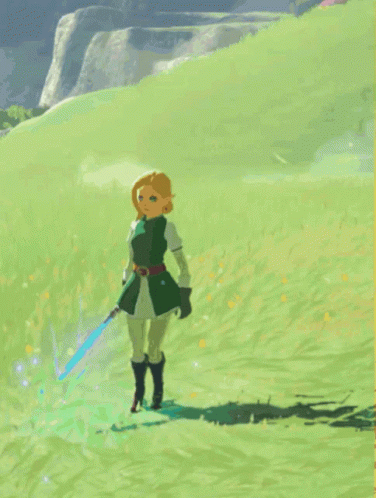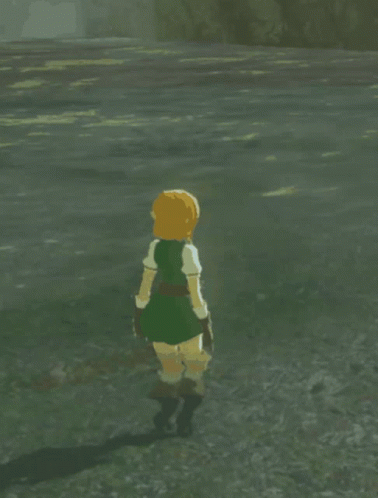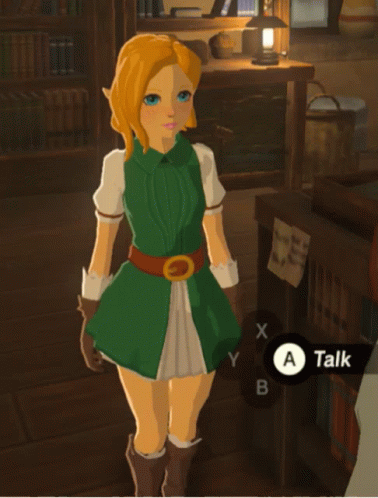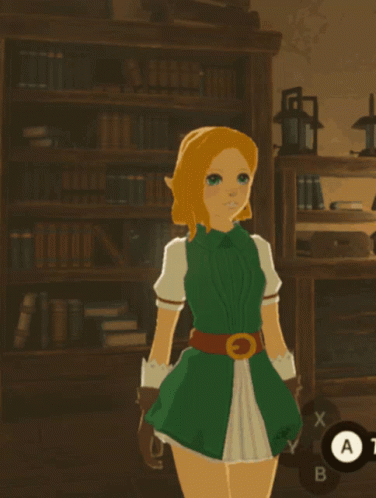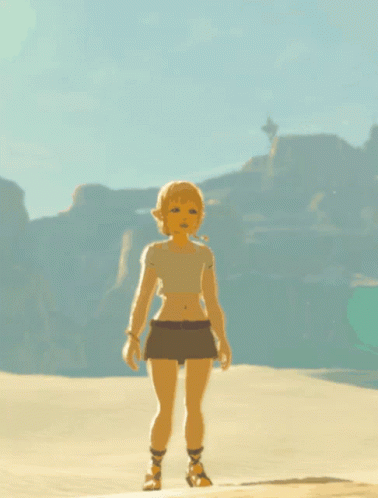 1. HOW TO INSTALL
---

Just install the BNP using BCML. Do not update your existing Girly Animation Pack, as the options screen will not be presented (that's an issue currently open in the BCML developer page) so please uninstall it first, and then install the new version and select the options of your choice.

Please note: There are options labeled as

SAFER

or

SAFEST

:

Selecting the

SAFER

option: You will get new edited animations, they may have small glitches sometimes, but they will work no matter the circumstances. Use this option if you are experiencing random CEMU crashes while loading the game, the savegame or equipping some armors. It's not an ideal solution, but that's the better I can do, for now.
Selecting the

SAFEST

option: No new animations at all will be used. Use this option in case you better like the default animations, or in case you are experiencing random CEMU crashes.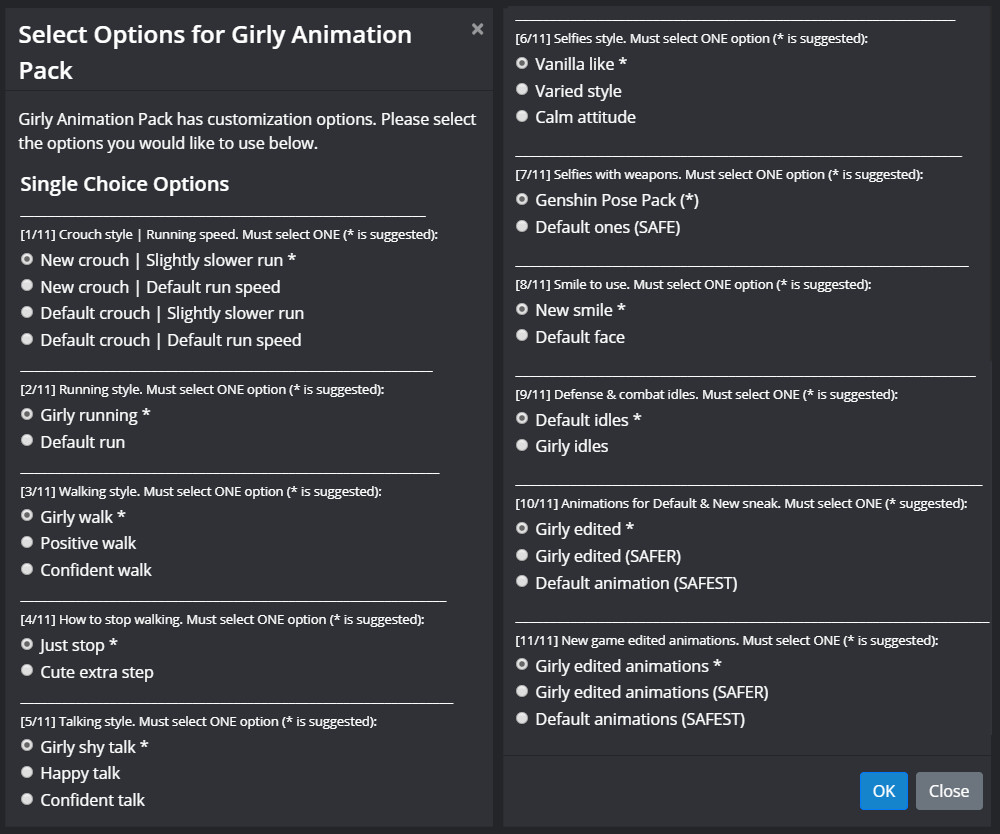 Also you can download the latest version in ZIP format (ready to convert to BNP) or older versions (packed in a single zipped file) if for any reason you still want to stick to them.

2. THE NEW CROUCH STYLE WITH SIT AND REST IDLES
---

If selected, this option will replace the crouch system with an unique and enhanced one, that includes sitting in the ground. Finally you can sit and relax like, you do in other games! Also, after sitting for a while, you will fall to sleep!


How it works:


Click on the left stick to sit or stand again.
Move the left stick in any direction to get crouched.
Move further the stick to start walking & running crouched.


This option started as a small mod addon with only a few animation replacements, but soon it became so big and complex that it needed to be reworked and included in the main mod.


3. QUESTIONS & ANSWERS
---

What about the Genshin Pose Pack weapon selfies? People have been asking if both mods could be installed together, but it's not possible because BCML is unable to successfully merge both mods. After asking the authors of the Genshin mod for permission to add their weapon selfies here, I got green light to do it. Please note on version 7.3 I successfully added all the animations but I needed to make a minor change in the one with the spear (one arm was moving like crazy and I needed make it static) and in the one with sword and a shield (the shield was moving crazy too, so again static). I'm not sure why it's happening but totally my fault for sure (I will put back the original ones as soon as I can figure out the problem). In any case, all credit to the Genshin Pose Pack authors Moonling and Sofiaharley, and my most sincere thanks you for letting me to add their work here. Please don't forget to visit and like their mod page!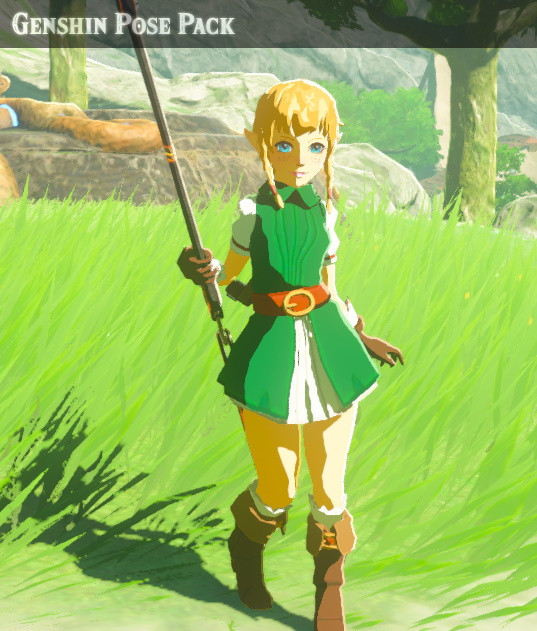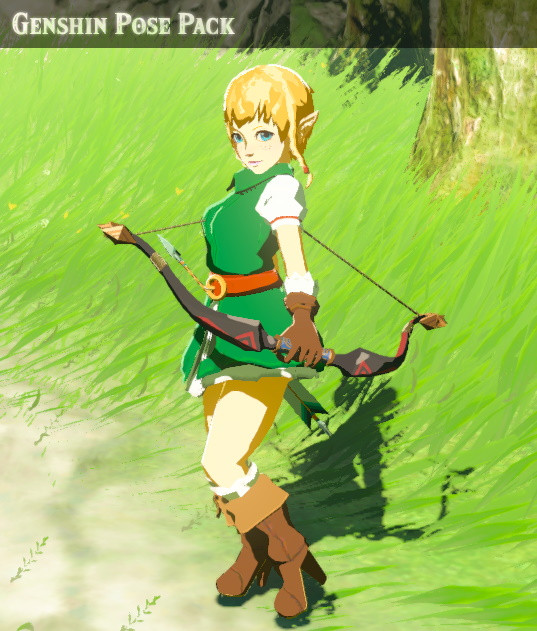 What

about the

bouncing ears bug

? Seems using some headgear (like the Hylian Hood with Zelda's Ballad) may provoke the ears to start bouncing for some users. A mod has been developed to avoid this issue. You can get it here.

What

about the Anniversary Edition

? Version 7 is a big step ahead, as now I can edit some of the game animations (some are tricky, other refuses to work), adding almost 40 edited animations and a whole set of new options, all packed in a single easy-customisable BNP. Version 7.1 allows you to use the new sneak/crouch animation or the default one; also it identifies as "SAFE" the default animations in case you are experiencing random CEMU crashes (meaning the game is rejecting the new animations under certain circumstances as a side effect on the edits I made - so if you are getting them, for now please install the mod using the SAFE options). Version 7.2 adds the default animations as "SAFEST" and a new option named "SAFER" with the edited animations made in a different way that prevents the crashes (but they may play with glitches sometimes, so it's a workaround until I find a better general solution).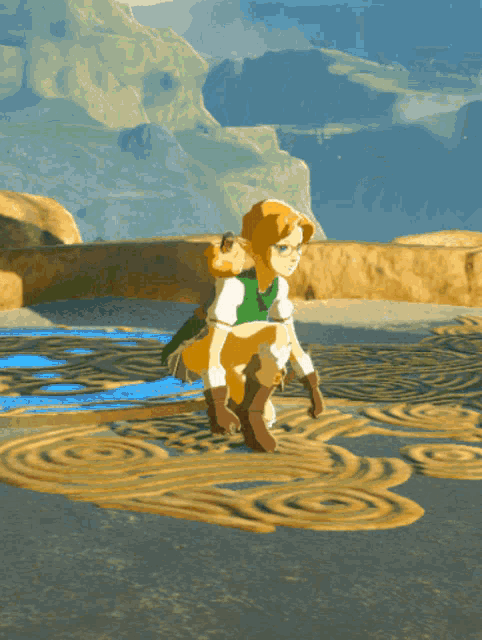 What

about the talk styl

e

? After receiving some feedback of people using this mod over Zelda's Ballad, we found the talking animation was played with the hand by the face instead of over the chest (as it happens using this mod over Linkle mod). This cannot be solved, so that style is now named Shy Talk and we added an alternate set of talking animations as Confident Talk, with a more confident pose also suitable for any mod. Version 7 also adds a new one: happy talk style, where the attitude is somehow happy while talking.

What

about the selfies

? At a certain point of the development with Sockpoppet we ended having so many nice selfie animations, we decided to create two versions of the mod. Vanilla Style uses a set of selfies similar to the default ones, and Varied Style features a nice set of resting/sitting poses. The rest, is the same. Version 7 adds too a new set: somehow happy or childish idles, taken from certain queen.

What

about the faster running

? The mod gives a slower run compared with the vanilla game. This is done in purpose, as the running animation was played so fast it was almost comical. But some people have been asking to be able to run at the default speed so I added it.

What

about the defense animations

? On version 1 we used some girly defense stances without noticing the shield placement was slightly to the left. This does not affect the game as it thinks the shield is always looking front, but it is not coherent as you will expect some laser beams to be reflected according the placement of the shield. Since version 2 we went back to the default animations (they still looks girly thanks to the leg placement), so it's not a loss at all... But since version 6.4 you can bring back them all as a bonus option:




What

about the walking on low waters and lifting objects

? Version 6 introduces a new set of cute animations while walking or running on low waters. Replacing them has been a hard task, but it was imperative as all this time the game was using some default animations mixed with girly replacements that looked very awful on some situations. As an extra complication, while doing this change I discovered the game is using the same animations when lifting objects, so extra care was needed to get the best results for these two situations. The only side effect is walking while lifting objects is slightly slower than usual, but it's easily solved just pressing a little harder the controller stick.

What

about the smile

? The default Link smile was deleted and we used the default face instead, because it looked awfully ugly on female replacements like Linkle. On version 3 we finally have added a new smile: it's very subtle on the lips and it will match every player mod you may have (even on Link!). In the latest versions you can select again the default face instead of the new smile.

What

about the idles

? There was an issue until version 4 that kept the three idles on the game from working. It has been solved on version 5 and now the new idles play smoothly every half minute or so. But when the game plays them?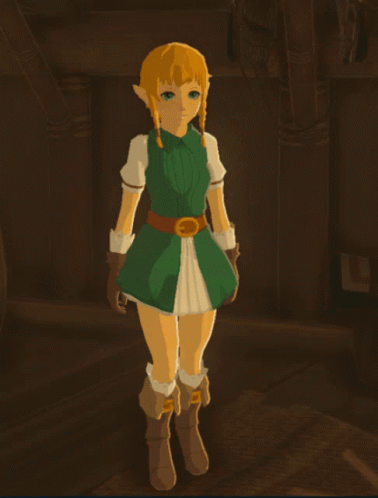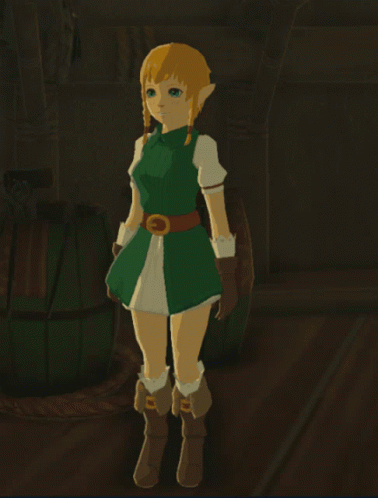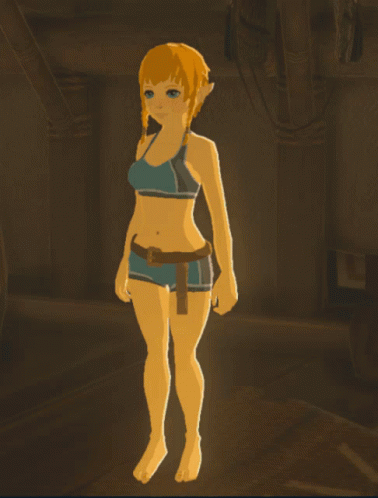 Cute Relax. Played during the day or the night.
Sleepy Head. Played only during the night.
Embarrassed. Played while not wearing clothes on the top.

What

about the default running

? Version 7 includes this as an option. If selected, it will use the

default running

animation instead of the girly one, as a demand from several people asking for it. Please note this change is not perfect as the girly running animation is one of the core pieces of the mod: there is an

odd movement

while walking fast but still not running as a result of the game engine mixing the girly walking with the default Link running. You can avoid it by simply pushing a little harder your controller stick. Sadly, the odd transition can not be solved so I offer this change as a kindly effort to please all the people and thank them for the support my mod is receiving.



4. COMPATIBILITY WITH OTHER MODS
---

Version 7.x has been made using BCML 3.7.2 that further enhances compatibility specially on animation mods like this one, that changes a lot of properties inside the files contained by TitleBG.pack and adds a lot of new animation pools to the game. This is a small list of compatibility with oher mods. It's pretty outdated as was made during the very old version 3, but I'm keeping it as a reference:


Compatible

with any mod without custom animations (Linkle mod, armor mods, etc).

Not Compatible

with Second Wind mod. It was at a time, aroun version 3 here, but not anymore (seems there are crashes when entering in areas added to the game by that mod).

Compatible

with Zelda's Ballad if you install the version 'with Link animations', and then my mod loaded after it/with higher priority. Some users using the new animations on version 7, reported getting CEMU crashes equipping at least one armor in Zelda's Ballad. If that's your case, for now please install Girly Animation Pack using the options labeled as "

SAFE

" or avoid using the affected armor if possible.

Compatible

with Summer Time (Resurrection) 2.0 and other mods changing the base Linkle body.

Not compatible

with Genshin Pose Pack, but I got permission and it's

included as an option

in the version 7.3 of the mod.

Not compatible

with Din's Fire. (untested on version 4+) They added some animation but also included a full copy of the file TitleBG.pack containing all the "first level" files instead of only the modified ones. They also are not telling BCML which ones of these files are the modified ones, so BCML is simply replacing all of them. This is dangerous because not everyone has the same TitleBG.pack (your game may have or may not DLCs, etc), it may collide with any other mod or simply crash the game. My advice is not to use it and I will not provide any patch.


Unknown

compatibility with Linkle 3.0 - That mod is still not released but we have a lot of clues in some mods in form of videos, screenshots, etc. Hopefully the developers will think on all the people using current Linkle mod as a base for their mods, keeping her alive for all these years, and release a Linkle 3.0 as much compatible as possible with Linkle 2.0 in order to keep working hundreds of mods and developments posted in Gamebanana.
5. NOTES & OTHER MODS
---

This mod replaces my previous Linkle Girly Walk & Poses mod, it was my first attempt to use the run girly animation for the default walking and it has some limitations but works fine and for anyone who likes it, I will keep it online as a legacy (meaning it will not receive any further update unless some bug need to be corrected). If you are already using it, please uninstall it prior to install this.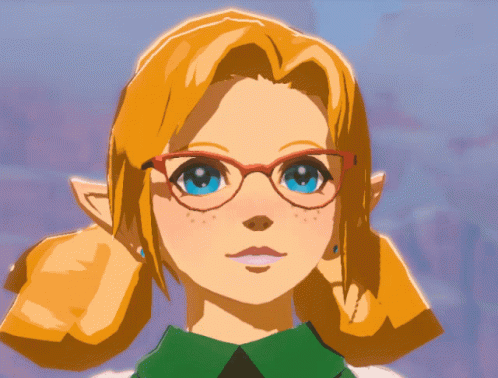 6. DIY MOD INTEGRATION
---

In the downloads section you will find a ZIP file containing a PDF with instructions on how to integrate my mod in your own mod, in case you want to unify packages, maximice compatibility, etc. It's a bit outdated, but also it's not a step-by-step guide where you can blindly follow the instructions to the end, as

you must have knowledge on modding

the game to fully understand it or else you will end breaking things, but I tried to explain everything as clearly as possible. Please be aware of that as I'm not taking any responsibility. For a general animation replacement tutorial, you may look here.



7. DISCLAIMER
---

I created this mod mainly with Linkle Mod on mind but ready to work over (almost) any other mod. And as I'm not related in any way to any modding team, my mod may work or may not on them. I will try to solve bugs and improve the mod as much as I can, but always as a standalone mod. If you end doing suggestion to them (and always is nice to get feedback from people), please be polite and respect their opinion and their decisions. Thanks you so much!