DESCRIPTION
---

This mod fixes the Linkle 3

too long arms

(especially noticeable using the Girly Animation Pack mod) by resizing the base body core skeleton as seen on Linkle 2. With this small change, all the Linkle 3 armors (the ones included in the mod, and also any third-party replacement or standalone new armors) will be forced to use the new body proportions.

This mod also adds a compatibility layer that

allows to install Linkle 2 armor mods on Linkle 3

without getting any neck gap or skin texture issues. Sadly, some Linkle 2 mods may still have some minor texture glitches and physic issues, and they will require to be edited by their authors and include the (now) needed Linkle 2 sbactorpack files.

The

Switch

version of this mod is available here thanks to Cod3xDev.


Please note this mod is not official,
and is not related to Linkle 3 Team.
INSTALLATION
---

Install the mod AFTER Linkle 3, or AFTER Girly Animation Pack on BCML.
During the install, a window with several options will appear: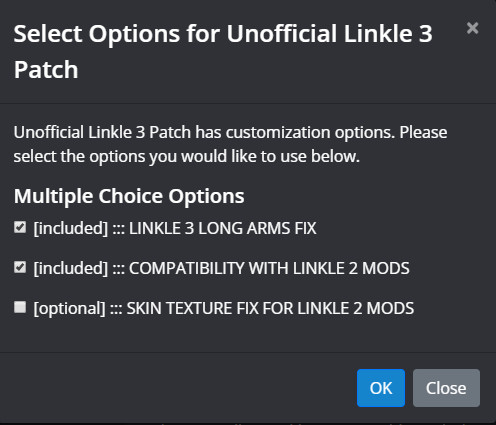 LINKLE 3 LONG ARM FIX:

This fix will be installed no matter if the option is checked or not; it's just informative and does what has been already explained.
COMPATIBILITY WITH LINKLE 2 MODS:

This one is informative too, and will be installed no matter if it's checked or not.
SKIN TEXTURE FOR LINKLE 2 MODS:

This one is optional and unchecked by default. It will replace the Linkle 3 upper base body texture with a less detailed one, but fully compatible with both Linkle 3 and Linkle 2 mods. This will allow any Linkle 2 mod to be installed without body skin issues. If you don't plan to install Linkle 2 mods, you don't need to install this one.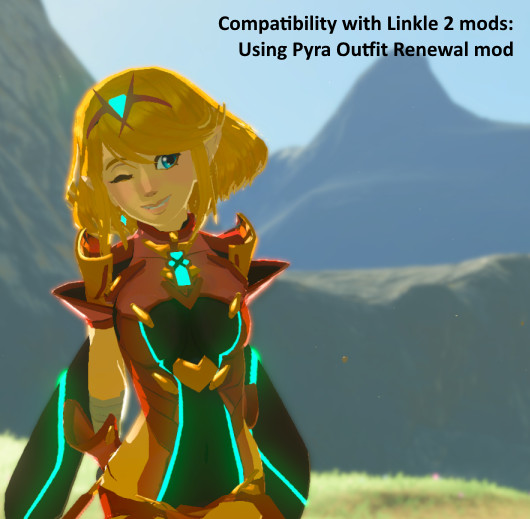 Please note this mod is included in
the latest Girly Animation Pack, but
but will end transferred here soon.
INCOMPATIBILITIES
---

This mod replaces Linkle 3 base body (hairstyle, head, face, upper and lower body) with the same files but slightly edited, and it will conflict with any other mod that changes the base body too (for example, a base hairstyle replacement). This is unavoidable unless the authors of new mods want to make them compatible with this humble unofficial patch: they only need to download and make use of the Modders Resources ZIP file in the downloads section.

If you install too the optional skin texture for Linkle 2 mods, now you will also get conflicts with mods that changes the skin tone or the eyes or hair color. Again, modders can make use of edited texture inside the Modders Resources ZIP file.




MODDERS RESOURCES



---

It's a ZIP file in the download section, containing all the files any modder may need to make their mods compatible with the long arms and Linkle 2 compatibility fixes: edited LINK.SBFRES and ARMOR_DEFAULT.SBFRES, GAMEROMPLAYER.SBACTORPACK with the physics used in the base body chest, and the edited Link_Skin_Alb.png to replace the one inside the LINK.TEX1.SBFRES that look good in Linke 3 and also in Linkle 2 mods that rely in the base body texture.




Other mods of mine



---
Ko-Fi: https://ko-fi.com/i2mods
You can support my works by buying me a coffee :)