This (balanced) re-balance for Linkle Mod changes the progression of armors to 3/5/8/12/20 for a max AR of 60 on almost all armor sets. It aims to preserve some of the challenge in the game, especially for people who prefer a more difficult Master Mode experience.

I did take some inspiration from Set Bonus Repurpose and made a few small tweaks. Changes include:


Almost all armors (base armor sets, DLC armors, Amibo, and circlets) have had their armor rating leveled out to 20 at 4 stars (3/5/8/12/20).

Hylian Armor set pieces have an attack bonus on their final upgrade to 4 stars.
Champion/Commanders Travel Shirt has an attack bonus on its final upgrade to 4 stars and has an AR progression of 4/6/10/16/24.
Soldier Armor has an attack bonus at all levels.
Ceremonial (Wild Set) Armor has an attack bonus at all levels.
Dark Armor give a stealth bonus for each piece equipped.

Royal Guard Uniform is the most defensive armor with a progression of 4/6/10/16/24 and max AR of 72.
All Circlets with elemental resist buffs have been added to the set bonuses of their matching armors. For example, the Diamond Circlet which gives Ancient Resistance will work with the Ancient Armor and give the "Ancient Proficiency" set bonus as though you were wearing all three pieces of the set.
Amber Hair Clips give an attack bonus at all levels.

Sheik Mask works with the Stealth Armor to give the "Night Speed Up" set bonus.
Island Lobster Shirt gives level 2 (full) heat resistance.
Well-Worn Trousers (that match the Island Lobster Shirt outfit) give the "Sand Speed Up" effect on their final upgrade.

All Amiibo armor pieces, with the exception of the Fierce Deity Armor, gain an attack bonus on their final upgrade and are interchangeable (will give the "Master Sword Beam Up" set bonus regardless of which ones are equipped).
Tingle armor gains a "Climb Speed" bonus per piece and no longer gives the "Scare" ability.
Snowquill Armor Boots give increased "Snow Move" speed on their 4th upgrade rather than a "Cold Resist" bonus.
Gerudo Cloth Boots and Desert Voe Boots give increased "Sand Move" speed on their 4th upgrade rather than a "Heat Resist" bonus.
Sand Boots will contribute to the Gerudo set bonus and can be mixed and matched with the Gerudo Cloth and Desert Voe gear to give the "Shock Resist" bonus.
Snow Boots and the Warm Doublet chest piece can be mixed and matched with the Snowquill Armor set and will give the "Freeze Proof" set bonus.
Salvage Gear can be mixed with Zora armor to give the "Swim Dash Stamina" set bonus.
Salvage chest piece gives the "Swim Waterfall" ability.
Salvage head piece gives the "Spin Attack" ability.
Opal head piece gives the "Spin Attack" ability.
Ravio's Hood will give the "Climb Stamina Up" set bonus when used with the Climbers armor set.

Installation:
Use

BCML

, the learning curve is very forgiving. The video I watched to set it up can be found here. Since Linkle Mod and many of its addons are only in

.BNP

format I don't see any point (at this time) in providing a Graphics Pack version of this mod.

Observe the load order in the screenshot below: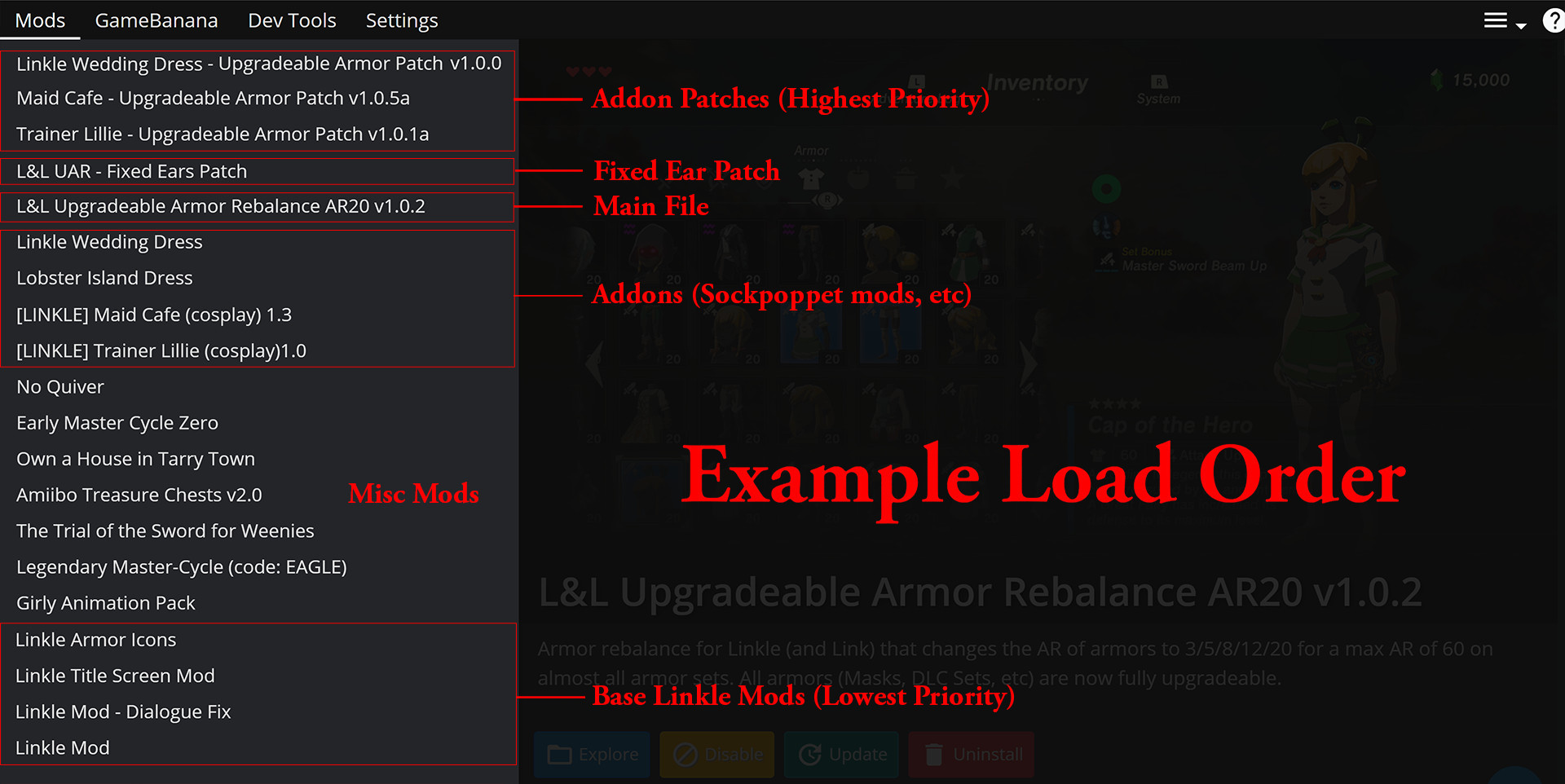 Required files:

None if you use Link as the player character.
Linkle Mod (Only if you are using Linkle)
Optional files:


All of the following patches require mods from Sockpoppet's Patreon page.




Recommended Mods:

Compatibility:
Please Read:

Standalone Armor Compatibility

Not all standalone armors are going to be compatible with this mod, or any other upgradeable armor mod (such as Hyrule Rebalance) because the authors of certain standalone mods didn't take into consideration the numbering of the .sbactorpack files that are used by Hollo's Upgradeable Armour Framework.

All upgradeable armor mods that use Hollo's framework (such as this mod, Fully Upgradeable Armor and Hyrule Rebalance) make use of most of the following sbactorpack numbers:


Armor_235_Head

to

Armor_318_Head
Armor_235_Lower

to

Armor_318_Lower
Armor_235_Upper

to

Armor_318_Upper

If the mod uses some or all of the same file names and numbering then it will be incompatible without a patch. I have already checked and many of the Linkle Mod standalone armor sets are NOT compatible so I will look into making patches as I find the time.

In the mean time either disable conflicting standalone mods or make sure that this mod has a higher priority in your load order so that it overwrites. Check the screenshots to see how to check any standalone armor mods compatibility.



Known Issues:
None.

I do not normally use Linkle or Link and thusly have not play tested this mod fully so PLEASE REPORT ANY ISSUES so they can be addressed.



Credits:
Lynard Killer and everyone on the Linkle Mod team for making our weebo wishes come true!

Hollo for his Upgradeable Armor framework.

Sockpoppet for their amazing work on all of the standalone and replacement Linkle armors! Please consider a small donation to his patreon if you have enjoyed his contributions to our community.