MOD DESCRIPTION
---

This mod for the Sheikah Slate Camera allows you to see

crisp

and

bright

images with

no UI elements

in the middle while taking pictures, perfect for getting nice screenshots or video captures. All the UI features have been arranged in the upper and lower parts of the screen in order to

keep intact

the camera functionality.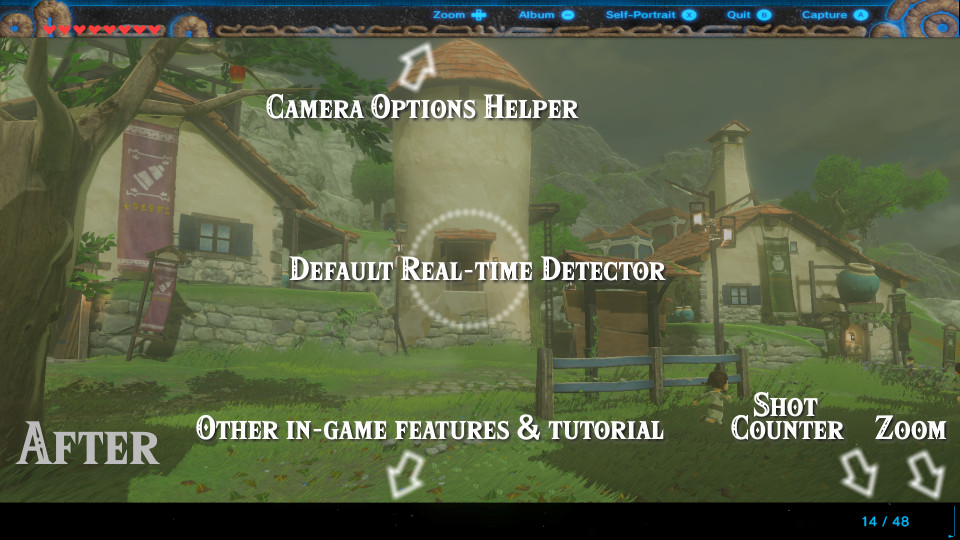 Ko-Fi: https://ko-fi.com/i2mods
You can support my works by buying me a coffee :)


FEATURES

---
Image as clear and bright as the default game view.
No blueish vertical "screen" lines.
No circles, squares, boxes and non-useful stuff.
Button assignment helper placed in the upper screen.
Zoom, frame counters, tutorial things… in the lower part.
WHAT TO INSTALL?
---
There are two files, please pick just one and install it using BCML 3 or newer:


ClearCamera.bnp


The mod with the in screen real-time detector.
ClearCamera_NoDetection.bnp


The mod without the in screen real-time detector.
OTHER MODS
---
Get the Stylish Linkle (makeup, earrings, glasses) here.
Get the newest Girly Animation Pack here (several options).

FUN INTRODUCTION
---
This mod was initially published flooded with references and jokes on a
game I'm very fan of, called Project Zero. Here that full introduction! :)
---

The

Camera Obscura

was a perturbing creation made by Dr. Kunihiko Asou, capable of taking pictures of ghosts and demons, usually invisible to the naked eyes. Although you are not Miku Hinasaki in

Project Zero

and you are not definitely fighting ghosts, in one dark Shrine lost in the middle of the woods you have found an unknown upgrade rune for your camera. After a hundred of years, side-loading an app will not void your Sheikah Slate warranty, so you installed it and now you have the

Clear Camera

! The rune seems an early work of the Dr. Asou himself, probably before the dark world absorbed all his interests.




Now the camera app shows you

crisp

and

bright

images with

no elements

in the middle, arranging all the UI features in the upper and lower parts of the screen in order to keep clear all the available picture area (upper and lower black bands can't be avoided ), keeping intact all the default camera functionality.