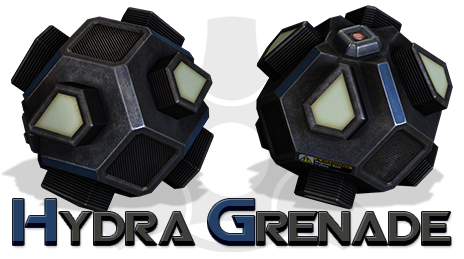 In the year 2065 a new type of grenade has been created that uses Magnetic Fields to generate its power output.

This type of grenade was called the HydraGrenade as it could mimic all kinds of grenades! The design was originally created by a young student that was just experimenting with different kinds of magnetic fields for a contest called The Original Weapon Contest!

This design later fell into the wrong hands and was transformed in this very unique and handy death tool.





This grenade comes with 4 different types being:

- High Explosive Grenade
- Flashbang Grenade
- Smoke Grenade
- Decoy Grenade

These 4 types have different color pallets and have their own world models as well. The HydraGrenade's Magnetic Field pumps have illuminated lamps just like the trigger that can be spotted in the dark if not carefully covered up.

It also comes with brand new sounds including a great idle sound for the HydraGrenade!

Now also available for Counter-Strike:Source!






An easy way to install this skin is by using Unkn0wn's CSGO Skin Installation Tool. This tool will allow you to easily edit the VPK by just selecting the view, world and thrown models for the grenades included in this release and by then pressing install.

Although if you want to do it manually I'd suggest you to backup your pak01_dir.vpk first!

First copy both folders and paste them inside: "steamapps\common\Counter-Strike Global Offensive\csgo"

Then open the VPK called pak01\_dir.vpk with a text editor. Hit ctrl+h and replace "v\_eq\_decoy" with "v\_eq\_dacoy" then let it replace all. Do the same with the world model "w\_eq\_decoy" becomes "w\_eq\_dacoy" AND the thrown model "w\_eq\_decoy\_thrown" to "w\_eq\_dacoy\_thrown" then again replace all and you're done, do this for all the grenade types being:

- v\_eq\_decoy
- v\_eq\_flashbang
- v\_eq\_fraggrenade
- v\_eq\_smokegrenade
- w\_eq\_decoy
- w\_eq\_flashbang
- w\_eq\_fraggrenade
- w\_eq\_smokegrenade
- w\_eq\_decoy\_thrown
- w\_eq\_flashbang\_thrown
- w\_eq\_fraggrenade\_thrown
- w\_eq\_smokegrenade\_thrown

After you've installed all the files launch your game with console enabled and launch a map.

When the map is fully loaded write in the console the following command and wait a couple seconds:


snd_updateaudiocache

After the cache has been rebuild you'll hear the new wonderful sounds that suit this grenade ow so well!





With creating this grenade I had my old GIMNade in mind where I softly based the overall style for the HydraGrenade for.

Originally this skin had also custom sounds but as the newer version of CS:GO doesn't support custom sound scripts we had to scrap this idea.

I do hope you like this release as much I had creating it!