This mod was inspired by the hairstyle Sockpoppet did for Linkle in his Santa's Helper. I asked permission to him (Sockpoppet, not Santa!) to port the hairstyle to the default Snowquill set found in the Linkle Mod.

So when Christmas is over and Linkle drops her Santa's helper dress back into the wardrobe, you can still have the wonderful hairstyle in the default Snowquill, now with the hood folded in the back. And for the fashionistas here, I added two alternate versions: with

ruby earrings

and with

heeled boots

.



Ko-Fi: https://ko-fi.com/i2mods
You can support my works by buying me a coffee :)


To install the mod, simply download the BNP file and install it using BCML as usual, selecting the option you want when asked: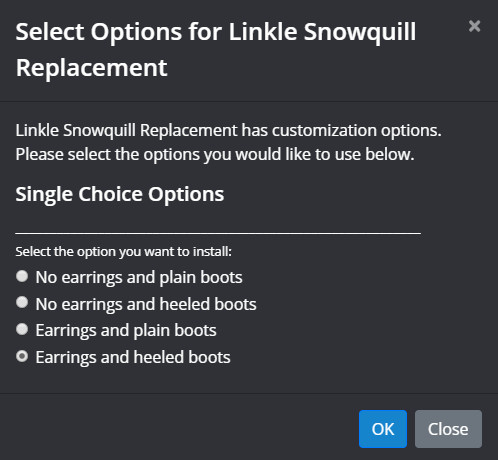 If you like the makeup Linkle is using in the pictures, you can get it here.