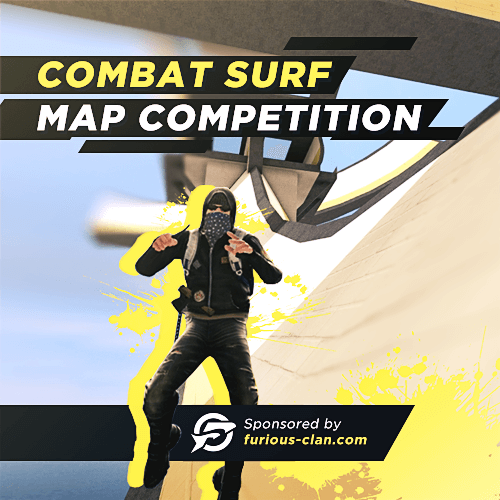 1.

Introduction:

Surf is one of the best known and oldest custom gamemode for Counter-Strike. Many of the most popular maps from the 1.6 & Source days are still in use to this day, making their way to CS:GO via countless variations and ports. As such we feel it's time to get some brand new maps for play alongside the classics!

Furious-clan.com are collaborating with Gamebanana.com to bring new and exciting Combat Surf maps to Counter-Strike: Global Offensive. Your task is to create an appealing, fun and competitive arena based surf map that centers on the aspect of Team Deathmatch.



If you are new to Surf Combat mapping, consider checking out this tutorial with hints and tips on what to do.



2.
Judging:
The gameplay is essential, this is where maps will gain the most points via judging. We've gathered a list of ideas you can consider for your maps.
We will also look at the quality in the visual aspect, and we cannot wait to see your creativity!
Together with the gameplay we will also look at the flow of the map. Do you often get stuck in ramps, are there enough mid-air action together with ground action, did you combine teleporters in a creative and fun way, did you add a Jail and does it make sense to the map and theme?

Special thanks to these lovely people who contributed to the prize pool:

Twiistedq, Leonard, Pixel, Ubahnschubser, Mikzen, Mistrox, Exi7 and Wicter

To qualify, the maps must be uploaded to the site and tagged as a contest entry before the DEADLINE!