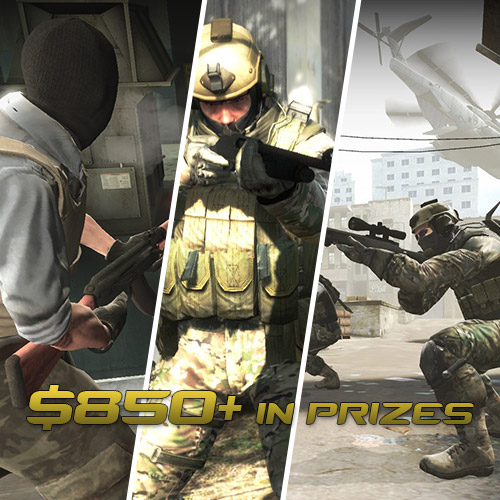 The 2014 contest is now live with $1000 worth of prizes! - Click here for details


Today we are pleased to announce the first in a series of special competitions with gaming industry giants that will be happening throughout 2013. To kick things off we've teamed up with CEVO, a worldwide leader in e-sports event administration to bring you:

`The CEVO/GAMEBANANA CS:GO Competitive Map Making Contest!`


---

This 3 month competition will challenge level designers to create the next generation of balanced, strategic and fun maps for use in the competitive gaming industry.

Not only do we have a massive $850+ prize fund, with the winner taking away a cool $500, but this contest also gives mappers the unique opportunity to have some of the top players from all around the world use your map!

>"We are extremely excited to announce our first CSGO competitive map making contest, and partnering with GAMEBANANA.com is the perfect way to ensure that we'll get the word out to some of the best Counter-Strike mappers in the world." said Chris Pipher, General Manager of CEVO.com.

Now if your familiar with our monthly mapping or skinning competitions then pay attention as the rules are slightly different this time round.


---

How it works.
-----

Individuals or teams of individuals will have 3 months from today to create, test and upload their submission, to our specially created sub-section located here.

Submissions will be accepted at gamebanana.com from **Tuesday, January 15th 2013 until Monday, April 15th, 2013**. After this date, all submissions will be reviewed by CEVO/GAMEBANANA and the top 5 maps will be selected by staff from the respective organizations. These top 5 maps will be showcased for public voting on www.cevo.com for the next 2 weeks **until Tuesday, April 30th, 2013**. The top three maps with the most votes will split the $850 in cash, with the winning team taking home $500 cash + use of map in CEVO CS:GO Season 2 pre-season, $250 cash to the second-place finisher, and $100 cash to the third finalist.

Map submissions should be original works and cannot have been used in any previous competitions. Maps should be created with competitive balance, CEVO league settings ($800 startmoney, 2:00 roundtime, and 5v5 gameplay), and aesthetics in mind.

Submissions must be a fully playable map for Counter-Strike: Global Offensive, and must be submitted to the CEVO Mapping Contest sub-category before midnight on the deadline date to qualify. The content must contain your own work and consent must be given if using content produced by another party. All necessary files and custom content must be included in the download along with a readme stating it is an entry for the CEVO/GameBanana Mapping contest.


---

How to enter?
-------------

To register your interest, simply log into your account and click the "Enter Contest" button located just underneath the countdown box and prize list.

You then have until the deadline to create, test and submit your map!




We can't wait to see what you come up with!

Read the full article at CEVO.com.