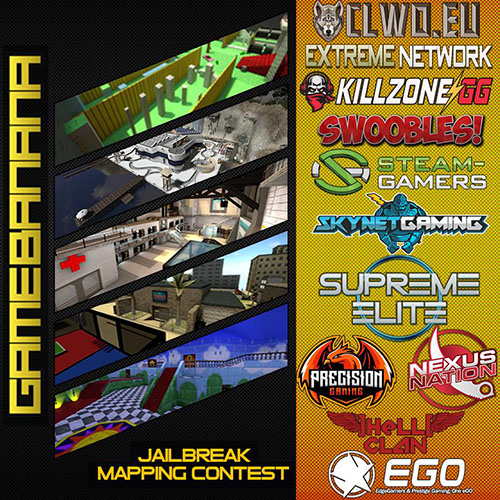 Intro
A group of CSGO Jailbreak servers have come together again to sponsor a mapping contest in collaboration with GameBanana.com for this summer. Your task is create a brand new Jailbreak map for CS:GO!

Thanks to CLWO, Extreme Network, Killzone Gaming, Swoobles, Steam-Gamers, Skynet Gaming, Supreme Elite, NexusNation, EdgeGamers, Precision Gaming and ]HeLL[ Clan for helping sponsor this contest!

Want to contribute to the prize pool also? Please PM me on the site or DM me on Discord ( Mini#7814 )

We will also have a Discord server running during the contest to ask questions etc. https://discord.gg/DJCuNxc


Judging
The activities for the prisoners will be important part of the judging, both in the quality of them and the quantity of them. New and well made activities will score well.
The design is also a notable part of the judging, so make sure to consider the visual aspects when making your entry.
The originality of the map will also be valued.
The gameplay should be fun and interesting for both teams.

Judges will be gathered from all the sponsoring servers and the scores will then be combined and ordered by GameBanana to decide the winners.


Rules
The rules are listed in the right hand column. Make sure to read them through carefully before deciding to enter the contest. If you have any questions regarding them, simply comment below and we can clarify issues.

The entry must include this banner somewhere in the map where it is clearly visible to everybody. If you really don't want to use the banner, you can implement the sponsors icons + "Jailbreak Mapping Contest" text in another way. Just make sure like with a banner it's not hidden away somewhere no one would see.

It's worth reminding everyone as well that you shouldn't be using other people's content in your map without permission due to the fact that you could win money with their content in your map. This includes ported content from other games.

To qualify, the submissions must be uploaded to the site and tagged as a contest entry before the DEADLINE! If you don't see the contest listed on the add/edit form of your submission, make sure you have hit "Join" on this contest page first.