I'll tell you a story or two. Maybe three.
It started in 2014. I got introduced to QBasic 4.5 in 7th grade. After a couple of months, I decided to write my text adventure game. I called it Admer: The Game.

ADMER: THE GAME

You woke up in a cave, with no memory of how you got here. You see a zombie and some TNT with a push lever. You have 3 options: fart, throw_up or activate_tnt

It was a funny and chaotic mess, both in terms of content and the source code. Imagine lines and lines of code, some of them wider than your neighbour's garage.
But, it's what led to the HL mod version of this. I got eventually tired of QB's limitations, such as the SLEEP command only taking whole seconds, so you couldn't pause the program for, say, 0.005 seconds. There was a trick for that, which I didn't know back then.

Either way, in early 2015, I started working on my first Half-Life mod. I had had a few months of mapping experience at the time, so I was familiar enough, and believed I had the ability to make a singleplayer mappack. Had I stuck to that, I would've completed the thing.

But no. Admer never goes small like that. There's always got to be something additional, extra to it.
So guess what. I turned the thing into a total conversion mod. And the concept was about the same as Admer: The Game. You wake up in that cave, and everything goes the way it would in the original text adventure.

However, later on, we'll see that this didn't nearly go that way.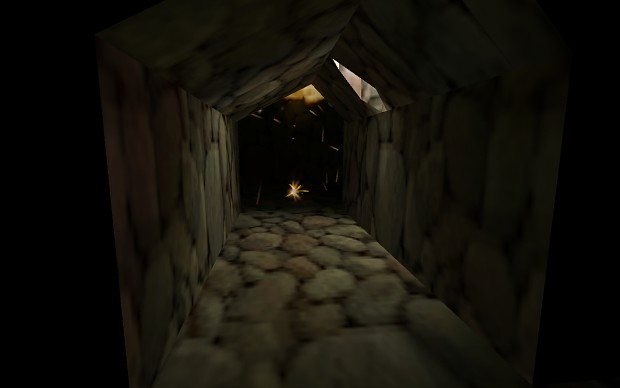 The starting cave.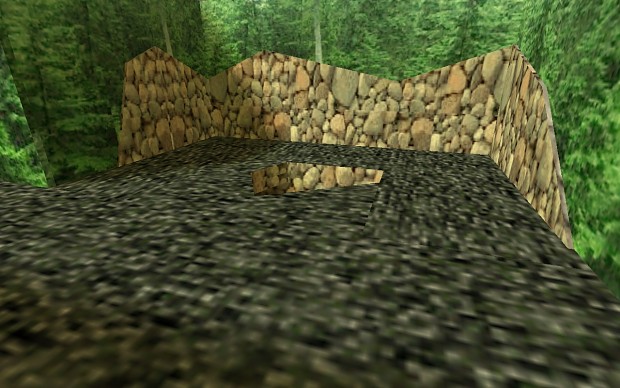 Outside of the cave. You hear some flute music.

As I was developing the mod, my skills had improved, and my ideas grew. I've tried 3D modeling, texturing, programming, music production and sound editing. It'll take me a few years to get both of my hands on these skills. Mapping had been my main skill until 2018.

One of these skills was programming.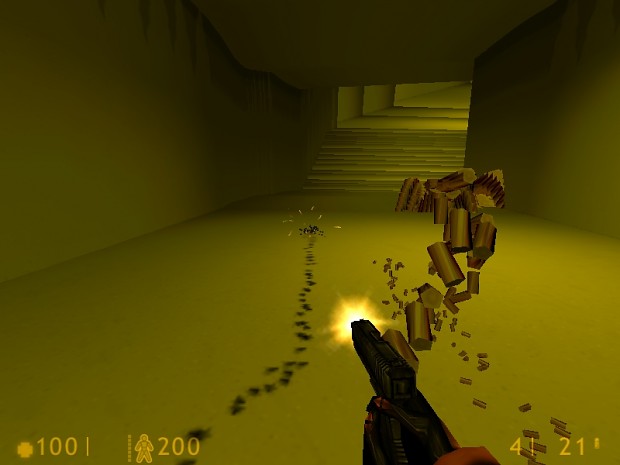 Oh, the joy. The joy of walking into C++ for the first time, only with some prior QBasic knowledge. And this wasn't your basic C++ stuff. This was working with the Half-Life SDK code. Valve's messy, but working, clever code! Oh Lord... 13-year-old me got so lost. To make things worse, I was using Visual Studio 6.0 from 1998, so I didn't have almost any of the key features from modern Visual Studio.

You can already notice that I increased the maximum suit battery level to 200%, and I made an abomination out of the Glock. I wanted to make it semi-auto. :)

I was making okay progress in other skills at least. As time went on, this is what the first map turned into: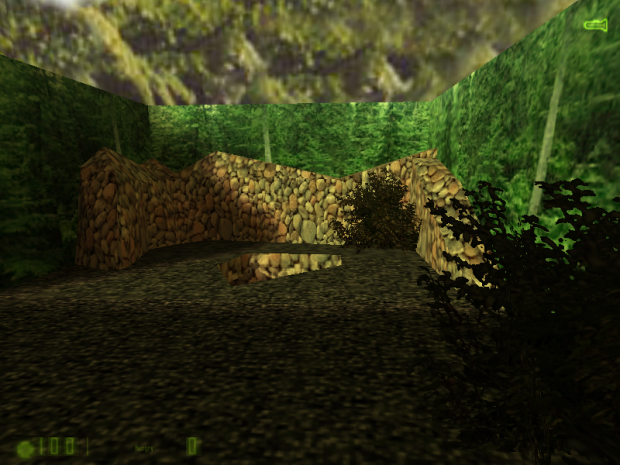 Keep in mind that it was still my first year of mapping. I grew way beyond this now.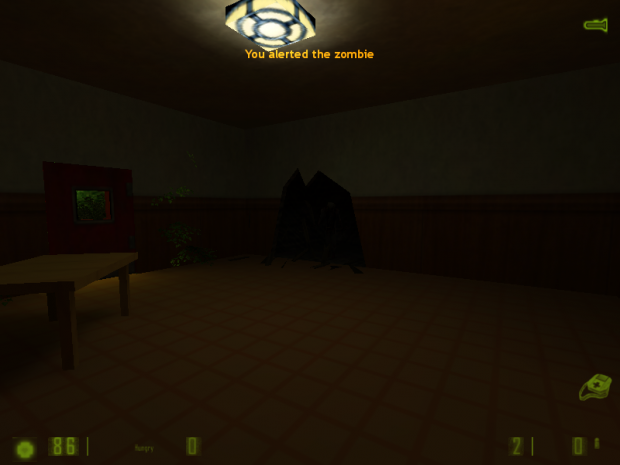 One of the features would've been the NPC alertness system. It was rather quite simple. If the NPC sees you, you get a message on your HUD. :)

But, I had to give up on it in 2016. I had a huge lack of motivation, energy and the will to work on the mod. I had other projects. It was sad. I made most of the mod's content in 2015 when my skills were pretty low, and a year later, when they skyrocketed, I hated seeing the old content. Today, I look at my 2017 content just as equally, hahaha.

So, let's fast forward to late 2018. There had been some important events that led to what happened between 2016 and 2018, but I believe it's not really necessary to go in detail.

In short, I started a Far Cry mod, got into Lua, understood programming a bit better thanks to scripting, then in late 2017, I realised I'd have C++ in my 2nd year of high school, so I installed VS2010 on my PC, did some things, and tried the HL SDK again just for the fun of it, ending up making GMan vulnerable and kill-able.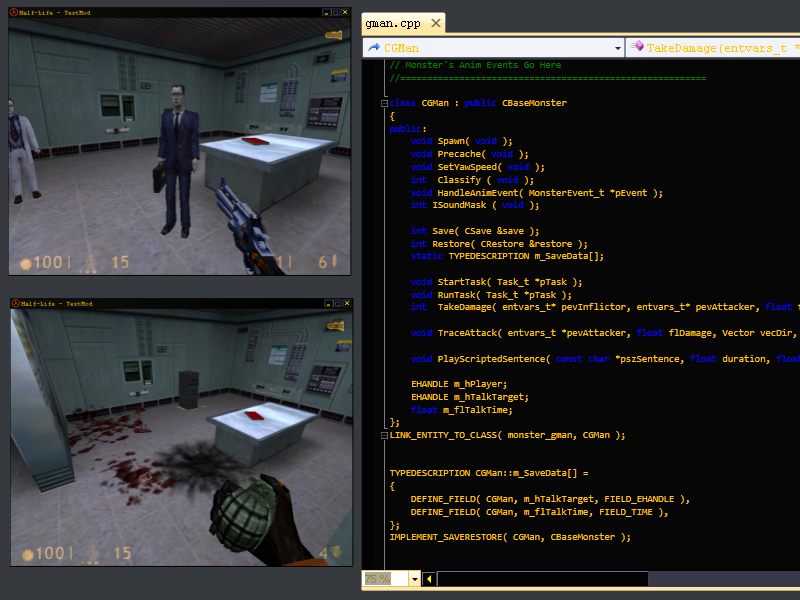 In late 2018, I got into C++ for the 3rd time. This time, the right way. I had an idea, and I wanted to do it. It involved doing some 3D rendering stuff in wireframe. I downloaded a library called SDL, which would handle input, window management, video etc. for me, and I wrote logic for triangles, squares and whatnot. It was quite fun.
But then, I felt like something wasn't right. I remembered I had something unfinished and badly unfinished. It was my HL mod from 2015.

I wanted revenge. 13-year-old me failed to do what he planned to, so I am going to complete that. It'll take years, but I'm determined, and now I'm not alone, not a beginner and not lacking any skills. And most importantly, this time I'm doing a very organised approach. I'll be writing the documentation first, working on the technical part second (the codebase), and then working on the content / assets third.

Progress has been made already.
I've got the foundation of a vehicle system, currently working on a car prototype. I've also got a bit of Bullet physics implemented, and FMOD support will be on the way. :)
Other than that, I've got the following entities: env_viewsway (shake yer view), util_consoleprinter (print anything to the console), util_rotator (rotate another entity), trigger_valueop (real-time keyvalue operation), func_novis (blocks any NPC's view), a customisable HUD colours system, customisable HUD flashing when your health is low, customisable view bobbing and swaying and lerping and whatever.

There's already a little bit of stuff, and there will be way way more than that. :)



There is a part of a story, quite a few characters, and all that will be with features like vehicles, occasional physical objects that you can knock over, support for high-quality audio and whatnot. I can take on something as big as this. Somebody once asked me "Are you sure you're not writing a book?", to which I had to laugh. :)

And, as I said, I'm not alone. I got a teammate with me, for the first time. I've always been a lone wolf until now. There may be more teammates to come. I'm so happy that I finally got back to working on a HL total conversion again. That is my joy of modding. :D