Just a little update on what I've been working on I guess;

Since about late 2018 or early this year (I've only got some screenshots from early January but I'm pretty sure I was already working on it for quite a while by then) I've been on and off experimenting using propper to replace detail geometry with models.

Now, nothing explicitly special about that - it's what the tool was made for, of course. But since I'm using it on quite a bit larger of a scale than I'll assume to be the norm, I thought it might be interesting to share some of my results so far.

Now, back in December/January I was doing a (near) full conversion of de_train - was getting what I believed to be decent results, but in the end it proved frankly a much more tedious endevour than I anticipated, so I've since ceased my efforts on this.

Basically it entailed taking *every* brush and judging whether or not it should remain or be converted, if the latter (which applies to most brushes that aren't part of a floor) I'd sort them into local groups. Meaning, all the faces that I estimate would always be in the same visleaf, get grouped together as an MTB (model-to-be). Later I also started resorting those groups by material type - wood, concrete and metal - so I could give them proper impact decals etc.

Don't have a lot to show for most of that since I was just sorting them and thus there wasn't much need for test-compiling the map. Here's an early screenshot showing parts of A-site, though.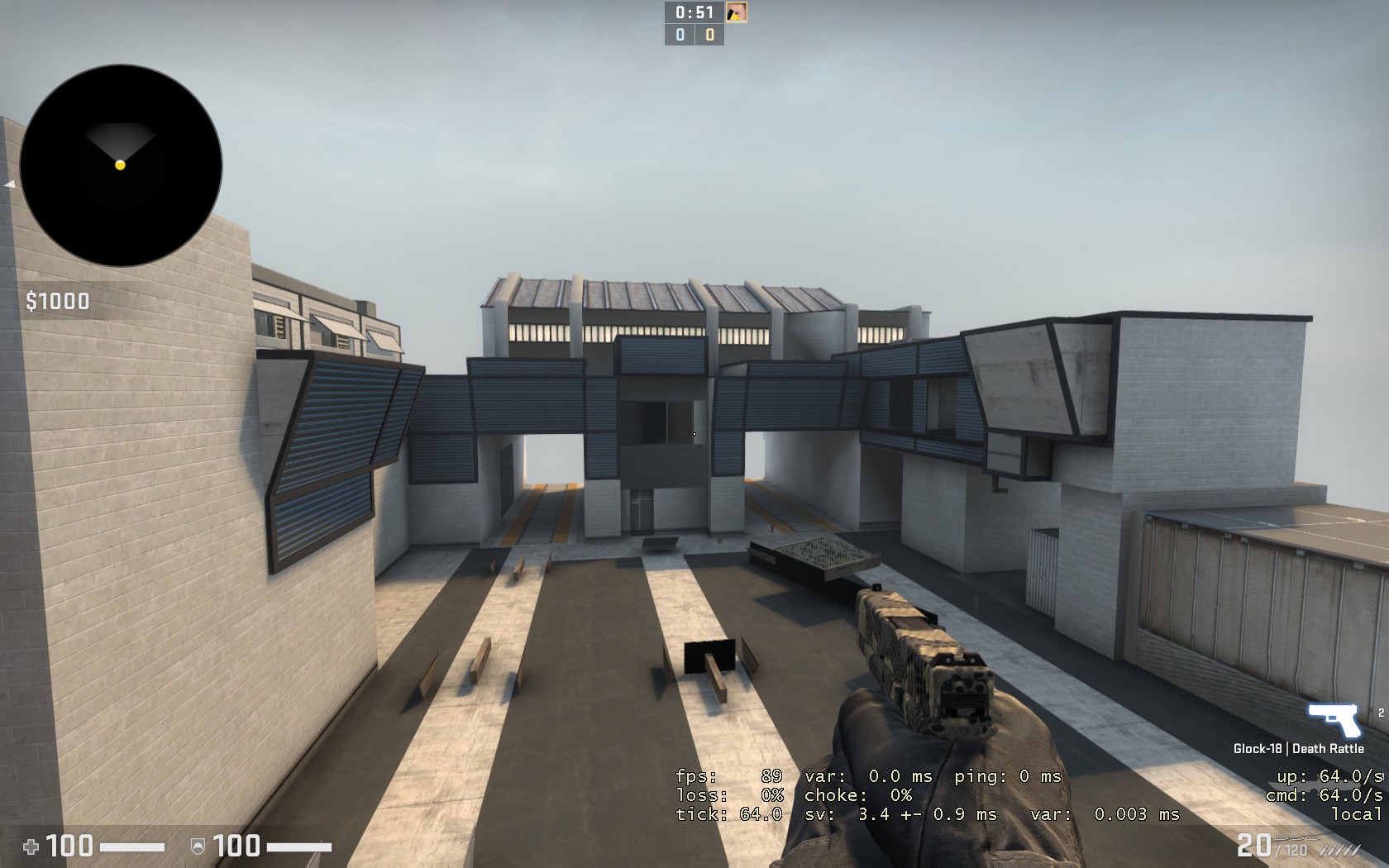 You'll notice some parts it are very poorly lit; this is because propper does not cut overlapping geometry, and overlapping geometry causes the occluded areas to become shaded. That's pretty obvious I guess. Anyway, that means you also have to re-cut all detail brushes to account for this, which is just more busywork of course, but it's a lot more engaging than sorting MTBs so I'll take it.

It also increases the brush count by a non-negligible amount but that doesn't fucking matter because all of is going to not be brushes by the end of it, that's why I'm doing it. Or was, yknow.

-------

So just in case you haven't caught on yet, the point of all this is to reduce the brush count of maps by such a degree that I can comfortable fit a number (like 12 hopefully) into a single BSP for CSSO (insert link).

I've kind of changed my goalposts on this a couple times now, originally I was just gonna go with very simple, blocky maps, but I really couldn't get those looking up to par so I've just been adding detail just as I normally would, which has of course inflated the brushcount enough to where I do indeed need to use this method.

Now, it's not quite the same as what I was doing with that de_train conversion, namely that all MTBs will be wholly without collision now. Why? because model collision generally just isn't good, mostly. Instead I'll be using a mixture of clip brushes and fully transparent blocks, the latter to allow bullet decals and such, at least on the larger, flat parts of the MTBs.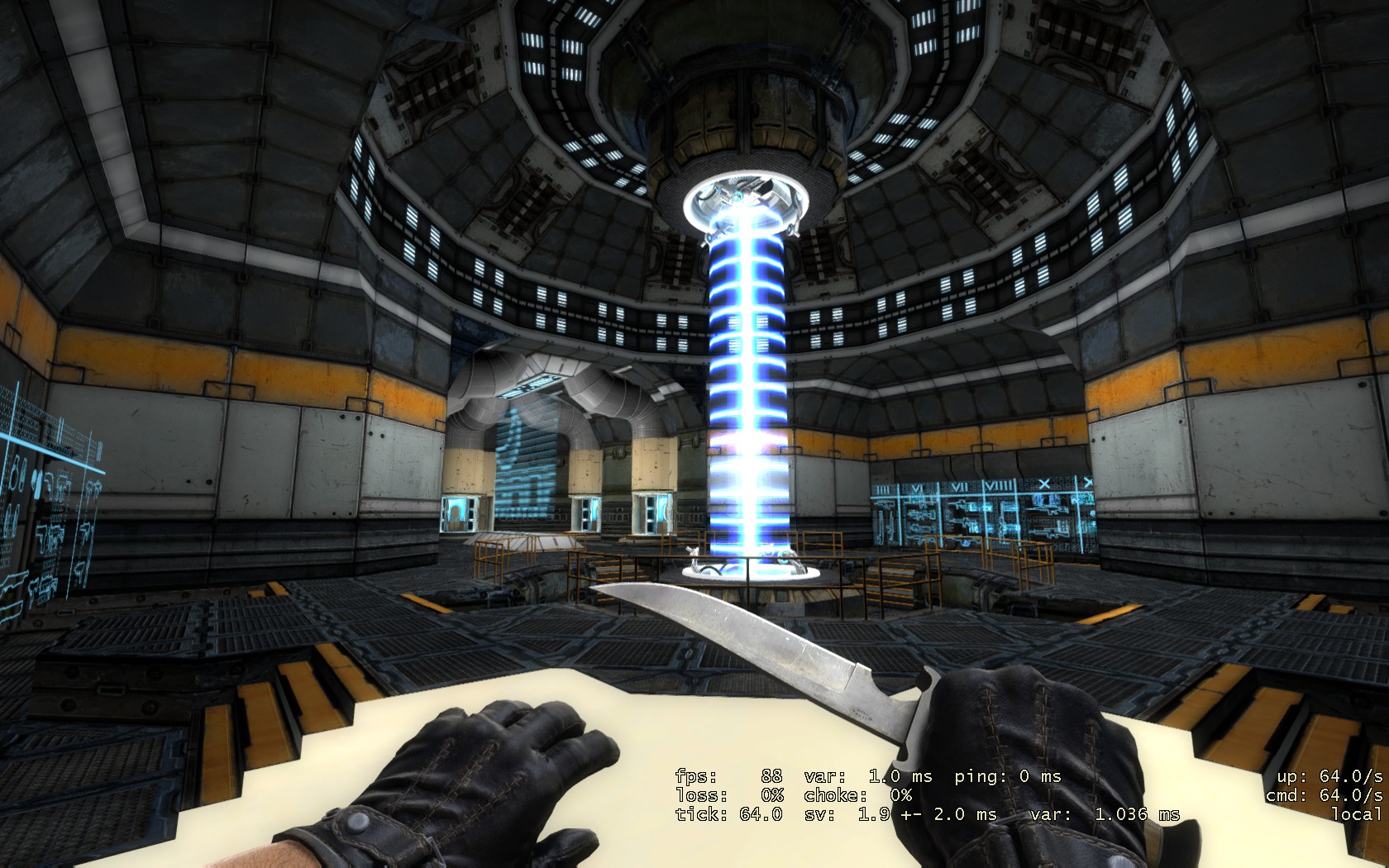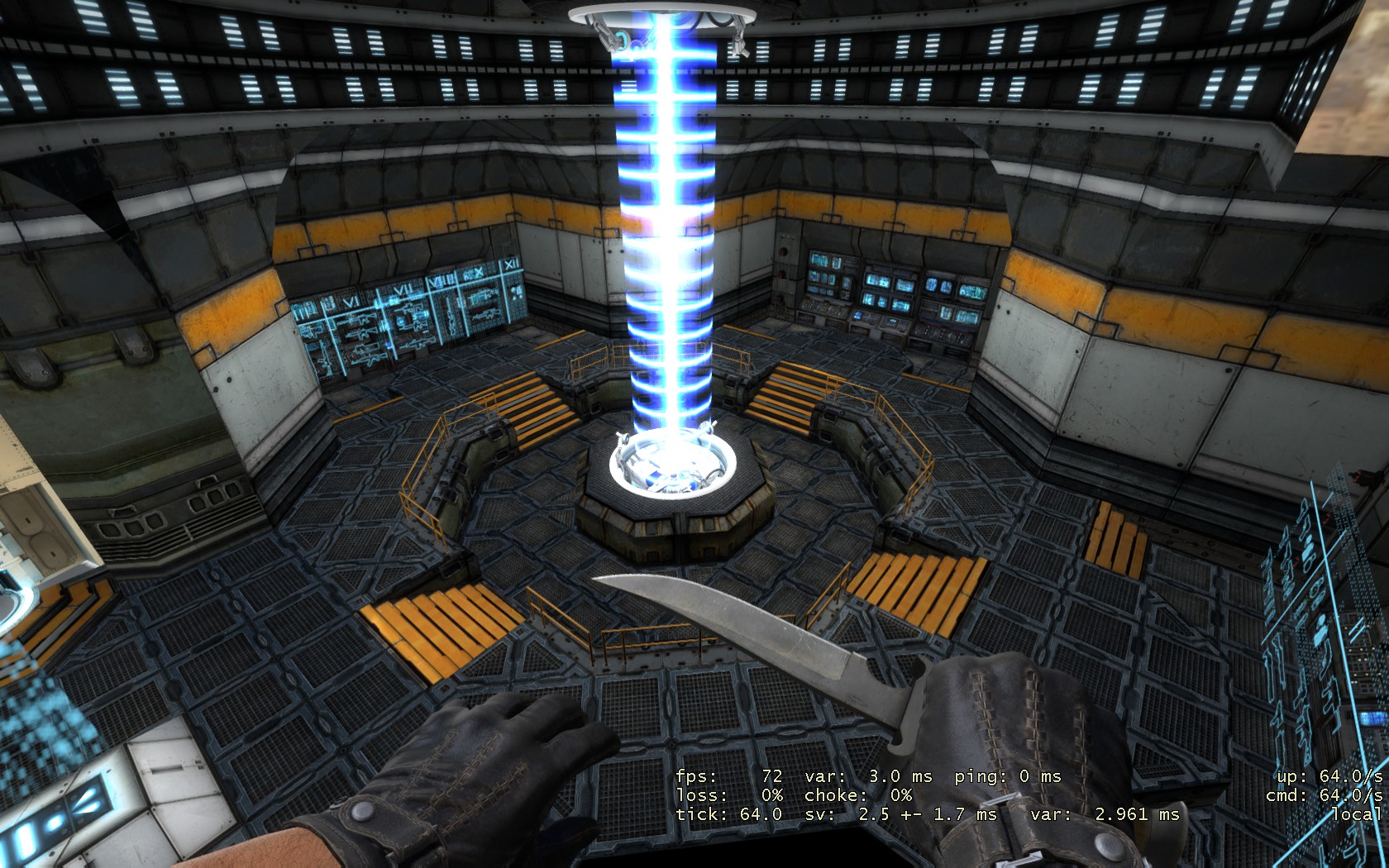 Here's a sneak peek of one of the hub areas. All geometry you see is *fake*. Well, nearly all. The holograms aren't, not for any real reason I think, I just didn't.

The area is split into about 25 models. You might notice there's some symmetry in the design - that's why it's 25 and not, like, 6. Also splitting stairs off to be their own model is very helpful because that means you don't have to cut the surrounding mesh to avoid overlapping faces, for every individual step.