YOUTUBE QUICK LINKS
---
PISTOLS:
HEAVY:
SUBMACHINE GUNS:
ASSAULT RIFLES:
SNIPER RIFLES:

---
INTRODUCTION
It's been a year since I started watching Forgotten Weapons over on YouTube. Like most CS players, I am also a gun enthusiast. In fact, it was with modding CS that I acquired this.

The show is presented by Ian McCollum (a.k.a Gun Jesus), a gun collector and historian, and he presents armaments with historical and mechanical significance. Granted the show has far less shooting range sessions than other Guntubers. But I have yet to see anyone explain a gun's background and inner workings as detailed and concise as Ian does. You won't see any watermelons being shot here, but there's a lot of disassembly, mechanical workings explained, and interesting facts and history on each weapon.

So if you like guns, or dabble in engineering, or just want something to watch on your afternoon tea, consider spending 10-20 minutes and giving Forgotten Weapons a go.

PS: At this point you might be thinking that placing 'Counter-Strike' on the title was some kind of clickbait. You're half right. Below is a list of CS weapons that have been featured in the show. For the uninitiated CS player, this would be a good start. Learn amusing facts about your favorite guns and see the inner workings that make them tick.

---
AK-47
Originally titled "Type 1 Russian AK: The Actual AK-47" (as evidenced here), this one was a re-uploaded version of the video for reasons still unknown to me. I clearly remember him saying most of the "AK-47's" we see today are actually AK-49s and this is the real deal.

AK-47 Type II video as well shows interesting information from the development of the AK platform:


CS PRO has also provided in the comments a tidbit of interesting information regarding the AK models used in the games. Here's a screencap of what he said (Updated):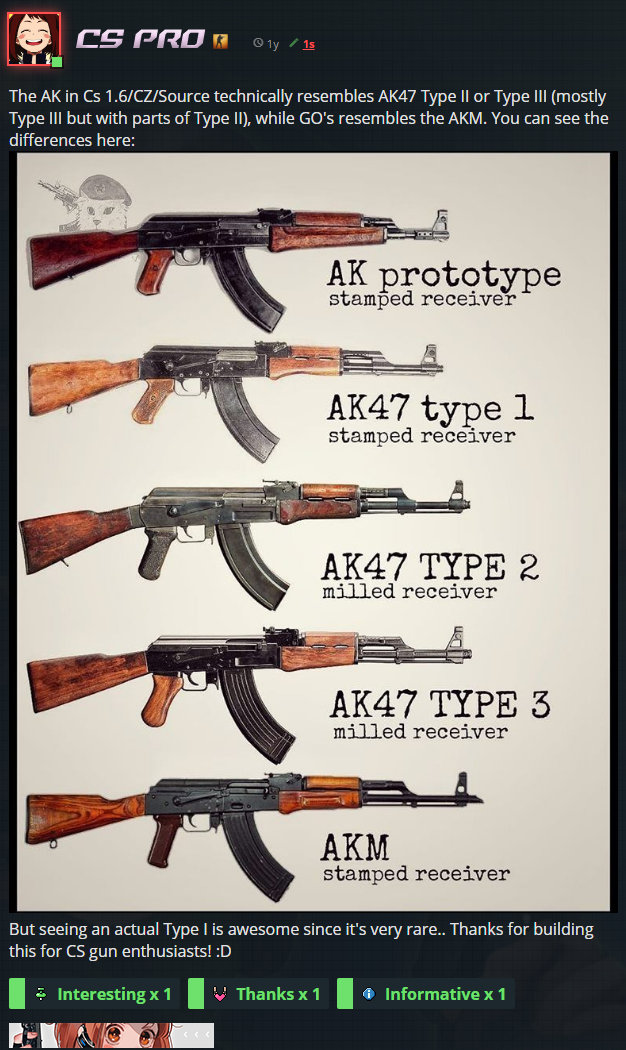 AUG
AWP
The real AWP was actually black in color and had a shorter barrel. The one in the game emulates is the AWM, or the L115A3 so designated by the British Army. Ian also covers both A1 and A2 predecessors in separate videos with an amusing true story of how Accuracy International started as a company.



USP
MAC-10
Ian also did a video on the MAC Operational Briefcase, a briefcase where you can store and shoot the MAC-10 from. Yes, shoot it from inside the briefcase.



Galil
Scout
Also has a follow-up video on the Scout's special Ching Sling that works really clever.
Shooting video is also available.



FAMAS F1 (CS 1.6/CZ/Source)
FAMAS G2 (CS:GO)
MP7
MAG-7
Be sure to check the follow-up video where Ian gets his hands on a real South African MAG-7 with proper-sized shells.



Dual Elites
As a bonus, here's a video about the Beretta 92 and what you can do when someone points it at you.



Glock
Been debating whether to include this or not since it's not about the Glock itself as a weapon but in the end I reckoned it's interesting enough to be included.



MP5
Ian takes the iconic HK MP5 to the range to see if it lives up to all the hype. Also check out this MP5k Operational Briefcase, much like the one on the MAC-10.

Don't know what open and closed bolts are? Don't worry, Ian's got you covered here.


Negev
Also check Ian's shooting video of the Negev out in the range.



SG550

UMP-45

MP5SD

Also with a shooting video.



M4A1-S
According to the official Counter-Strike Wiki, the M4A1-S was based off the Colt Model 723.



SG553
Unfortunately, this one only features some shooting and a few sparse commentary here and there. Still it's an SG553 featured.



P90
Also with a video down at the range and its precursor, the Hill H15.

---
Want more videos than the ones embedded here? Check the Updates Section of this blog.
And also go visit the Forgotten Weapons channel for more interesting firearms...