I - Introduction
No matter how much you try to escape it, reality will eventually hunt you down and catch up with you. We inject realism into almost everything we do for entertainment: music, movies, TV shows and of course, videos games. They are all imbued with a touch of realism to remind us of our ties to the real world, and this is quite ironic considering that the entertainment industry was created for the sole reason of giving us an alternate version of our world, where we can escape our daily life and all its "real" concerns and worries for a couple of hours.

While many games simulate a realistic portrayal of life, there is a fair number of them that are quite "unreal" and beyond what you can label "realistic". But even these games that are "out of this world" need to have a touch of realism; they need to have some logic in them otherwise we would shun them. We are still rational creatures after all (most of us, anyway) and we dislike everything illogical or counter-intuitive. We cannot escape the realism roots that are embedded in our minds and logical thinking.

II – Realism and immersion factor
In level design, realism is about the immersion factor: how much does the player feel immersed in the world he is roaming in? How much does this world mimic a real place that the player can identify with? How much is the story real and how much does it play on the human condition to reach and stir the player's emotions?

Realism in games/game design can be broken down into several categories:

Graphics: With the advancement of today's hardware technology, graphics are starting to contribute to the overall realism in a game. Crysis 3 and Battlefield 3 are 2 examples where photo-realistic textures blur the boundaries between real and computer-animated.
Story: Long before we had shiny graphics, games (good ones at least) relied on a solid and believable story to convey realism and hook the player in. We have an added realism bonus if the story believably unfolds in the current world; the player can even see it happening to him and project it onto himself, with all its happy as well as grim moments. Max Payne 3 and Far Cry 3 are two examples of stories developing in this world in current time where the player can easily see himself in the shoes of the main protagonist.
Location: This is a pretty powerful aspect when it comes to realism and immersion. Nothing beats real-world locations in conveying a sense of realism into the game. A spot-on example would be GTA IV and V with their rendition of New York and Los Angeles respectively.
Gameplay mechanics: The game mechanics can inject a big boost of realism if they accurately mimic their real life counterparts. I can't help but give the example of Infiltration, a free military simulation mod for Unreal Tournament that I played heavily back in 2000-2001. The weapon models, sounds and animations, the player models, the way you slowly move, jog or run, lean around corners, go prone or aim through the iron sights, not to mention the accurate projectile ballistics and the one shot kill, are all so "real" that the game itself is more tense and scary than a game full of demons and closet monsters (Doom 3 I'm looking at you).
We can now agree on how realism can be injected into games to make them "real". But what about the games that are inherently "unreal" with grungy/cartoonish textures, totally unbelievable or non-existent story, locations out of this planet and game mechanics that will instantly kill you should you try them in real life (rocket jump anyone)?

Games like Unreal, Quake, Doom and Team Fortress 2 are totally unrealistic and do not abide by any of the realism criteria mentioned above, but as I stated in the introduction, we are rational creatures and we need to inject a touch of realism in these games somehow, just to come to terms with our logical reasoning.

There are many ways to introduce this touch of realism and one of these techniques revolves around the non-playable area of the map. By definition, this is the area that is not accessible by the player in-game . Its main goal and duty is cosmetic, to embellish the level's aesthetics; but correctly designed and placed, this non-playable area will give the player a sense of place, time, scale and direction in even the most unreal of locations, stories and graphics. This will ensure that the player will have a sense of realism and be able to project some logic onto his surroundings.

The non-playable area is equally, if not more, important in realistic games to let the player have a total immersion in the map.

III – The non-playable area
As we have seen, the non-playable area's main duty is to serve as an aesthetic background to the playable parts of the map. This same area can be cleverly designed and used to add a touch of realism and logic to help the player understand his surroundings and act reasonably while he advances in the playable part of the map.

To showcase this technique, I will resort to Half-Life 2: a game that is "unrealistic" but with a hefty touch of realism (Actually HL2 could be used to demonstrate all theories of level design).

Half-life 2 is renowned for having a mute protagonist; Gordon has not uttered a word since 1998 and probably never will. In addition, the game does not spoon-feed you what you need to do using text objectives, maps or markers and directional arrows; instead the player has to rely on non-playable characters (NPCs) and his surroundings, including the non-playable area, to understand the situation and act accordingly.

The non-playable area in HL2 serves as a nice background to extend the playable area and at the same time functions as a compass to enhance the player's situational awareness.

Let us see all this with screenshots:

Half-Life 2 – Route Kanal chapter



Not much of a screenshot in terms of beauty, huh! After all, it's a sewer/canals system and for the untrained eye, this is just a random environment.

Let's dissect this screenshot and see how the non-playable parts of this map are injecting useful information for the player and adding a touch of realism to the overall level.

Sense of place: the first elements that we notice are the bridge, the residential buildings and the citadel. This immediately tells us that we are in the city, more precisely in the sewers or drainage canals. Some of you might be saying that this is too easy to deduce; well, of course it is and that's thanks to the non-playable part of the map which gave us all this useful info. Let me show you the same screenshot but without the non-playable area.




Not so evident now, is it. Without the non-playable part, this screenshot could be of a desert, countryside, or for all that we know another planet. The playable part can easily be confused now with an abstract deathmatch level from Quake; without the non-playable area, we simply lose the sense of place and get disoriented.

Sense of time: Going back to the first screenshot, we can extract another useful info about the time. It's daytime, duh. Sarcasm and joking aside, the buildings in the background are still intact with no apparent destruction; this tells us that we are in the pre-war (or pre-riots) era of the game where the city is still under tight combine control and is relatively serene.
Sense of direction: Our ultimate goal in HL2 is to reach the Combine HQ and defeat them in their own home. For this end, the citadel in the map's background serves as a compass to direct your movements and actions throughout the game. The citadel's size also gives you information on how you are close or far from it.
Sense of scale: Judging from the screenshot elements and composition, we can infer that we are on ground level, surrounded by normal-sized structures with no imminent threat of falling down or being crushed. The elements in the non-playable area help us assess our situation and decide on the gravity of our current position.
You want more screenshots I hear you say! Well, it's your lucky day and I have some more to showcase the non-playable area.

Half-Life 2 – Follow Freeman chapter



Looking at this screenshot, we are still in the city, more precisely in the historic city center judging by the old 18th century style buildings and the cobblestone roads (place). If we look at the background, we can easily spot partially destroyed buildings with smoke and fire erupting from virtually everywhere. The roof of the foreground building is also heavily damaged; all these are clues to the time of the map (no, it's not at dusk). We are now in the post-riot era of the game after Gordon successfully manages to start a city-wide streets war by pitting the resistance against the remnants of the Combine force (time).

Let's check this screenshot from a different location and angle.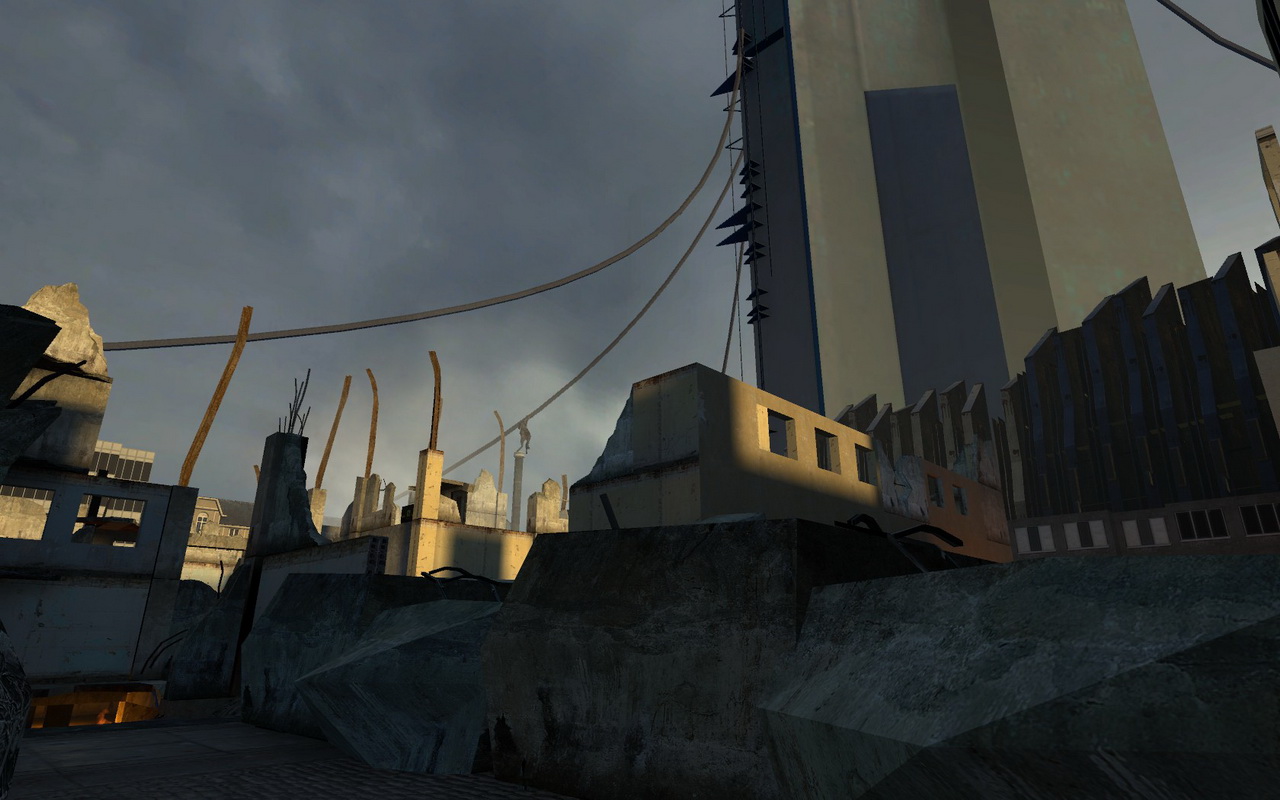 The citadel is still here to serve as a reference point but now you can see that its size is huge and its outer walls are within range. This will be a signal that you have reached your ultimate destination and that you are about to enter the citadel (direction).

Judging by the size and height of the citadel, you can mentally prepare yourself as a player for the long vertical journey that you will have to endure in your uphill quest towards its top (scale).

I couldn't help but include a screenshot from inside the citadel.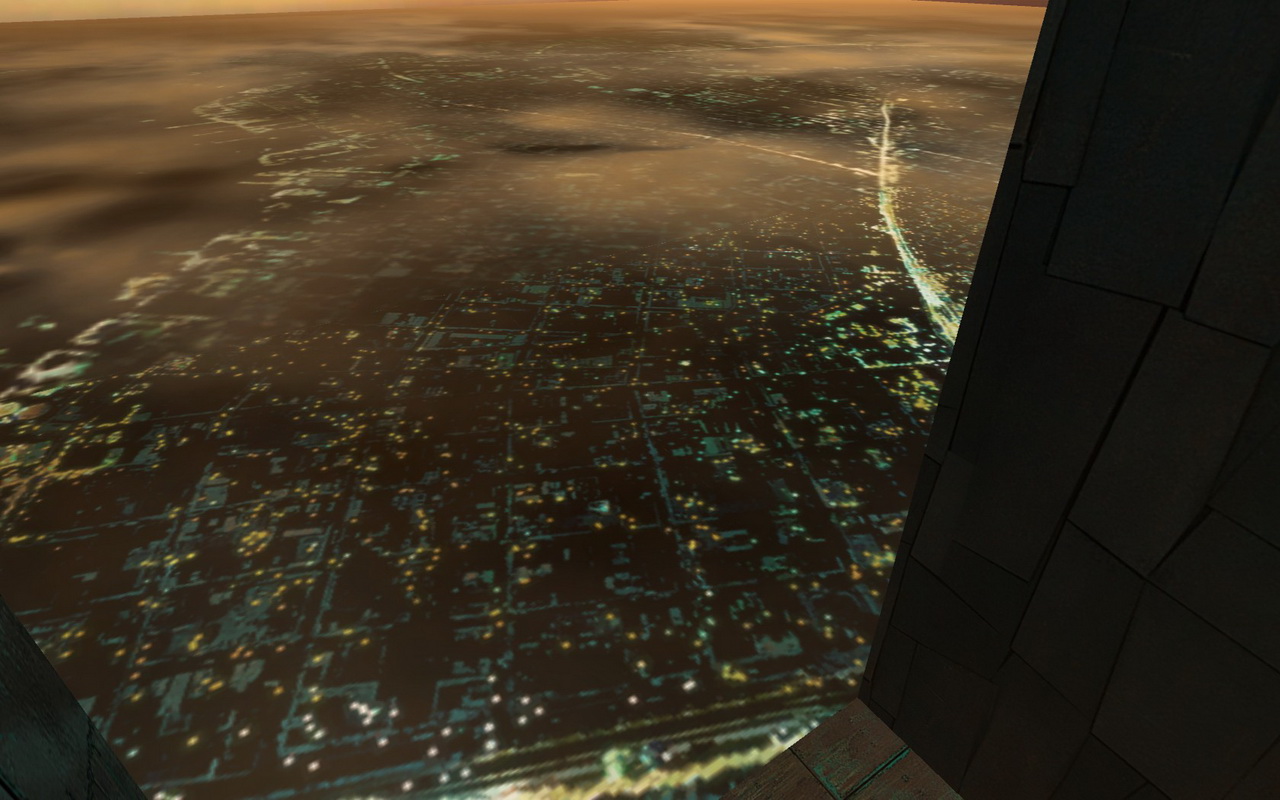 Half-Life 2 – Our Benefactors chapter



We are now way up high near the citadel's top and there is no denial of the sense of scale here; seeing the city so minuscule and stretching to such extent gives us the feeling of danger and helps us stay alert to avoid any wrong moves or false steps that could send us downwards to our untimely demise. The non-playable area also obviously tells us that we are on the citadel's top level (place) and that we need to keep pushing upwards (direction).

To wrap things up with HL2, let's have a look at the opening map of HL2: Episode 2.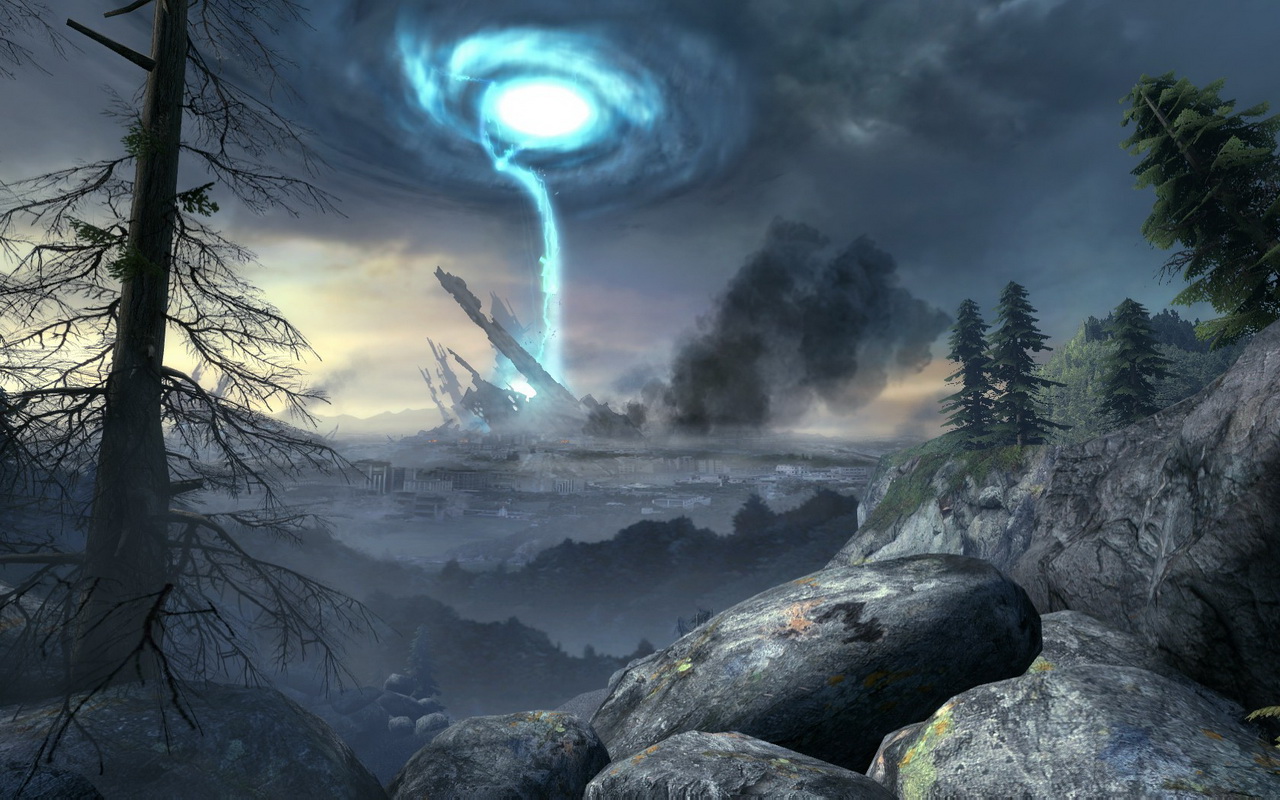 Half-Life 2 Episode 2 – To the White Forest chapter



What a majestic screenshot and full of useful info thanks to the non-playable area. We are now clearly in the countryside overlooking the city, more precisely in a dense pine forest (place). The city is devastated and the citadel has crumbled to the ground in ruins after its core exploded (time). The blue scary super portal that goes from the decayed citadel to the sky is a clear indication that we should be heading the other way, seeing that this portal is about to blow up (direction). The city in the background looks tiny and very distant indicating that we are already far from it and returning back is not a viable option (scale).

The non-playable area works extremely well to convey realism in single player games as we have amply seen in the examples above; but what about multiplayer games which are not story-driven by nature?

Well, surprise, surprise, the non-playable area works in the same way as in single player. Hard to accept at first but it gets easier with examples and screenshots.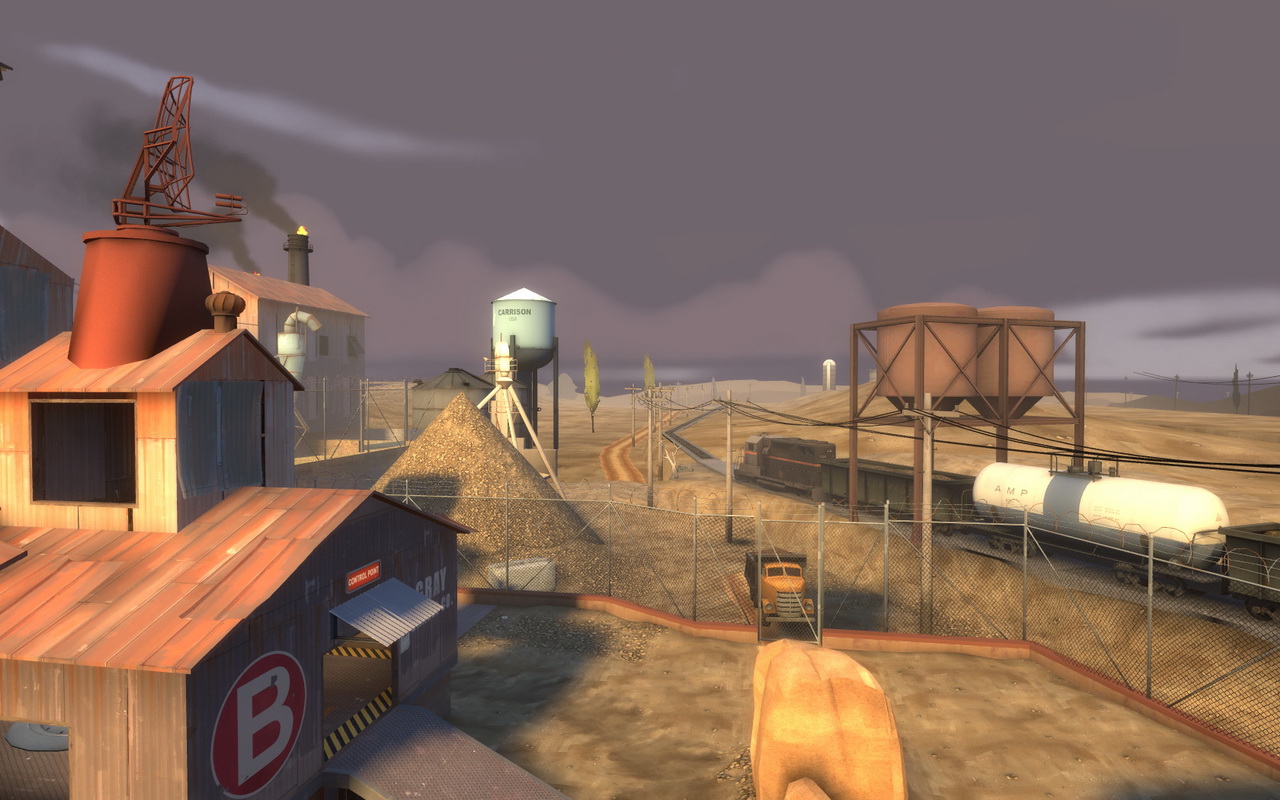 Team Fortress 2 – Gravel Pit map



TF2 is an unrealistic game taking place in the fictional themed universe of "Evil Genius", where evil corporations plot their deeds and hide their malicious tools of destruction in ordinary warehouses and farms lying innocently in plain sight. And being a multiplayer shooter, TF2 does not have a traditional "story" either.

However, the cleverly designed non-playable area manages to instill a touch of realism in this surreal world and offers the player plenty of rational information to guide him through the level.

Checking the screenshot above, the non-playable area consists mainly of the 3D skybox of vast desert-ish fields with some trees and power lines in the far background. In the near background, we can identify a train with tracks going as far as one can see, a truck with a dirt road going through the horizon, some silos, a water tower, heaped piles of gravel and some industrial buildings with chimneys and smoke.

Needless to say all these clues point to the fact that we are in an active quarry or industrial manufacturing plant in the open fields (place). The motionless train and truck coupled with a closed fence indicate that we are at the off-hours where the plant is empty with no employees to be seen (time).

The massive fields surrounding the plant intensify the sense of vastness in the level and imply that there is nowhere to run other than inside the facility (scale). With all the clues that we found in the non-playable area, and with all the signs in the playable area pointing to evil corporations in action, we easily deduce that we are here to fight and take control of the facility, defeating the rival corporation in the process (direction).

That's the beauty of the non-playable area; a screenshot from an unrealistic game can tell a thousand realistic words.

To wrap up our journey and sweeten the deal, how about we close things up with an example from Counter-Strike; and what better choice than the old time favorite duo of dust and dust 2.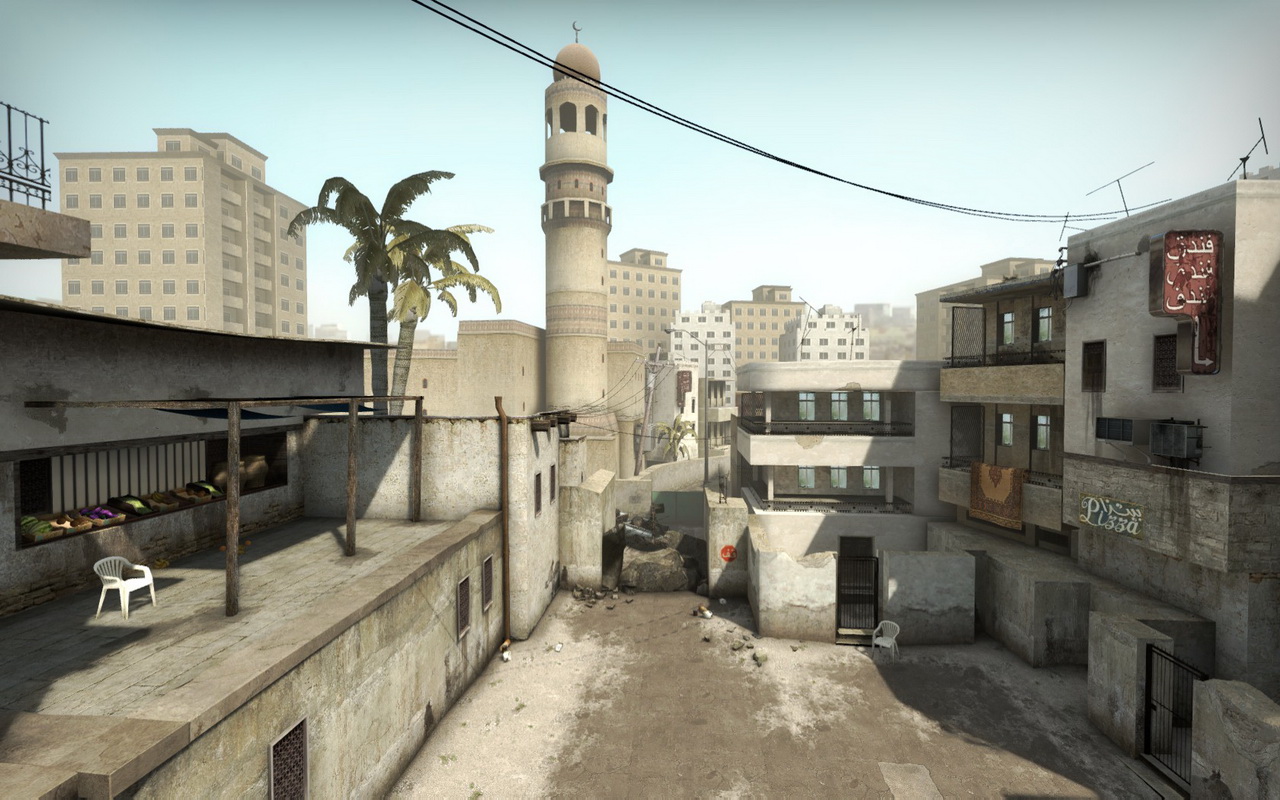 Counter-Strike: Global Offensive – Dust map


Counter-Strike: Global Offensive – Dust2 map



Looking closely at the non-playable areas in the 2 screenshots, we can spot a technical (civilian pickup truck mounted with a .50 Cal machine gun), barricaded road with debris and fences, a mosque, some destroyed buildings, ravaged and bullet-ridden building facade and buildings burning with black smoke in the far background.

What does all this tell us?

We are in a heavily war-torn zone, most likely in the Middle East or North Africa, in a city close to the desert that used to be bustling with life (place). Judging from the burning fires across the city and the technical and Hummer at the entrances, we know that we are in the middle of an active war and that we are weapons-free, or more precisely in a situation of shoot to kill (time).

Examining the 3D skybox with all the burning buildings, we can notice that we are part of a bigger town and this war is full-blown, not a simple street skirmish (scale). Seeing all the exits blocked and being in a full-scale war and weapons-free, we will instinctively head to the center to try and capture the city and bring it under our control, defeating the rival faction along the way (direction).

Just by scrutinizing the non-playable area, I was able to get the full story behind the map.

IV – Conclusion
In a nutshell, the non-playable area of the map is one of its important assets in terms of aesthetics as well as of realism.

The non-playable area can bring a ton of useful info to the player allowing him to better understand his surroundings and devise a reasonable plan to advance accordingly. And as we have seen, this can also happen in the most unrealistic of games; the non-playable area brings a touch of realism to every map where it is used, regardless of the game's realism and genre and whether it is single or multiplayer.

Many level designers overlook this fact, by ignorance or by laziness, and build their playable areas while neglecting or completely disregarding the non-playable area. Needless to say these designers are missing an important factor to make their maps more appealing, realistic and logical, and to totally immerse the player in an enjoyable ride.

Using the points discussed in this article, always design the non-playable area of your map to introduce a touch of realism to the level by giving the player a sense of place, time, direction, and scale; the total immersion package.

I hope this was a useful read and will help improve your future projects' overall player experience.

Will2k

April 22, 2013