> I think we can all agree that the journey has been a long and arduous one. Issuing from murky and uncertain origins, Counter-Strike: Global Offensive was originally destined to be nothing more than a console port of Counter-Strike: Source, fated to never be granted access to the coruscating higher echelons of the PC-gaming world; however, deep in the feculent bowels of the Valve Corporation rumblings stirred, and before long Global Offensive had metamorphosized into the cross-platform prophet for next-gen FPS gaming - leading us all hand-in-hand towards the promised land! During nearly eighteen months of initial development time all we could do was cogitate, speculate, and theorize as to the wonders that would be to come... until finally in the late summer of 2011, CS:GO was revealed to the world; little did we know the tribulations were only just beginning! The subsequent horror of the endless beta trials left many traumatized and scarred for life. Whilst the chosen ones -- the beta-key elite -- could frolic freely through Valves new Shangri-la, the rest of us dined on mere scraps, desperately trying to appease our curiosity by downloading _csgo maps submitted to GameBanana and seeking out those few golden minutes of CS:GO videos on YouTube. Back in that cimmerian and heathen age it seemed that the day would never dawn, and that the new-improved Source lighting engine would never shine upon us. But today all this is little more than fading nightmare, a discordant echo from a time best forgotten. Finally we have all had a chance to experience CS:GO, its beauty and its bugs, its innovation and its ineptitudes. We have had a chance to experiment with the authoring tools, unravel the new protocols, and grapple with the engine upgrades. So now let's sit back, clear our heads and take some time think about the changes this new installment of the CS franchise may present for mappers, level-designers, environment artists, and what each of us wishes to achieve personally with the new title, tools and engine. Welcome to CS:GO, Pro-Gaming and Environment Art! This will be the first in a series of four or five articles, during which I will examine and discuss some different aspects of the map creation process for Counter-Strike: Global Offensive. I will talk about some things mappers may want to take into consideration when designing levels for GO; things like the balance between conceptual design and gameplay requirements and what really constitutes "good" graphics or visuals. I will also be offering some advice and suggestions concerning approach, technique and implementation. Although not really intended to be a tutorial, hopefully the topics discussed in these articles will give novice mappers some pointers that will help them with their level design, and will give more experienced mappers some food for thought, presenting them with ideas and techniques that may differ from their own. Because in the end mapping is a creative endeavour -- as a result is highly subjective -- where different people will have differing philosophies and priorities when building their levels; there is little that can easily be classified as either "right" or "wrong". Throughout these articles I will try to balance my own opinions and feelings about level design with what I believe the non-mapping Counter-Strike community really looks for in their custom maps. The most important thing is not that you agree with everything I say, or take everything written here as the gospel truth, but that as mappers you are encouraged to analyse your own approach to map making and to try to see that process from as many different angles and perspectives as possible. More than anything else I hope to promote community discussion/debate, the sharing of ideas, and to encourage mappers to interrogate themselves about their own design techniques; help them to deconstruct their own methodology and maybe help them to gain insights into their own feelings about map-making. In this first article I will set the stage a little for what is to come, talking about CS:GO the game itself, the history of Counter-Strike in general and at the gaming/pro-gaming community for whom we make our maps. So, without further ado... let's get started! ============================================= Global Offensive is the third incarnation of Valve Corporations worldwide No.1-selling multiplayer FPS. The series, originally created 13 years ago by Half-Life modders Minh "Gooseman" Le and Jesse Cliffe, immediately became a huge international success (the version they created eventually becoming what we know today as CS 1.6). 2004 saw the release of Half Life 2 on the Source engine and with it a came completely new version of Counter-Strike, featuring altered gameplay and the vastly improved graphics of the Source Engine. Now, in 2012, this latest offering heralds the introduction of the franchises second major engine change and second major gameplay revision. Many debates and differing opinions can be found on internet forums concerning the Source engine and its past, present and future... however, I think in a direct side-by-side comparison between Global Offensive and the original 2004 release version of CS:Source, most people would be hard pressed to claim that the two games were running in the "same engine".
_Video comparing visuals in Counter-Strike Source and Counter-Strike:Global Offensive maps:_
_Seen side-by-side like this it becomes clear just how dramatic the difference between them actually is._
In my opinion Global offensive looks good, it really does. While Source may no longer be the most sophisticated game engine on the market I can honestly say that from a visual standpoint I believe that CS:GO more than holds its own with most other modern FPS titles running on newer engines. Source may not have the rendering power of Cry or Frostbite, especially when it comes to open-world environments, but it also lacks the FPS issues that can plague these types of engine. When compared with MW3 on Infintiy Ward's engine, I think I still prefer Source. MW3 may have the edge concerning the visual complexity of the environments; however, I find the CS:GO visuals to be clearer, crisper, and smoother. For gamers and mappers very familiar with previous Source titles I think it's interesting to look at the new CS:GO maps and still see that old engine underneath -- the friend we have come to know and love (!). Just now with a vastly different emphasis in its implementation which gives the levels far more depth and complexity than before. I believe that Global Offensive offers mappers and level designers an exciting new range of possibilities and I am really interested to see what the custom mapping community will present for us over the coming months and years. A word of caution, however; whilst CS:GO undoubtedly opens wonderful new doors and offers exciting new opportunities for mappers, the fundamental nature of Counter-Strike itself means that we are also now faced with a new set of dilemmas and problems to consider. Since its release in 1999 the Counter-Strike franchise has enjoyed a huge commercial success. Its broad appeal, combined with intelligent, balanced and "no-frills" gameplay has made Counter-Strike one of the biggest names in the FPS pro-gaming scene for many years. As with any other game Counter-Strike's pro-scene has a huge influence not only on the games development itself, but also on the entire CS gaming community. SpawN, f0rest, devour, Ksharp; these are the stars, the Ronaldos', the Messis', the Bucketheads' (!)... The heroes of the Counter-Strike scene. Gamers marvel at their skills, watch their videos on YouTube, try to learn their techniques and dream that one day, they too, will come close to the same mastery of the game. And just as any young footballer can buy Ronaldos boots or strip, so gamers too can copy the CS stars. We can use the same controllers as them (mice, keyboards, etc), we can reproduce their gaming systems and setups, and we can even download their autoexec and config files for our own private use.
_A couple of pwnage clips showing the legendary Kyle "Ksharp" Miller in action_
_Don't it just make you sick?! :)_
The Graphical Advantage? ======================== The skill level in the pro Counter-Strike scene is obviously exceptionally high, and to survive in the professional scene the pro player needs every slightest edge that they can get. A few pixels rendered more clearly a few frames earlier as an opponent comes around a corner can mean the difference between life and death, pwner or pwnee! Subsequently pro gamers have a long history of turning down their graphical settings in order to improve visual precision. In the past improving FPS was a major motivation for reducing settings. Over recent years however this has become less of an issue, certainly for CS 1.6 but also for Source and now even CS:GO as well. Higher end SLI graphics cards are now easily capable of running CS:Source at a steady 300 FPS on maximum settings (and although I haven't tested or researched it I imagine that SLI 570 GTX's and above could run GO at well over 200 on highest settings), and it can be seriously debated whether once the 250 or so FPS barrier has been passed the human eye/brain is even capable of detecting a significant difference.

_If you're interested in learning more about FPS then [here is an interesting article](http://www.100fps.com/how_many_frames_can_humans_see.htm "FPS article") talking about the subject._

Despite this general increase in graphical rendering power the tendency to turn down graphical settings still persists. The reason is that simply by removing many of the more visually "pleasing" effects (shaders, lighting, filters) player-character models tend to become slightly easier to see on the screen and slightly easier distinguish from the backgrounds. This effect is particularly well demonstrated in another Source mod called The Hidden, where SWAT (IRIS) teams fight against an "invisible" alien who is cloaked like the predator. The Hidden alien becomes noticeably easier to see when the graphical settings are turned down to their minimum values. Although, in my humble opinion, the advantage gained from doing this in most Pub servers and lower-level clan matches is somewhat negligible (for the most part the standard simply isn't high enough), many players still choose to turn down their settings. Personally I always leave my settings on maximum, as an environment artist I like my levels to look nice, even when I'm absorbed in the game, and I just don't believe that at my skill level reducing the settings makes that much difference to my game. However, I was surprised recently to talk to a young CS:S player who only plays on Pub servers, has a good PC, and normally finds himself in the lower half of the scorecard, who told me that he always plays the game with HDR and other settings turned off. I imagine he's not the only one either, I'm sure there are many players out there who are involved in the CS community and are strongly influenced by the habits that filter down from the competitive scene. One only needs to take a quick look at the number of "\_se" type maps that have already been submitted to Game Banana to see that a large part of the gaming community thinks that the standard maps are not "competitive" enough (agreed it is also probable that this is partly due to the fact that "\_se" maps are very easy to release, as it basically only involves decompiling the official maps and deleting a bunch of stuff)
_Comparison between highest and lowest settings in CS:GO and CS:Source_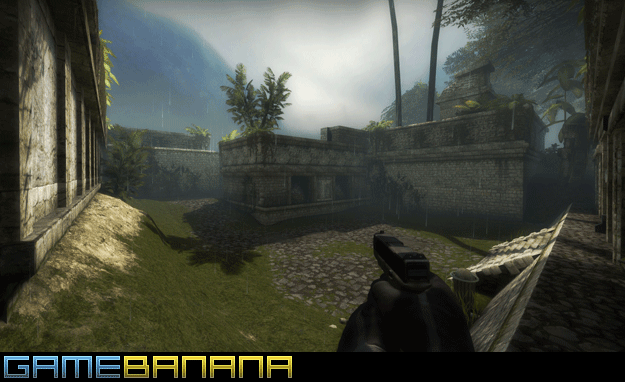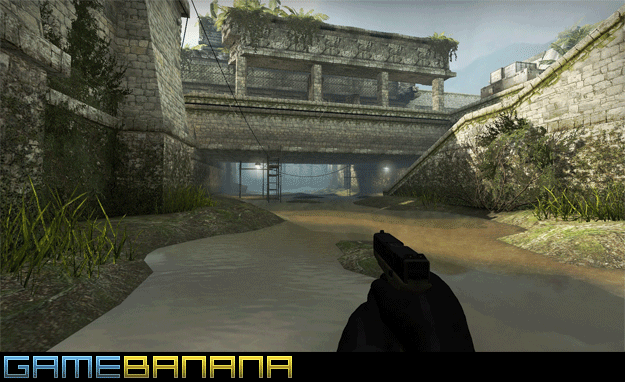 _...and in CS: Source:_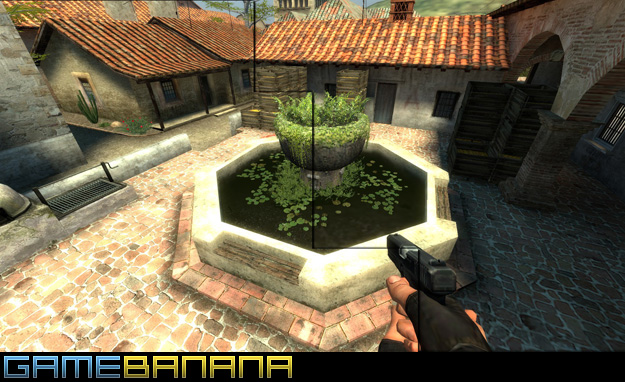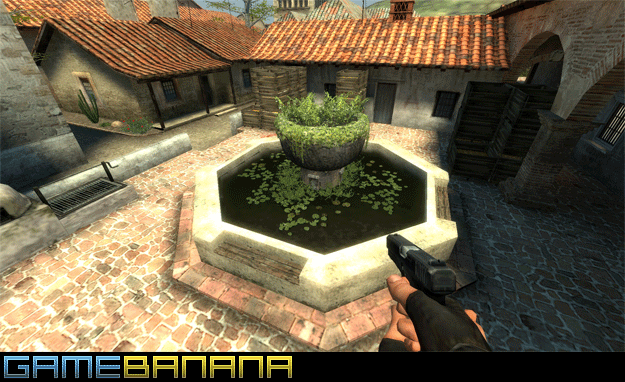 _For these screenshots I had CS:GO and CS:Source on either the very highest or very lowest settings. I chose aztec because I think it's one of the very few maps where lowering settings can make a difference to gameplay (at least for me). As these images are fairly low res (needs must for the article) the difference isn't nearly so obvious as when you are actually in-game. If you are interested to see the full-sized high res images you can download them here_
So where does that leave us as level designers and mappers? =========================================================== On the one hand we have a new engine pushing us towards greater visual complexity and giving us box full of bright shiny new toys to play with. On the other hand we have a hardcore gaming community demanding relatively minimalist and clutter-free gaming environments, where only their K:D matters. Can the two coexist or are we forced to choose? What are the limits and goals we must set for ourselves when creating maps for Global Offensive? If we want our levels to be popular, must we ultimately sacrifice visual artistry and creative freedom for community standards and gameplay requirements? I'm sure that there isn't one answer to these questions that will hold true for all mappers. As I said before mapping is a creative process and therefore highly subjective, and what is ultimately important to us as mappers comes from our own personal experience of the game. Speaking just for myself I can see the truth in both sides of the argument: On the one hand there are many purists out there who believe that 1.6 is the only serious "hardcore gamer" version of the Counter-Strike. Whilst this is undoubtedly due to certain gameplay characteristics and idiosyncrasies typical to 1.6, it is also partly because of the no-frills visual simplicity of the game. It's the experience in its most "pure" form, no fancy lighting, effects, particles and such - just tactics and marksmanship. However one could easily argue; why stop there? Surely the experience would be even more "hardcore" with fullbright lighting, all the world textures replaced by shades of grey and all the player models turned bright orange . You could even forget the player models altogether and just render the hitboxes directly on the screen. I've heard many 1.6 players call Source a "noobs" version of the game, and whilst I understand why they say this (bigger hitboxes, different gun mechanics and movement) from another point of view it doesn't make much sense. Do multiplayer games really have an inherent difficulty? Isn't the game only as "nooby" as the players you are up against? Maybe in Source the hitboxes are bigger enabling less skilled players to get more headshots, but this is directly contrasted by the fact that better players will get even more headshots, from further away, so in the end it all balances out. My point is that so long as all players are experiencing the environment in the same way, the game is still "fair". Maybe it's harder to see on a map with lots of detailing, models, fog, etc, but it's also harder for your opponent. One could therefore easily argue that it's fine to build complex and highly detailed levels, so long as all the players are experiencing the same thing then it is still fair. Having said all this, I only believe it to be true up to a point. As a player I know how immensely frustrating it can be when it seems like the environment is working against you and is responsible for your deaths. Whether it be getting caught on an invisible ledge or badly clipped area, being unable to see the opponent through fog, sprites or models, getting stuck between prop meshes, or being shot from impossible to cover angles, there is an extremely fine line between an environment that challenges the player and one that simply hinders them. As mappers we should never forget that when it comes to their KDs most Counter-Strike players take no prisoners. If their score is lower than they would like (and if they feel that they can get away with it) the map will always be the first to be blamed... RTV!!! So, must we choose between good looks and good gameplay? Well, hopefully not. If we exercise a little care, attention, and good sense I believe it's perfectly possible to make stunning maps with balanced, enjoyable gameplay. Personally I am hugely excited about the possibilities for environment creation in CS:GO, and not uniquely because of the engine upgrades. There seems to have been a notable shift in the gameplay of Global Offensive, moving away from the Source style of play and returning to a more 1.6 feel. Combine this with the new supported game types, such as demolition mode, that bring new level requirements not really seen in Counter-Strike before, and we find a range of new and interesting avenues opening before us. Throughout the rest of the series "CS:GO, pro-gaming and environment art" I will look at some of the different aspects of mapping for Global Offensive from a more practical point of view, suggesting some ideas, techniques and approaches that Counter-Strike mappers may want to consider and adopt when building their levels, and hopefully providing solutions for some of the issues raised in this article.
Article by k@rt
CS:GO, Pro-gaming and Environment Art Pt II coming to GB soon...
![End Image](http://files.gamebanana.com/bitpit/cs_go_2.jpg "End Image")