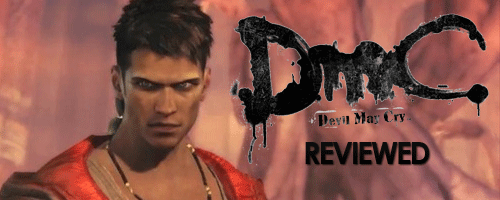 The original Devil May Cry was released in 2001, so maybe it really is time for a reboot, or at least a new take on the series. Then again, maybe it's time for developers to come up with some original Intellectual Properties for once (ridiculous I know). There has been a lot of controversy in the years leading up to the release of DMC, which is expected when a quintessentially Japanese franchise is handed over to a western developer (see Silent Hill), and I must admit that as a fan of the series I was a part of the angry mob which was up in arms about Dante's new hair color. I will be the first to admit that I was completely and totally wrong. DMC kicks ass, and here is why: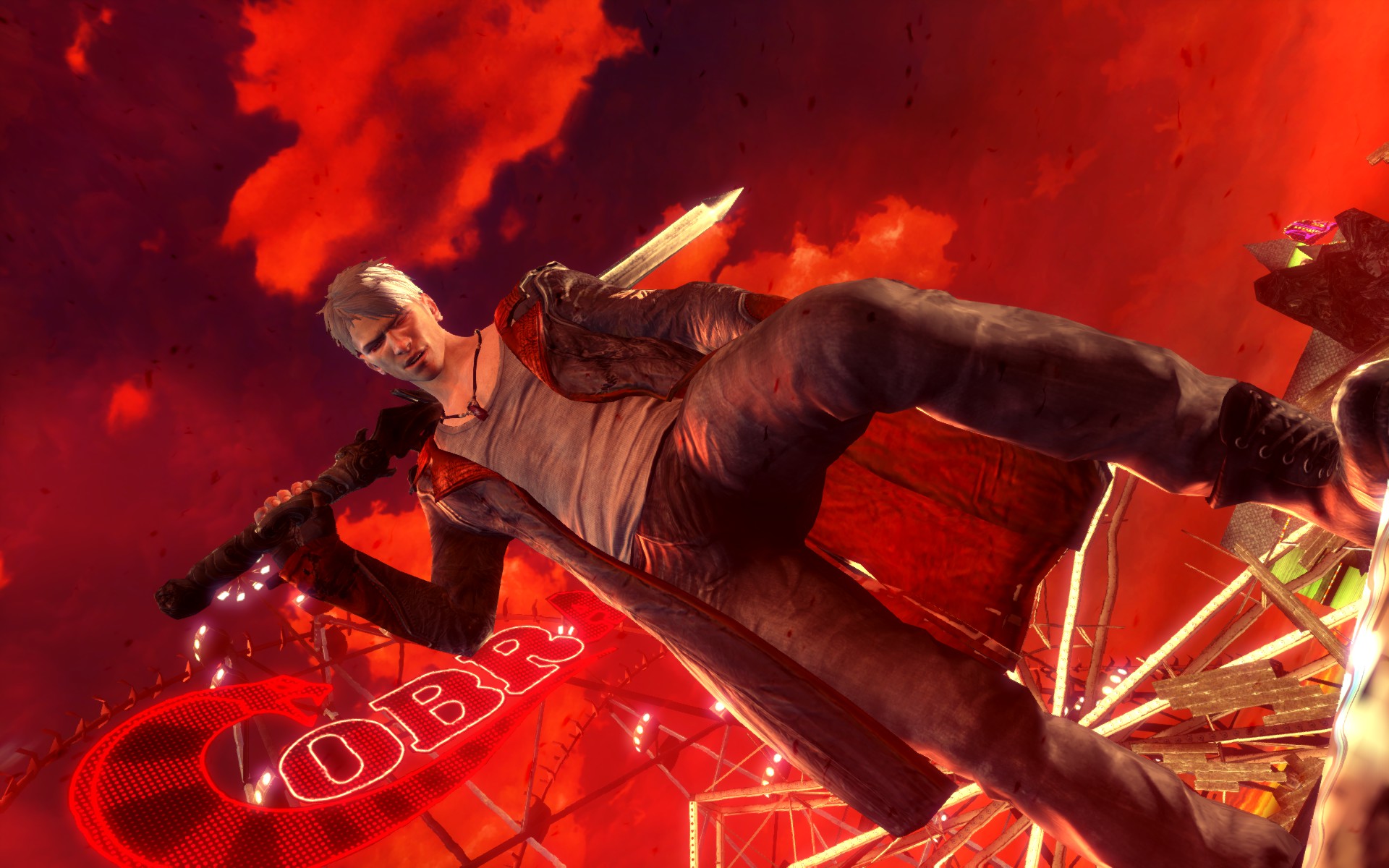 DMC feels like the original Devil May Cry games of the PlayStation 2 era. The combat is smooth and stylish and flows perfectly, like a majestic river of blood and demon limbs. Just like the old games, players must chain attacks together into combos using several weapons including swords, guns, axes, scythes, and fists to rack up points and increase their combat rating, which is graded on a letter scale (sort of like the final exam of your over-indulgent violence 101 class). Blood, guts, and bodies go flying as you chain together combos on the ground or in the air for an incredibly satisfying and nostalgic "Devil May Cry" -ish experience. Attacks are split between demonic and angelic; hold the left trigger for angelic attacks, the right for demonic attacks, and no trigger for regular attacks. Each set of moves have their own advantages and disadvantages. Yes I said triggers, and yes I did play this game on the PC: don't even try to play this game with a mouse and keyboard (the game will crash if no controller is connected). The one disappointing aspect of the combat is the lackluster boss fights. There are only a few bosses in the entire game and they all feel disappointingly routine, usually involving jumping over a laser or spray of acid and waiting for something on or around the boss to flash red so that you can grapple onto it, then beating it to death. However awesome this may be the first time, it gets old when over half the bosses require the same strategy.
DMC is certainly a good looking game, and seems to be stretching the Unreal Engine to its limits without killing the frame rate. The environments are pretty standard, featuring dirty city streets, warehouses, and old mansions. That is until you are pulled into "Limbo", the space where hell earth meet, and all the game's action takes place. Limbo's environments are truly unique and bizarre, and are basically torn apart and corrupted versions of the human world you just walked through previously. Limbo versions of earth often show the true face of things, and the world itself is your most formidable enemy. The design of the enemies is a bit jarring, as when I think of demons I rarely imagine steampunk melding of flesh and machine, but it fits the more modern direction the series is taking.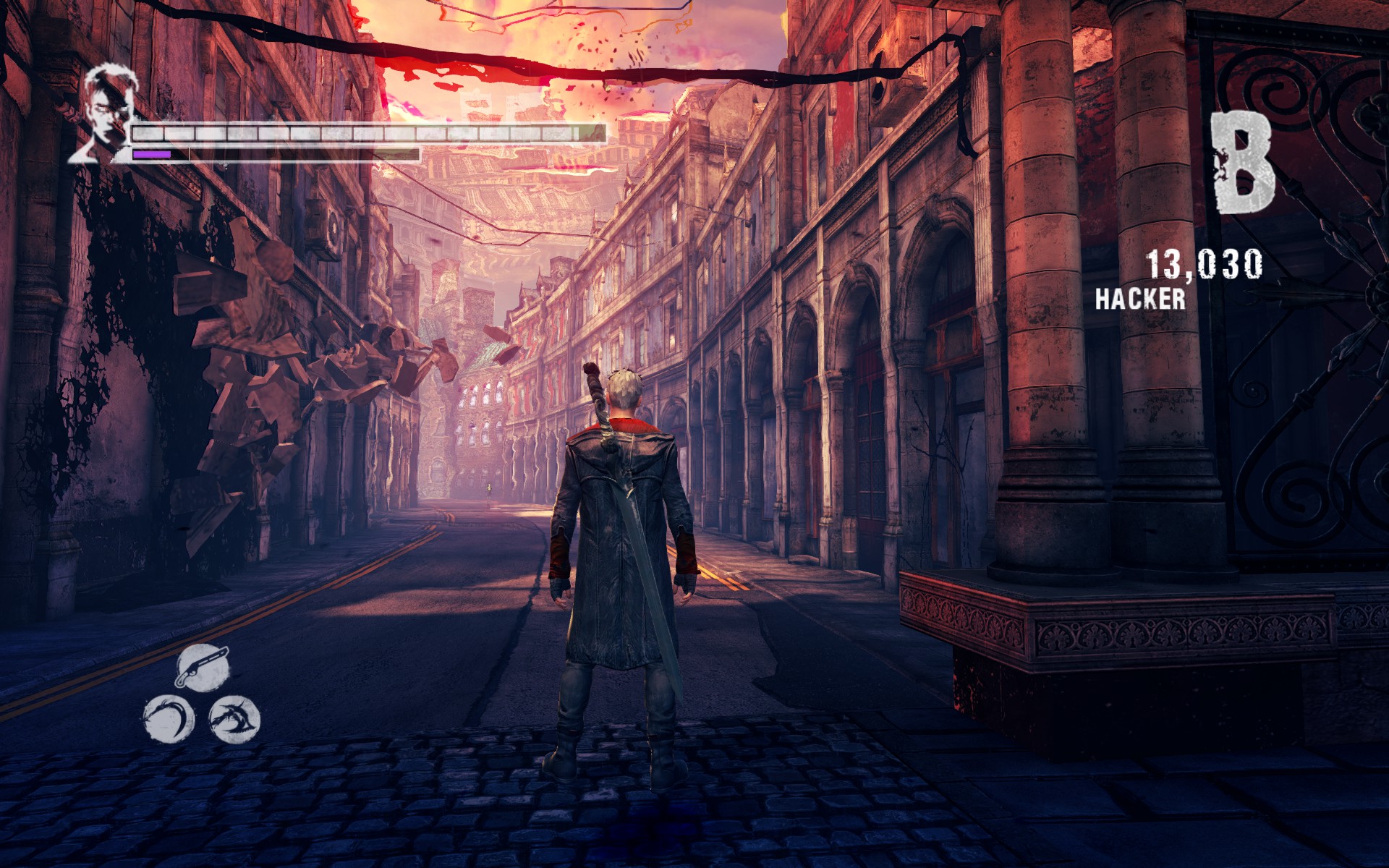 The story of DMC is, in essence, the same story as every other Devil May Cry game: Dante needs to kill one big demon by first killing several hundred smaller demons. The story is never why anyone plays these games, but for once I tried to keep up with it and was often left frustrated. I don't mind a game having a message, so long as it isn't dumb, but there is a kind of game which benefits from a political undertone (such as Spec Ops: The Line), and a kind that does not. Devil May Cry is most definitely the latter, despite its attempts to inject an edgy political undertone by having the main villain as a man in uniform who "controls the world through debt" and controls people's minds via a thinly veiled strawman of FOX News, and fattening ingredients in energy drinks. It's very cute that you think FOX News is bad, Ninja Theory, welcome to the year 2002, now slim down the cutscenes and let me kill some freakin' demons.
I did say that DMC feels like a real Devil May Cry game, but something still feels a bit "off" about it. I liken it to having a friend with a beard, and one day this friend shaves his beard. Suddenly he seems strange, and you can't quite put your finger on why. Something about DMC is very weird. It could be that the story tries so desperately to be mature and gritty, which is just bizarre in contrast to the over-the-top and almost wacky combat system. Or it could be because I was such a huge fan of the series before and the use of all the same character names with entirely different appearances and personalities just becomes confusing. They could have very easily renamed Dante Bob, and Vergil Steve, and just called it a new game instead of piggybacking on the Devil May Cry brand recognition.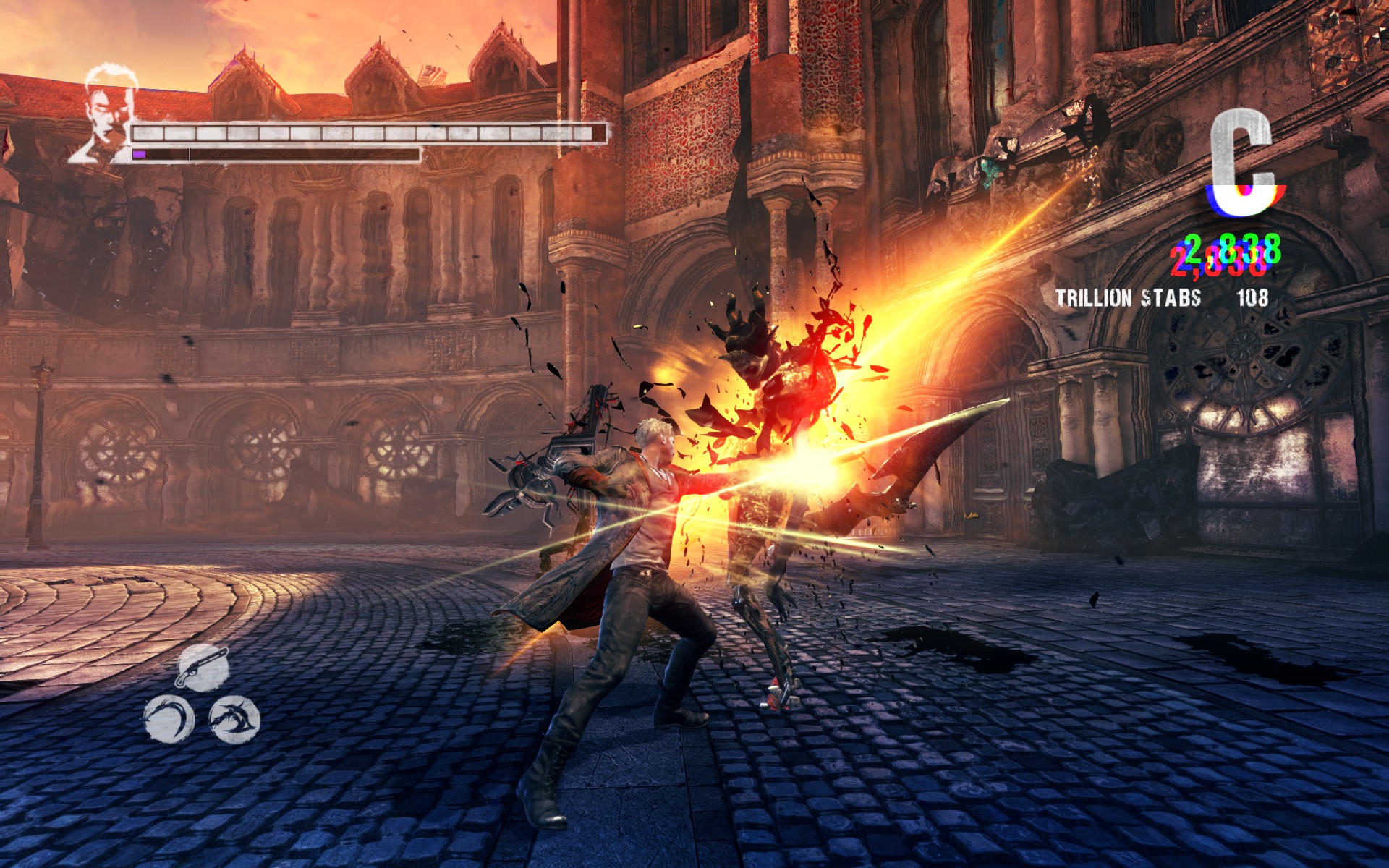 But these are all minor criticisms, politics really, because the big question is this: "was it fun to play" and I say "yes" without a second's hesitation. I have not been so pumped up while playing a game in a very long time, and I plan to play it over and over again on the hardest difficulty because it was just that engaging. So if you are a fan of the previous games check this one out and you will see its not Dante's hairdo that makes the game awesome, and as for newcomers, you owe it to yourself to have this experience. Just make sure to buy all the previous installments afterwards.