In a world of puzzles riddled with shadows and patrolling enemies - one character must platform his way to quick, sneaky victory relying only on his stealth, instincts and luck.
Stealth Bastard - Tactical Espionage Arsehole
Stealth Bastard is a free (completely 100% free!) stealth 2D platformer. Developed by Curve Studios, SB puts you in the stealth suit of a character we can only determine to be one stealthy bastard.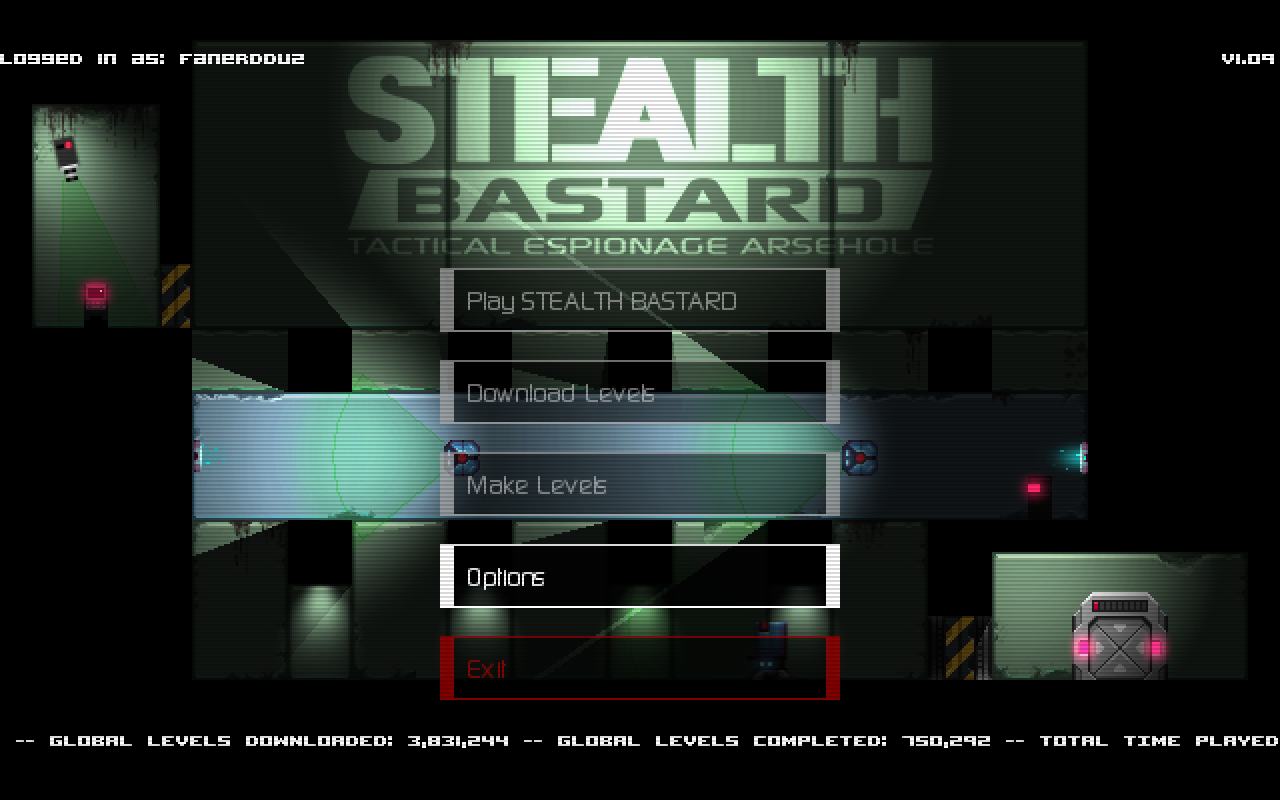 You play through a series of increasingly challenging levels populated with lasers, robots, giant rotating saws of death and other various nefarious obstacles that attempt to impede your progress. Stealth Bastard takes cues from the Splinter Cell series by making a visibility meter one of its main pillars of gameplay mechanics. Move through the shadows to stay hidden from any patrolling foe -- but plan accordingly because not all areas are cast in shadow. At times you will have to venture into the light in order to move through levels so be wary of giving yourself away!
SB puts you into situations in which you can sometimes look around at your surroundings and get a basic idea of how you'll go through the level -- and other times you must act on instinct and rush through a level, running for dear life from impending laser/giant blade/robot death. The varied rhythm of the game keeps it fresh and interesting.
The level design and the graphic details are phenomenal for a free game such as this. The levels have ambient lighting that really put the scenes together. And in at least one level, the creativity of the developers even went as far as to use different light colors to determine how you progress through the challenge. The sound design is top notch -- touting a kind of industrial/electronic/ambient soundtrack that changes up level to level and doesn't leave your mind numbed from the same track over and over. After each successfully completed level, the game throws a new song up as you enter the next area.
Any attentive gamer who's played other popular stealth oriented games in the past like Splinter Cell and Metal Gear Solid should be able to pick out little references the developers included to those series. (I don't want to ruin any surprises so I won't mention them in detail -- you'll just have to play to see them yourself!)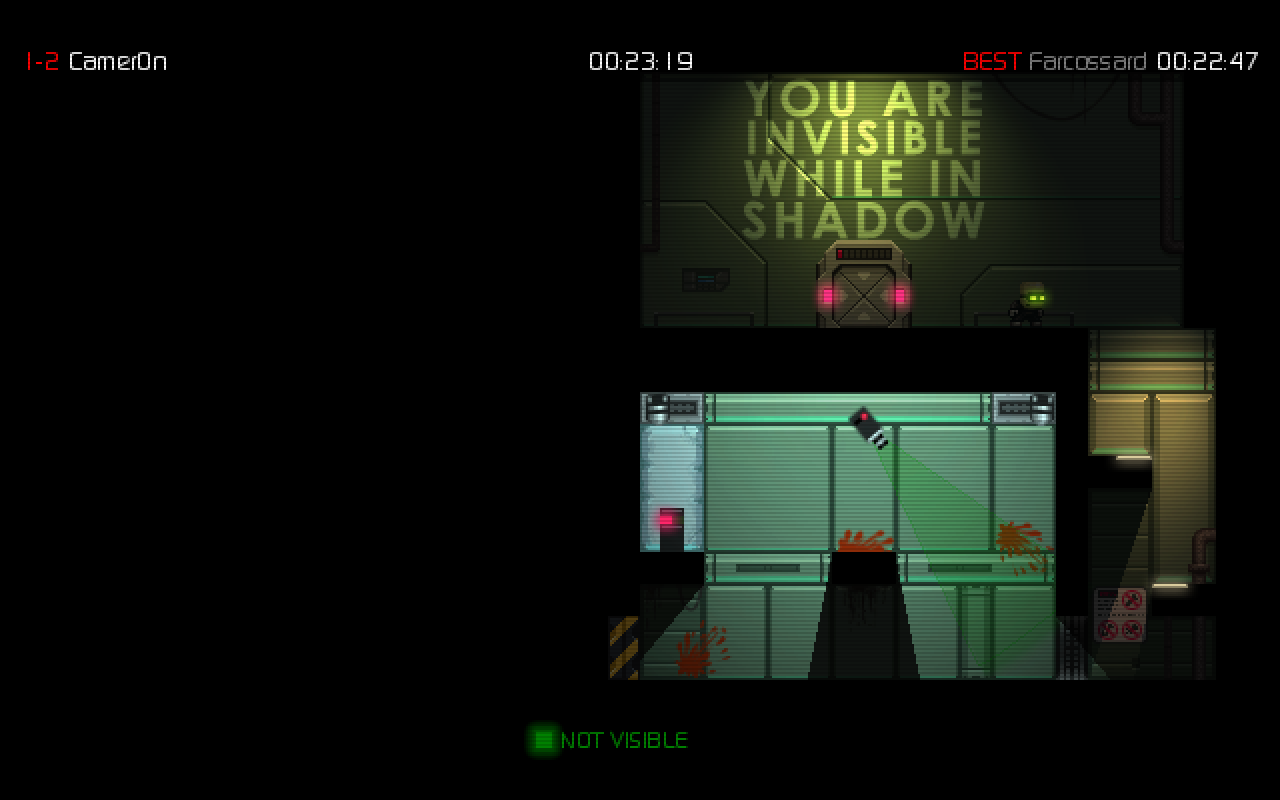 In total Stealth Bastard only took me about 2 hours to beat on my first play through. But one of the other beautiful things SB has to offer is its awesome re-playability factor. You are timed on each level which is then recorded to a global leaderboard. Play a level, get good enough at it and then see how quickly you can beat it. SB is another dream game for those gamers who like to try their hands at speed-runs and see who can be the most wicked fast.
There's one more huge factor that hasn't been mentioned yet. Not only is Stealth Bastard's full game completely free -- it comes with a complete level editor and the ability to upload/download custom levels. Create your own levels and upload them to SB's database -- get your level played and rated by other players across the world and see how quickly they can conquer it. Become a master at making the world's most extreme SB levels and achieve unofficial status as the most hated/loved person to ever make an SB level.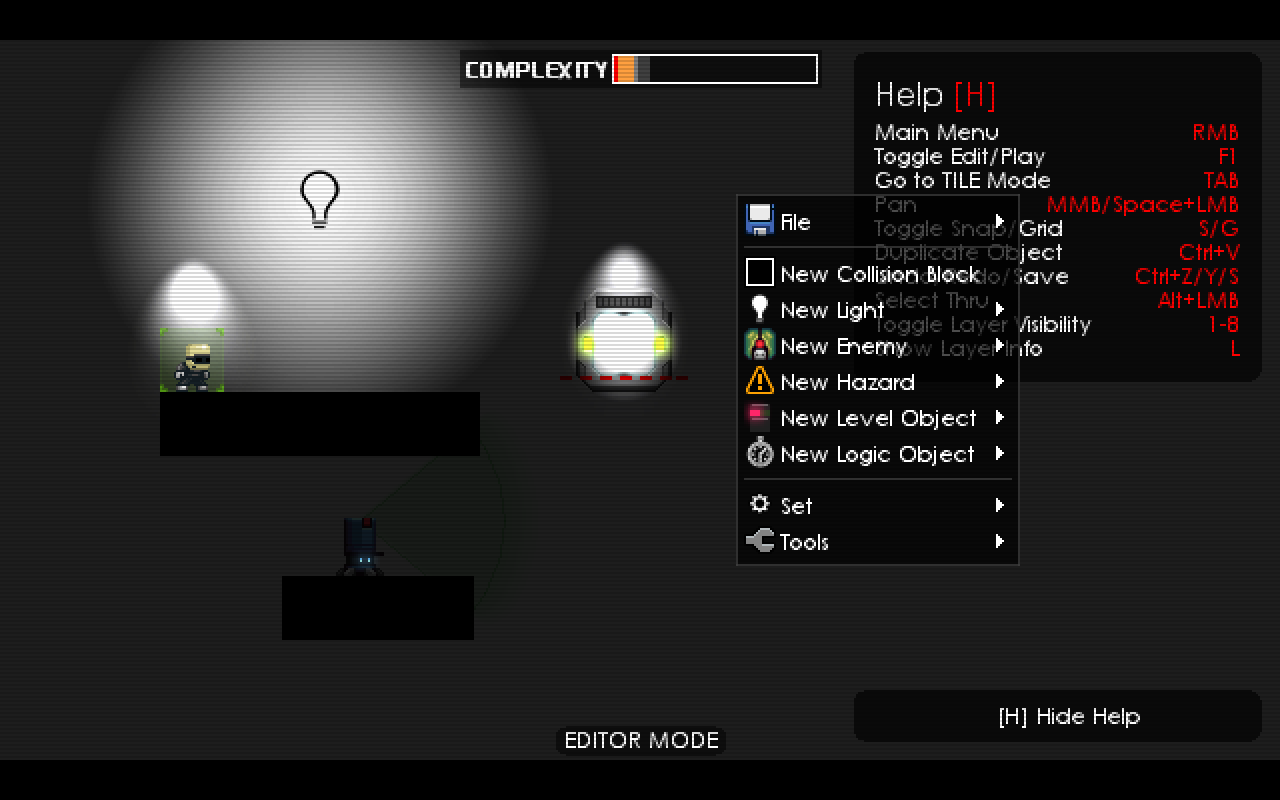 I encountered no glitches or bugs whatsoever while I played SB. The menus are easy to navigate and understand and the graphics should be quite easy to handle for any modern PCs. I think having a few more options in regards to being able to reduce the graphics quality would be a pull-in for gamers who are still plugging away on 10 year old systems. A way to save at any point in the game would also be convenient and appreciated.
All in all I have no considerable qualms with this game. It's solid, fresh, fun and most importantly: absolutely free. The audio and visual design is very well put together and the levels never feel too large or small. The difficulty is healthy but not extreme and the re-playability factor is through the roof.
I highly recommend Stealth Bastard for anyone else who enjoys being a Tactical Espionage Arsehole.
Download it for free and watch the intro video for it here at the official website.