A city on the verge of greatness, a new type of city based not on the man but on the automobile. The car: a symbol of freedom and vitality. Where everyman can own his own home and have room to breathe and not be overlooked by his neighbors. A city where a man's home is his castle. A quarter-acre of the dream made possible by victory. A city of opportunists. A city of dreams where Hollywood will shape the thoughts and desires of the entire planet. A city of pioneers. A city of dreamers. A city of undercurrents where not everything is as it seems. A 20th century city that will become a model for the world. A city that has no boundaries that will stretch as far as the eye can see.
L.A. Noire is also one man's epic journey from being a run-of-the-mill beat cop to a super sleuth detective! Rockstar has done an amazing job re-creating a 1940's Los Angeles with all the grit, grime and moral ambiguity of classic film noir pieces - right down to offering a Black & White mode! They've certainly done their homework as you'd be hard pressed to find something amiss in this setting.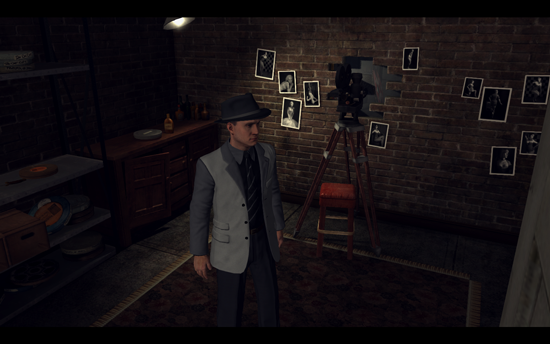 The big draw I had to this game - aside from the setting of the game - was the facial animations; after watching the Mocap short documentary on YouTube I was determined to try this game out on my PC and see just how well it really performed. I have to say, the in-game facial animations are top notch with only the occasional clipping glitch due to the classic bane of any animator's existence: teeth.
While the animations do a BEAUTIFUL job of showing emotion and other subtle markers on people's faces, there does seem to be a disconnection in the dialogue during interviews. Almost makes the main character look bi-polar if you don't just select 'truth' the whole time as he'll go from being polite to shouting then back to polite without any hint of yelling previously. Some more alternative tracks based on previous selections/attitudes towards the interviewee to keep the tone consistent would seal the deal for me in terms of absolute realism; Not to say they are bad, it's just noticeable when going between extremes. The animation for walking up stairs does make me smile every damn time though - he's so dainty in his movements with cocked out elbows and tiny steps - but everything else in the world looks, behaves and moves as you'd expect people to do in that era.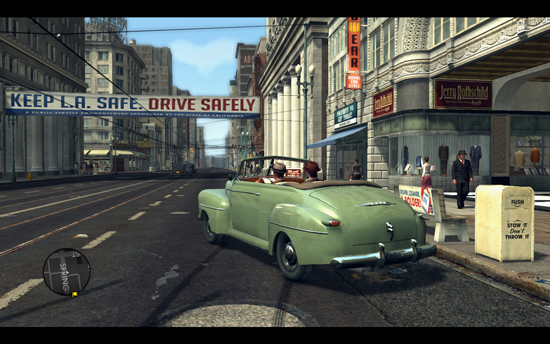 L.A. Noire is forgiving - I know right? A Rockstar game that doesn't kick your ass? - so that if you don't do something right the first time you'll immediately be given a second, third, fourth, fifth chance when first learning the ropes or in an action sequence; this system is something attractive to casual gamers as I'm told by the lady on the couch. It does make me wish that there were more 'checkpoints' of sorts so you don't have to repeat the same actions again to get to a particular interrogation. Now I know the sound of repeating things again and again doesn't sound appealing to those who are not perfectionists, there is ANOTHER alternative to make your life easy, skip it! If you fail a particular action sequence like a shootout or car chase etc the game does have a setting to let you skip it after a few failed attempts to keep the story moving - and keep some hair on your head to boot!
Within the 1940's world of L.A. Noire there is a bit more of a moral mixup outside of what you'd already expect. During the game you'll definitely do damage to your car, OTHER cars, pedestrians and city objects - those poor poor streetlamps - which all then get tallied up at the end of the case in good ol dollars. This is to encourage you to be more 'police-like' in your actions by behaving responsibly; I've found this clashes a bit with the fact you're ALSO encouraged to find abandoned cars and take then as your own (achievement for finding every type in the game). I understand that police commandeer vehicles but generally this is done while telling the owner and not just lifting them from the parking lot heh. In this respect I find myself thinking of Rockstars GTA games when not in the middle of investigating crime scenes.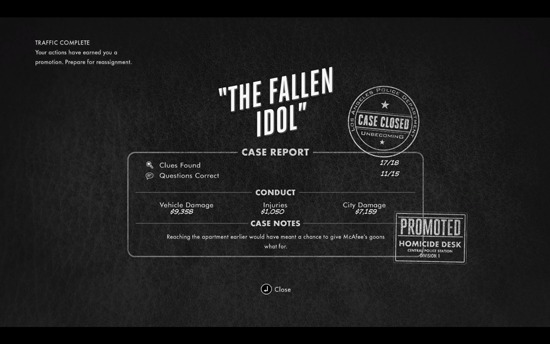 The game is broken up into different 'desks' - Traffic, Homicide, Vice and Arson - in addition to the starting cases where you're just a standard street cop. Naturally while assigned to each desk you'll have many cases to solve and once you've played through them once you can replay them again at any point; this can be useful to try and do things better and improve your score, or just find more tidbits of story scattered around. Yes, there is also a 'Free Roam' option where you can respond to simple street crimes or just explore the city's landmarks (also gives you points). The PC release includes all the DLC created to date and you can play those immediately on loading the game without needing to progress in the storymode to unlock each desk. Every case follows the same old formula:
Cutscene Teaser of the crime
Morning Debrief with the Boss
Drive to the Scene
Look for Clues & Question on-site witnesses
Drive to other locations & Question suspects
Occasional Chase/Tail/Gunfight Scene
Case Closed
Surprisingly this is not as repetitive as you'd think - unlike the first Assassins creed that was overly tedious to progress through - given just how interesting it is to piece together parts of the puzzle and try and figure it out while going from A to B in the investigation. The game once again makes things easier for casual gamers by allowing your partner do most of the driving! Instantly go from A to B so you don't have any gaps in the story or just downright HATE traffic - you will miss some minor banter between yourself and your partner. Driving with the WASD controls is painful though; I've played with the settings a bit and I'm still tempted to pull out my old game controller just to have smoother control for the cars without jerky side-to-side movements that kill those poor lampposts.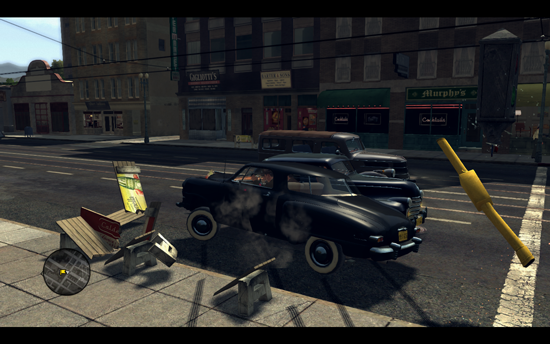 In addition to the core gameplay of solving crimes, there are small and VERY easy mini-games that need to be completed. Nothing really to write home about; normally they are just a matching puzzle or involve spinning things to line them up properly. I found them to take away from the game more than anything, I'd rather select the object and get the commentary from the main character immediately rather than suffer through incredibly easy puzzles that cats can solve. I don't mind easy games, but to slap in features that weren't needed or blend well with the rest of the gameplay - and sometimes story - doesn't make much sense.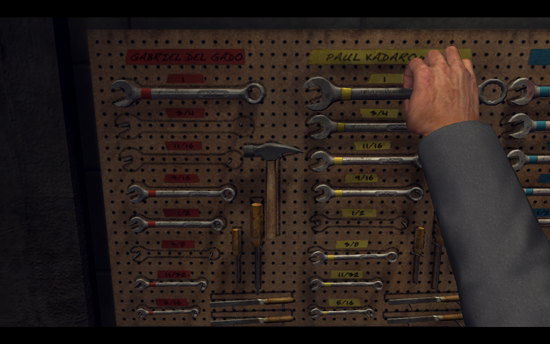 There is a lot of backstory cutscenes throughout the game that mainly deal with the war or the post-war treatment of vets, but so far not much about the main characters current personal life. The war and training cutscenes are well done - not too long, not too short - and provide a bit of insight into the how & why the main character is who he is. You also learn about other characters that are still kicking around the Detective scene and enjoy some laughs when the drill sergeant is involved. In addition to these war flashbacks there are collectable newspapers scattered around the city that you can activate to get the story behind the headline that involve the larger plot and more war flashbacks.
Customization, it may not be much but being able to change up your threads into something snazzy or god-awful is always fun. The game has access to a total of 10 different suits you can wear which affect certain gameplay abilities (extra protection, damage, aim etc). It would have been nice to be able to play with some of the car set-ups rather than use what is given or have an ability to re-skin the suits ourselves; this may soon be possible given there are some other types of mods for the console versions - native support is still preferable of course. One person could earn my undying love and re-create a Dick Tracy suit; or at the very least, go into the games sound folder and REMOVE that track from Fallout3; they may not have made the song but I instantly think of Fallout3 when it's playing which ruins the gaming experience. Aside from that single tune the rest of the radio broadcasts and ambient music is spot on! The music that plays while you're on-scene looking for clues is a great tune to leave on your iPod while going out on walks I have to say.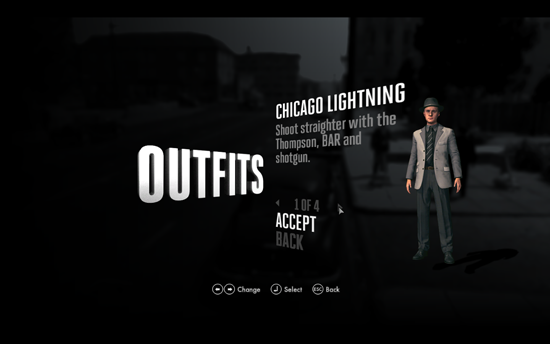 While the game does have many console-port symptoms such as displaying key icons rather than just spelling out which key you should actually be using - seriously, how many people can recognize that double arrows means TAB or that a wide U is the spacebar! I myself don't mind them all that much after a while given the story and setting of the game are so immersive that it hardly registers. I'm hoping the sales from this recent PC release will prompt the developers to move forward with a second title!