Everyone has talents, some are more useful than others. I for one can stare at a wall for hours without getting bored and can intimidate people by not blinking when I participate in a staring contest. When you want to earn a lot of money, a good plan would be to have a product or idea that's extremely innovative; even so there are always companies out there that seem to defy all common business practises and they reap the benefits of having a large fan base which they acquired by doing some pretty impressive things 'back in the day'. Some examples are Apple and more to the point: Infinity Ward; both companies have been criticized for tweaking old existing formulas but every time either company releases a product, they shatter records. Will Infinity Ward prove me wrong by releasing one of the most earth-shatteringly good games in the history of mankind?
I still remember the first time I played a Call of duty game. It was the unofficial successor to the Medal of Honor franchise and my youthful enthusiasm made me fall in love with this action driven game that - at the time - was among one of the best series out there. It had everything you would want from an action game: excessive explosions, impressive fire fights, immersive storyline and loads of innovation. Ever since I took those steps in the surrounded town of Bastogne, I've always been in love with Call of Duty, and even though I was well aware of the criticism that Infinity Ward received from their - didn't we do this last time? - release called "Call of Duty: Modern Warfare 2" I was convinced that the developer would do everything within their power to prove all the criticisers wrong and deliver one of the most groundbreaking titles of 2011. I was wrong.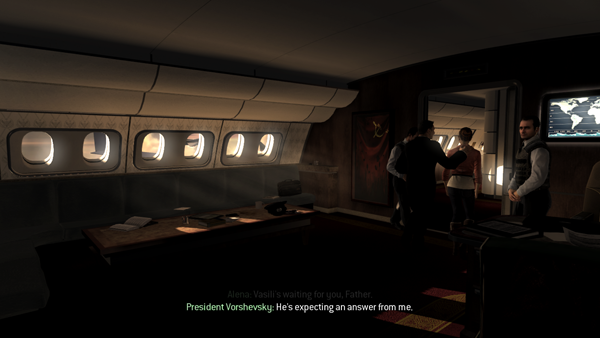 The story in Modern Warfare 3 starts where its predecessor left off: The Russian republic has invaded the United States of America and if the story were to be told in the form of a road trip, everyone would be heading towards World War three; an exciting place for action enthusiasts, but judging from the amount of dead civilians you find laying around in this game, not many people share this enthusiasm. While the concept of a third World War opens up a whole bunch of interesting stories and plot twists, this game prefers the absurd! The entire war is started by a man with a lot of time and dedication and the war is eventually ended by an equally small number. I didn't feel completely sorry when the game ended after a mere four hours - partly because of the migraine this game caused - but also because of some plot twists the writers put in this story. Armies appearing out of literally nowhere and conquering entire chunks of the world make me question the validity of the story.
The action in this game is overwhelming to say the least; if things aren't exploding or about to explode, then it's safe to say that you're not doing as the game told you. At times it felt like I was inside the head of a fourteen year old where the only cure to losing someone's attention is blowing up more things. It does deliver on what is advertised as - not only do you get to replay the most memorable experiences from the previous Call of Duty games - you will also get to see major landmarks reduced to a pile of scrap! If your adrenaline levels aren't through the roof by the time you are finished with the final boss fight then I think it's time to visit a doctor. Most of the game consists out of your character clearing rooms or open spaces from bad guys, in this case, Russians. Now and then you get to experience movie-like chases and adrenaline fuelled rides in helicopters which made this franchise what it is today: The fact that you get to replay everything from the previous games again, is also Modern Warfare 3's biggest flaw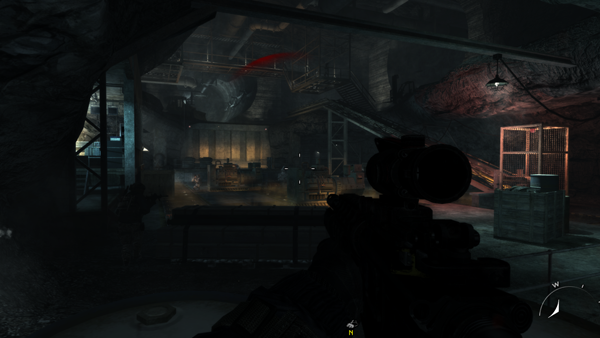 I have sought long and hard for new and innovative ideas but they were nowhere to be found; Everything I experienced in this game has happened before in the previous instalments, only this time you will get to see it all again in a different setting. At one point I thought that I had found something new - a sandstorm - but then I remembered that you did a mission in Modern Warfare 2 that involved a snowstorm. At first I didn't really mind seeing all these interactive moments again, but when it's the fourth time I get to do something which is an exact copy from one of its predecessors you just want to go up to the developers and say what were you guys working on all this time? The graphics?
That brings us to the visual aspect of the game. While it is still one of the better looking games out there, the graphics have not aged well. After having played Battlefield 3 I can honestly say that this game doesn't even come close visually. A lot of the textures and sprites look blurry and seem to be unchanged from Modern Warfare 2. The engine does its best to impress you and it delivers stunning scenes, but in the video game industry, standing still graphics wise is the equivalent of taking a few steps back. The same applies to the models and animations; absolutely nothing is wrong with them. When you have one of the biggest budgets available to developers and arguably the biggest reputation to defend, I expect more from you than seeing copies from a game we've played years ago.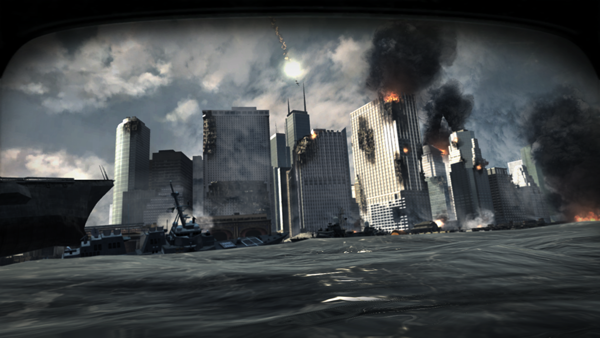 The multiplayer builds on the trusted formula: You start off with basic kits and you only have a few game modes available, as you progress by killing more opponents or completing objectives you unlock new weapons, gadgets and game-modes. The rate at which new gear and modes gets unlocked has been meticulously tested and that's why you never really feel like you're 'grinding' just to get that next unlock. You get to fight each other in the places where the single player campaign took place and the mapmakers decided that the maps looked too peaceful so they turned as good as every level into a scene from a Michael Bay movie.
While this is still a good game, we can't get around the fact that sadly enough large portions of it are obvious copies from its predecessors. Instead of shooting up bad guys from an AC-130 in a rural area, you get to shoot them from an AC-130 in an urban area. Instead of being chased by helicopters and trucks on a highway, you get chased in a city, and the similarities go on and on. As good as everything from both the online and single player experience, this still looks and feels like a copy from the older Call of Duties and while you can have fun with all this, this game should not be breaking any records. If you want to spend your money on an action game, buy Modern Warfare 2 instead, it's a lot cheaper and you get the same experience. I genuinely hoped that this game would blow me away in a positive sense but instead it left me wondering what the developers were doing for two years.
For use on GameBanana.com ONLY.
Kjell Baetslé: kjell@GameBanana.com