After 6 years, the next big addition to the Battlefield franchise has arrived. And it doesn't disappoint. Read on for the full review.
In these turbulent times where it is easier to topple a government than to create one, Jenga towers seem to be more stable than our economy, and Apple can get away with re-releasing an old phone, we look to our past for something to cling on to -- whether it is old pictures or movies from better times, letters from someone you miss, or even the teddy bear you had as a child. We gamers look to classics like Half-Life, Metal Gear Solid, or even Doom, but what happens if a classic like the Battlefield series gets a new instalment? Will it be able to live up to the expectations? Or is it just another game trying to cash in on the financial success of the Call of duty series?
When the Battlefield series first came out it was nothing but ground-breaking; for the first time in the history of PC gaming you could battle each other on land, air, and sea in a mainstream title. It soon became one of the best known franchises and to this day many consider the Battlefield series as one of the first multiplayer classics. Shortly after the Swedish developer DICE announced that they were working on a new instalment in the Battlefield Franchise it made many of us here at GameBanana VERY excited, but we all had our reservations of course. None of us were sure whether DICE wanted to give us another memorable experience; or, if they were just polishing up Medal of Honor and Bad Company to slap a Battlefield 3 sticker on the package.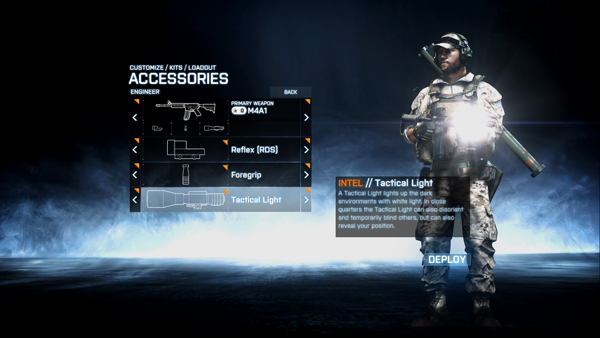 My introduction to Battlefield 3 was dreadful due to a program called 'Origin'. It is one of those always-on-DRM's: this means that each time you want to play the game you need to have Origin running, but that's not what bothered me most. The fact that all of the menus were on a webpage made it feel like I was playing a Zynga game on Facebook! The 'Battlelog' is supposed to be the social network of gaming and simplify everything; however, I cannot help but feel overwhelmed by having to accept friends twice on Origin AND Battlelog. That combined with the fact that your microphone immediately starts transmitting whatever you're saying to the people in your party without asking (We all enjoy listening to someone scream at their mom don't we?). Because of the fact you have to accept friends on Origin and Battlelog, when you receive a message you're not sure whether someone is talking to you through Origin or the Battlelog! You may just start asking Jim for backup and then find out he's actually just browsing the GameBanana forums.
When we take a look at the game itself, it has to be said that it looks and sounds extremely nice. Rarely have I seen a game that delivers such stunning views this smooth. The detail on the soldiers' faces is amazing, the sound of bullets impacting near you makes you want to crawl up into a corner and cry for your mom, and even the sound of driving a tank makes you want to shove smaller vehicles out of the way due to the surge in your testosterone levels! DICE has truly created the perfect marriage between sound effects and graphics, but does it hold up gameplay wise?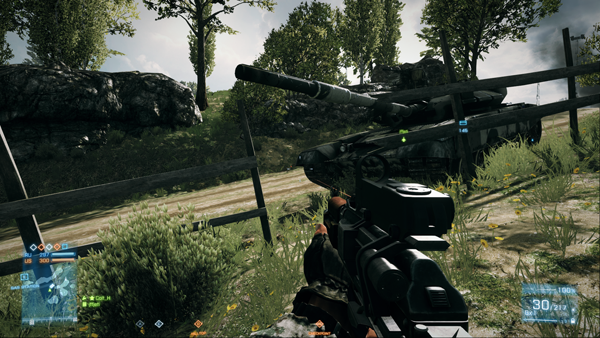 Battlefield 3 continues with the old formula: in online matches you can choose from classic modes such as Conquest to newer ones like Rush. Each of these modes has a certain goal you need to achieve: these range from capturing points in conquest, to killing as many enemies as you can in team death-match. The massive open maps allow you to fine-tune your tactics with your squad and the abilities they each have so that the ways to achieve your objective are nearly endless. Do you prefer creating and maintaining air supremacy by shooting down enemy jets in dogfights? Push the enemy back from their defensive position with a tank charge? Or just pick off lone soldiers as a sniper? Battlefield gives you the option to do all this and a lot more! However, if all this seems daunting, you can begin practising before you jump into the hectic multiplayer as there is always the co-op and the single-player campaign available to you.
The co-op in this game seems to only be there as filler; While it is the perfect technique to train your team-skills and get to know the game, it is tedious...very tedious. Most of the missions consist of you and your buddy clearing out enemy filled rooms or fending off waves of bad guys and waiting until the game decides you're bored enough to allow you to proceed to the next area. The only incentive my partners and I had in completing these missions was that you got to keep the weapons you unlocked. There are only six missions and each last roughly ten minutes, but keep in mind that most of the time you're waiting for the enemies to realize that sending in more of their friends is about as useful as investing in that great business opportunity sent to you by a Nigerian prince!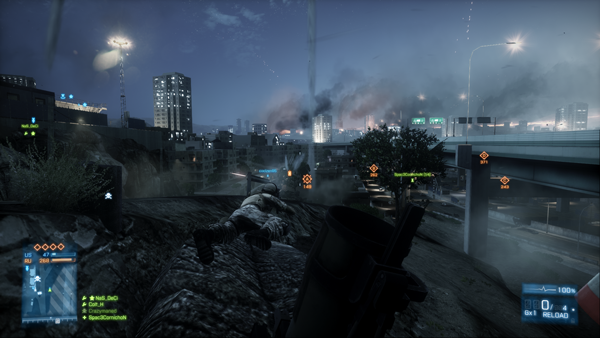 Upon closer inspection of the campaign, we immediately notice that it is very different from what the multiplayer stands for; You fight of hordes of enemies in tight cornered, linear environments, levels where you operate a vehicle are rare, and you often get to wrestle an enemy through a quick time event where pressing the right buttons on time is a life or death situation. The game rarely gives you a chance to take a different path and even punishes you if you don't do exactly as it says. The story itself is quite straight forward and un-imaginative; you need to save the planet from the bad guys, and if it wasn't for the amazing Battlefield feel to it I could swear I was dropped in a Call of duty game! Story-wise, it doesn't even work as 'filler' in order to compete with other franchises -- it stops just as it starts to get exciting! I was expecting a bit more from the end fight rather than a string of "push-this-button-or-you-die" events -- this couldn't be farther away from what the older Battlefields were.
We can't dwell on what the past was, and that is why DICE introduced the Frostbite 2 engine. This piece of software allows for the player to destroy the environment on an unprecedented scale: it delivers the best looking and sounding explosions to date, the animations look extremely smooth, and rarely has my computer decided to stutter because of all this magnificence. The leveling up system seems to be balanced perfectly and never does it feel like you're grinding just to get that next unlock; the amount of things you can attach to your weapons is just big enough to keep you going but small enough not to confuse you. Even though some new items like tactical flashlights create a new element of gaming by blinding the enemies, it does make me wish for something such as a tactical mirror!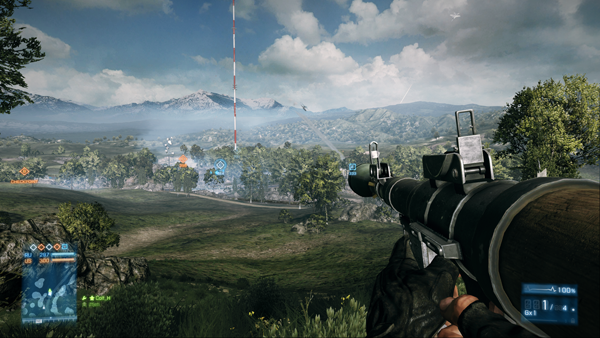 Battlefield 3 is a magnificent game, it looks stunning, sounds amazing, and more than once I did stop writing this review just to have some more fun in the multiplayer. It delivers a memorable experience that will be shared by many gamers in the years to come. The only thing that makes playing this game somewhat annoying is the requirement to use Origin and the Battlelog; both of these programs could have been integrated in the game itself and it feels like a desperate attempt by EA to wrestle itself into the digital distribution market. The single-player and the co-op were far from memorable and at times felt a bit too much like Call of duty -- so if you're looking for an amazing story then keep on looking. The bottom line is, if you liked the older Battlefields, chances are you'll love this even more! Even if you didn't play any other games in the franchise, I can assure you that this game has the potential to blow you away!
For use on GameBanana.com ONLY.
Kjell Baetslé: kjell@GameBanana.com