The second tab page is the Ownership. This page shows the following:


Is this skin submission a port from some other games?
Did you even create this skin?
List the credits
This is skin part of one or more studio?
Did any of the studios contribute in the development of this skin?
Do you have your own custom license?
A license of what others can do to your work

Before continuing, it is STRONGLY recommend that you properly filled out this section. Incorrectly filling out the Ownership section, can lead one or more of the following:


your skin submission with one or more flags,

removal of your skin submission,

a soft account ban,

a permanent account ban and/or all.

Once again, for this guide, I'll be using my skin submissions as various templates.  Let's begin to go through and filling out the second tab page.


1.

Is This A Port? - Did it came from another game?

The definition of porting based on Dictionary.com - A version of an existing video game published for a different console or device.

Definitely Not Ported Checklist:


Is the skin from this game/mod/engine (Opposing Force -> CS)

Part(s) of the skin is from scratch
Definitely A Port Checklist:
Stock asset(s) is modified to work with other game(s) (HL2 -> HL)

An example of

a port

is the CS Doom 3 Shotgun.




There are two components, the shotgun and the hands. Both do not originate from the original Half-Life game, as well as its mod.

The shotgun originates from the Doom 3 game, and the hands, are based on the Counter-Strike: Source.

An example of

not a port

is the Faithful HD MP5 (HL and Opposing Force).




All of its assets are using the in-game assets,heavily modified and/or part(s) of the skin is from scratch. They do not came from elsewhere.

Read Port article in order to know which developers allow their assets to be ported over to another game.


2.

Did you create this skin? - Are you its creator?


This is to identified whether you are a submitting this skin as yourself, or a re-distributor.

Here's a checklist if you're a re-distributor:


You re-packaged the original file(s)

You made tweaks and fixes to the original file(s)

It's a lost and found

It originates from another website

It's from another creator, however, left GameBanana and you've permission to re-distribute this on his/her behalf

Here's a checklist if you're a creator:


You played a vital role in creating the final work

You're the leader of that work

Once again, the CS Doom 3 Shotgun is used as an example here. The original package was just the left view model I did the following:


Mirroring the left view model

Re-package it (adding readme, screenshots, etc)

Lost and Found (was originally in the old CS section)


Once finished, at the Submitter side panel, it will show me as 'Redistributor'.




Using the same example, Faithful HD MP5 (HL and Opposing Force), I did the following:


Completely re-work the MP5 model

Merge its textures

Modified the arms from LD to HD version

Once finished, at the Submitter side panel, it will show me as 'Creator'.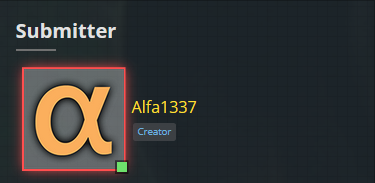 3.

Authors - The Credits


The list of credits will appears at the side panel, on top of the submitter panel.

GameBanana has already nicely pre-configured the Authors section:


Key Author(s)
Original Author(s)
Contributor(s)
Special Thanks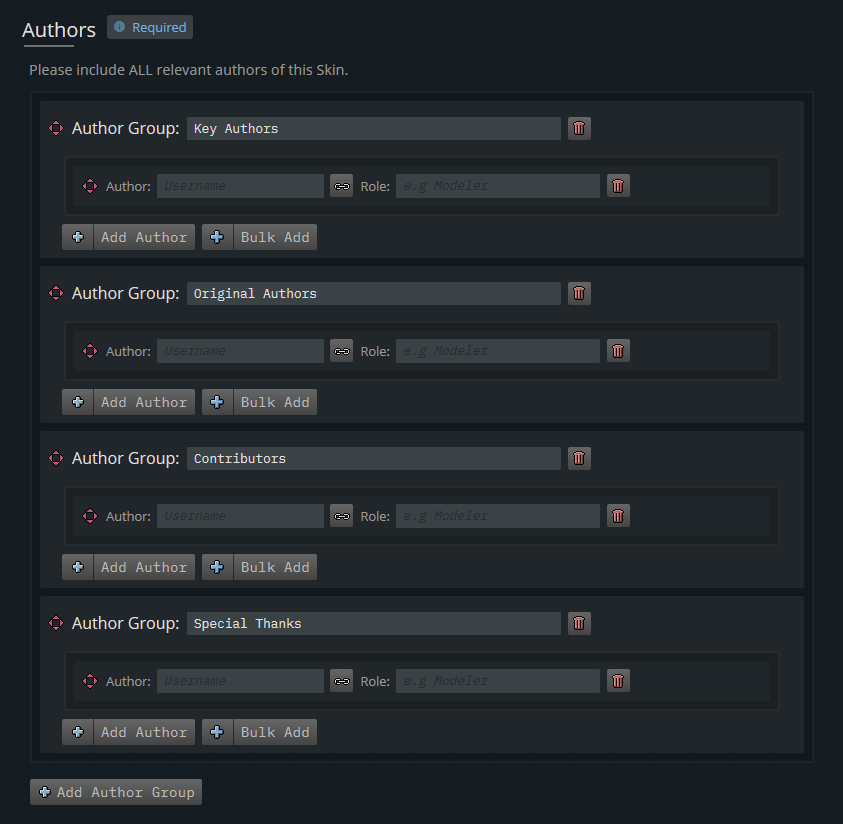 Key Author(s) should be for user that played a vital role in making the skin.
Original Author(s) should be for the original authors that created that asset.
Contributor(s) should be for users that contribute something in making the skin
Special Thanks is for thanking users for helping you or your studio in some other way.

Using my Apple iPhone Knife, it contains multiple credits.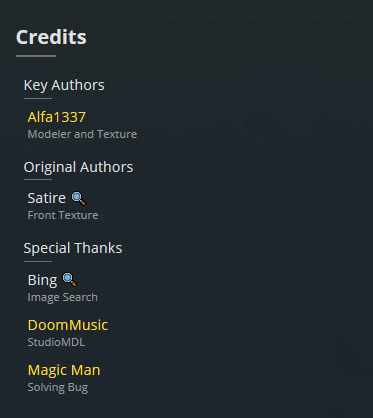 Let's break down the author(s):


I'm the key author in making the iPhone model mesh and texture.

The front iPhone texture is from the Satire.

I thanked Bing Image search, and I also used DoomMusic compilers to compile the model, and lastly, thanking Magic Man in solving an issue with the model.

There's no Valve, as the main focus is primarily on the iPhone knife itself. Though, I should add that, as I'm using their arms, textures, and its stock animations.

I'm using an external example. I'm using the mod, Mario & Luigi as Ice Climbers, from Super Smash Bros. Ultimate. Follow this excellent format example.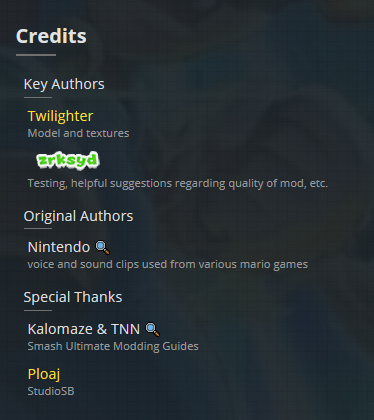 Here's a breakdown:


Twilighter played a role in modelling the characters as well as properly mapped out the textures.

zrksyd helps Twilighter in debugging and play-test the mod.

Nintendo provides the stock assets, such as voice and other audio clips, from various Mario games. (Always list the game author)

Special thanks were given, as it helps Twilighter in modding the game and provide other support, like a model application.

Another external example, which featured less authors is the TF2 Serious Sam 3 Assault Rifle: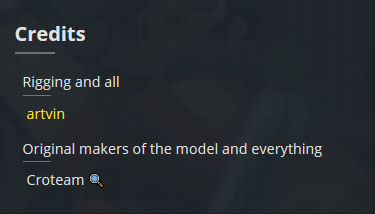 Here's a breakdown:


artvin simply rigged the model.

The models, animations, textures, etc, are all provided by Croteam.

I strongly recommend you to follow this format:


Key Authors -> Your Name -> Your Role (see below for useful roles)

Original Authors -> Developer Name -> Assets

Here are some list of words useful and helpful in identifiying what roles you and other(s) play:


Modeler

Texturer

Debugger

Animator

Stock Assets

Compile

Optimisation

Rigging

Remodeler

Idea

User Interface

Voice/Audio

Guide


I strongly discourage you from listing the author(s) like this:


Key Authors -> Your Name - Creator

Key Authors -> Your Name - I Made It

Key Authors -> Your Name - Your Name

They are not helpful and useful in:


What role you played in creating this skin

Are there any other parties that were involved in creating this skin

Did you credited the author(s) of the stock asset(s)?
4.

Studio - Are you making this independent, or want to have that studio tag?

If you're a not in a studio, it will always be 'Non-studio'.

If you decided to affiliate this skin submission with a studio, you can choose one from the drop down menu.

The studio will be seen at the top-most side panel, on top of the credits. I'm using CS 1.6 Weapon | CSGO Animations.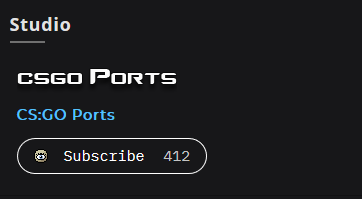 5.

Contributing Studio(s) - Did any studio(s) helped you in making this skin?


This is a multiple list box, you can select more than one studios if they contributed in making the skin that you are going to submit.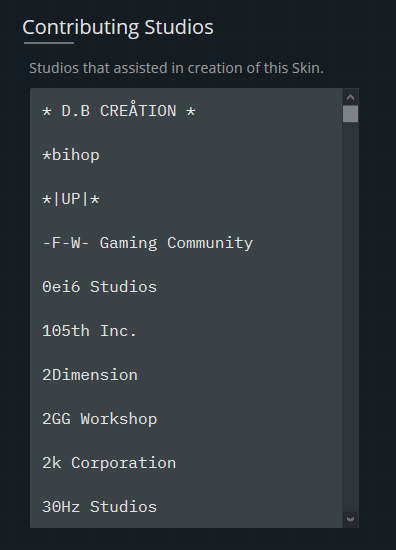 If your skin wasn't assisted by any studio, just leave it unselected.


6.

License - What Rights Others Can Do To This Mod


This section, is to provide others what can they do to your files.

Do you allow them to :


Modify your work and redistribute them as their own work?
Redstribute your work to other site/channel(s)?
Monetise your work?

The default Creative Commons are as stated:


You must give appropriate credits, provide a license and indicate any modificated that you did.

Not for commercial purposes

You cannot redistribute the modified material.

Do not abuse the legal system in order to restrict the license permits.


If you have a custom license, enter it in the text box.


7.

License Checklist - A checklist of what others is dis/allow to do


By default, the License Checklist is disabled. However, upon checking it. It shows a list of drop down menus.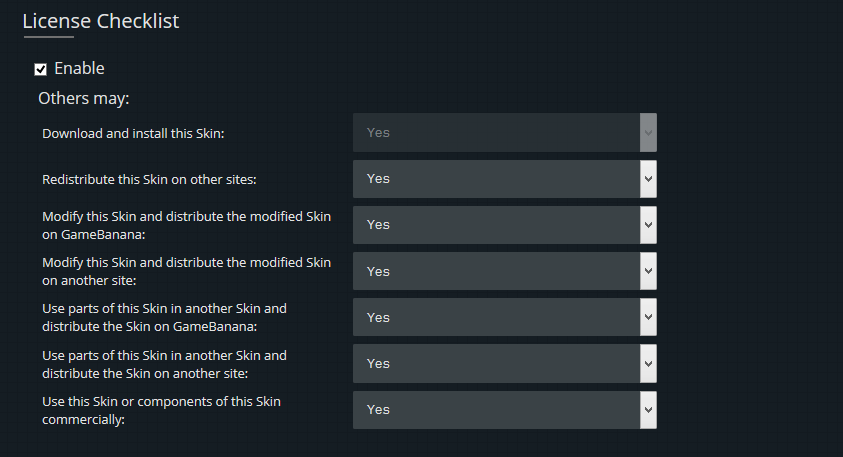 This is the default checklist if you enable it (also if you disabled it).


8.

End Note

I may return and edit certain sections. This tab page is rather pretty dry and very technical. Some areas are grey, and depends on the submitter's interpretation.

However, regardless, this is mostly where their skin submission(s) get flagged, due to improper credits.

Third Tab Page to be continued...