Before submitting a skin ensure of this following:


Is there a similar skin in the GameBanana community?
Is your skin submission worth to be in the GameBanana community?
--> Is it low effort?
--> Is it something that you messed around, or just a small, insignificant tweak?
Or follow this checklist guide.

Continuing, this is a simple skin submission guide. Other upcoming guides may have similar properties, and steps, but this is specifically for skins.

For now, I'm just summarising the important four tab pages, and I will go into details. For now, I'm focusing on the first tab page, which is the Skin 'Main' page. It contains the following in order:


The skin title of your submission
Category of where this skin submission belongs to
The body, or simply a long description of what your skin
Subtitle is similar to a movie poster quote
Comment instructions are self-explanatory, what kind of feedback your users want when posting

For the guide, I'll be using my skin submissions as various templates. Let's begin filling out the first tab page.


1.
Skin Title - Give A Name


First of all, give your skin a title. Something to catch users' attention. Remember, to check for spelling errors and no shouting (all caps).


2.
Category - Making The Skin Section Neat and Tidy



Moving to the Category section, the first category is categorising which game do you want this skin submission to go to.

I recommend that you use the search feature in order to find your game. You do not need to type the full title of that game as you may not know the correct full title of that game.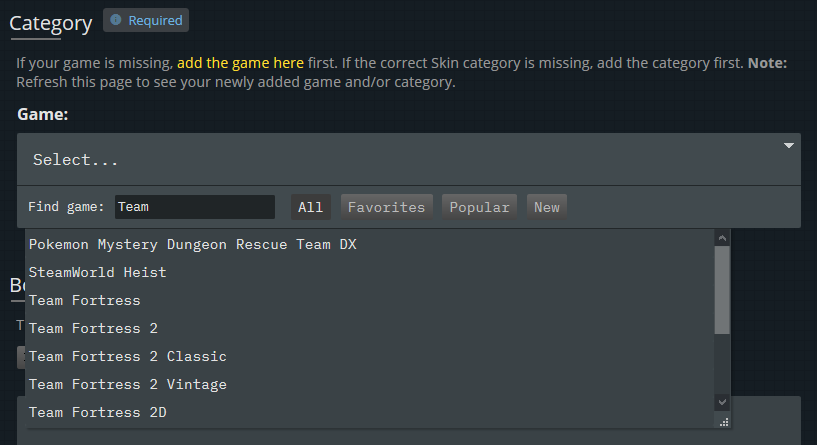 Similarly, instead of

Counter Strike Global Offensive

, or

Counter-Strike Global Offensive

, or

Counter-Strike:Global Offensive

, which all are wrong, just type:

Global Offensive

.

As you can see, typing just the word 'Team', narrows the search to game titles containing 'team'.

Once selected that game, the Skin Category appears! This is a sub-category within the game skin category. So it is like this:

Team Fortress 2 > Skin > 'sub-skin'

.

Like the Game Category, I recommend you to search through first, before adding a new category. Instead of searching down the list drop box, open a new tab, go to that game skin section and starts searching.

Team Fortress 2 is the worst case scenario, due to the multiple nested sub-category for each weapon/class, as there are some items/weapons that aren't shared among others.





Games like Counter-Strike: Global Offensive, they used this format:

Counter-Strike: Global Offensive > Skin > Pistol > 'weapon of choice'

.

So if you're adding a USP skin, check inside that 'Pistol' sub-category.


3.

Body - Description of The Skin Submission


Moving to the 'Body' section, is the description of this skin. You can type anything you want in this description, as long as it's related to the skin submission.

I recommend that you have these in your 'body':


Why did you create this skin (what make you come up with this idea)
What does this skin really do (if there's a function, or what it should appear like in-game, optional)
Other notes that the users should be aware of (optional)
Specifications (optional)

Using my TF2 Graphics Card submission, I can break down the body of it:

I was looking through my cancelled, privated WiP, and realised that I could do something so simple for the Intelligence Briefcase. - Idea

The Red is Radeon, while Blue is GeForce (because Intel hasn't release anything). - Function

Using my Apple iPhone Knife submission, the entire description is basically an idea of that skin, there's no function, as it's pretty straightforward, it's a skin replacement for the knife.




I strongly recommend that you do not use these type of description or something very similar:


This is my first skin, please comment!

My first skin, hope you enjoy!

I made this skin, because why not?

Those descriptions contain nothing very

helpful

and

useful

to the users viewing and/or downloading.


4.

Subtitle - Punch Line

The Subtitle is similar to the quote on a movie poster. It's optional, but if your skin submission is featured, this subtitle may attract users to view and/or download it.

A sample of a skin submission featured on the GameBanana homepage: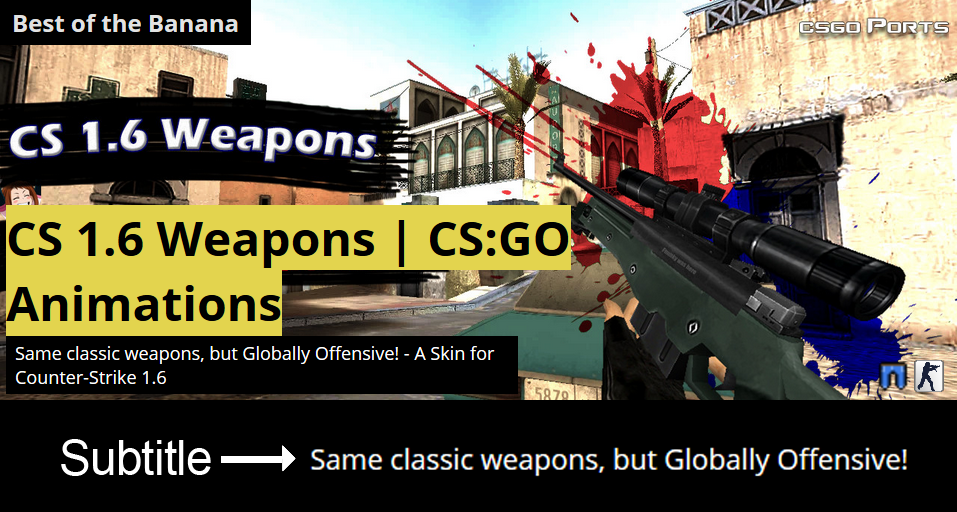 It's optional, thus, if your skin is featured, it will be just 'A Skin for Game X'.


5.

Comment Instruction - Directions for Users' Feedback


Filling out the comment instructions if you want users to construct a proper feedback for you.

This is useful if your skin submission is an early work-in-progress or redirect to the 'bug report' feature instead of commenting it below.

Although I never used this before I believe I can come up with some useful suggestions:


For bug reports, to go the Bug Tab and fill out the bug report

Are the custom animations good, or should I use stock? (Context - If you are using custom animation and aren't sure if it is good animation)

Is the model size good? Or should I decrease or increase the model size?

I strongly recommend that you don't these:


Comment please!

This is my first skin, comment!

They aren't useful to you or too generic.

Second Tab Page to be continued...